This hearty, earthy gluten free buckwheat bread is a delightful change of pace from ordinary bread. Packed with pumpkin seeds, sunflower seeds and flax seeds, it's a nutrient rich bread that makes amazing sandwiches and delicious slices of toast.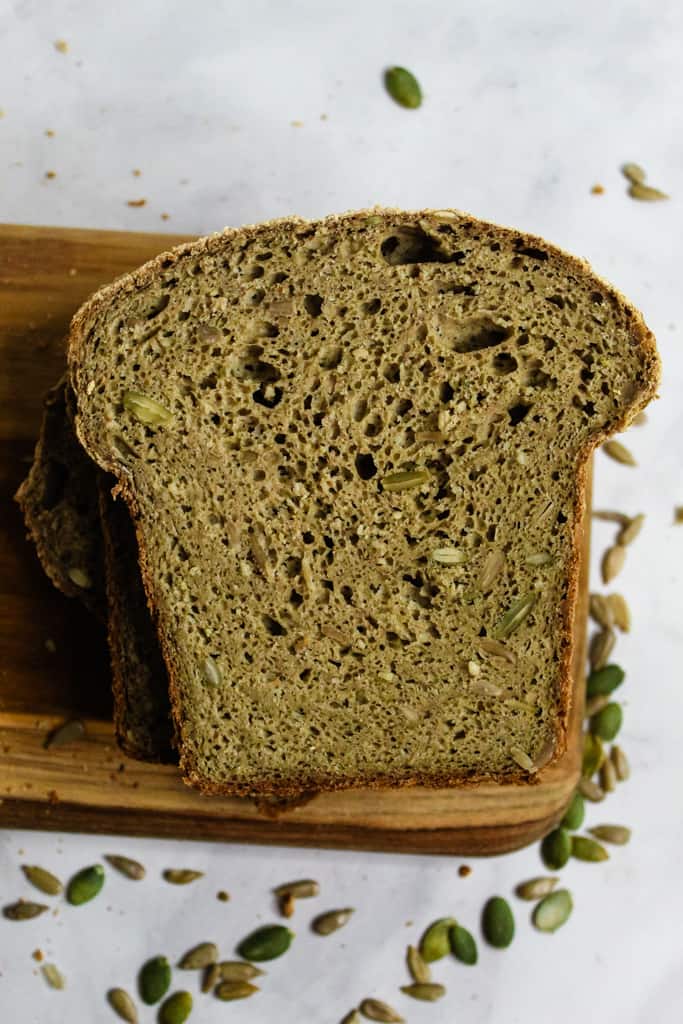 I know what you're thinking - not another heavy, dense bread. And from the sounds of 'buckwheat flour bread', it just sounds like a super dense, tough loaf - something that would result in a brick of a bread loaf. Right?
Well, I think you'll be pleasantly surprised by this bread – it's the softest, most flavor-filled buckwheat bread ever.
The reason why has to do with the ingredients... it's a yeast bread so it's not as dense as most buckwheat breads. In fact, the yeast helps it stay delightfully soft and rise nice and tall. It's a simple recipe too – just 2 bowls and a stand mixer. Add in some rise time and bake until golden. Then enjoy thick slices with soup or thin slices for sandwiches.
Is buckwheat flour really gluten free?
Yes, it really is! Don't let the name fool you – buckwheat flour is actually made from a seed and has no relation to wheat whatsoever. The seeds are ground up making a fine, powdery greyish flour that works really well in breads, pancakes and even muffins.
What else can I use buckwheat flour for?
Some bakers say buckwheat flour can be used as a one-for-one substitute for all-purpose flour, but I have never found that to be a good rule of thumb. Too much buckwheat flour has a tendency to give baked goods an intense 'outdoorsy' flavor. So here's my pro tip for working with it: start small and then increase from there.
These delicious pancakes use buckwheat flour and turn out rich and fluffy every time! And this Irish soda bread benefits from the heartiness that buckwheat flour provides.
Can I make this recipe vegan?
Yes, very easily – the recipe calls for 1 egg, so if you're looking to make it vegan, just use a flax or chia egg and add it when you'd add the egg in the recipe.
Tips for Making Gluten Free Buckwheat Bread
The ingredients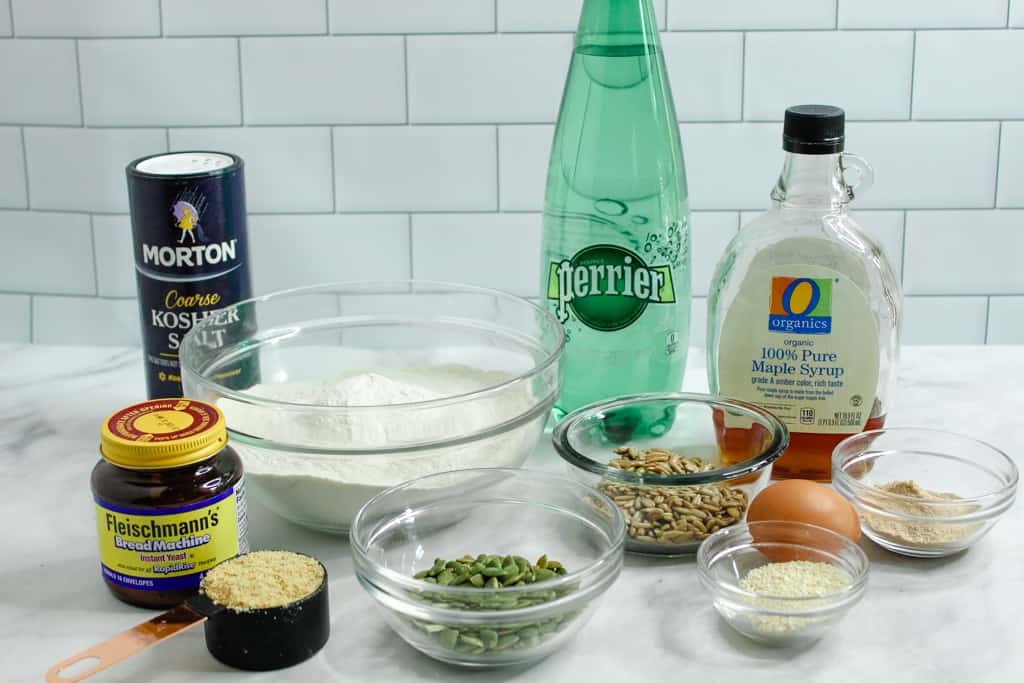 A nice spread of seeds makes this ingredients list seem really long, but take those away and it's really a pretty short list. Some yeast, water, maple syrup, carbonated water and of course, buckwheat flour and you are set.
Pro tip: One of the best things you can do for your gluten free baking is to make sure everything is at room temperature (or warmer, in the case of water for proofing yeast). Warmer ingredients blend, mix, fold and combine 10 times better than cold ingredients.
Proofing the Yeast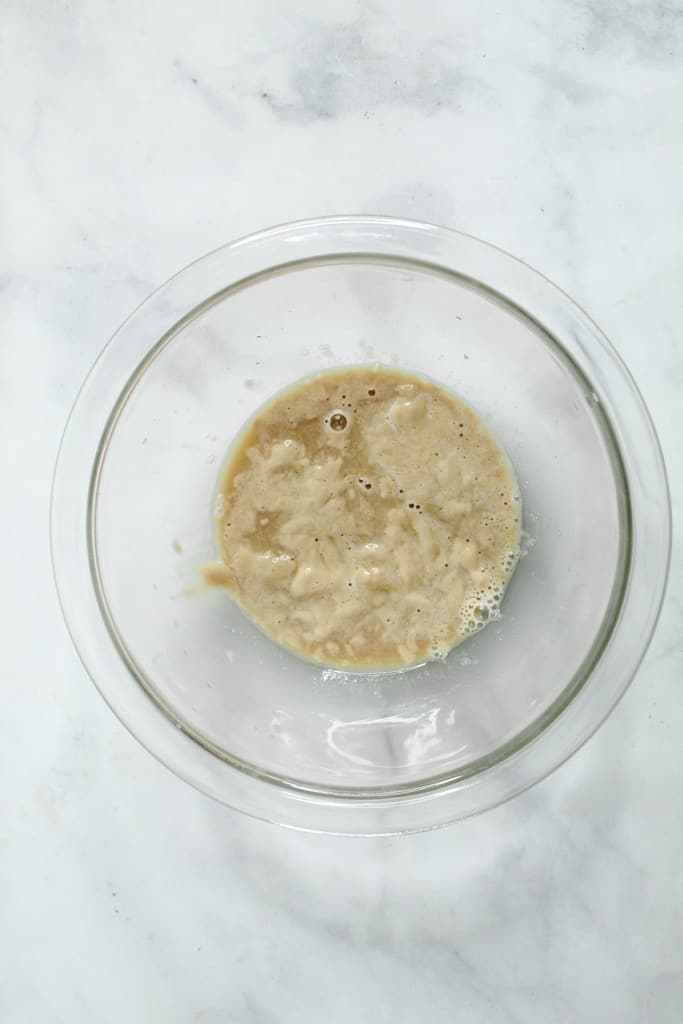 Proofing the yeast is a simple and easy step that ensures you have fresh yeast. Because the alternative is prepping the whole recipe only to find your yeast is no good AFTER you've already mixed the other ingredients. Gluten free flours are too pricey to take that chance!
Mixing
A stand mixer makes mixing these ingredients super quick and easy. Just add the dry ingredients into the bowl and mix gently. Then add the liquid ingredients and mix again for 3 minutes. The batter will be thick and easily scraped into the baking pan.
Rise Time
Watch the rise time because this bread rises fast and rises tall. 30 minutes is all it takes to go from freshly mixed batter to well risen, ready-to-bake-loaf.
Baking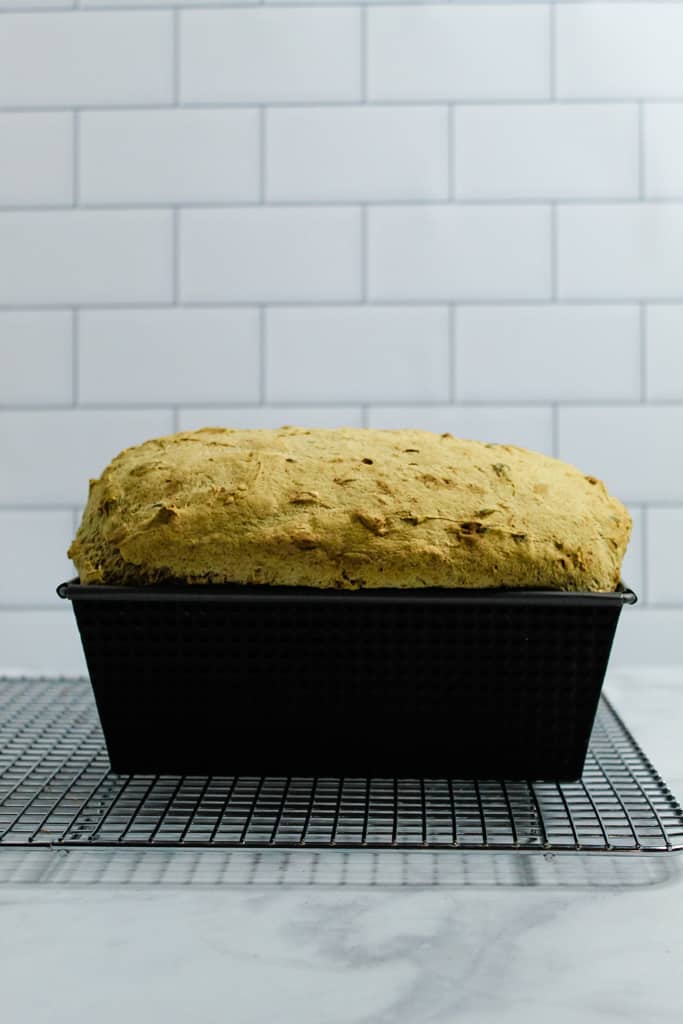 The bread should bake for about 55 minutes. Towards the end of the baking time, start checking the bread as you may want to cover the top with foil if it starts to get too brown.
Enjoying
Sliced thick or thin, this gluten free buckwheat bread is delicious, hearty and just plain tasty!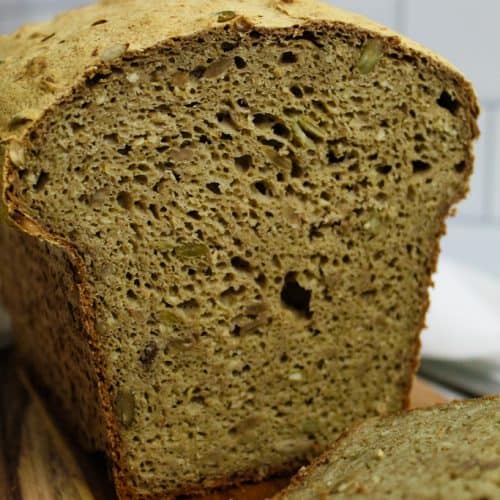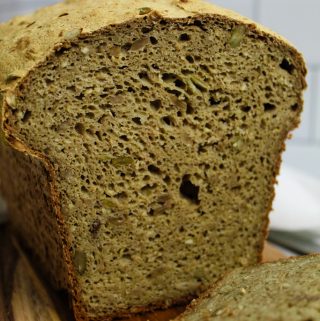 Gluten Free Buckwheat Bread
This hearty, earthy gluten free buckwheat bread is a delightful change of pace from ordinary bread.
Print
Pin
Rate
Ingredients
3 ½

teaspoon

quick rising yeast

instant yeast

3

Tablespoons

water

warmed to 100 F

1

Tablespoon

pure maple syrup

450

g

buckwheat flour

about 2 ¾ cups, see the note about the flour brand below

2

teaspoons

sea salt

50

g

unsalted sunflower seeds

about ⅓ cup

50

g

unsalted pumpkin seeds

about ⅓ cup

4

Tablespoons

coarsely ground flax seed

3

Tablespoons

psyllium husk powder

2

Tablespoons

sesame seeds

2 ⅓

cups

carbonated water

about 550 ml

1

large egg
Instructions
Prepare an 8" x 4.5" pan by buttering it well with vegan butter. Set aside.

Dissolve active dry yeast in 3 Tablespoons warm water and stir in maple syrup. Let sit for about 10 minutes until foam forms on the surface.

In a large bowl, measure buckwheat flour, sea salt, sunflower seeds, pumpkin seeds, flax seed, psyllium husk powder and sesame seeds. Stir until combined.

Add the yeast mixture, the carbonated water and the egg to the dry ingredients. Mix on low-medium speed for 3 minutes, occasionally scraping the bowl down.

Scrape the batter into the prepared pan and set it in a warm place to rise for about 30 minutes.

Toward the end of the 30 minutes, preheat oven to 375° F.

Bake the risen loaf for about 55 minutes.

Let cool in the pan on a wire rack for 15 minutes.

Remove it from the pan and let it cool on its side for another 15 minutes. Then flip to the other side for another 15 minutes.

Slice with a sharp knife and enjoy.
Notes
I recommend Bouchard Farms brand of buckwheat flour for this recipe. 
Make sure all ingredients are at room temperature (except slightly warmer water for proofing yeast).
Proof yeast before preparing bread.
Watch the rise of the bread - it should rise over the pan but not spill over.
Bake for 55 minutes, covering with foil if needed.
Nutrition
Calories:
204
kcal
|
Carbohydrates:
33
g
|
Protein:
9
g
|
Fat:
6
g
|
Saturated Fat:
1
g
|
Cholesterol:
14
mg
|
Sodium:
411
mg
|
Potassium:
325
mg
|
Fiber:
8
g
|
Sugar:
2
g
|
Vitamin A:
20
IU
|
Vitamin C:
1
mg
|
Calcium:
46
mg
|
Iron:
2
mg
Love bread? Also check out these delicious gluten free bread recipes: