If you've been making or buying gluten free bread for any time, then you know how it has a tendency to dry out rather quickly. Regardless of the brand or how you make it, GF bread just does not stay fresh for very long.
It can be so frustrating especially when you have a great, freshly baked loaf of bread or rolls and by the next day, they are dry and crumbly. So what's the best way to store gluten free bread so that it doesn't dry out?
This is the next post in our Your Gluten Free Bread Baking Questions, Answered series. If you missed the first few, check them out below.
How to Make Gluten Free Bread without Xanthan Gum
Why does my Gluten Free Bread have a Gummy Texture?
Your Gluten Free Bread Baking Problems, Answered
So are there any tricks to keeping bread from getting stale? I'd like to think I've got a few up my sleeve.
How to store gluten free bread so that it doesn't dry out
Why it happens
In a nutshell, gluten free bread dries out quickly because it doesn't have the protein (gluten) that would keep it moist and tender. Gluten adds structure to breads. It gives them elasticity and tenderness that is tough to mimic. So that's why breads made without it tend to dry out fast.
The Solution
Even though breads made without gluten will inevitably lose their tenderness and freshness, there are certain things you can do to preserve it.
Here are a few things to try:
Use a breadbox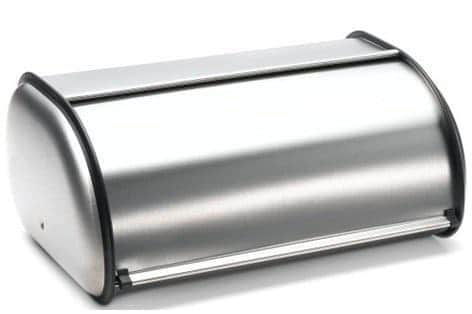 A Breadbox is one of the greatest things you can buy / invest in for gluten free breads. Whether store bought or homemade bread, storing it in a breadbox will help preserve the freshness and keep it from drying out. Here is a great option for an eye catching breadbox. Believe me, you'll wonder how baked without one!
Wait until its completely cool to slice
This can be such a tough one to follow, but trust me, it will make a world of difference in your breads. Let the loaf cool completely before slicing in to it, because otherwise, the shape will sink and the moisture level dips.
Store it with the cut side down
In your breadbox, when you do want to store the bread, place the cut side down to stop the air from getting to it too much.
Don't use a plastic bag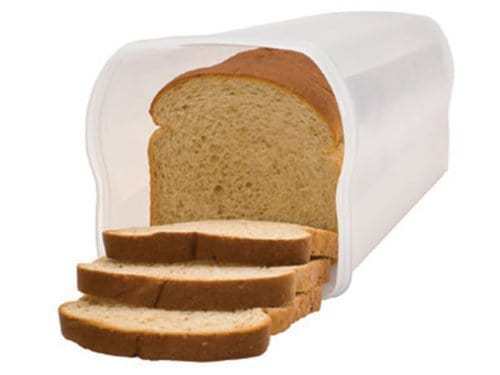 Breadboxes are ideal, but a second option would be a plastic container. Something like a Tupperware container would fit the bill nicely. This storage method is good for bread that you'll eat within 3 days. Any longer than that and you'll need to freeze it.
Wrap it well for freezing
Here's a hint with freezing, rather than freeze the whole loaf, freeze slices. Slice the loaf of bread and wrap each slice well, then place in the freezer. That way you can use one slice at a time.
Avoid the refrigerator
The refrigerator will dry out gluten free bread very quickly. It may keep any sign of moldy bread away, but you'll sacrifice your fresh bread in the process.
The biggest thing to keep in mind with storing your gluten free bread, is that there is a very short window of time that you'll be working with. These tips above will help prolong it, but it will have a shorter lifespan no matter what.
Think of your bread like a lovely treat... Fresh is best, after a few days, it loses its luster.
Make sure to sign up to our gluten free bread email list below - I want to hear from you!
And have you gotten your copy of my cookbook yet?!