You don't have to be Irish to enjoy delicious gluten free Irish soda bread! This light but hearty bread gets it's lift from a unique combination of baking soda and dairy free buttermilk. Combine that with a dash of raisins and very little added sugar and you have a yeast free bread that's fit for a celebration, any time of year!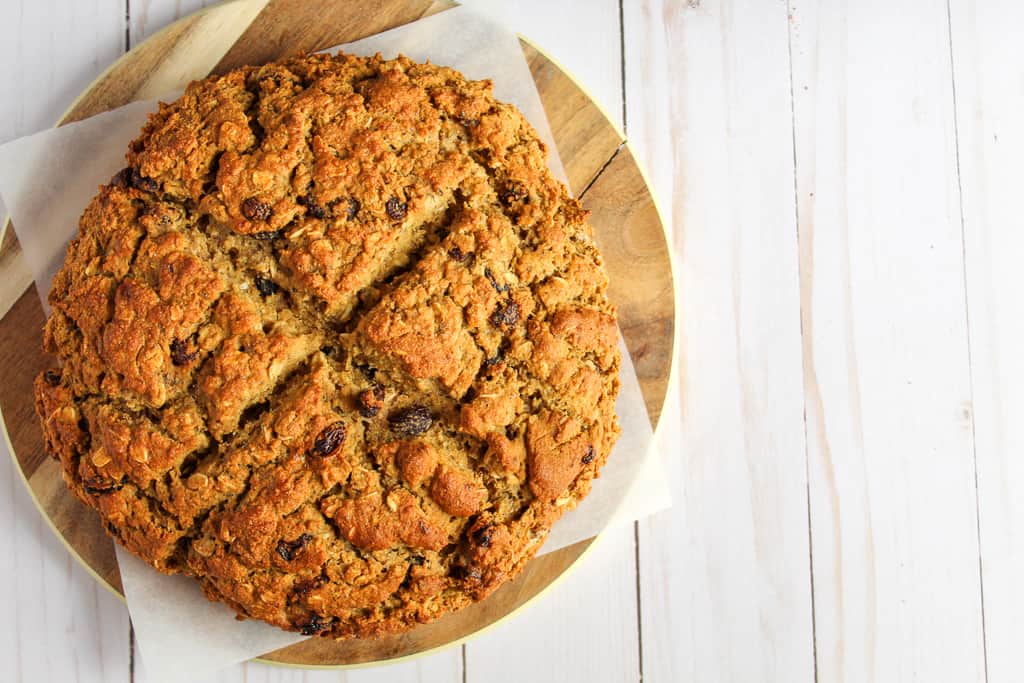 This post contains affiliate links. Affiliate links support Zest For Baking at no additional cost to you. I receive a commission if you choose to make a purchase through these links.
What is soda bread exactly?
Typically soda bread is a round loaf of bread, often slightly sweet, that follows the steps of a quick bread. The traditional soda bread recipe is made using baking soda (hence the name) as the leavening or rising agent. So no yeast is needed (just like these no yeast cinnamon rolls!). But it usually also includes some salt, buttermilk and in this case, gluten free flours and starches. It's a simple bread with a mild and delicious flavor.
What is the texture like?
Because it's a quick bread, it's not on the chewy side, like you'd expect with a yeast bread, instead this bread is very similar in texture to this tender brown bread or this pumpkin bread.
Why this recipe is amazing
Gluten free baking comes with it's own set of rules and challenges (that's why my substitutes guide is so helpful!). But sometimes there are recipes that just make life easier. And this is one of those recipes. It's not only gluten free, but dairy free, low sugar, yeast free and free of any gums. And it mixes together in just one big bowl.
It's a bread that tastes like a subtle raisin bread, designed to be enjoyed with a dollop of dairy free butter. It's light, but substantial enough that makes for a filling snack. And this recipe is a gluten free twist on traditional soda bread.
3 baking pro tips for making gluten free soda bread
1. Measure ingredients by weight
If you've taken my baking masterclass, you've seen me talk about measuring ingredients. Baking, and in particular gluten free baking, relies on accuracy for the absolute best results. In fact, even one teaspoon more or less of flour can completely change the texture of a bread. It's vitally important to measure ingredients by weight. I guarantee you'll have better results with breads and gluten free baked goods if you do!
2. Room temperature ingredients
All ingredients for this bread should be at room temperature. This incudes flours and starches too, if you store those in the refrigerator.
For a quick way to bring an egg to room temperature: heat a ½ cup water in a microwave safe, glass measuring cup. Then float a whole egg in the water for anywhere from 1 minute to 5 minutes, depending on the temperature of the water. Quick, room temperature egg!
3. Mix the batter well
Since this recipe doesn't require a mixer, just some good ol' fashioned arm mixing, you'll want to be sure to mix it well. Use a sturdy spoon and mix the batter for about 2 minutes.
How to Make Gluten Free Irish Soda Bread
If the thought of gluten free bread immediately brings visions of dry, crumbly bread to your mind, you need this recipe in your life! It's seriously one of my easiest recipes with ingredients you probably have on hand.
Ingredients & substitutions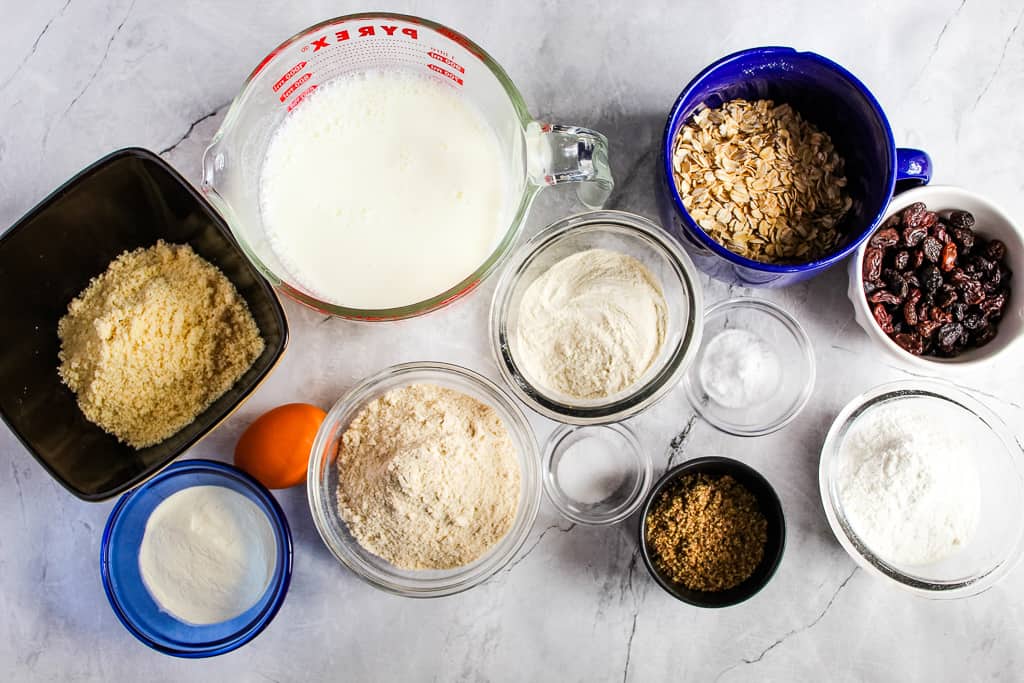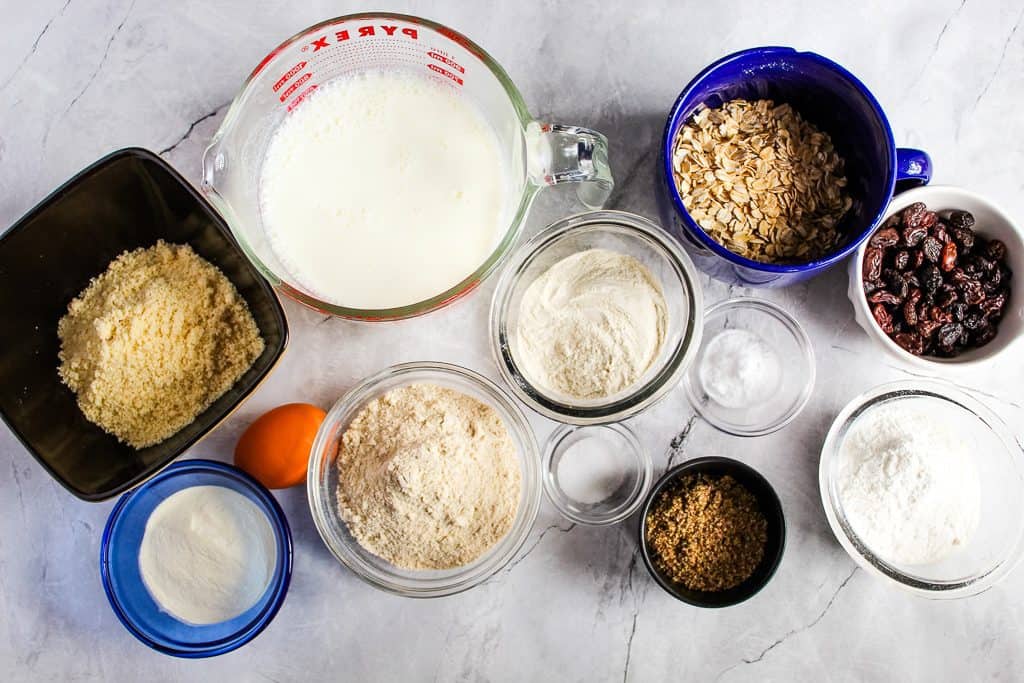 You'd think that to get a nice rise on a loaf of bread, you need yeast. And while that's partly true, it isn't always the case. Like in this bread... The "soda" in our gluten free Irish soda bread is used as the leavening agent. So that tall rise is actually baking soda.
Wondering where to find dairy free buttermilk? This recipe was tested with a homemade dairy free buttermilk, It's easily made with distilled white vinegar and almond milk. Follow this link to make buttermilk.
For flours and starches, I recommend the Nuts.com brand. It's budget friendly and the quality is amazing.
If you need to substitute a flour or starch, reference this flour chart. The recipe has only been tested with the flours in the recipe below so I can't be certain of the results of other flours.
Next: mixing
Will anyone who doesn't want to pull out their big stand mixer please say "I"?
I hear ya!
Just a large bowl, a medium bowl and a trusty spoon is all you need to mix up this bread dough.
The medium bowl is where the oats, flax seed, cinnamon, baking soda and salt are mixed. The large bowl is for the flours.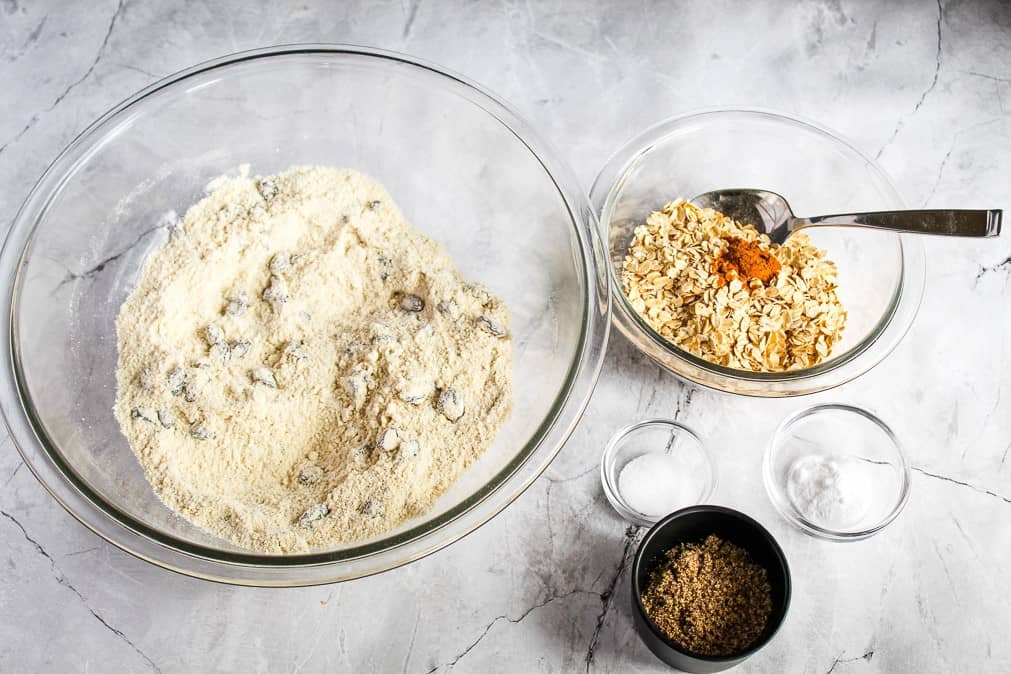 Once you've added the oat mixture to the large bowl of flours, it will look like a huge bowl of thin oatmeal.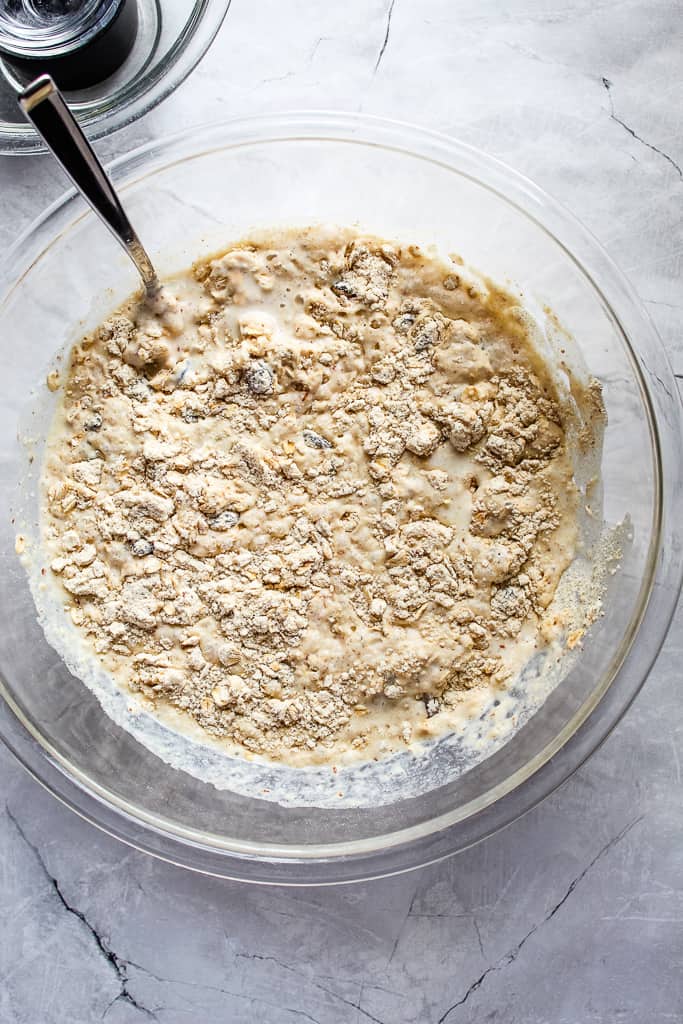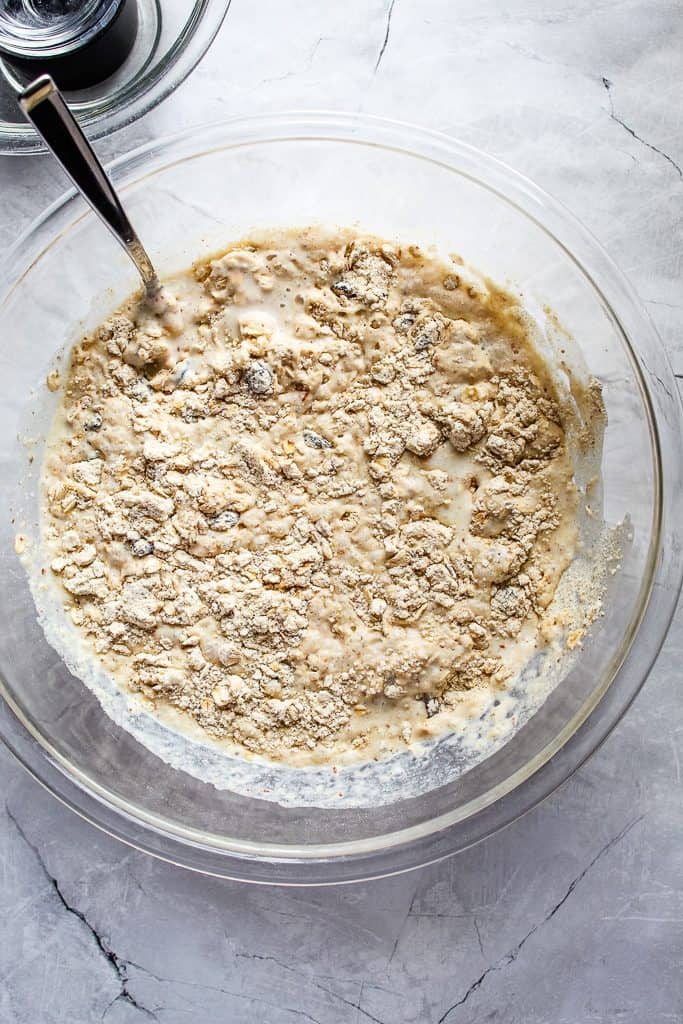 The consistency will get thicker as you stir though. Stir for about 2 minutes.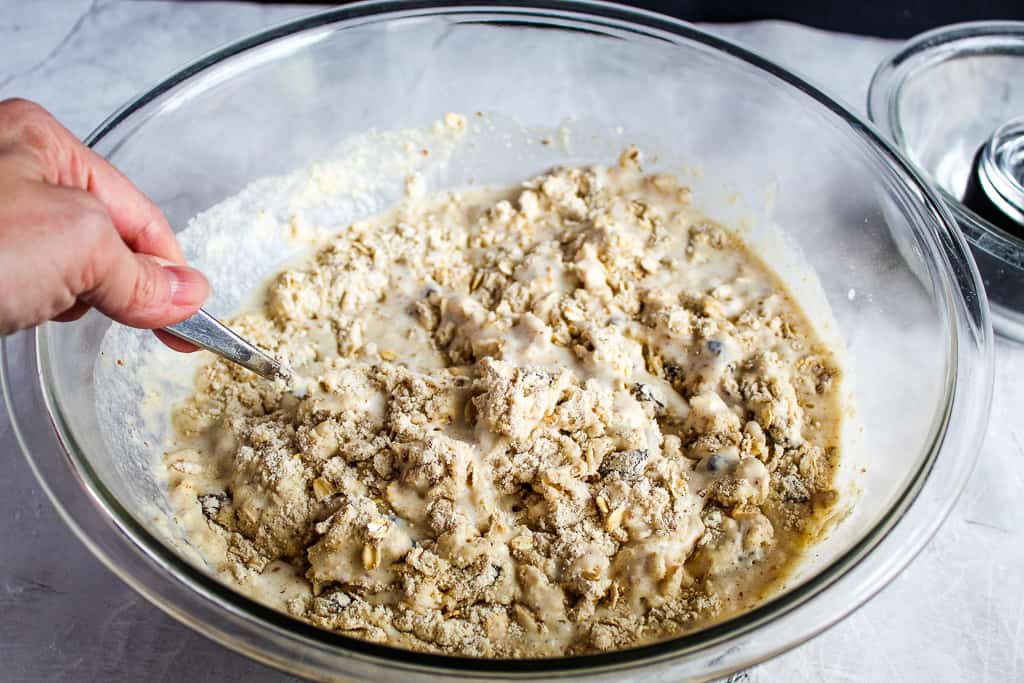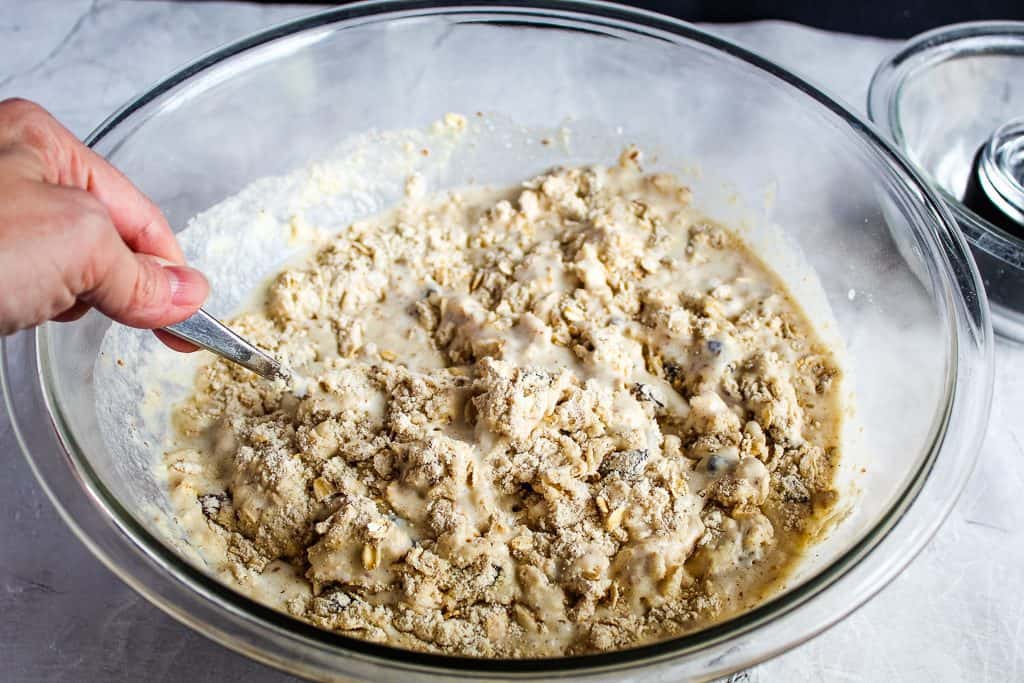 The end result will be a dough that holds it shape, but it won't be 'yeast bread smooth'.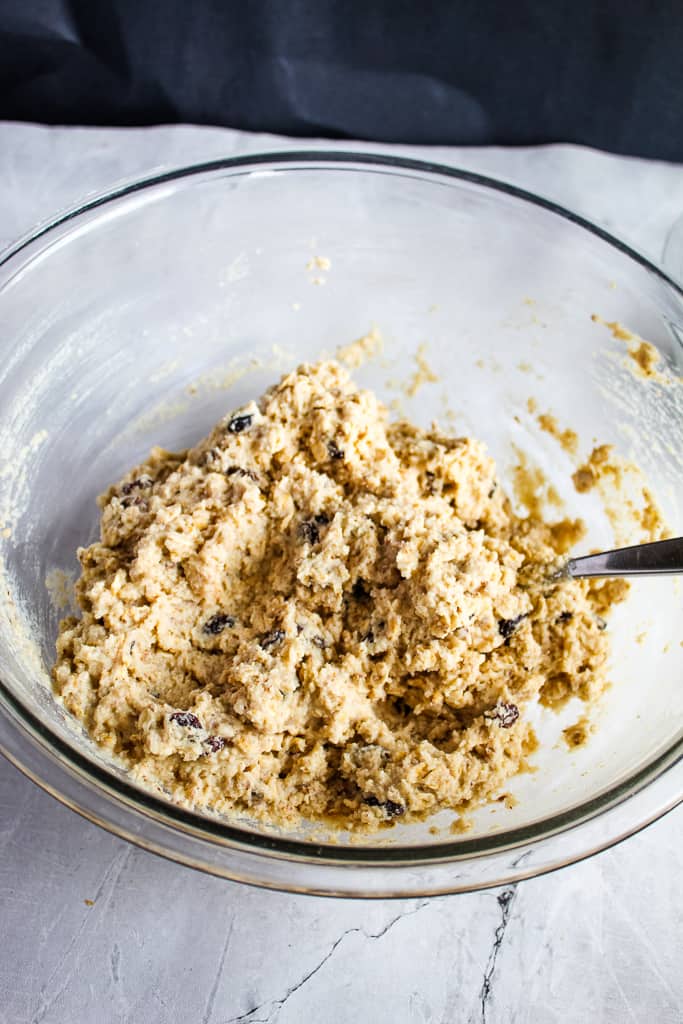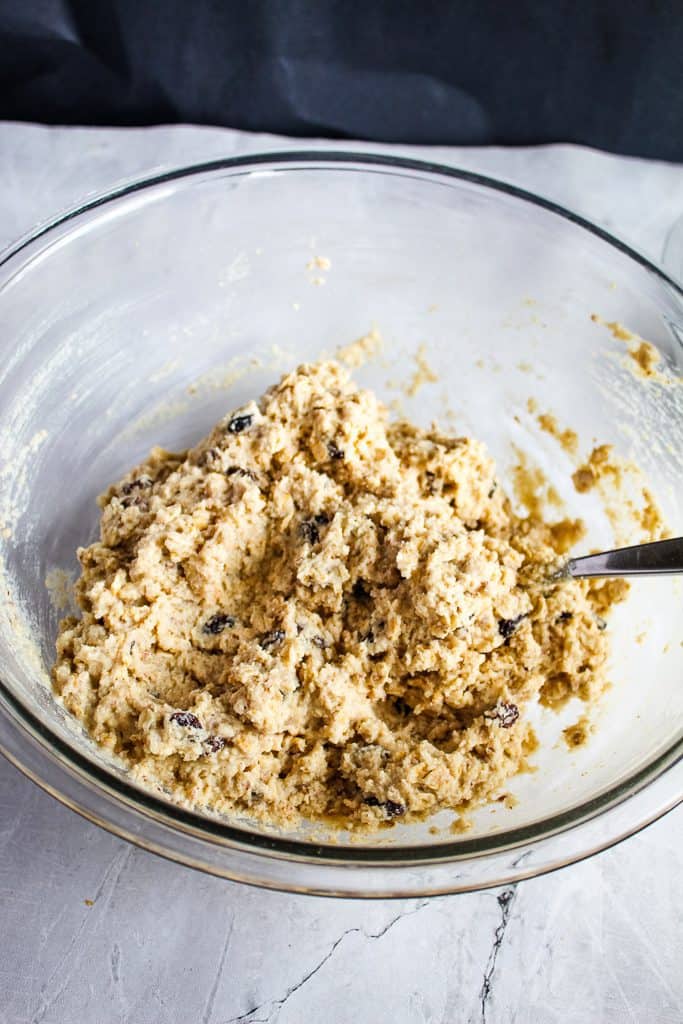 Shape the dough into a round loaf about 3 inches in height and 10 inches in diameter.
Finally: baking
After that short mix and dough prep, putting the finishing touches on this almost-ready-to-bake dough is the fun part.
Using a sharp knife, cut a cross in the top of the bread dough. And then brush it with the beaten egg. The top should be mostly smooth but slightly imperfect - it won't be that super smooth dough you'd expect from a yeast bread (even these yeast dinner rolls aren't perfectly smooth though!) - there will be ridges and little spots in it and that's ok.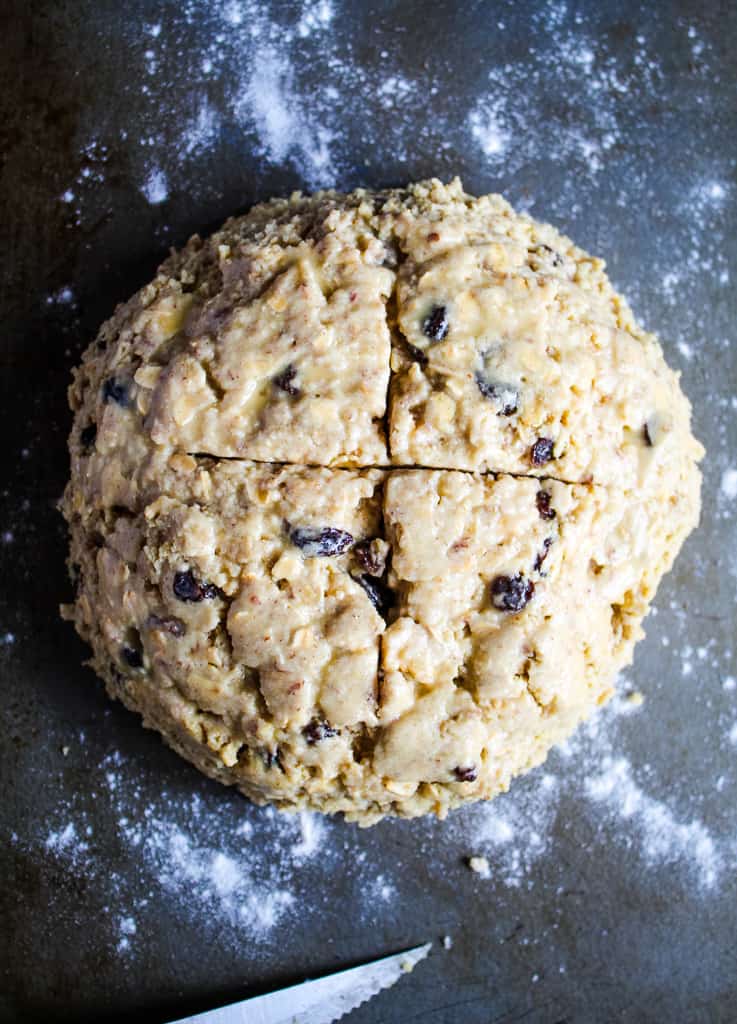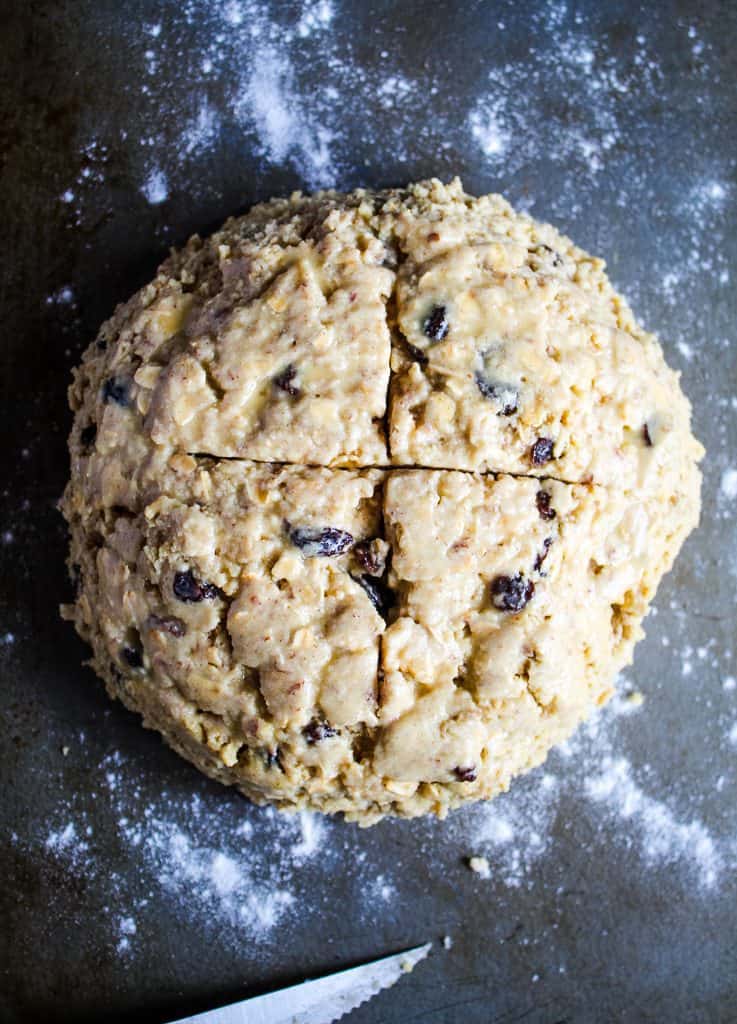 Along the same lines as this soda bread is this gluten free cinnamon raisin artisan bread - it's the charm of a rustic bread without gluten!
If you like this recipe, please give it a rating!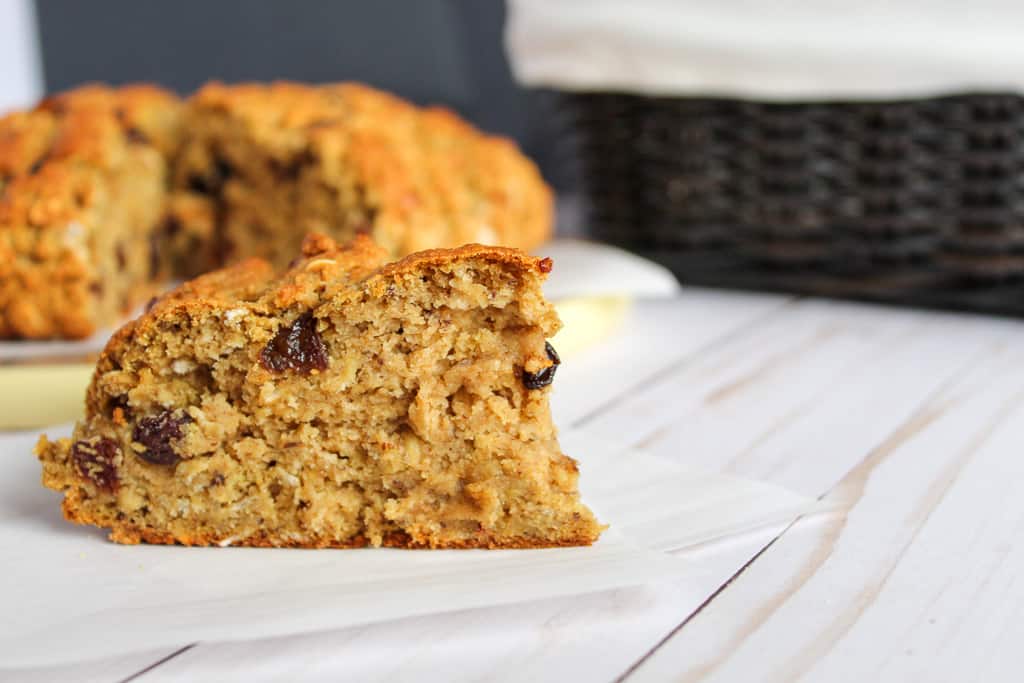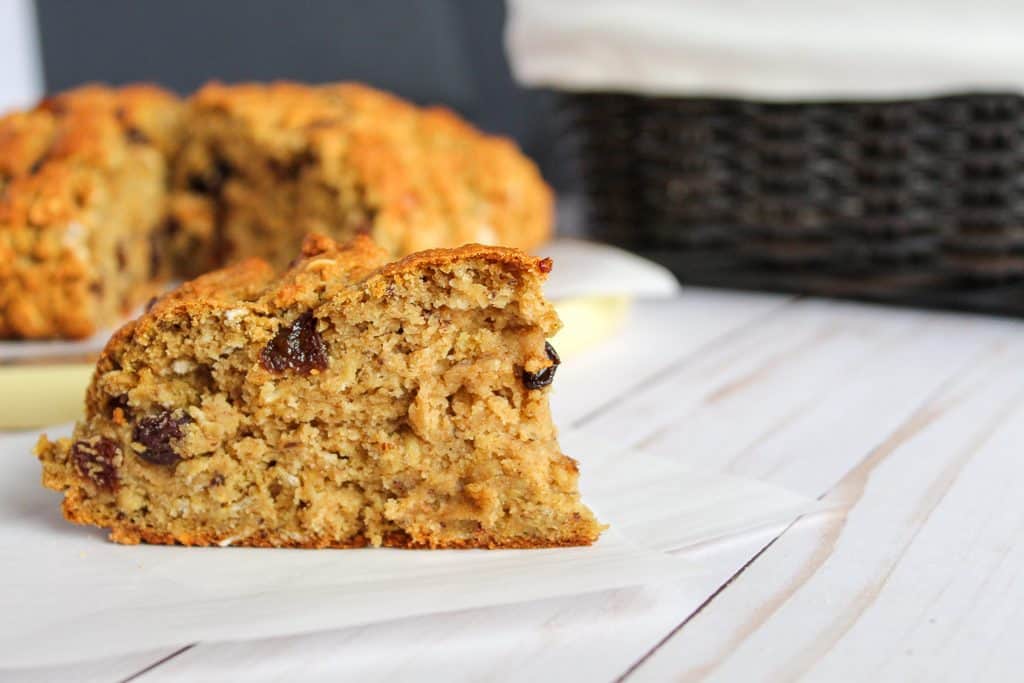 FAQ's about this recipe
Can I substitute a flour or starch?
Possibly, but the recipe has only been tested with the flours referenced below. But here's a handy flour substitution chart if you'd like to try.
Can I make this without the sugar?
Yes! The sugar can be omitted without any additional changes.
How do I store this soda bread?
The best soda bread is enjoyed the same day. However, if you'd like to store it for serving later, slice the entire loaf and place pieces of wax paper in between each slice. Place the entire loaf in a plastic bag and place the bag in the freezer. Then remove each slice and toast as needed.
What can I use in place of the flax seeds?
The flax seeds contribute to the texture of the bread. And alternative to them would be ground chia seeds.
Other recipes you may like
Recipe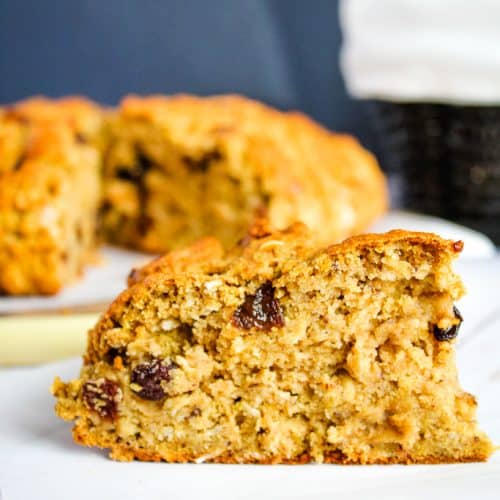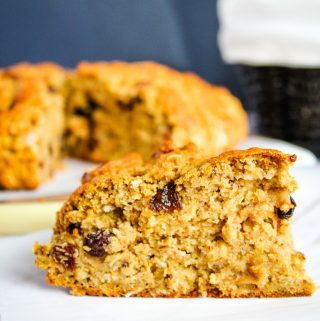 Gluten Free Irish Soda Bread
Slices of this gluten free Irish soda bead will disappear faster than you can say "it's ready!" With just a hint of sweet from the raisins, this traditional loaf will become a go-to recipe anytime you need an easy but memorable loaf of bread.
Print
Pin
Rate
Ingredients
45

grams

potato flour

about ¼ cup

55

grams

light buckwheat flour

about ⅓ cup

70

grams

almond flour

about ⅔ cup

85

grams

sweet rice flour

about ½ cup, plus some for dusting the baking sheet

100

grams

sorghum flour

about ¾ cup

2

Tablespoons

flax seed

90

grams

rolled oats

about 1 cup

3

Tablespoons

granulated sugar

½

teaspoon

cinnamon

2

teaspoons

baking soda

1

teaspoon

salt

½

cup

raisins

2

cups

dairy free buttermilk

1

egg mixed with 1 tablespoon water

Vegan butter for greasing
Instructions
Preheat the oven to 375 F. Grease the baking sheet with butter and dust lightly with sweet rice flour.

In a large bowl, whisk together the potato flour, buckwheat flour, almond flour, sweet rice flour and sorghum flour. Add in the raisins and mix them in with the flours.

In a medium bowl, mix together the flaxseed, oats, sugar, cinnamon, baking soda and salt. Add it to the flours and mix well.

Add the buttermilk to this dry mixture and mix until the dough is moist and fully mixed.

Scrape the dough onto the baking sheet and shape it until it is round and about 3 inches thick. With a knife, cut a deep cross into the top of the bread. Whisk together the egg and the water and brush it evenly on the top of the bread.

Bake the bread for 50-60 minutes, until the crust is a dark brown and you hear a hollow thump when you tap it.
Notes
The bread dough will look more like thick batter than bread dough
Use a rubber spatula to pat the dough into a 10 inch circle
Cool the bread on the pan for 5 minutes before removing to a wire rack
Nutrition
Calories:
287
kcal
|
Carbohydrates:
45
g
|
Protein:
9
g
|
Fat:
10
g
|
Saturated Fat:
2
g
|
Cholesterol:
7
mg
|
Sodium:
647
mg
|
Potassium:
343
mg
|
Fiber:
6
g
|
Sugar:
4
g
|
Vitamin A:
100
IU
|
Vitamin C:
0.7
mg
|
Calcium:
116
mg
|
Iron:
1.9
mg