You don't have to be Irish to enjoy delicious gluten free Irish soda bread! This light but hearty bread gets it's lift from a unique combination of baking soda and buttermilk. Combine that with a dash of raisins and NO added sugar and you have a bread that's fit for a celebration, any time of year!

How to Make Gluten Free Irish Soda Bread
If the thought of gluten free bread immediately brings visions of dry, crumbly bread to your mind, you need this recipe in your life! It's seriously one of my easiest recipes with ingredients you probably have on hand.
First up: the ingredients (no yeast!)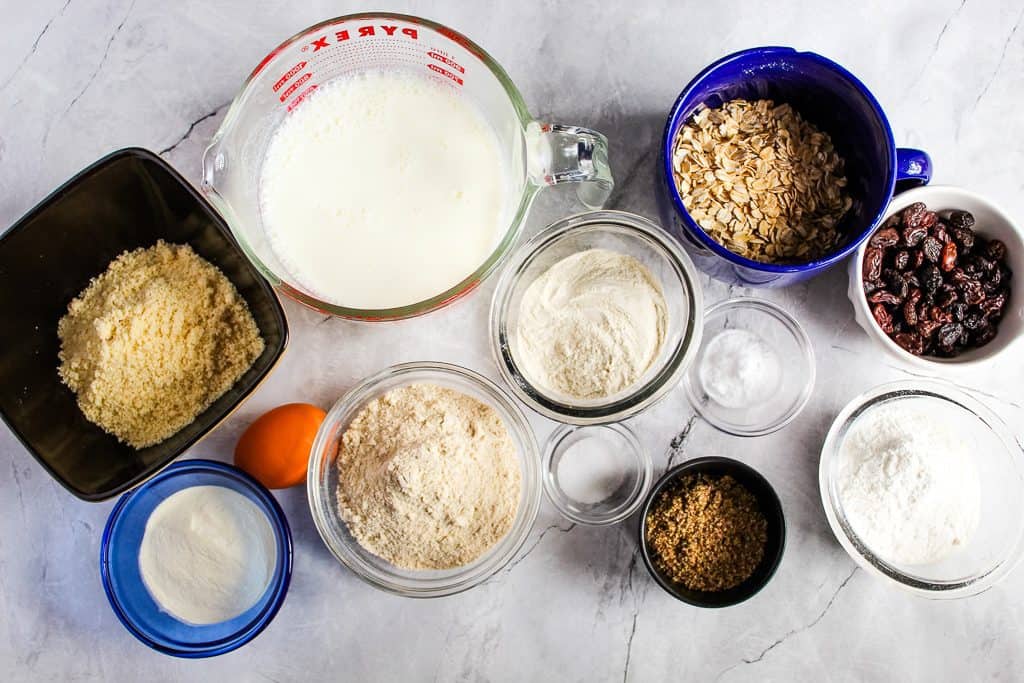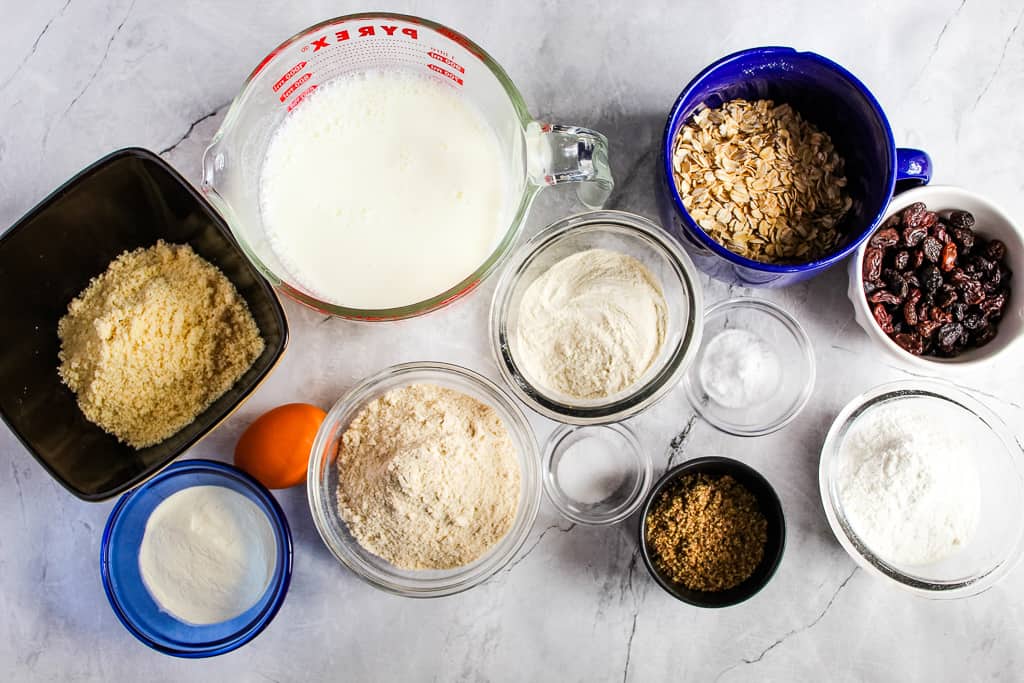 You'd think that to get a nice rise on a loaf of bread, you need yeast. And while that's partly true, it isn't always the case. Like in this bread...
The "soda" in our gluten free Irish soda bread is used as the leavening agent. So that tall rise is actually baking soda.
Not to get into too much baking science, but when the soda reacts with the buttermilk, it causes a release of all that acidity, thus causing it to rise.
Thinking you are out of luck in making this because you don't have buttermilk? Not so! Follow this link to make buttermilk.
Next: mixing
Will anyone who doesn't want to pull out their big stand mixer please say "I"?
I hear ya!
Just a large bowl, a medium bowl and a trusty spoon is all you need to mix up this bread dough.
The medium bowl is where the oats, flax seed, cinnamon, baking soda and salt are mixed. The large bowl is for the flours.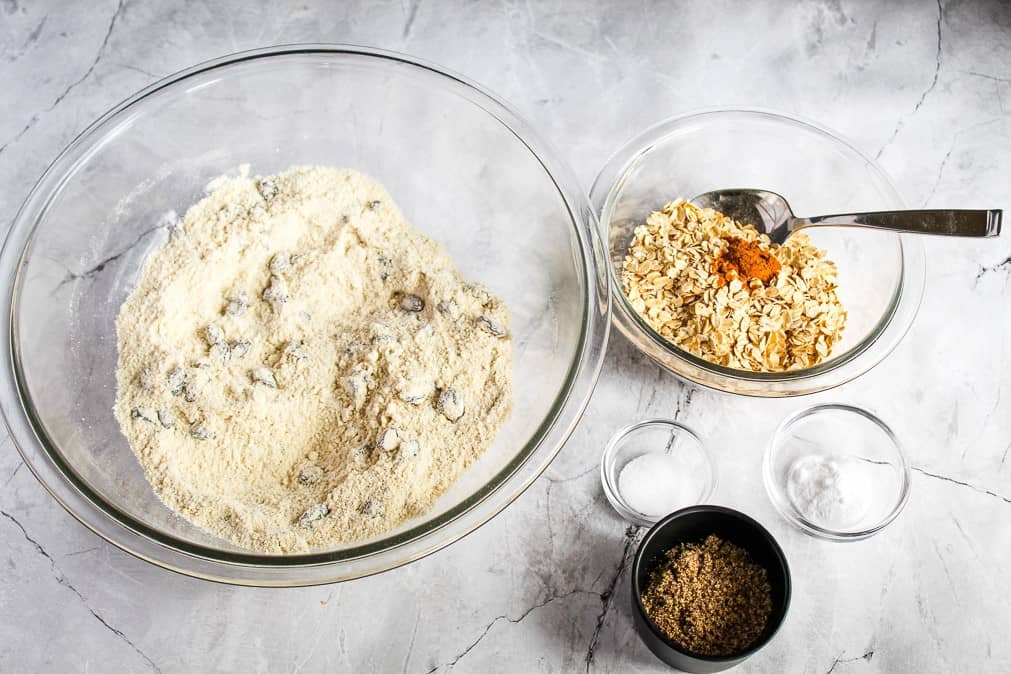 Once you've added the oat mixture to the large bowl of flours, it will look like a huge bowl of thin oatmeal.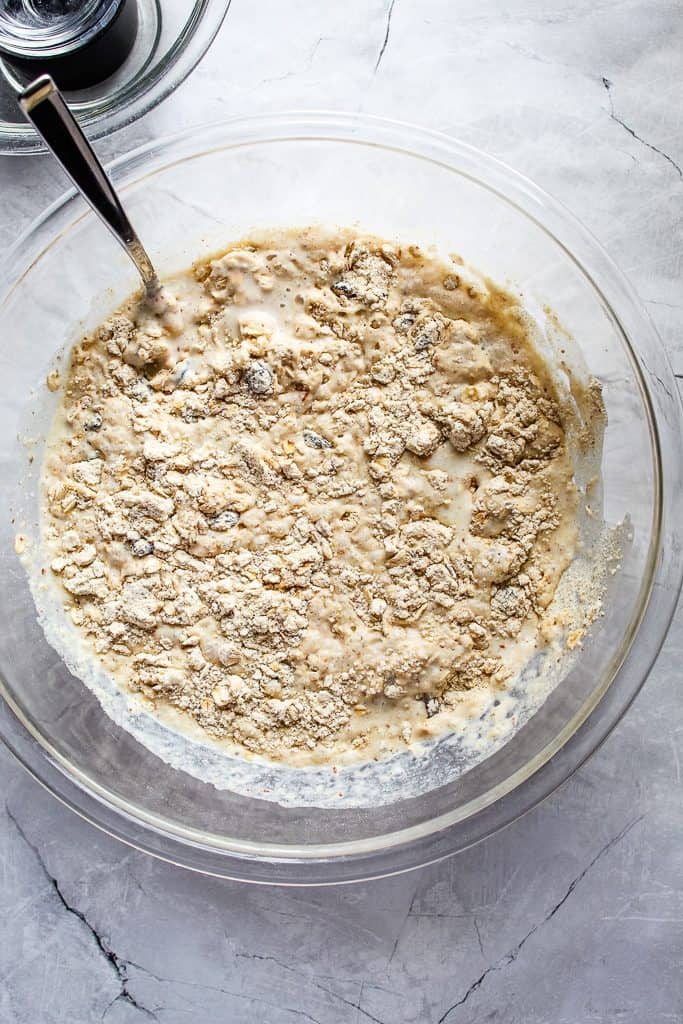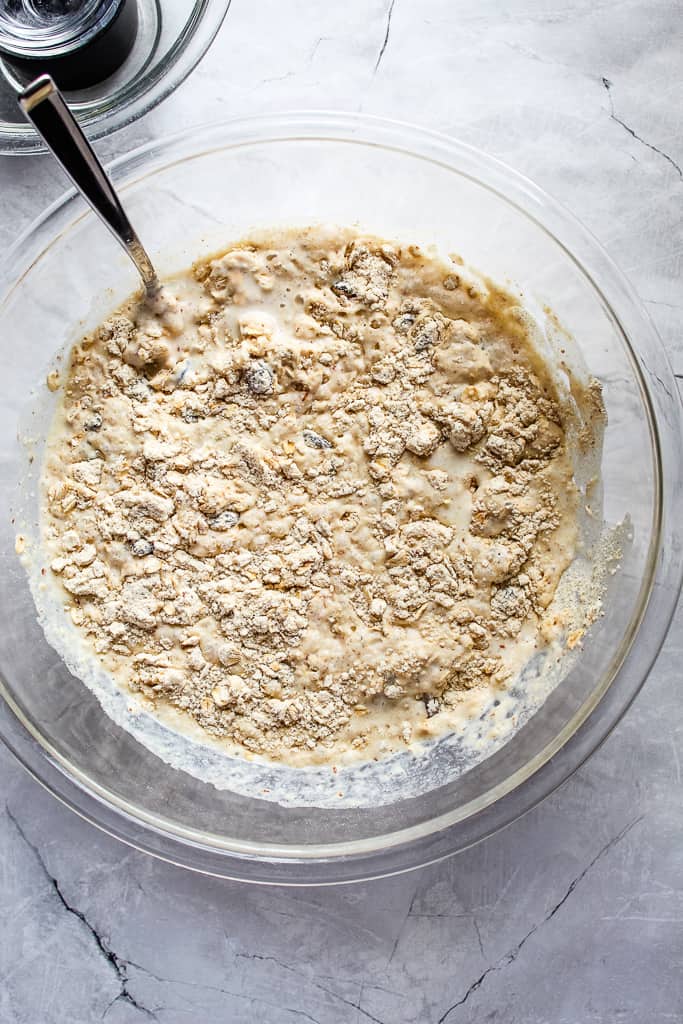 The consistency will get thicker as you stir though.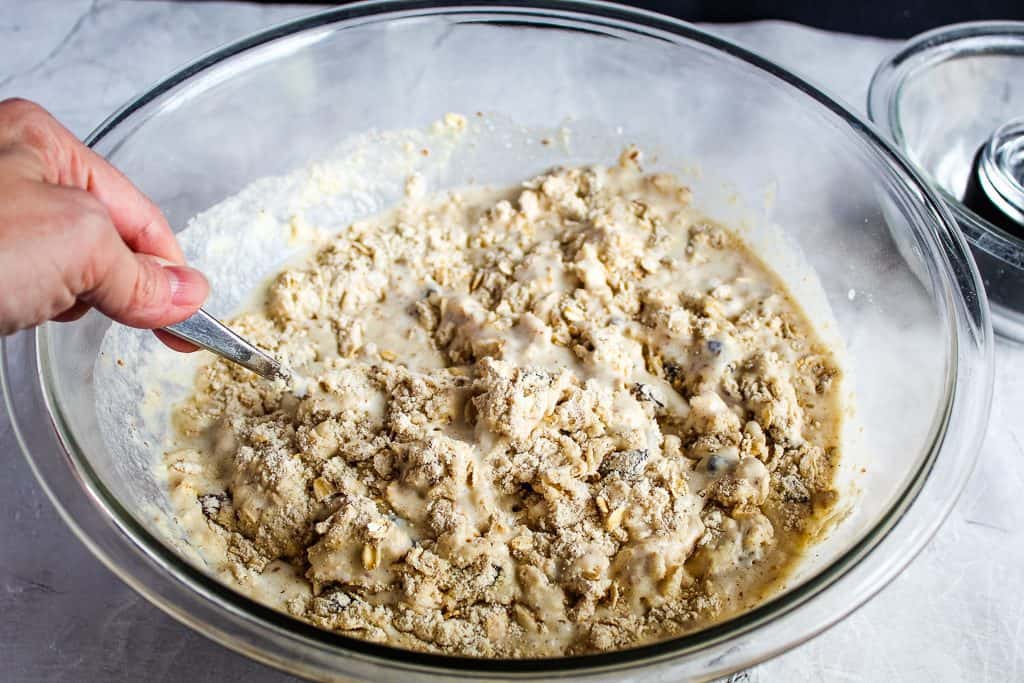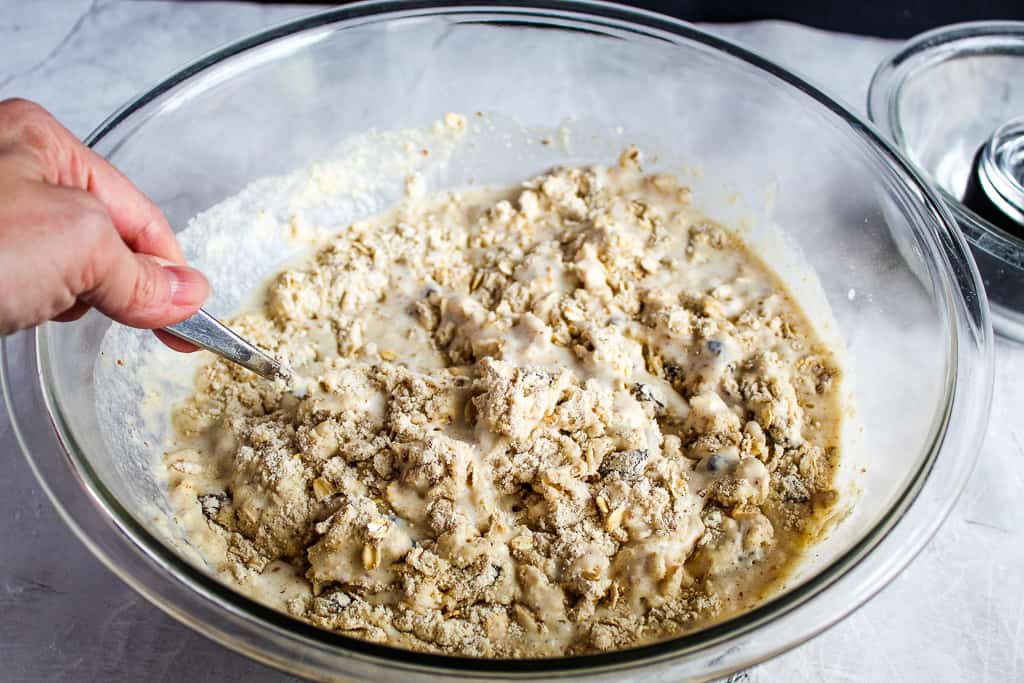 The end result will be a dough that holds it shape, but it won't be 'yeast bread smooth'.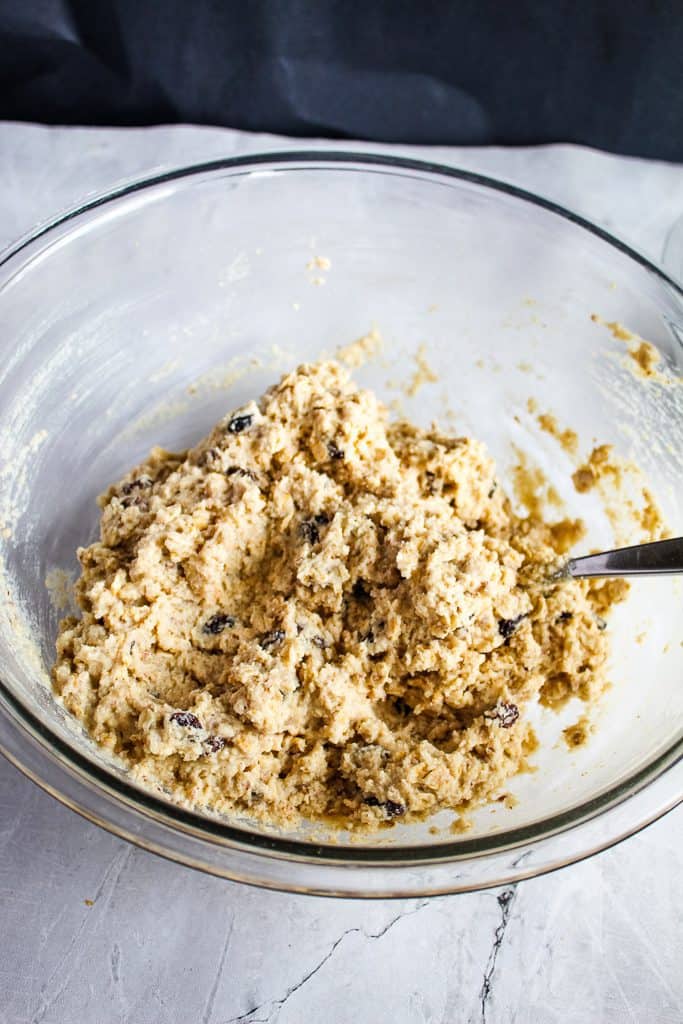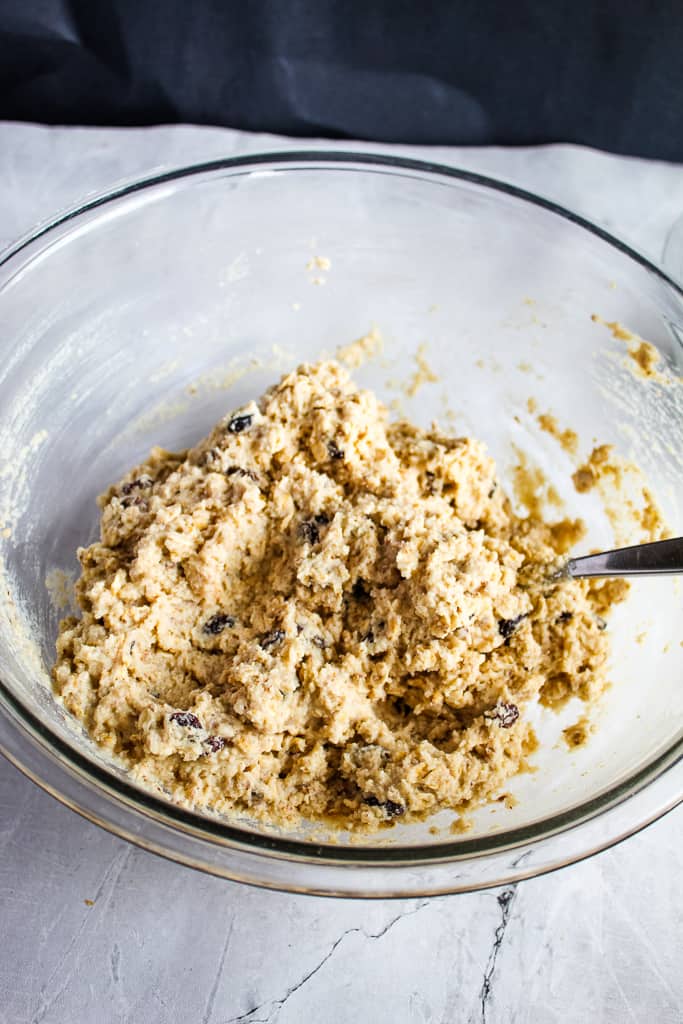 Shape the dough into a round loaf about 3 inches in height and 10 inches in diameter.

Finally: getting the gluten free Irish soda bread ready for baking
After that short mix and dough prep, putting the finishing touches on this almost-ready-to-bake dough is the fun part.
Using a sharp knife, cut a cross in the top of the bread dough. And then brush it with the beaten egg. The top should be mostly smooth but slightly imperfect - it won't be that super smooth dough you'd expect from a yeast bread - there will be ridges and little spots in it and that's ok.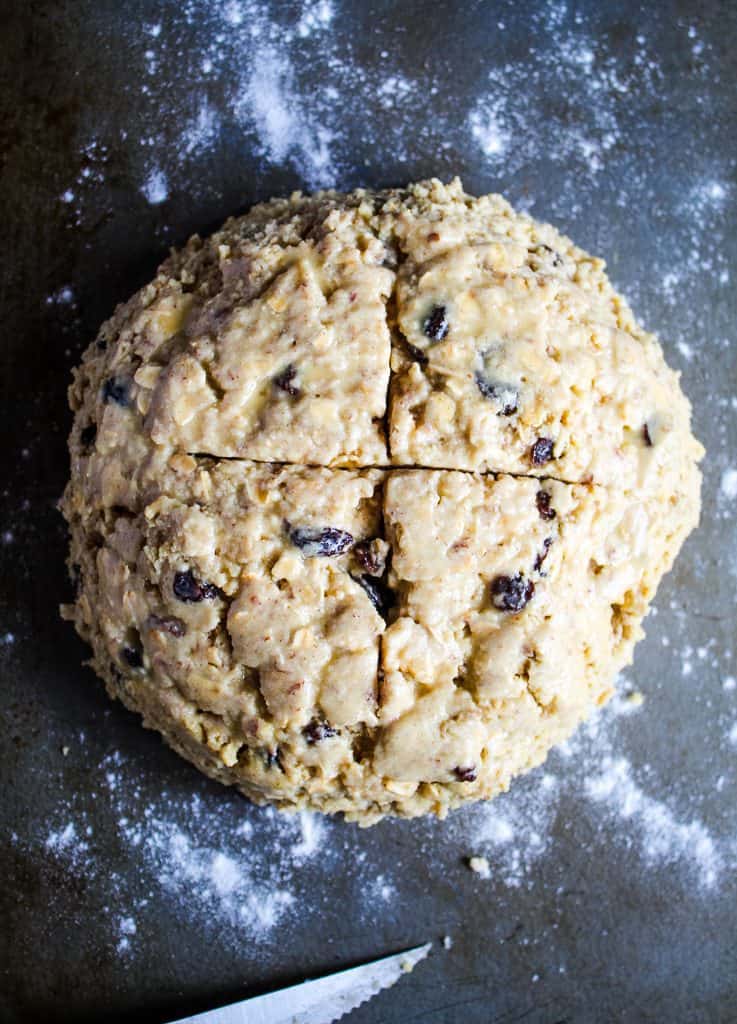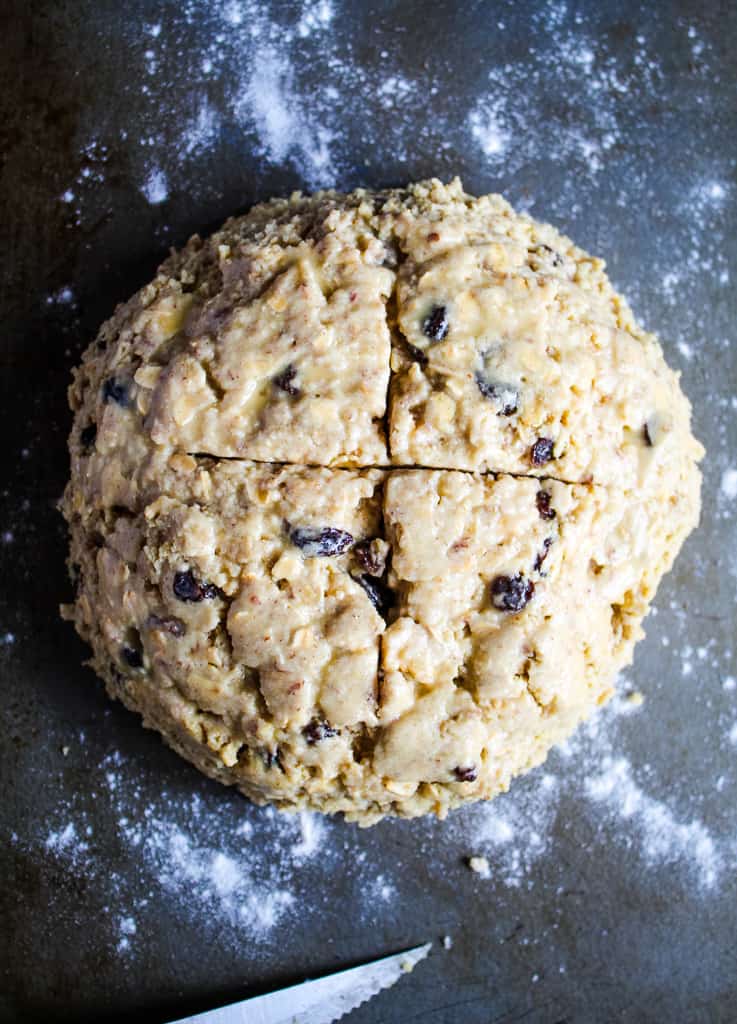 Along the same lines as this soda bread is this gluten free cinnamon raisin artisan bread - it's the charm of a rustic bread without gluten!
If you like this recipe, please give it a rating!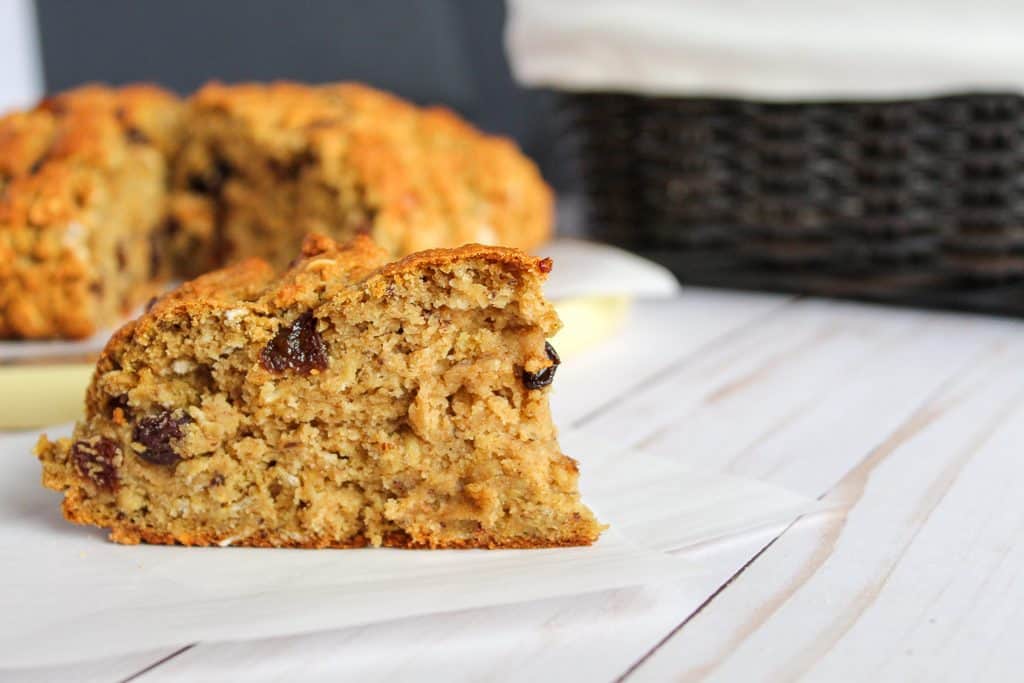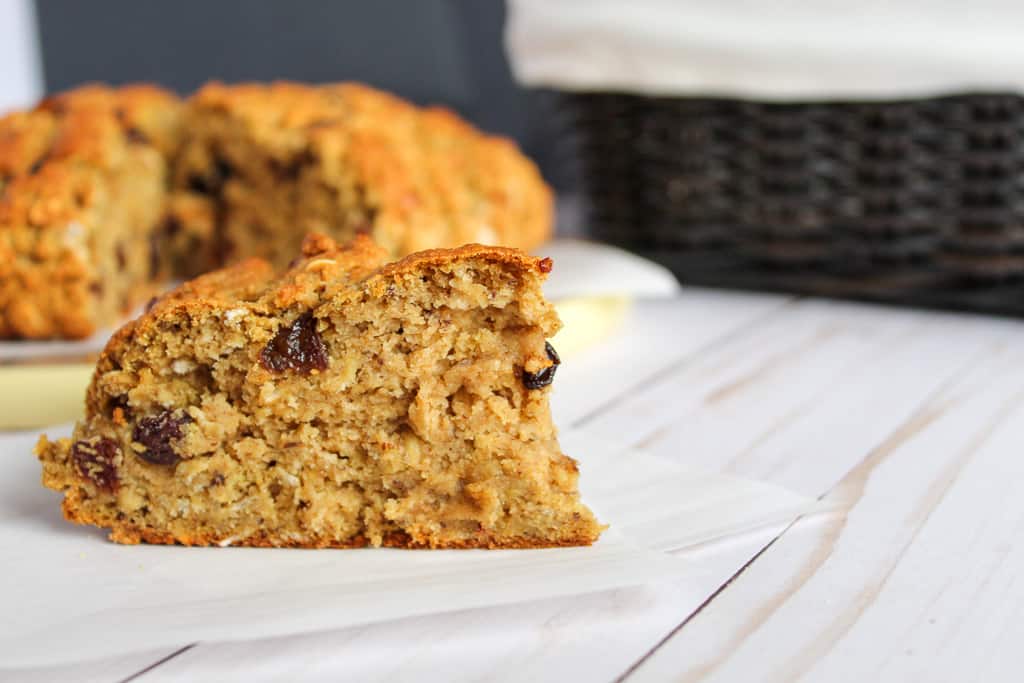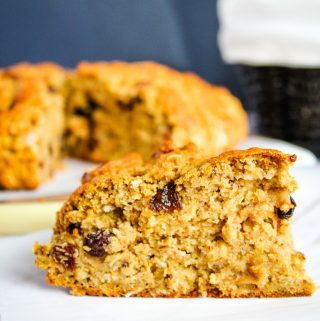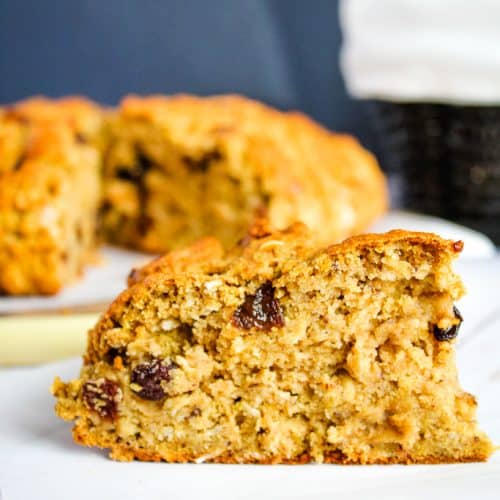 Gluten Free Irish Soda Bread
Slices of this gluten free Irish soda bead will disappear faster than you can say "it's ready!" With just a hint of sweet from the raisins, this traditional loaf will become a go-to recipe anytime you need an easy but memorable loaf of bread.
Print
Pin
Rate
Ingredients
45

g

potato flour

about ¼ cup

55

g

light buckwheat flour

about ⅓ cup

70

g

almond flour

about ⅔ cup

85

g

sweet rice flour

about ½ cup, plus some for dusting the baking sheet

100

g

sorghum flour

about ¾ cup

2

Tbsp.

flax seed

90

grams

rolled oats

about 1 cup

3

Tbsp.

granulated sugar

½

tsp.

cinnamon

2

tsp.

baking soda

1

tsp.

salt

½

cup

raisins

2

cups

buttermilk

1

egg mixed with 1 tablespoon water

Butter for greasing
Instructions
Preheat the oven to 375 F. Grease the baking sheet with butter and dust lightly with sweet rice flour.

In a large bowl, whisk together the potato flour, buckwheat flour, almond flour, sweet rice flour and sorghum flour. Add in the raisins and mix them in with the flours.

In a medium bowl, mix together the flaxseed, oats, sugar, cinnamon, baking soda and salt. Add it to the flours and mix well.

Add the buttermilk to this dry mixture and mix until the dough is moist and fully mixed.

Scrape the dough onto the baking sheet and shape it until it is round and about 3 inches thick. With a knife, cut a deep cross into the top of the bread. Whisk together the egg and the water and brush it evenly on the top of the bread.

Bake the bread for 50-60 minutes, until the crust is a dark brown and you hear a hollow thump when you tap it.
Notes
The bread dough will look more like thick batter than bread dough
Use a rubber spatula to pat the dough into a 10 inch circle
Cool the bread on the pan for 5 minutes before removing to a wire rack
Nutrition
Calories:
287
kcal
|
Carbohydrates:
45
g
|
Protein:
9
g
|
Fat:
10
g
|
Saturated Fat:
2
g
|
Cholesterol:
7
mg
|
Sodium:
647
mg
|
Potassium:
343
mg
|
Fiber:
6
g
|
Sugar:
4
g
|
Vitamin A:
100
IU
|
Vitamin C:
0.7
mg
|
Calcium:
116
mg
|
Iron:
1.9
mg