Step aside all other gluten free gingerbread - this recipe is so full of flavor and features an easy, homemade gingerbread mix. You'll be nominated to bring THIS DESSERT to every function!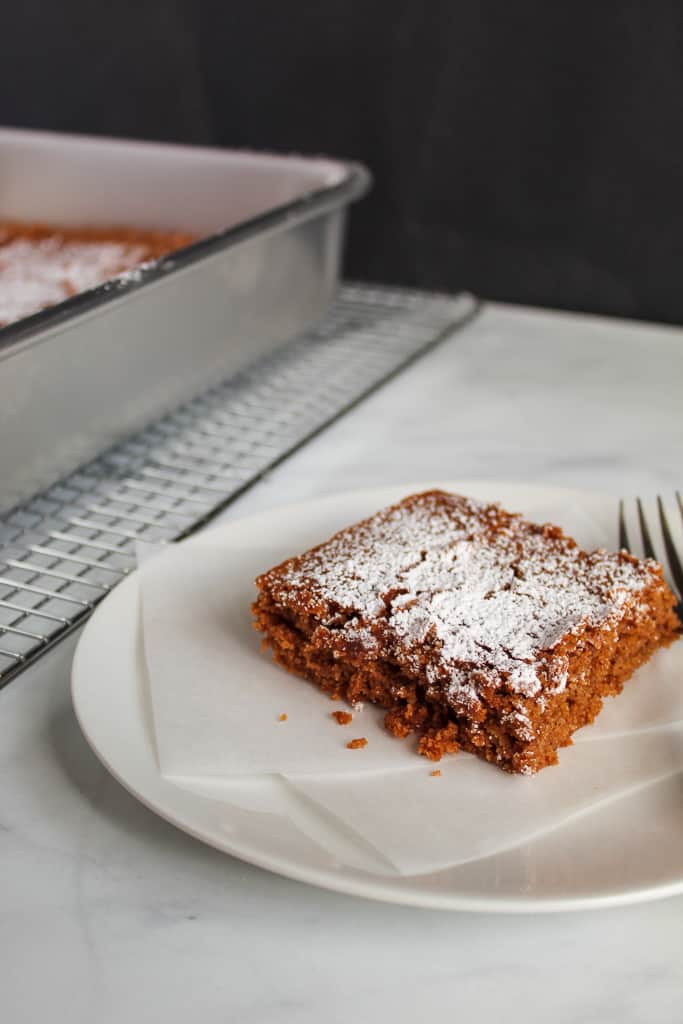 This post contains affiliate links. Affiliate links support Zest For Baking at no additional cost to you. I receive a commission if you choose to make a purchase through these links.
One piece of gingerbread, warm and just out of the oven is just what a holiday baking bonanza needs. And this gluten free variety will impress even the pickiest eater with how amazing it tastes and how easily it comes together. Like this white bread, it's sure to become one of your favorite recipes.
Why you'll love this recipe
There are so many reasons to love this egg-free recipe but the easy prep, the fact that you don't need a mixer and the ease of storing it have got to be some of the top ones. Plus this recipe can be as formal or as simple as you'd like. Gingerbread for breakfast is delicious... just like gingerbread for a dessert! Ever had apple pie for breakfast? Also delicious!
Gingerbread baking pro tips
For the absolute best gingerbread, follow these baking tips:
1. Use room temperature ingredients
We talk about this extensively in my baking masterclass, but all ingredients should be at room temperature. This includes everything from flours to starches to milk and spices. Warmer ingredients blend better resulting in better textured baked goods.
2. Measure by weight
A general rule of thumb for baking, if a weight measure is given, use that. Most all of the recipes here on Zest For Baking have the ingredients listed in weight. I show a great example of why this is so important in the masterclass, but cups vary widely - a one cup measure may actually by several Tablespoons off from what the recipe creator used.
3. Let the batter rest
Just like the other tips, this one is equally important for tender, wonderfully textured gingerbread. After mixing the batter, set the bowl aside for 30 minutes. This rest time allows the starches and flour to fully hydrate, meaning the end result is a traditional cake without being too crumbly.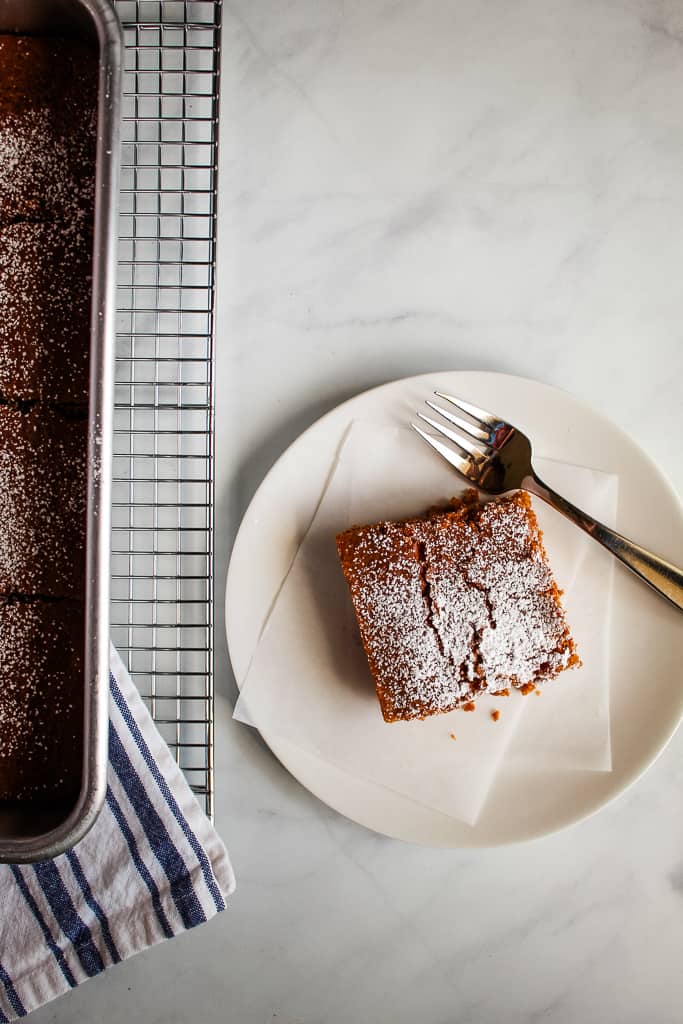 Steps for making gluten free gingerbread
Mix the gingerbread mix together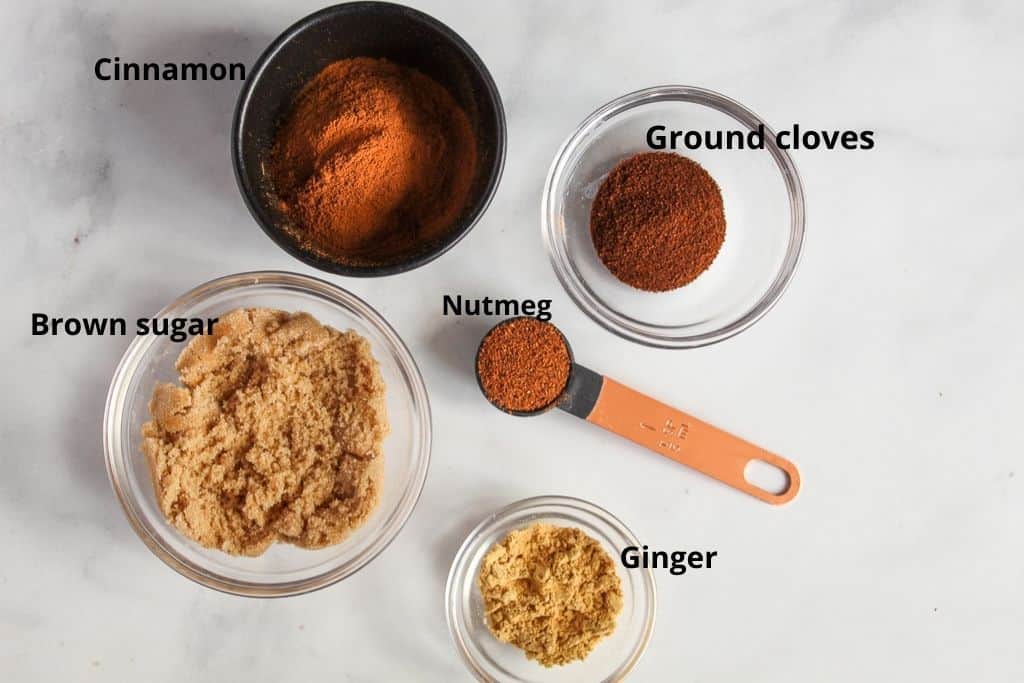 The gingerbread mix is the highlight of the recipe - it's easy to make and you'll even have some left over. Just mix the brown sugar, cinnamon, cloves, ginger and nutmeg in a small bowl. Set it aside until you're ready to use it.
Ingredients & substitutions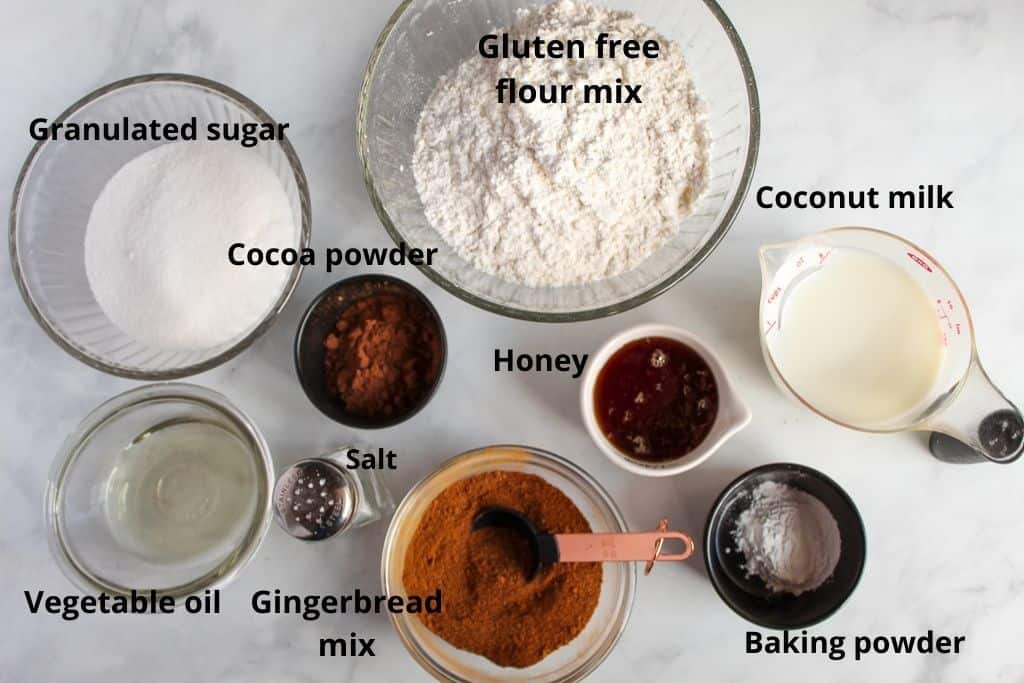 The ingredients list for this gingerbread is short and sweet. And if you're looking for a gingerbread that's dairy free too... This is it! Here are the ingredients you'll need nd then if there's an equally good substitution.
Gluten free flour blend - the one I use and recommend is here. But if you need a substitute, another good flour blend is King Arthur's Measure for Measure. I have not tested the recipe with other blends so I can't say for sure how the results will be.
Granulated sugar - I used the Imperial brand of sugar, but any granulated sugar will work great. If you need to substitute the sugar, use Swerve granulated sugar.
Honey - I found a local honey hat I used in this recipe, but any good quality honey will work. If you'd like to substitute the honey, use pure maple syrup.
Cocoa powder - I used an organic variety of cocoa powder but any unsweetened, pure cocoa powder will work. I would not recommend substituting or leaving this out.
Coconut milk - I've been keeping the canned coconut milk on hand since it's so convenient so that is what I used for this recipe. But refrigerated coconut milk would work great too. If you need to substitute the coconut milk, any milk will work great, just steer clear of fat-free varieties. And make sure you're reaching for coconut milk not coconut cream!
Vegetable oil - I used the store brand of vegetable oil. If you want to substitute the oil, melted coconut oil would work great also.
Baking powder - I used the Clabber Girl brand. I would not recommend substituting the baking powder.
Dash of salt - The salt enhances the flavor of the spices. If you need to maintain a low sodium diet, it can be omitted though.
Add in the homemade gingerbread mix and you have gingerbread! And if you're looking for more dairy free recipes, check out these amazing gluten free dairy free dinner rolls!
Mixing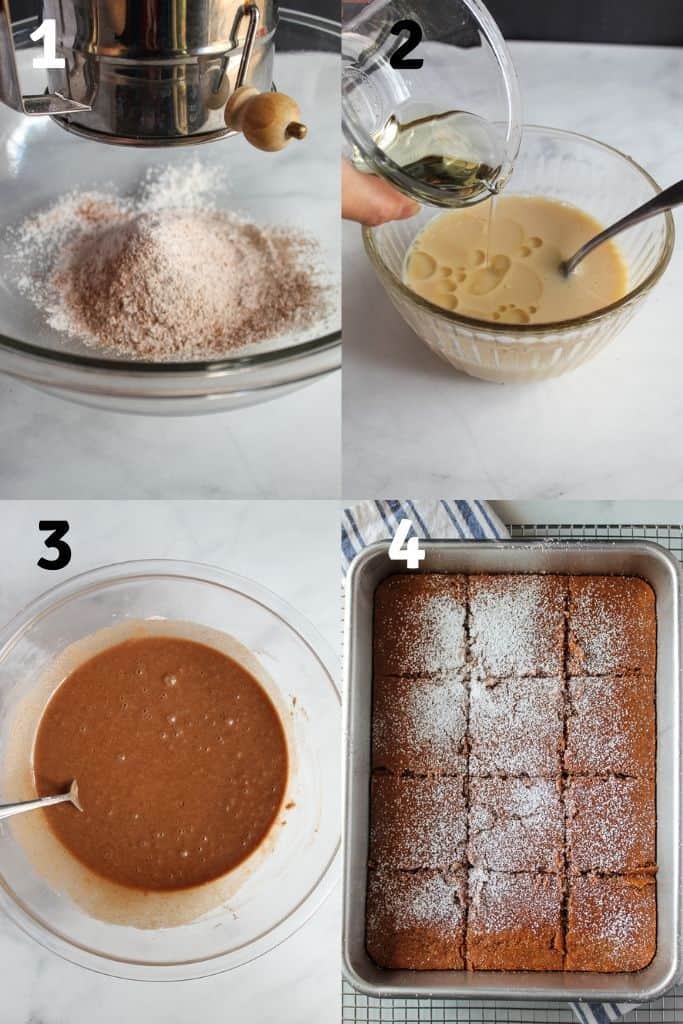 This one bowl recipe starts with a sifter (this is the one I recommend). Place it over a large bowl and add the gluten free flour blend, cocoa and baking powder into it (as in step 1 in the image above). In a small bowl, mix the milk and honey and add in the oil (step 2). Add this liquid to the large bowl of dry ingredients and stir to combine (step 3).
The batter for this gingerbread is going to be thin. Don't get tempted to add more flour to it to thicken it up. Thin batter is ok. 
Set the batter aside to rest for 30 minutes. After the rest time, pour it into a 9" x 13" baking pan.
Baking
A 9 x 13 inch baking pan should take about 40 minutes to fully bake. That decadent batter will bake up into a beautiful pan of gingerbread that can be sprinkled with powered sugar and then sliced into squares.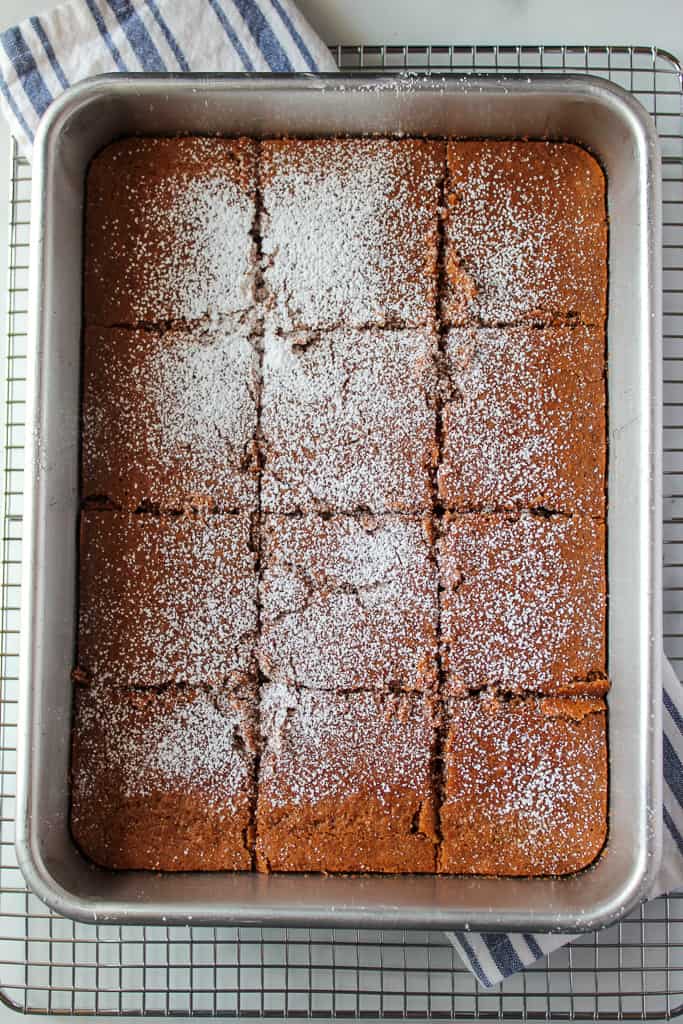 FAQ's about this recipe
Is it necessary to sift the dry ingredients?
While sifting takes a bit more time and requires one more kitchen tool, it's an essential step for the lightest and most tender gingerbread. And in this case, sifting functions as a way to aerate the dry ingredients. Cocoa powder has a tendency to form clumps in storage, so sifting breaks them apart and fully combines them in the flour. 
What's the best way to serve this gingerbread?
Gingerbread is like a cake and quick bread mixed together to form a delicious, versatile treat for any time of day. Gingerbread can be served with just a dusting of powered sugar on top or a dollop of whipped cream on the side. It's divine as a dessert, but also easy to package up for a bake sale. 
What's the best way to store it?
This gluten free gingerbread can be stored covered, at room temperature for 2 days. If you aren't planning on enjoying it all right away, freeze individual pieces for longer storage. 
What else can I do with the gingerbread mix?
A nice bonus with this recipe is that you'll have some gingerbread mix left over! This stuff is amazing to add in a cup of coffee or when you're adding brown sugar in a recipe, like this pumpkin bread. Just substitute a Tablespoon of it for a Tablespoon of the brown sugar. Yum! Keep it well sealed in a plastic bag or plastic container, store it at room temperature and it will last up to a month.
Other recipes you may enjoy!
Recipe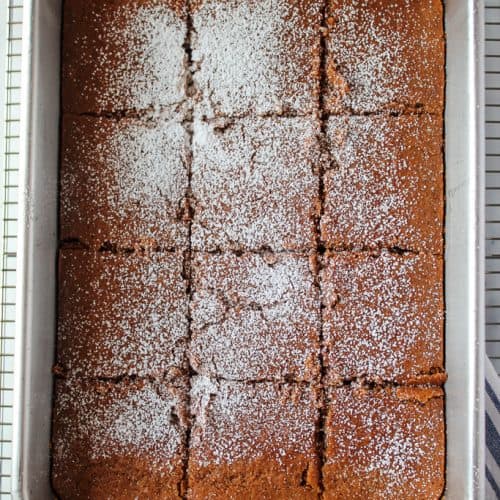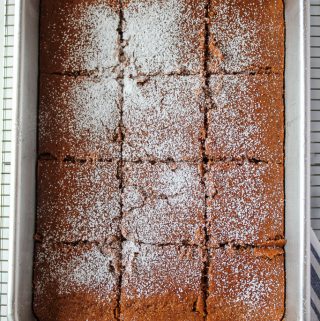 Gluten Free Gingerbread
A delicious gluten free gingerbread that's full of flavor and features an easy, homemade gingerbread mix!
Print
Pin
Rate
Ingredients
Gingerbread Mix:
3

Tablespoons

brown sugar

1

Tablespoon

+ 2 teaspoons ground cinnamon

2

teaspoons

ground cloves

2

teaspoons

ginger powder

1

teaspoon

nutmeg
Gingerbread:
260

grams

gluten free flour mix

about 2 cups

2

Tablespoons

cocoa powder

2

teaspoons

baking powder

200

grams

sugar

about 1 cup

3

Tablespoons

gingerbread mix

¼

teaspoon

salt

7

oz.

coconut milk

3 ½

Tablespoon

honey

3

Tablespoons

vegetable oil
Instructions
For the Gingerbread Mix:
In a small bowl, mix the brown sugar, cinnamon, cloves, ginger and nutmeg. Set aside.
For the Gingerbread:
In a large bowl, sift the gluten free flour mix, cocoa and baking powder.

Add the sugar, 3 Tablespoons gingerbread mix and salt into the large bowl and mix well.

In a small bowl, blend the milk with the honey. Add oil and mix well.

All at once, add the liquid to the flour mix and stir to combine.

Set batter aside to rest to 30 minutes.

Preheat the oven to 350 F. Grease, or spray with cooking spray, a 9 x 13 inch pan.

Pour the batter into the prepared pan.

Bake for 35 – 45 mins. (check the time after 35 – a toothpick inserted in the middle should come out clean)
Notes
The gluten free flour used in the recipe is here: Gluten Free Flour Mix
Sift the dry ingredients before adding the liquid ingredients.
The gingerbread batter will be thin.
Store the prepared gingerbread for up to 2 days on the counter. Any longer than that and you'll want to freeze it.
Nutrition
Calories:
239
kcal
|
Carbohydrates:
43
g
|
Protein:
3
g
|
Fat:
9
g
|
Saturated Fat:
7
g
|
Sodium:
47
mg
|
Potassium:
186
mg
|
Fiber:
4
g
|
Sugar:
25
g
|
Vitamin C:
1
mg
|
Calcium:
77
mg
|
Iron:
2
mg
If you enjoyed this recipe, there are plenty more where than came from! Check out these tasty gluten free recipes:
And check out these Gluten Free Baking Tips: