Want a pie that you can serve to guests and they'll never know it's gluten free?! This is that pie! Served warm from the oven, this gluten free apple pie recipe will have everyone asking for seconds. Plus it's dairy free too. They'll love the classic flavor of this delicious pie, you'll love that it's perfect for beginner pie makers!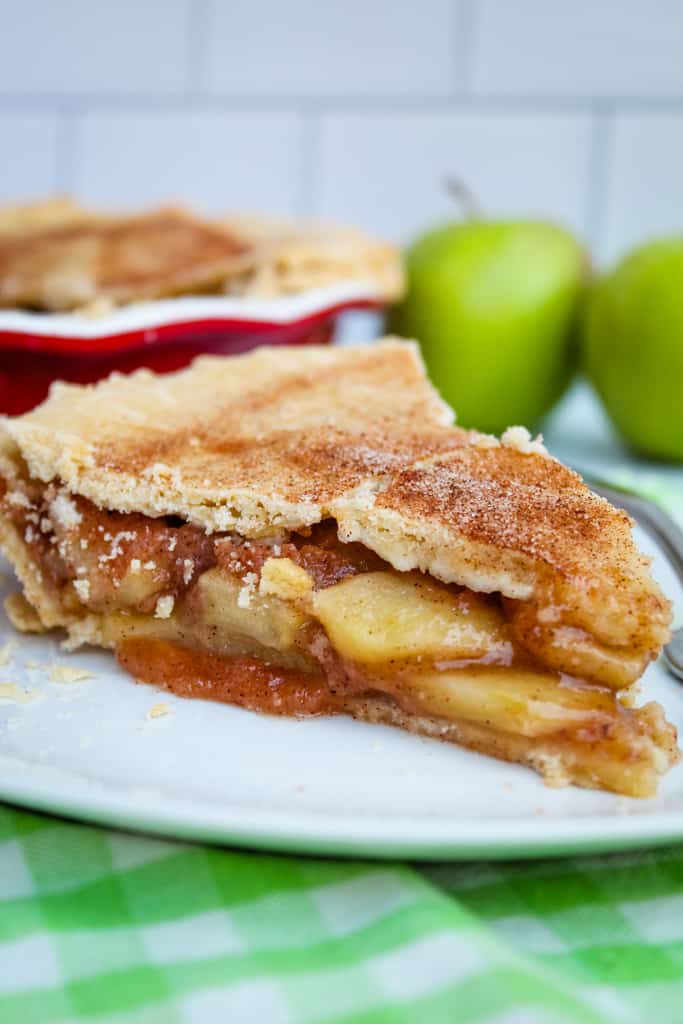 Note about this homemade apple pie recipe: If you are not a pie making expert, THAT'S OK - if I can make this pie (successfully!) then you can too, just be sure to follow the recipe - tips and all. And if you like easy pies - check out this pumpkin one next!
Hungry for more gluten-free pie recipes? Then be sure to check out this gluten-free pie crust recipe, this gluten free chocolate pie, and this gluten free pumpkin pie.
Jump to:
Gluten-Free Apple Pie Recipe: Key Take-Aways
This traditional apple pie recipe ranks as one of the absolute best for a few reasons but the top reason has to be how it is THE RECIPE for inexperienced or first time pie makers! Even if you've been making pies for ages, this is a consistently delicious recipe every time you make it. But for any newcomers... it's PERFECT.
Here are just a few other things to love about this recipe:
It's dairy free (if you use the pie crust recipe here)
It's easy to prep
It's as delicious warm as it is cold
It stores very well
Overall just an ideal recipe, especially if you're new to making pies. (Also check out my holiday cookbook, perfect for all your holiday baking!)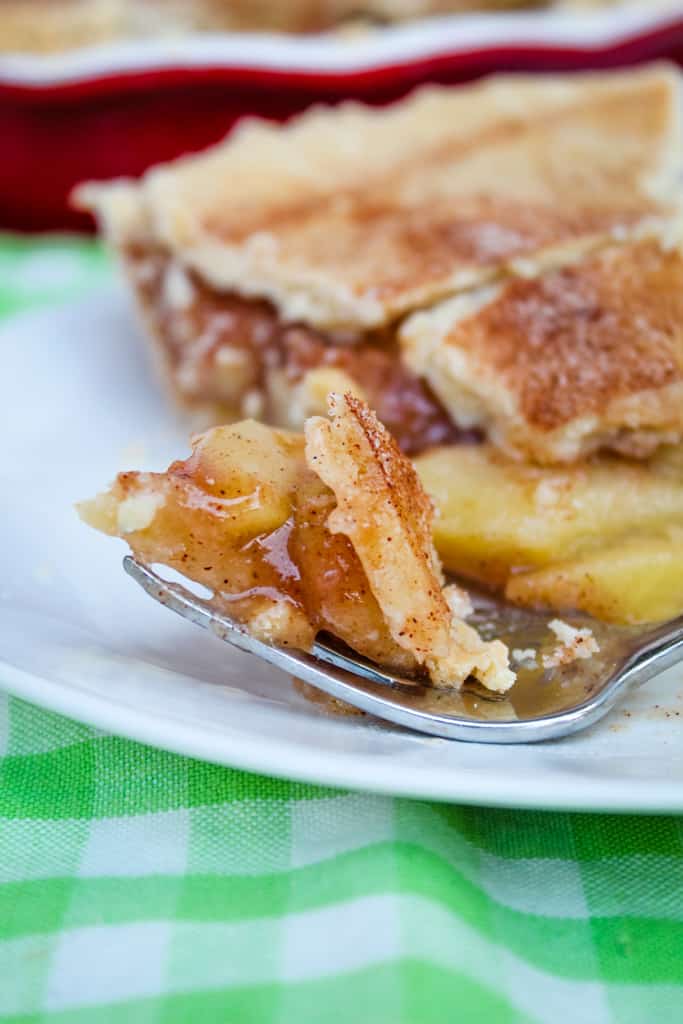 Ingredients & Substitutions in this Classic Apple Pie
The ingredients list is just 10 items (including the egg wash), so once you have these ready, it will come together in no time. As always, make sure the flour and sugars are at room temperature (check out my baking class for more on why this is important).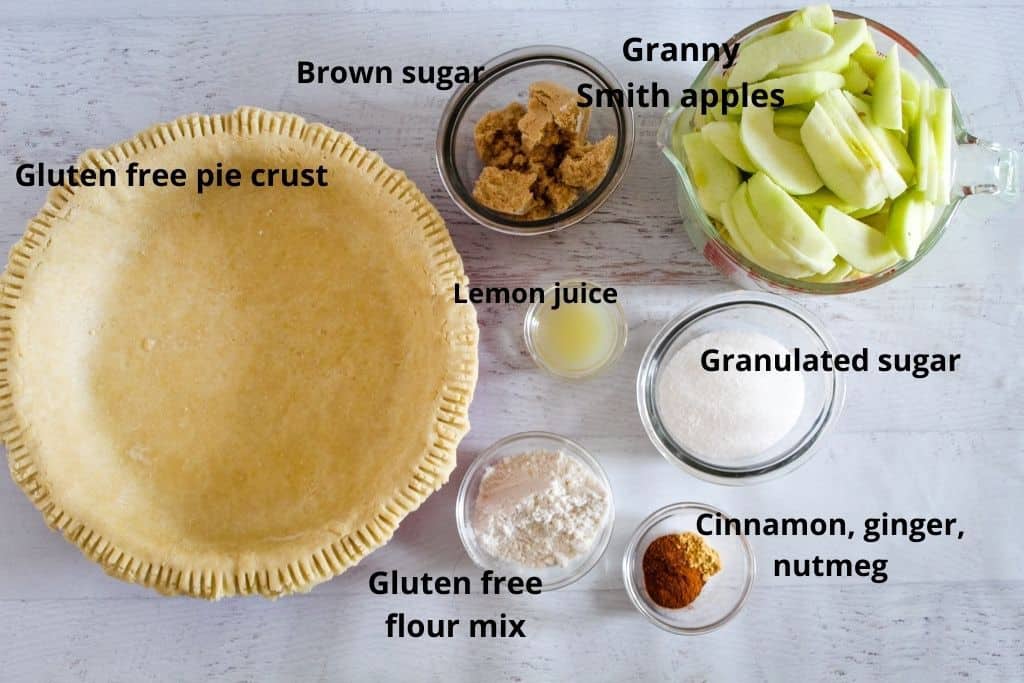 This is the simple ingredients with the specifics of what I used and any substitution that would work in place of it:
Double crust pie - I used this flaky crust recipe and would highly recommend it for a dairy free pie. Alternatively, you could use a pie crust mix like this one also.
Granulated sugar - Sugar is a very important part of the pie. I used the Imperial brand because that's what I had, but any brand of granulated sugar should work fine. I have not tested a sugar substitute, like coconut sugar or Swerve in this pie.
Brown sugar - The brown sugar is equally important. I used the Imperial brand of brown sugar. I would not recommend substituting this as it contributes to that thick delicious filling.
Gluten-free flour blend - I use my gluten free flour blend here, but other flours blends work as well. I would not recommend substituting the flour blend with a single flour or starch like almond flour. Note that this flour mix does not contain xanthan gum - you do not need it for this apple filling.
Cinnamon, nutmeg, ginger - I used the McCormick brand because they are always great quality. These are essential spices, I would not recommend leaving them out or substituting them.
Apples - Granny Smith apples work the best in this recipe. But other tart apples like Cortland or Honeycrisp varieties would work equally well.
Lemon juice - Realemon was the brand I used. I would not recommend substituting the lemon juice.
Vegan butter - Country Crock sticks work wonderfully here. But Earth Balance would be another option. I have not tested other options like coconut oil or palm shortening.
Egg - I used an organic egg for the egg wash. Something like JUST egg would be an alternative to it.
Exact measurements and instructions for making this delicious apple pie are in the recipe card below.
How to Make the Apple Pie Filling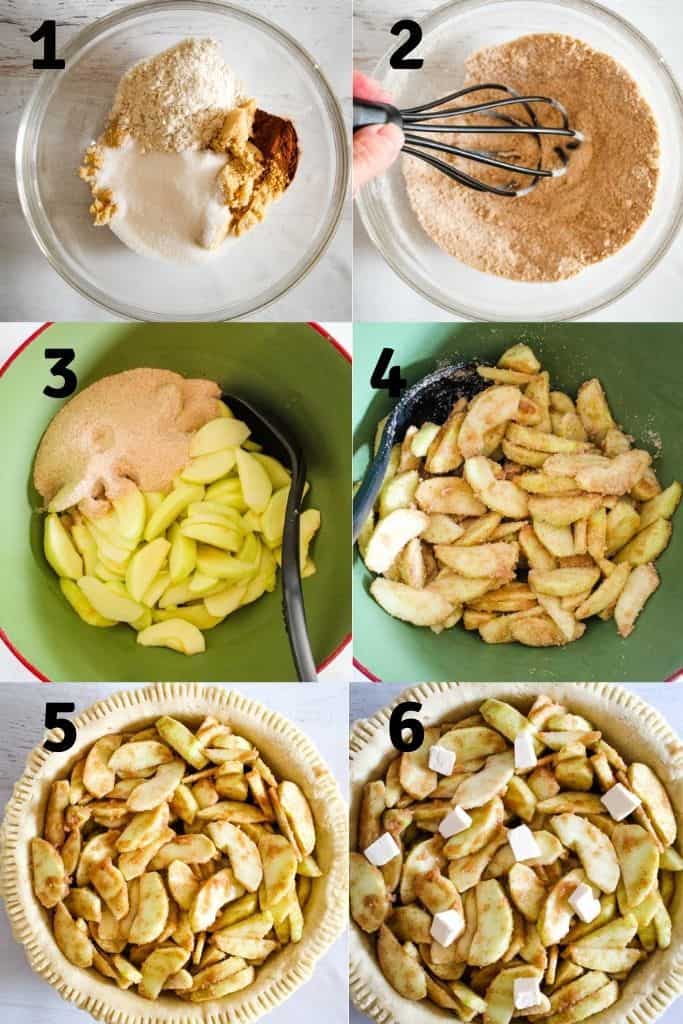 Follow these steps for the best apple pie:
Step One and Two: In a small bowl, mix the dry ingredients - sugars, gluten-free flour and spices (steps 1 & 2 in the image above).
Step Three: In a large mixing bowl, add the apple slices and toss with lemon juice.
Step Four: Add the flour mixture to this large bowl and mix well.
Step Five: Place the apple mixture in the prepared gluten free crust (this is in a 9-inch pie plate), making sure to reach the edges of the pie crust.
Step Six: Dot the top of the apples with small cubes of cold butter.
How to Assemble the Top Crust for Baking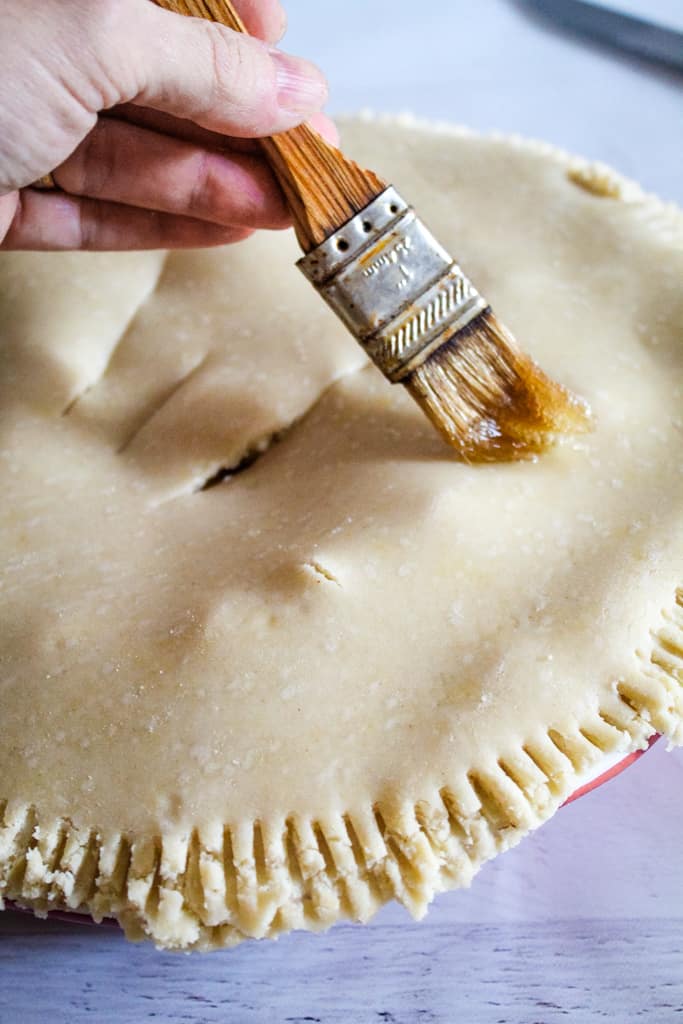 Step Seven: Working quickly, flip the second half of the pie dough (rolled according to these instructions) (use the help of a rolling pin if needed) over the apples. Seal it well and cut 3 slits in the top of the pie for ventilation.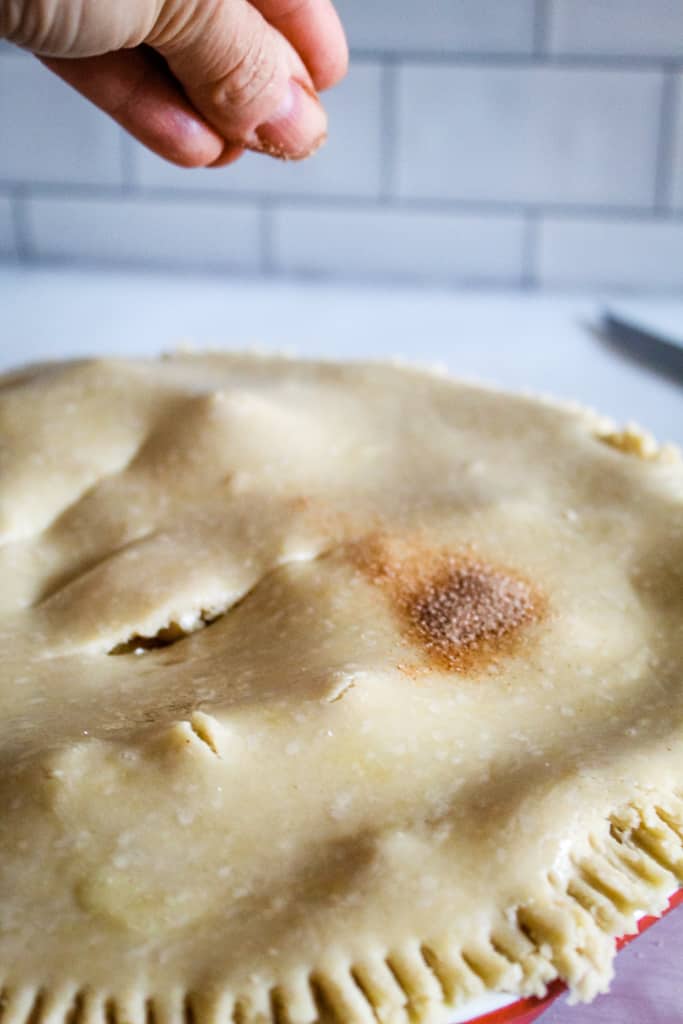 Step Eight: After brushing it gently with the egg, sprinkle lightly with cinnamon-sugar mixture.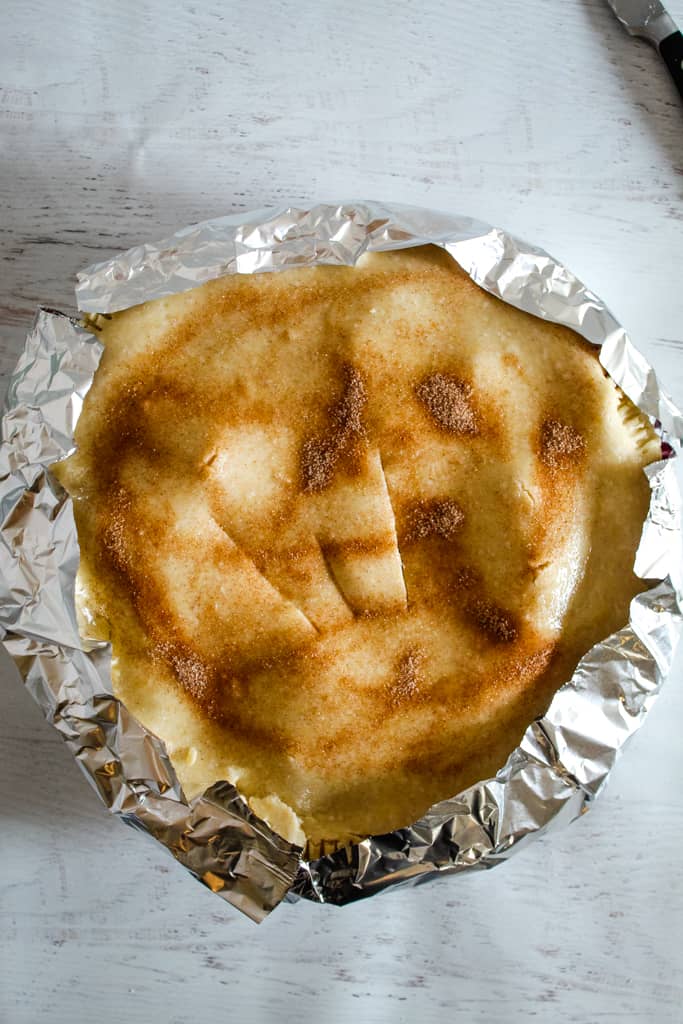 Step Nine: Heat the oven temperature to 375F. For best results, before placing the pie into the oven, curl pieces of aluminum foil around the edges to act as pie shields and prevent premature browning.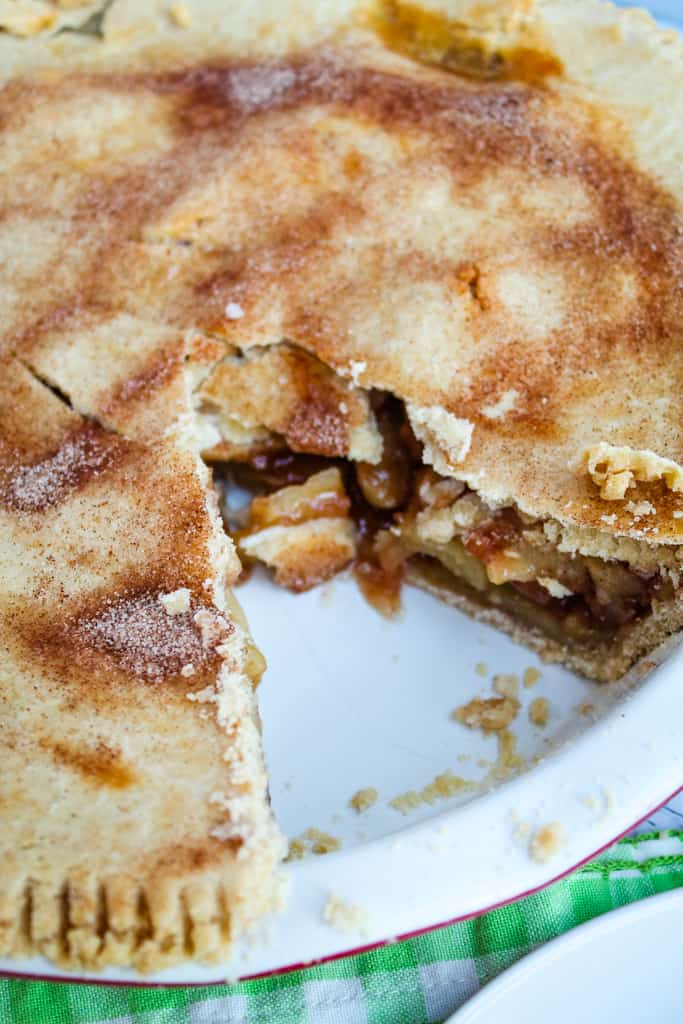 Step Ten: Bake for 25 minutes or until golden brown on top. Remove the foil and bake for an additional 20 minutes for a lovely flaky pie crust.
Storing Leftover Apple Pie
For any leftover pie, the best way to store it will be in an airtight container, in the refrigerator. If you are making the pie to serve it that same day, feel free to cover it lightly with plastic wrap and leave it at room temperature until serving. Any longer than that and it will need to be refrigerated.
Freezing has not been tested but the quality and flavor may be compromised with freezing a whole pie. Reference the pie crust storage tips in the gluten-free pie crust recipe.
Pie Making Pro Tips
Not comfortable making pies or pie crust? Then read on - I'll share tips that will ensure a successful dessert every time. And even if you've made thousands of pies, check out the tips below for this unique recipe...
1. Use a Traditional Pie Crust
The kind you want is this homemade, dairy free pie crust or opt for a storebought crust. Steer clear of graham cracker crusts (although I have a delicious one!) or any kind of other cookie crust. This recipe was developed using the flaky style crust. It works the best!
2. Make the Crust Ahead of Time
There are more tips in the pie crust recipe, but for for the easiest pie prep, make the pie crust first. Then you'll roll out the first half of it for the pie plate. And then roll out the second half and just cover it with a damp towel. I recommend doing it this way so you don't have to stop and roll out crust after you've mixed the filling ingredients. It just dirties another surface while you're in the middle of the recipe!
3. Slicing the Apples
Depending on the size of your Granny Smith apples, you may use 6 apples or maybe even less. The first thing is to peel the apples, something like this potato peeler works wonderfully. Then, using a sharp knife, slice the apples into ¼ inch or smaller, slices. 6 cups of apples will give you a pie that's not overflowing, but just enough. I would recommend 7 cups, just to have a bit extra volume.
4. Crust Topping Trick
After the apples are ready and in the bottom crust and the butter is placed, it's time to top it with the second crust. The easiest way I've found to do this without it breaking is to use the parchment paper as a guide. Take the entire piece of paper and quickly flop it over onto the filled pie. You'll have to work quickly as it can break otherwise. Then just peel the paper back. This is the same idea as in this English muffin recipe and these cassava flour tortillas.
FAQ's
Can I substitute the sugars?
I would not recommend substituting the sugars in this recipe.
What's the best way to store this pie?
Any leftover pie can be wrapped well and stored in the refrigerator for up to 3 days.
Can I use a storebought crust or crust mix?
Either a homemade pie crust or a storebought one will work fine, just use a flaky pie crust like this one not graham cracker crust.
Other Dessert Recipes!
Did you make and love this recipe? Give it your review and

rating below! And make sure to follow me on Instagram, Pinterest and Facebook too!
Recipe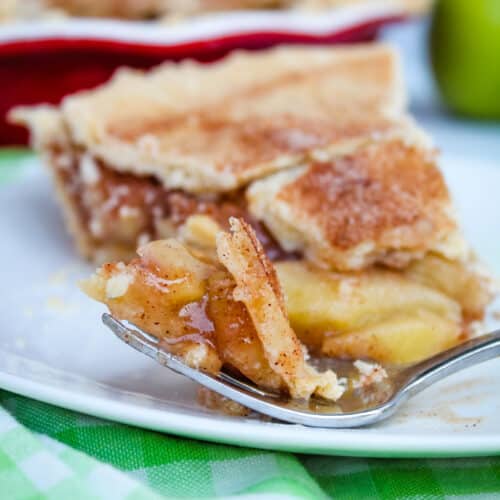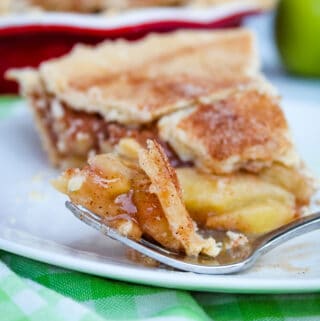 Gluten Free Apple Pie Recipe with an Easy, Flaky Crust
This delicious gluten free apple pie recipe is super easy to prep and makes for an impressive dessert whether you're an experienced pie baker or not!
Print
Pin
Rate
Ingredients
1

recipe

double crust gluten free pie crust

70

grams

granulated sugar

about ⅓ cup

70

grams

brown sugar

about ⅓ cup

33

grams

gluten free flour mix

about ¼ cup

1

teaspoon

cinnamon

¼

teaspoon

ground ginger

¼

teaspoon

ground nutmeg

7

cups

Granny Smith apples

peeled and sliced

1

Tablespoon

lemon juice

1

Tablespoon

vegan butter

1

egg white

sprinkling of cinnamon-sugar
Instructions
Prepare pie crust
Using the gluten free pie crust recipe, roll one half of the dough and place it into a 9" pie plate.
Prepare filling
In a small bowl, mix together the granulated sugar, brown sugar, flour mix and spices. Set aside.

In a large bowl, mix the apples with the lemon juice.

Add the sugar mixture and toss to fully coat the apples.

Pour apples into pie crust. Dot with small, ¼ inch cubes of vegan butter.

Roll remaining crust into a 10-11 inch circle and place on top of the apples and butter.

Seal the edges. Cut 3 slits in the top of the crust.

Brush crust with beaten egg white. Sprinkle with additional cinnamon-sugar mixture.

Form pieces of foil around the edges of the pie. Bake for 20 minutes.

Remove the foil, bake for another 25 minutes. Serve warm.
Notes
The pie crust recipe I use is this one. Have it ready and rolled before making the filling.
Cut apple pieces in about ¼ inch slices.
Bake for 45 minutes total.
Nutrition
Calories:
100
kcal
|
Carbohydrates:
24
g
|
Protein:
1
g
|
Fat:
1
g
|
Saturated Fat:
1
g
|
Polyunsaturated Fat:
1
g
|
Monounsaturated Fat:
1
g
|
Trans Fat:
1
g
|
Sodium:
14
mg
|
Potassium:
93
mg
|
Fiber:
2
g
|
Sugar:
19
g
|
Vitamin A:
85
IU
|
Vitamin C:
4
mg
|
Calcium:
13
mg
|
Iron:
1
mg