Soft, chewy, bendable and super flavorful, these cassava flour tortillas will make you never want to buy tortillas again! They make amazing breakfast burritos, fajitas and tacos… all with just 4 ingredients.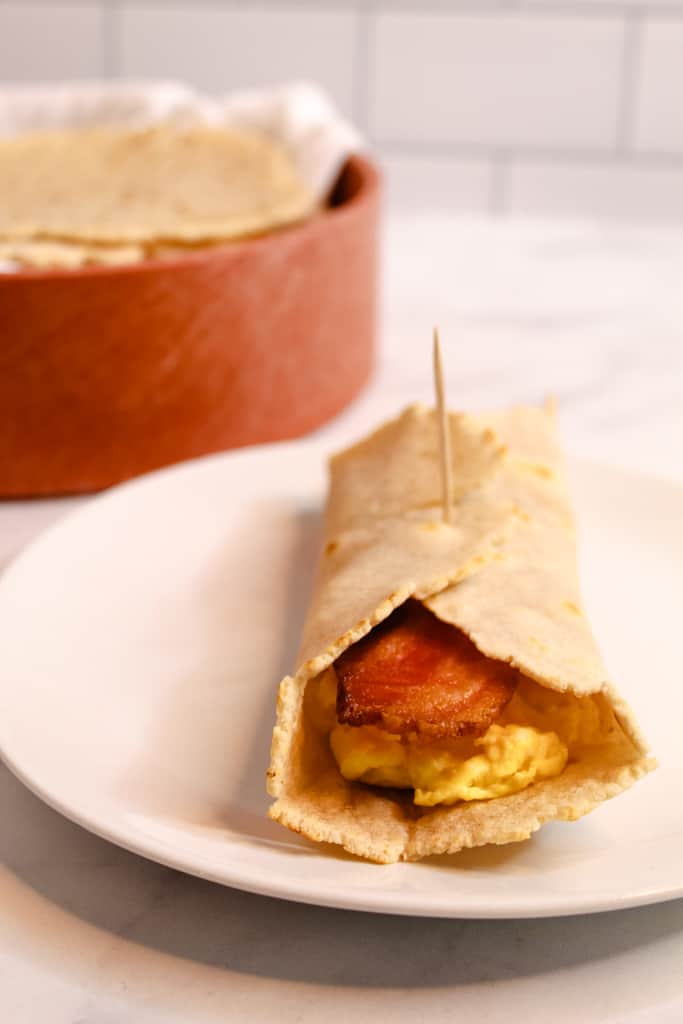 If you've never made your own tortillas before, you are in for a delicious treat with this recipe. Tortillas are incredibly easy to make! It's literally just rolling the dough, cooking and flipping. That's it. And the short ingredients list sure is a nice change of pace from more intense recipes like these cinnamon rolls (although incredibly delicious and worth the work!). But for a grain free, dairy free and gluten free tortilla, that everyone will love that only takes minutes to prepare, these fit the bill perfectly.
But if you're wondering about cassava flour… read on!
What is cassava flour?
Cassava flour is a flour made by drying out the cassava root (also called yuca). It actually functions like a balanced gluten free flour more than others do. However, cassava flour is very low in fiber and protein. Because of this, according to the gluten free flour substitutes chart, it would not be a good substitute in most cases. But in recipes like these tortillas, the high starch content creates an ideal texture.
Cassava flour is readily available in most places. But the brand you use matters a lot. For this recipe, I use the Nuts.com brand of cassava flour. Other brands may work, but they haven't been tested.
Is cassava flour healthy?
It depends. Cassava flour is super low in pretty much everything except carbohydrates. Since it's essentially pure starch, the carb count is really high, but the fiber and protein count is really low.
Can I use another type of oil in these tortillas?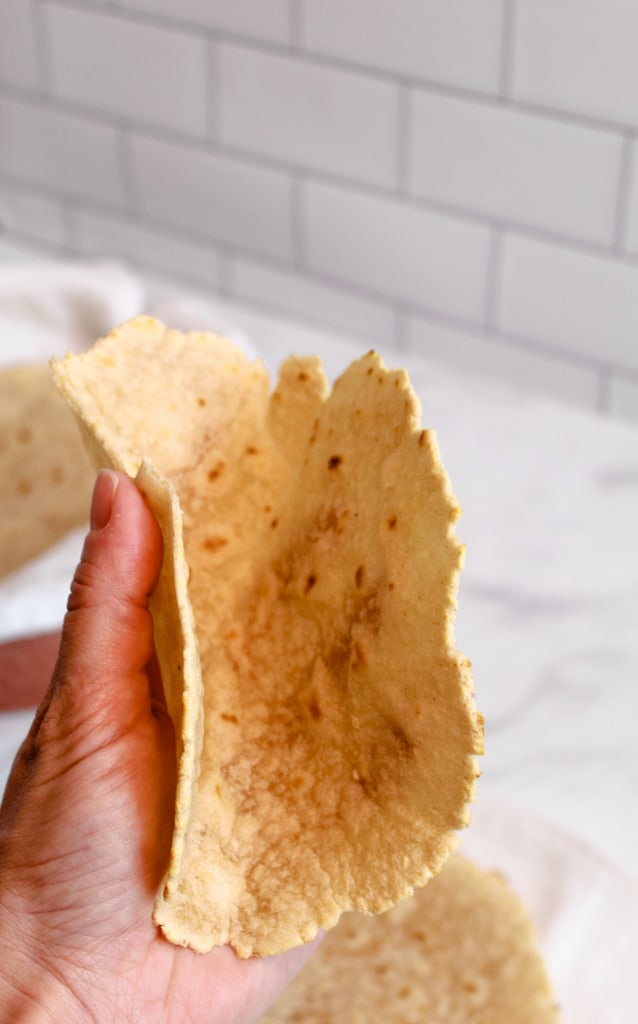 This recipe uses olive oil for the tortilla dough, but it's been tested with a couple other oils too with equally great results – melted coconut oil and even vegetable oil work wonderfully. Butter, shortening or lard have not been tested so I can't say for sure what the results would be.
Do I need a tortilla press for making tortillas?
Yes and no. If you are a tortilla making machine and want to lessen your time spent rolling out the dough, then yes, a tortilla press would make your life a lot easier. But, if you don't plan on making several batches of them, then a rolling pin will work just fine. In fact, I use a rolling pin in this recipe and I got no complaints about the slightly imperfect shape of the tortillas.
With that said…
Tips for Rolling Out the dough
Wax paper is your go-to for working with this dough. In fact, I would suggest waiting to make them until you have it.
Here's how the process looks for rolling them out: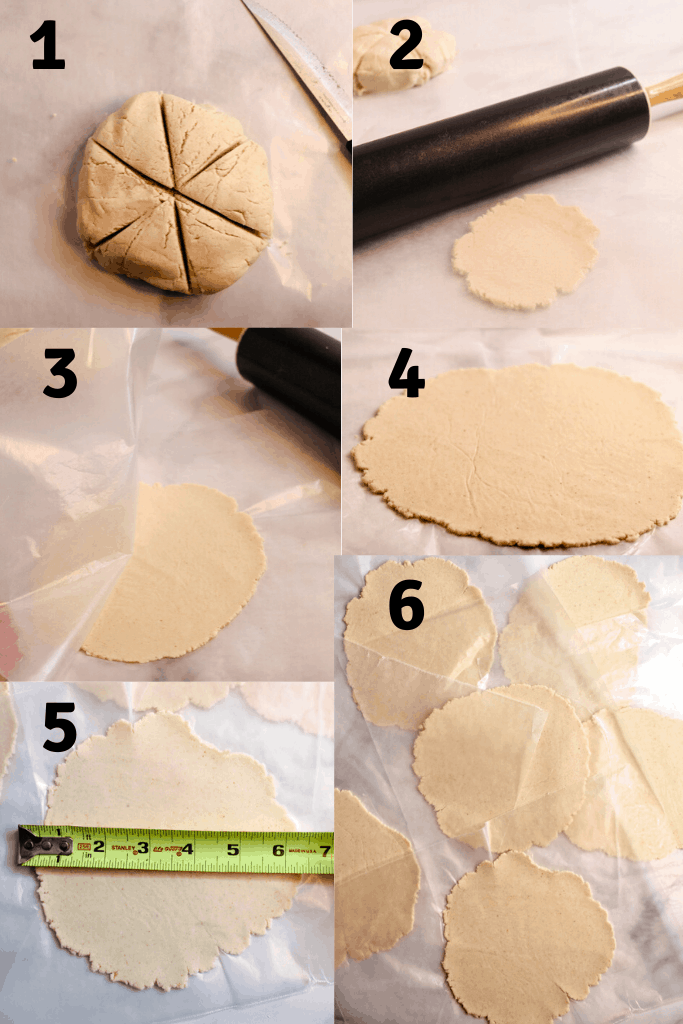 Roll every one of the tortillas out first before starting to cook them so you don't have to stop and roll out dough. Aim for about a 6 ½ inch diameter for each one. And if you'd like to have non-jagged edges, just use a little knife to cut around the edges. It's not necessary though – they still taste amazing either way!
Work quickly so the tortillas don't sit too long on the wax paper.
How to Store cassava flour tortillas
The best way to store these tortillas is in a large plastic bag in the refrigerator. They do not freeze well. They seem to get tougher and never the 'perfect' texture as when kept in the refrigerator. But they can be refrigerated for up to a week.
Pro Tips for Making Cassava Flour Tortillas
Short ingredients list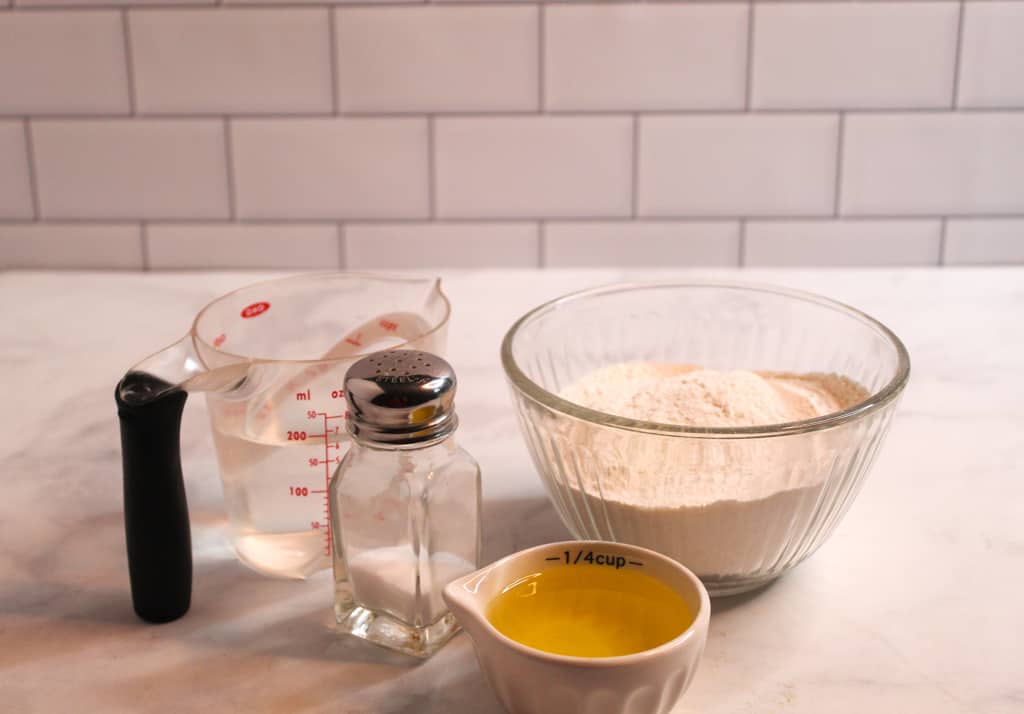 Grab your cassava flour, salt, oil and warm and you are pretty much ready. Get all the ingredients out, weigh the flour and make sure everything is at room temperature (except for the warmer water) because this recipe comes together quickly.
Forming the dough
Once you add the liquid ingredients, the batter will become dough rather quickly. A few kneads with your hands should do it.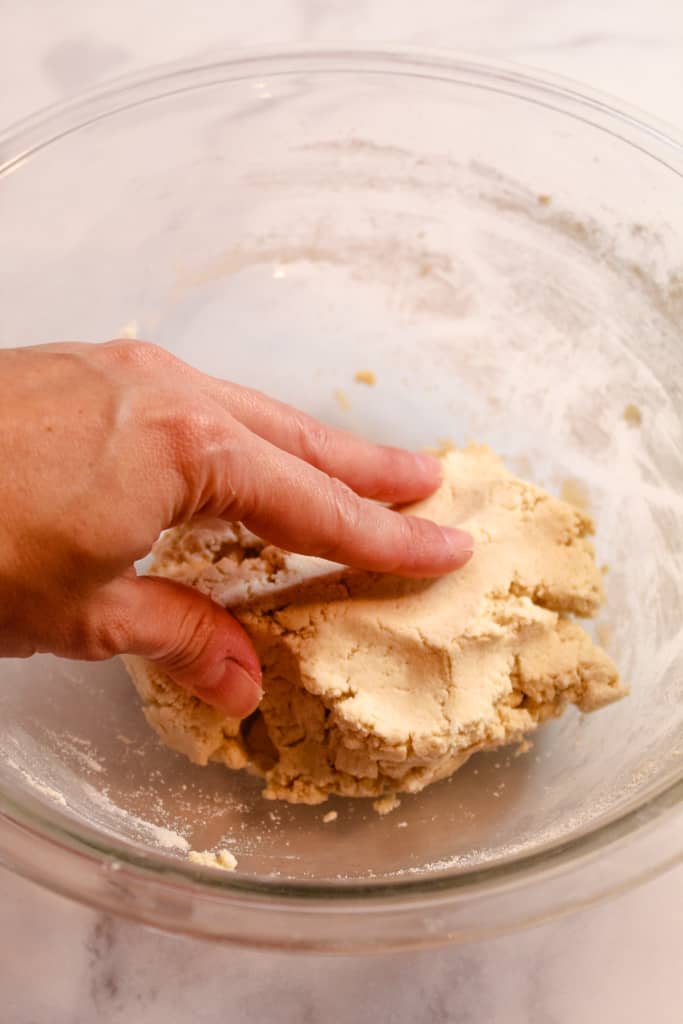 Form the dough into a disk and place it on a piece of wax paper. Using a sharp knife, cut the disk into 6 equal portions. Place each portion on an 8 inch piece of wax paper.

Rolling out the tortillas
Don't let the pictures scare you, rolling these out is easy. Just take your first section of dough and form it into a small ball. Place it back on the wax paper and top it with another, same size piece. Roll it out until it's a thin, round tortilla, about 6 ½ inches in diameter. Set it aside and move on to the next section.
Cooking the tortillas
As soon as your last tortilla has been rolled out, it's time to cook them!
Pro tip: Take your tortilla and flip it over onto another piece of wax paper, then gently peel off the paper. This helps loosen the paper to make it easier to get them onto the skillet. Also note: a few cracks are ok – just press them together during cooking.
Very quickly, lay each tortilla in the skillet to cook for 1 minute. Then flip them using a large spatula and cook for another minute. Watch them carefully as they can quickly become overcooked.
Lay the cooked tortillas on a towel, side by side, to finish cooling completely.
After the tortillas have cooled, they will become more pliable – ready for those burritos!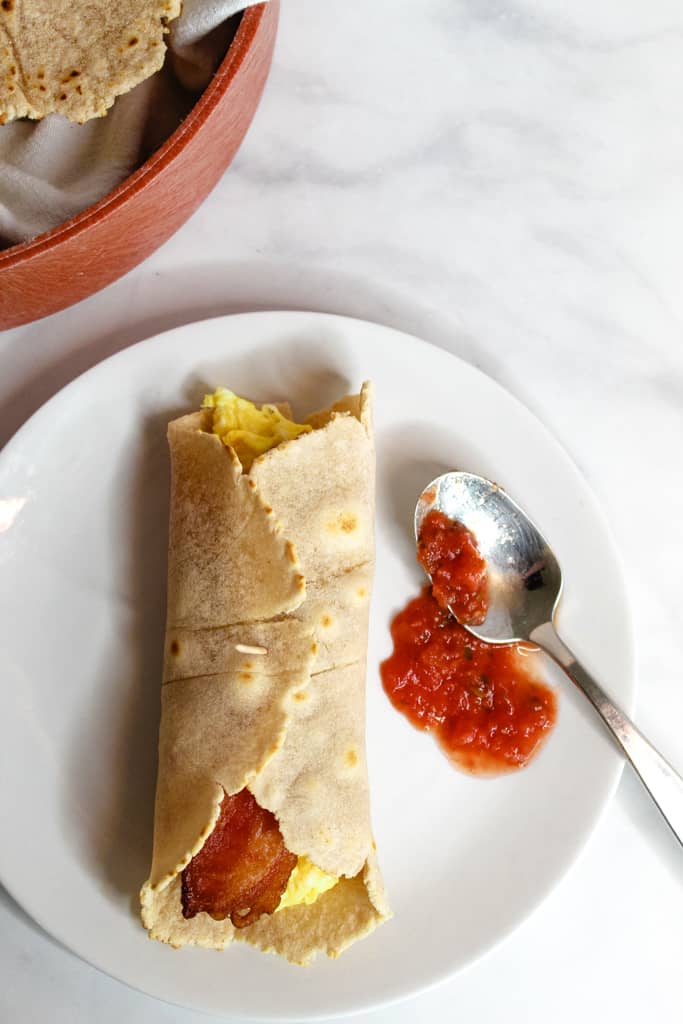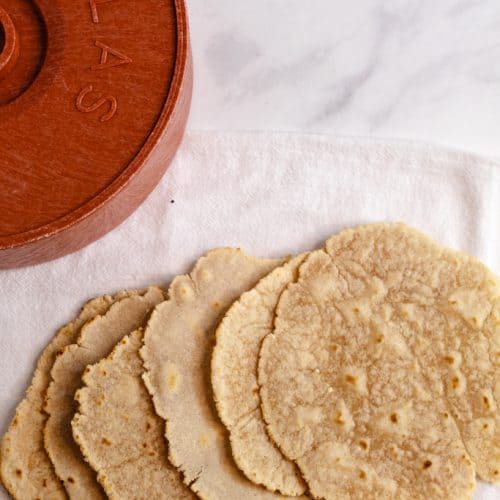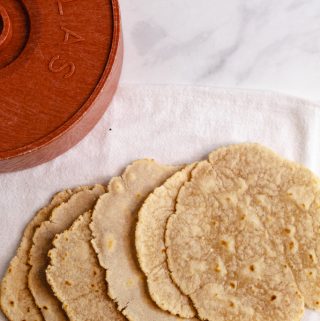 Cassava Flour Tortillas: Your New Favorite Tortilla
Soft, chewy, bendable and super flavorful, these cassava flour tortillas will make you never want to buy tortillas again!
Print
Pin
Rate
Ingredients
160

g.

cassava flour

about 1 ½ cups

½

tsp.

salt

¼

cup

olive oil

1/2

cup

warm water
Instructions
In a large bowl whisk together cassava flour and salt.

Add the oil and warm water. Mix with a sturdy spoon. It will turn into dough quickly – use your hands to knead dough a couple times.

Place dough on a piece of wax paper. Form into a disk. Divide dough into 6 equal portions.

Preheat a flat bottom skillet to medium heat. Do not oil or spray with cooking spray.

Place a piece of wax paper on top a ball of dough and roll into a thin tortilla. Repeat with remaining dough. Each tortilla should measure about 6 ½ inches in diameter.

Overlap each tortilla on the wax paper until the entire batch is rolled out.

Take the first tortilla on the wax paper and gently flip it over onto another piece of wax paper and peel off the back.

Then turn the tortilla into the hot skillet and cook for 1 minute. Flip with a large spatula and cook for another minute.

Lay cooked tortillas on a towel to finish cooling completely.

Tortillas will get more flexible as they cool.
Notes
Place a sheet of wax paper down to roll out the tortilla dough sections.
Each section should be about 6 1/2 inches in diameter.
Turn each section into the pan and cook for 1 minute.
Let cool completely before using.
Nutrition
Calories:
173
kcal
|
Carbohydrates:
22
g
|
Protein:
1
g
|
Fat:
9
g
|
Saturated Fat:
1
g
|
Sodium:
162
mg
|
Fiber:
1
g
|
Sugar:
1
g
|
Vitamin C:
1
mg
|
Calcium:
40
mg
|
Iron:
2
mg
For more gluten free bread recipes, check out: