An easy and quick way to satisfy a craving for homemade biscuits – so buttery and delicious, everyone will be reaching for these gluten free Bisquick biscuits.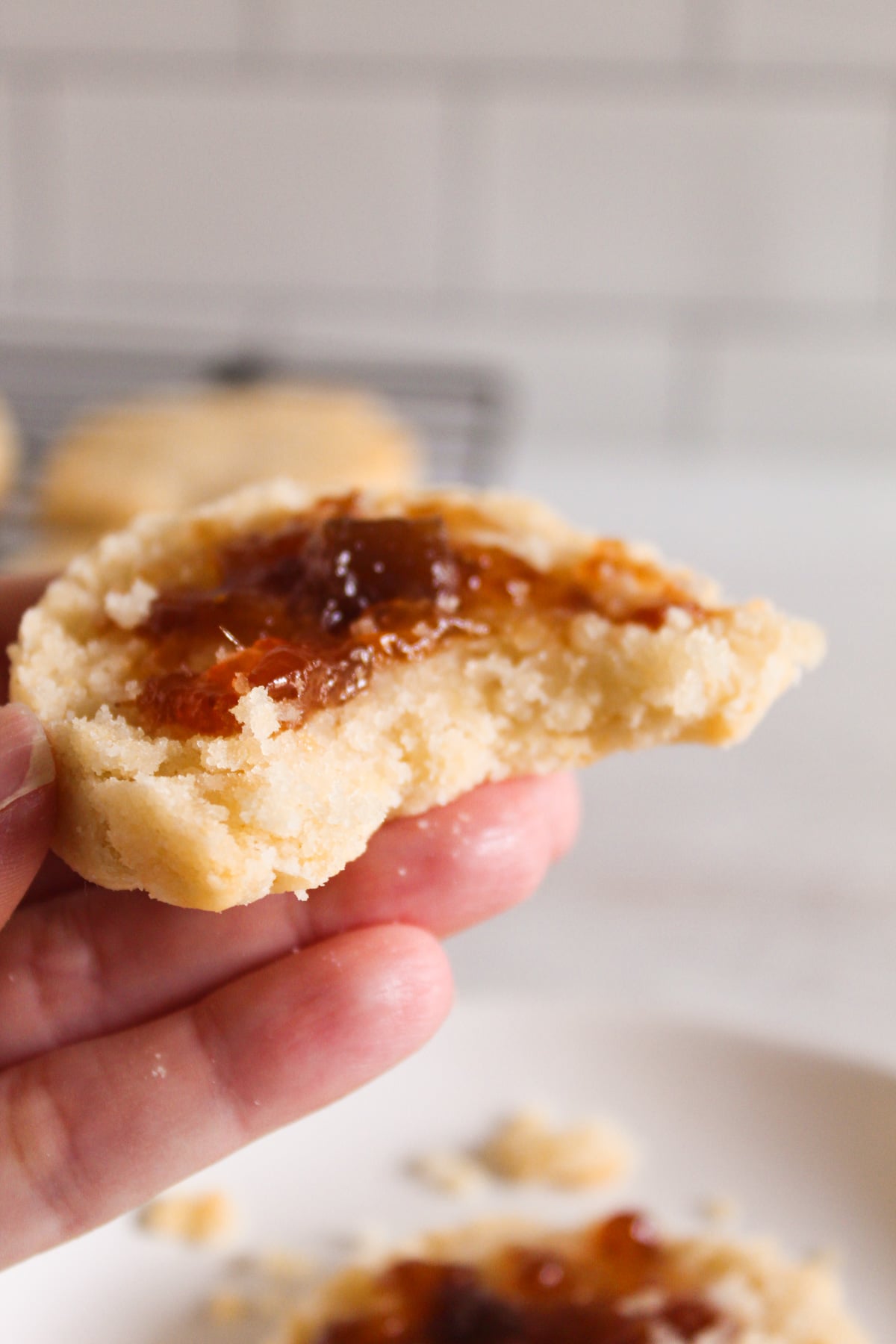 One of the requests I hear most often is about making gluten free biscuits. Things like 'how do I get that amazing tender texture' or 'is there a foolproof way to make them?'
For all the great questions about gluten free biscuits, this recipe is for you.
I've made it easy (using our gluten free Bisquick), quick (about 40 minutes start to finish), and foolproof (yes, it's about as reliable as they come!).
You may be thinking, how can you make a biscuit recipe foolproof? There are so many things that can go wrong!
Not with this recipe.
Jump to:
Gluten-Free Bisquick Biscuits at a Glance
This go-to recipe starts with our gluten-free Bisquick mix and only has 4 more ingredients. A little vegan butter, arrowroot starch, xanthan gum, and almond milk and you have fluffy gluten-free biscuits worthy of breakfast sandwiches, lunch or dinner.
These delicious biscuits can also be made with the gluten free version of original Bisquick, but they're so good with the homemade version - they're easy peasy, flaky biscuits that will melt in your mouth! (See the "FAQs" section below about using the storebought variety).
As one of the all-time favorite recipes for Bisquick baking mix, these biscuits are perfect for those with celiac disease or anyone sensitive to the ingredients in baking mixes.
Ingredients in these Simple Gluten-Free Biscuits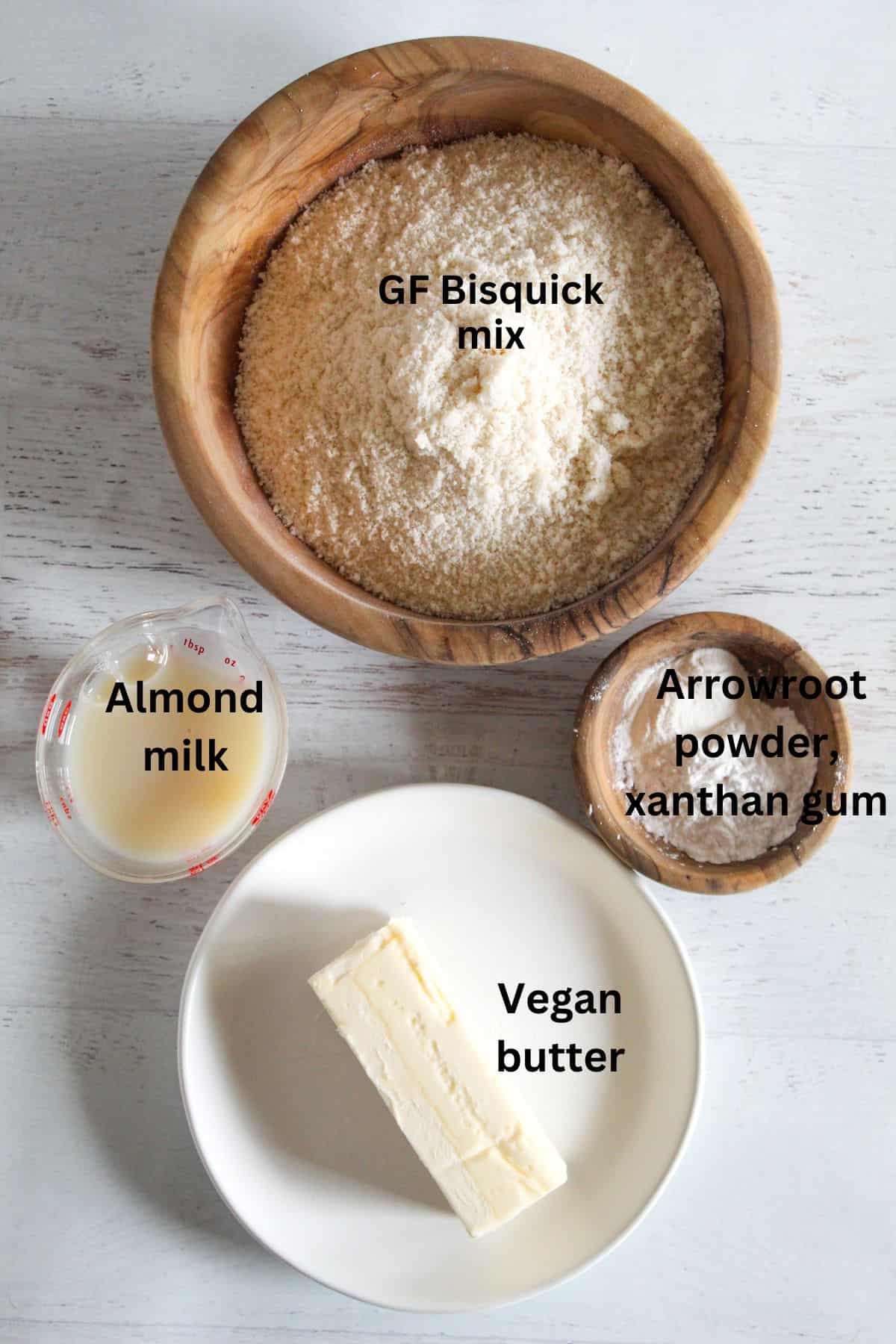 The simple ingredients list includes:
Gluten-Free Bisquick Mix: This nicely balanced gf Bisquick mix is made with rice flours and can be made in bulk and stored just like regular Bisquick. Find the Bisquick recipe here.
Arrowroot Powder: Adding this starch helps with the texture and moisture content in the biscuits.
Xanthan Gum: Xanthan gum functions as a binder to prevent the biscuits from crumbling and falling apart.
Vegan Butter: Butter helps create flaky layers. Do not use softened or melted butter.
Almond Milk: Biscuits need a liquid to form the biscuit dough.
Exact measurements and instructions for making these gf biscuits are in the recipe card below.
How to Make Homemade Gluten Free Bisquick Biscuits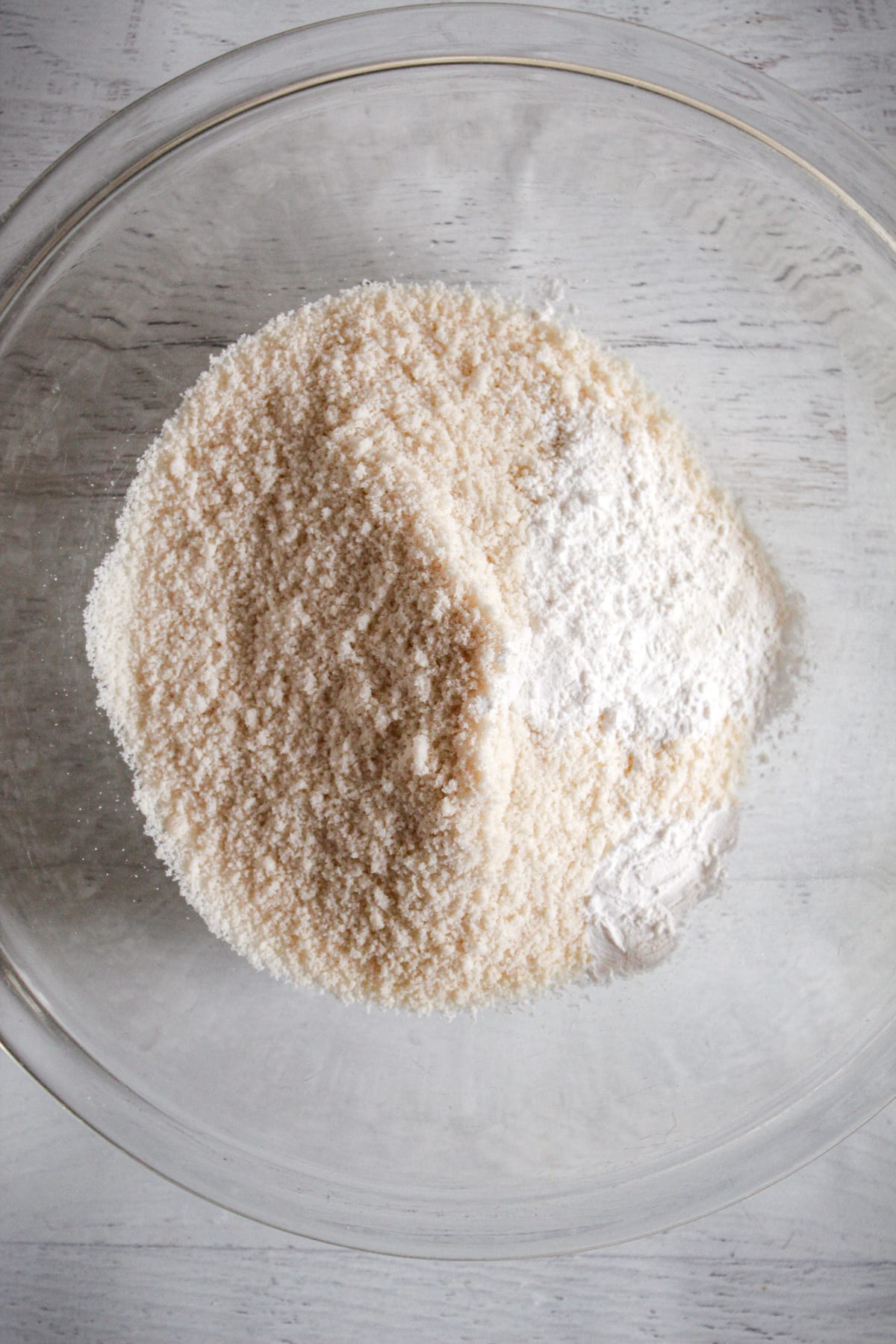 STEP ONE: In a medium or large bowl, stir the dry ingredients together - baking mix, arrowroot powder, and xanthan gum.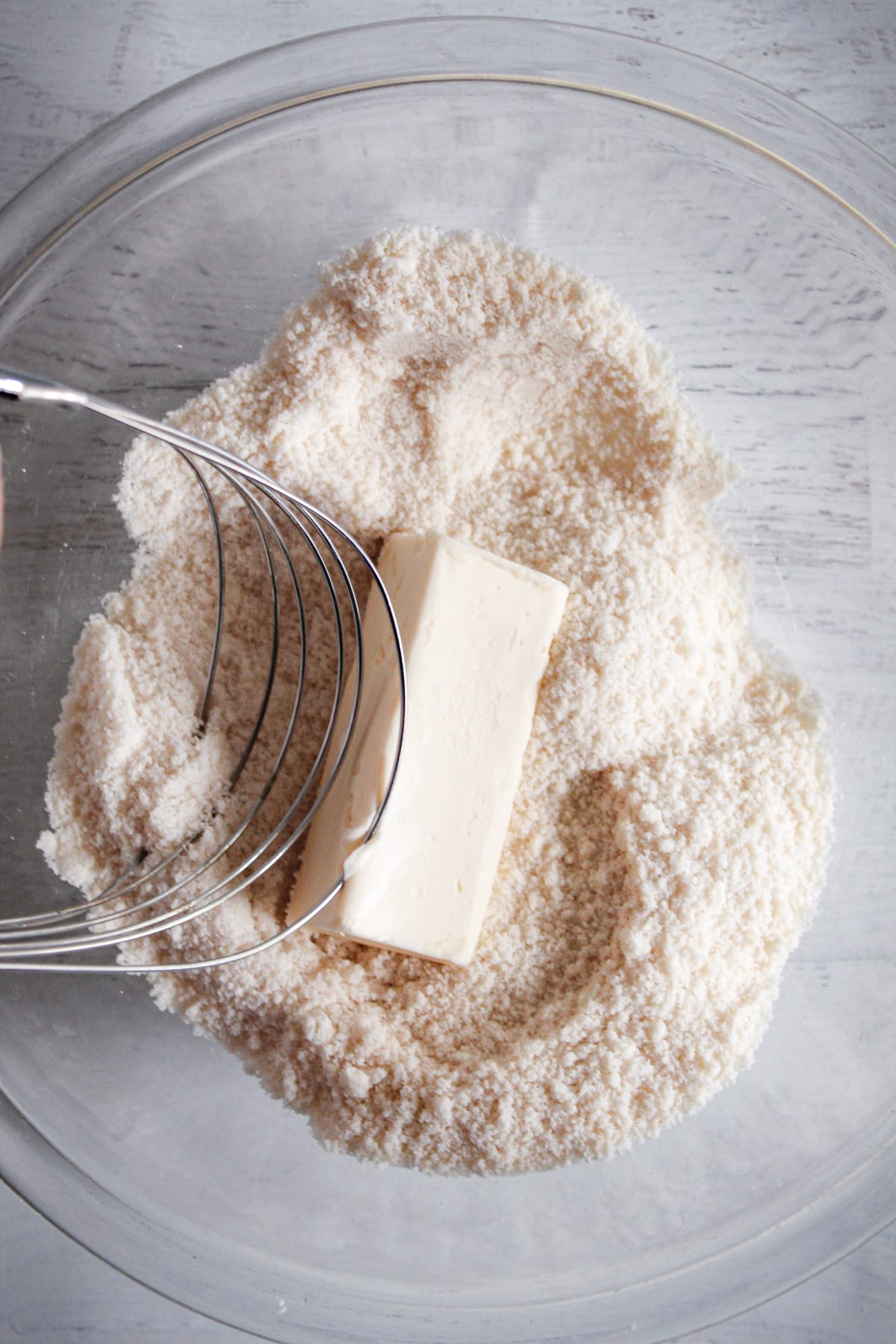 STEP TWO: Add the cold butter and cut it into the dry ingredients using a pastry cutter.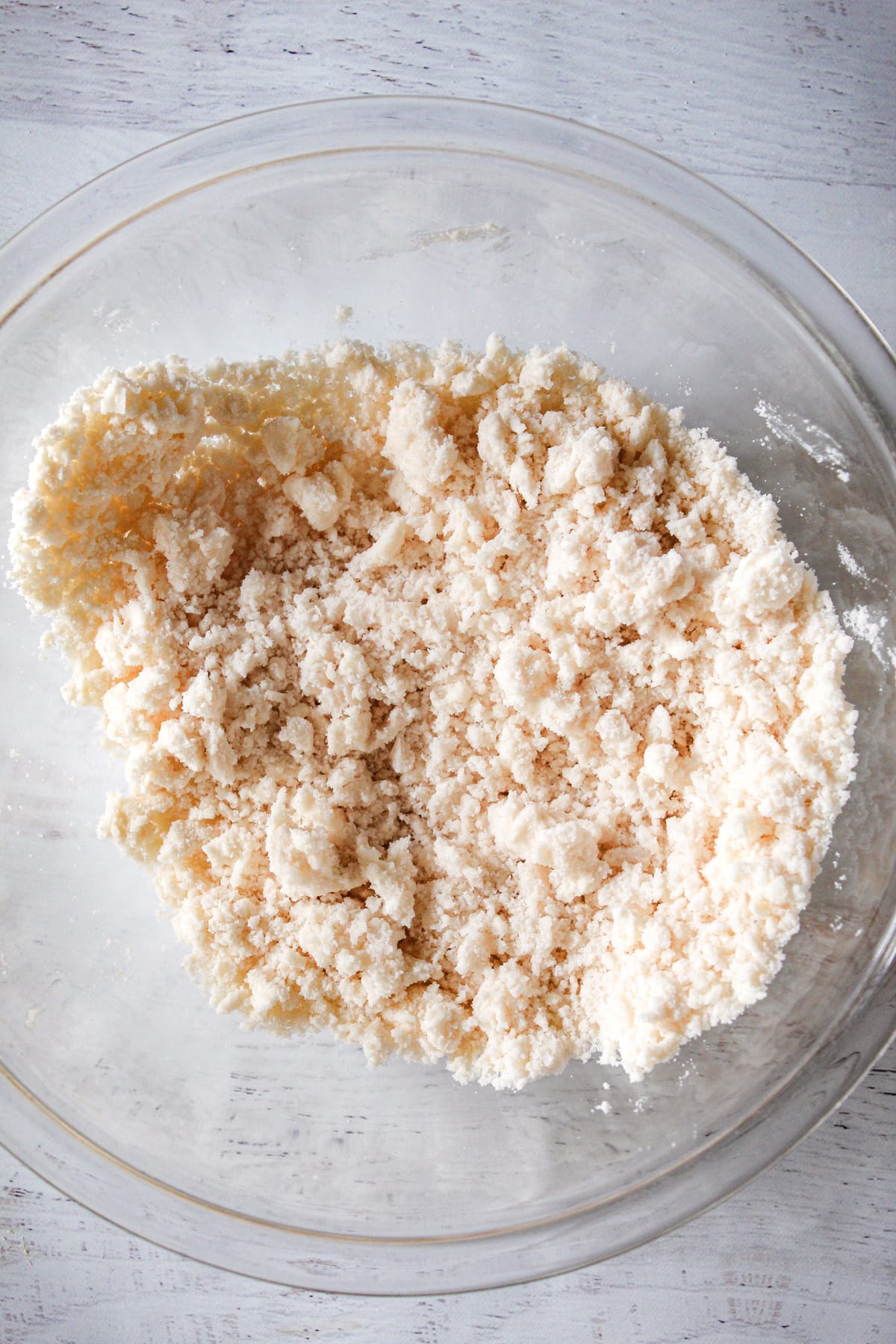 STEP THREE: The butter will be the size of small peas.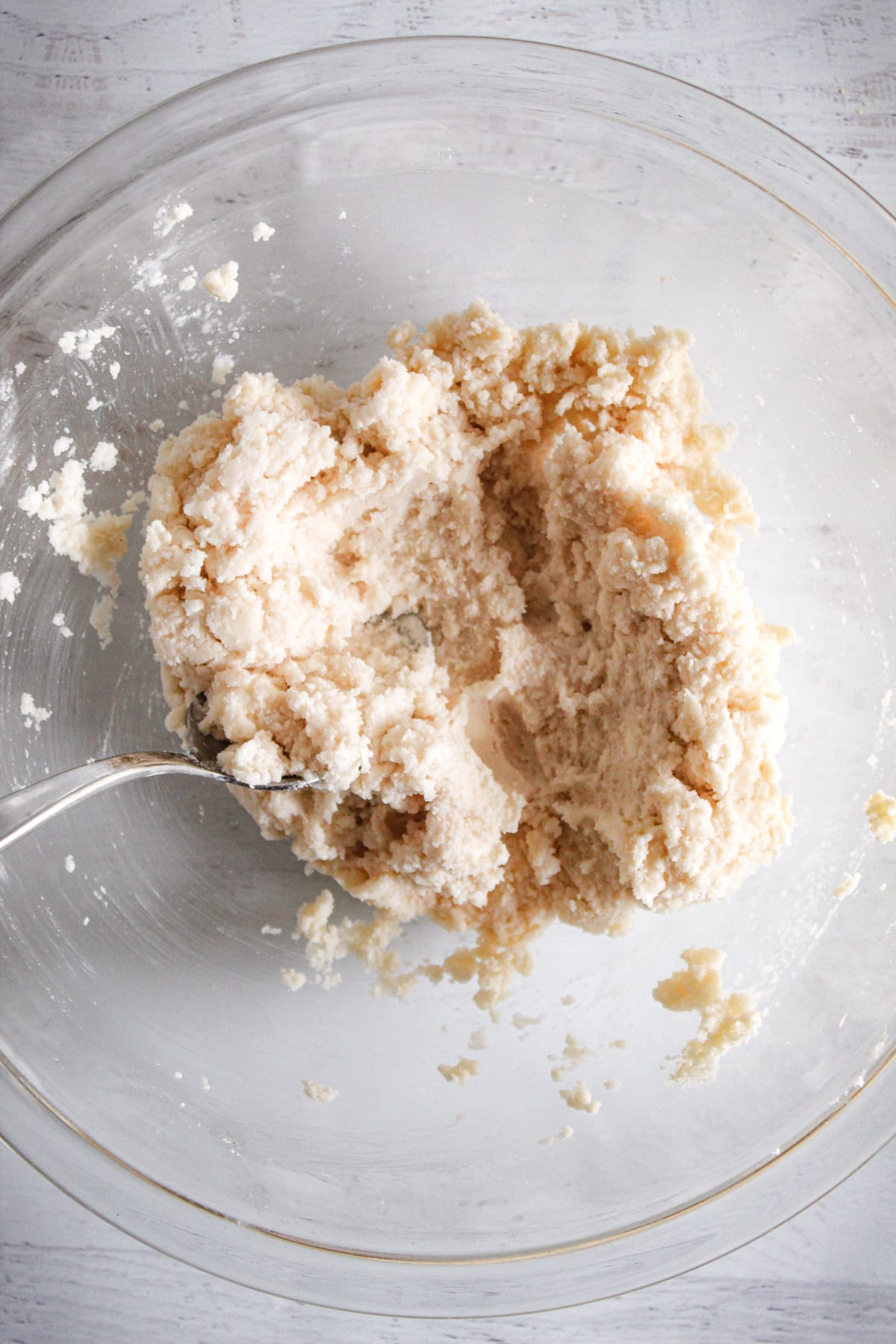 STEP FOUR: Add the milk and mix until a soft dough forms.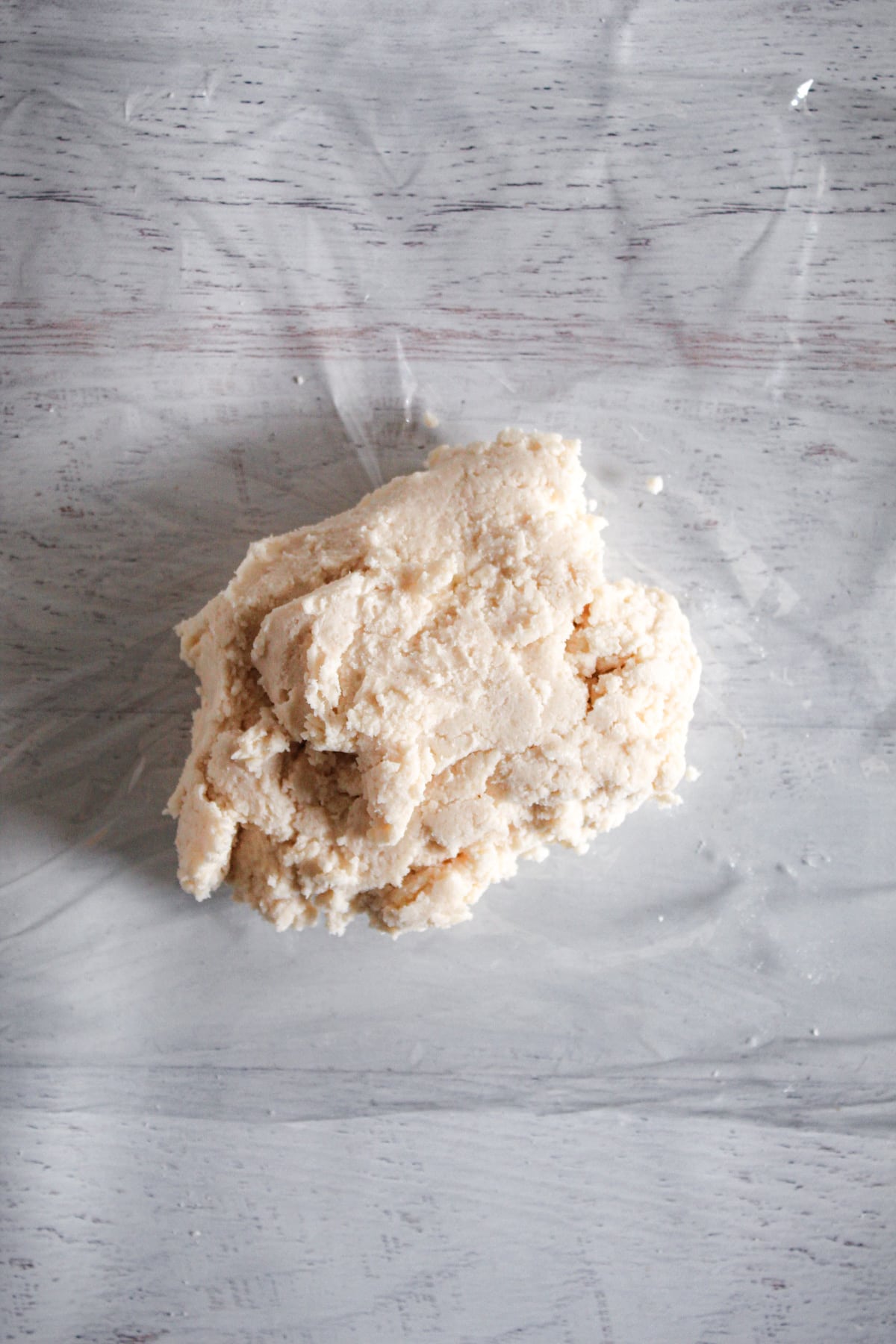 STEP FIVE: Turn the dough out onto a piece of plastic wrap and form it into a disk. Chill the dough for 10 minutes while the oven heats.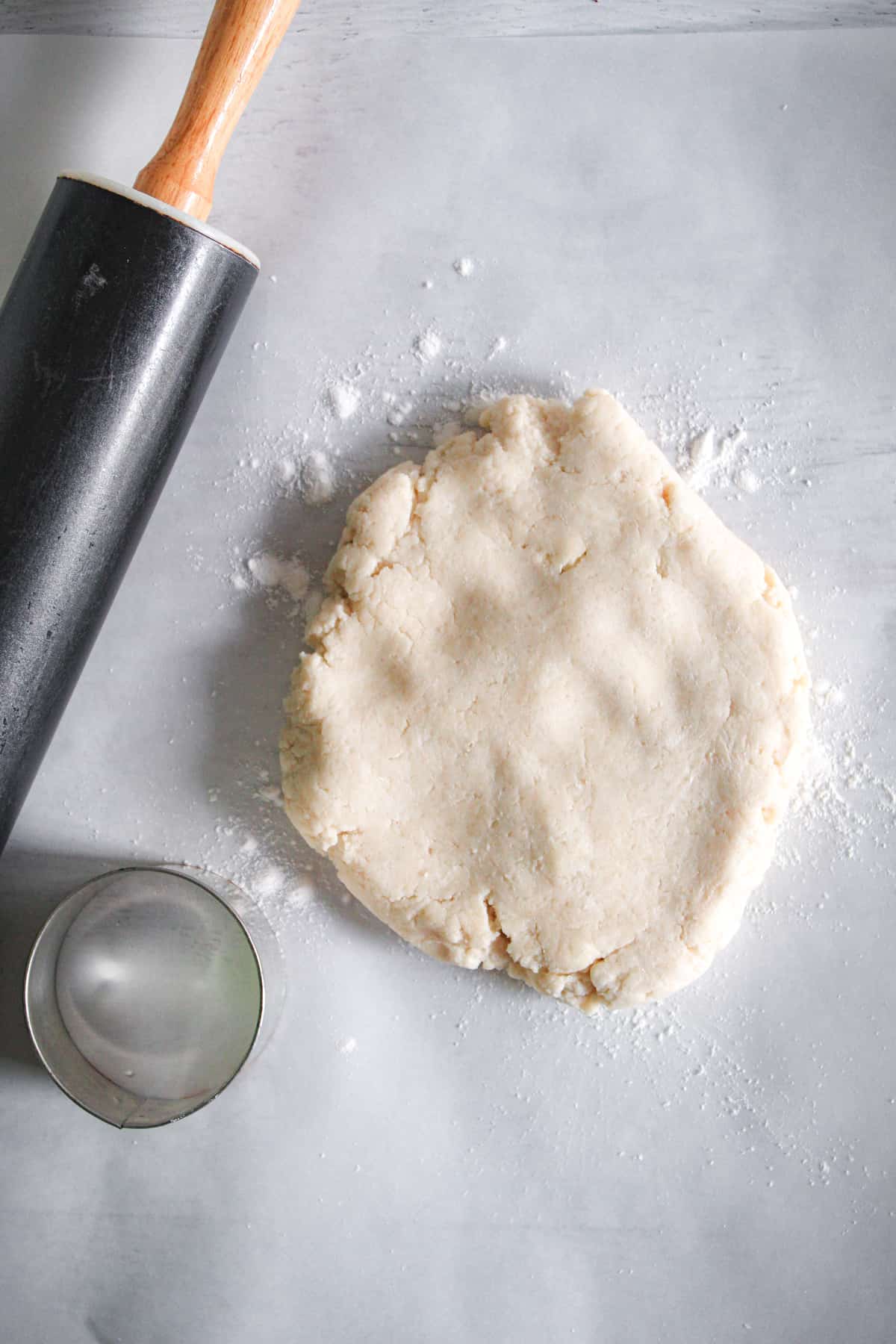 STEP SIX: Pat the chilled dough into a circle, about 1 inch thick. You can use a rolling pin if desired.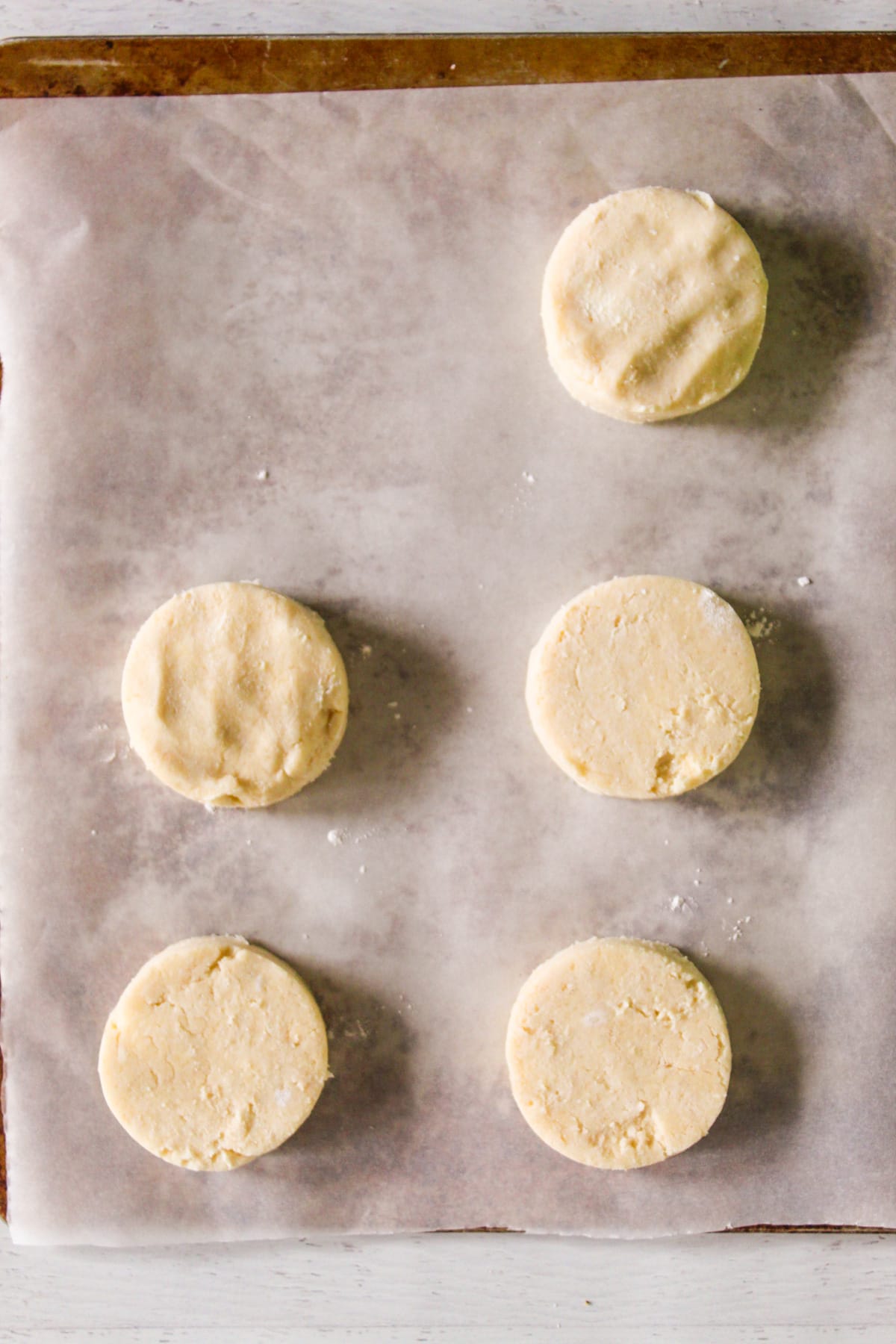 STEP SEVEN: Cut biscuits out with a biscuit cutter and place on an ungreased cookie sheet lined with parchment paper.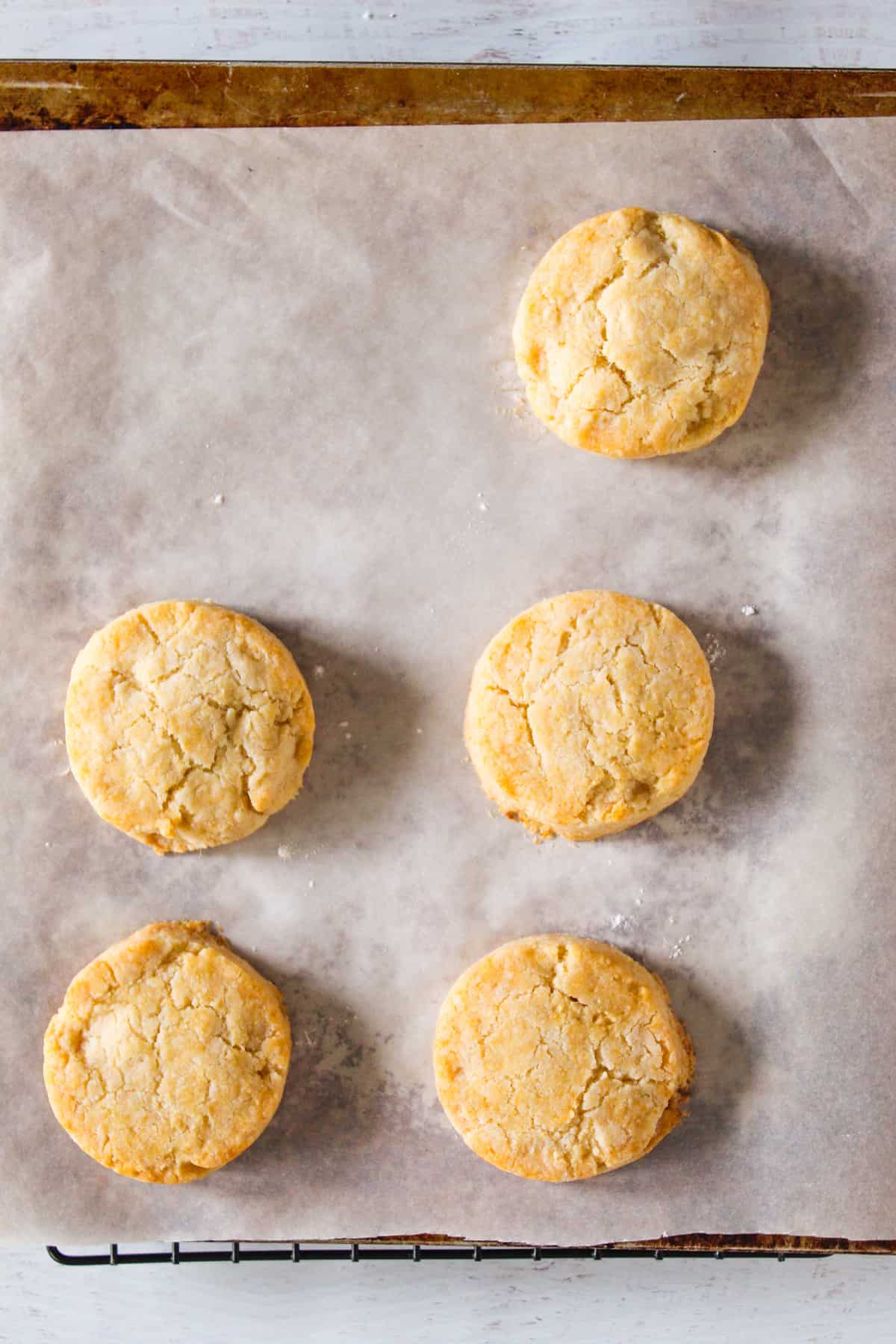 STEP EIGHT: Bake for 18-20 minutes until golden brown.
Note on mixing the dough
You can use a food processor to mix the biscuit dough. Pulse just a few times to incorporate the butter, then a few more once the milk is added.
Substitutions
Here are some acceptable ingredient substitutions:
Gluten free Bisquick baking mix: You may use the storebought, Betty Crocker Bisquick flour mix instead of the homemade mix. Single flours like white rice flour or almond flour or gluten-free flour blends are not recommended.
Arrowroot powder: You may use cornstarch, tapioca starch, potato starch, or any of the other substitutes listed in this substitutes for arrowroot list.
Almond milk: Use any dairy milk or oat milk, or coconut milk.
Vegan butter: Feel free to use regular butter if you can tolerate dairy.
Xanthan gum: These fluffy biscuits need a binder. Use one of the options listed in this xanthan gum substitutes list.
Variations
While these biscuits are amazing the way they are, here are some different ways of enjoying them:
Gluten-free drop biscuits: Use a large spoon or ice cream scoop to drop the dough instead of making cut biscuits.
Red Lobster cheddar bay biscuits: Add some Old Bay Seasoning and shredded vegan cheddar cheese to the mixed biscuit dough and continue as directed.
Strawberry shortcakes: Use these as the shortcake biscuits!
Or, alongside a traditional breakfast of bacon and eggs!
Equipment & Tools
Beside a bowl for mixing, you'll also need:
Pastry blender
Measuring cup
Cookie cutter
Baking sheet
Parchment paper
Food processor - a food processor can be used to mix the dough together.
Rolling pin - a rolling pin isn't necessary but if you like biscuits with smooth tops, a couple rolls of a rolling pin with smooth the dough.
All of these products are available in my Amazon store.
Storing GF Bisquick Biscuits
There are two methods for storing these biscuits, baked and unbaked:
Baked biscuits: Store baked biscuits in an airtight container at room temperature for up to 3 days. Any longer than that and they should be frozen in a freezer bag. Defrost frozen biscuits for 30 seconds to 1 minute in the microwave.
Biscuit dough: The biscuit dough may be chilled for up to 2 days before baking. Shape and bake as directed.
My Top Tip
Work Quickly: Warm butter spells disaster for biscuits. Working quickly with the biscuit dough is essential. Make sure the butter is cold and chill the dough for the full 10 minutes. Otherwise the biscuits will spread too much in the oven and that is not a good biscuit.
FAQs & Troubleshooting
Can I double the recipe to make more biscuits?
This recipe can be doubled. Just be sure to measure the ingredients in weight where weight is given.
Does the storebought version of Bisquick work in these biscuits?
This recipe will also work with the storebought gluten free Bisquick baking mix. Omit the xanthan gum if using the packaged mix.
Why are my biscuits falling apart?
If your biscuits fall apart, follow these steps to ensure it doesn't happen again: Measuring the ingredients by weight where weight is given is very important to the success of this recipe. Also make sure to use only the acceptable substitutes and do not omit the xanthan gum without replacing it with a substitute. Chill the dough for at least 10 minutes before baking and work quickly after cutting the biscuits to get them into the oven to bake.
More Easy Gluten-Free Biscuits
Did you make and love this recipe? Give it your review and

rating below! And make sure to follow me on Instagram, Pinterest and Facebook too!
Recipe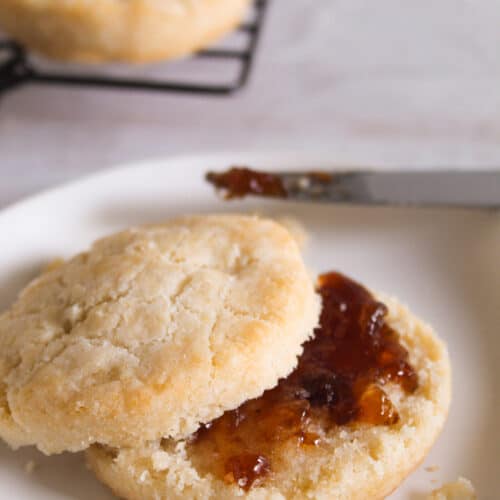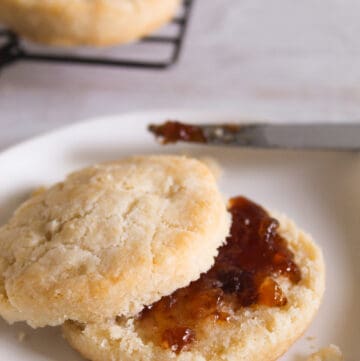 Gluten Free Bisquick Biscuits Recipe: Easy & Dairy Free
These gluten free bisquick biscuits are incredibly easy but taste like you worked on them for hours.
Print
Pin
Rate
Ingredients
228

grams

gluten free Bisquick baking mix

about 1 ¾ cups

6

grams

arrowroot powder

about 2 teaspoons

½

teaspoon

xanthan gum

6

Tablespoons

vegan butter

cold

¼

cup

almond milk
Instructions
In a medium size bowl, add the Bisquick baking mix, arrowroot powder, and xanthan gum.

Using a pastry blender, cut in the cold butter until mixture has small chunks of butter left.

All at once, add the almond milk and stir until dough comes together and forms and ball. 

Wrap dough in plastic wrap and chill for 10 minutes while the oven preheats.

Turn the dough onto a lightly floured surface.

Pat or roll the dough until it's about 1 inch thick. 

Cut biscuits with a 2 inch biscuit or cookie cutter. Place on a baking sheet lined with parchment paper.

Bake for 18 minutes or until golden brown.
Notes
Make sure to keep the biscuit ingredients cold. 
Aim for a 1-inch thick disk of dough.
When cutting the biscuits, make sure to cut them straight down (no twisting!)
Nutrition
Calories:
286
kcal
|
Carbohydrates:
34
g
|
Protein:
2
g
|
Fat:
15
g
|
Saturated Fat:
9
g
|
Cholesterol:
38
mg
|
Sodium:
488
mg
|
Potassium:
17
mg
|
Sugar:
3
g
|
Vitamin A:
465
IU
|
Calcium:
61
mg
More gluten free recipes? Yes please! Check out these delicious recipes:
And some must-have gluten free baking tips:
Original pictures: