Light, fluffy, and exceptionally tender, these millet biscuits are a delicious change of pace from traditional biscuits and can be enjoyed topped with a pat of butter and a drizzle of honey or with your favorite jam or jelly! These high-rising biscuits are soft in the center with a nice golden brown exterior.
Biscuits are a versatile quick bread that can be served with any meal. Similar to these oat flour biscuits or these buckwheat biscuits, millet biscuits make a great breakfast, side with dinner, or anytime snack. With their amazing flavor and texture, you'd never know they were gluten and dairy free! These biscuits are also extremely easy to make from scratch in under an hour.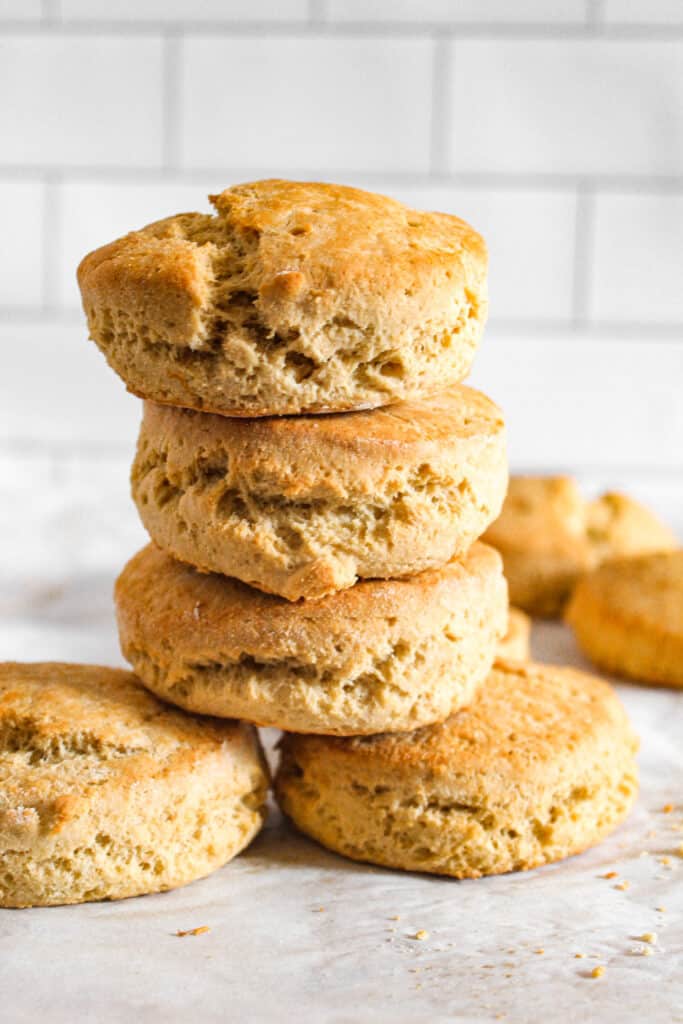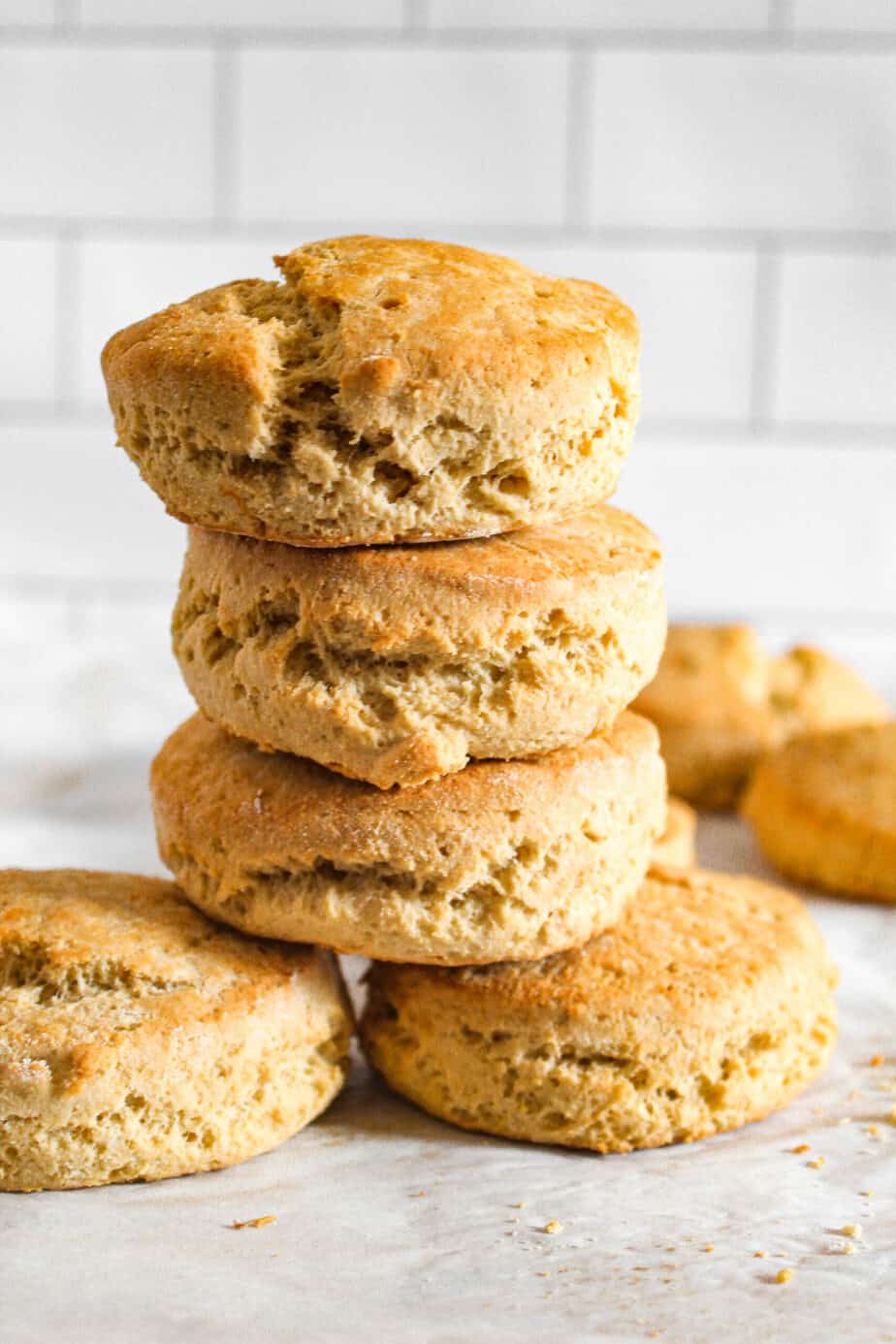 This post contains affiliate links. Affiliate links support Zest For Baking at no additional cost to you. I receive a commission if you choose to make a purchase through these links.
Why you'll love these biscuits!
Like this white bread, there's nothing quite like warm, fluffy homemade biscuits straight from the oven. This millet biscuit recipe is so simple to make and only uses 9 ingredients. Here are a few more great things about this biscuit recipe:
The dough is quick to prep in just 15 minutes

They are both gluten and dairy free

They are great for any meal or snack

The rest time for the dough is only 10 minutes

They are easy to store in the freezer
Pro tips for making the perfect biscuits
These rolled millet biscuits are super easy to make, but just like in any gluten free recipe, there are a few essential steps to follow for the best outcome. For the perfect millet biscuits, keep these pro tips in mind!
1. Use room temperature ingredients
For these biscuits, make sure all of your ingredients are at room temperature. Many other biscuit recipes call for cold butter, but for this recipe, the butter should be softened. Using room temperature ingredients will help them better combine together when mixing.
2. Measure the flour by weight
It is best to use a digital scale to measure the millet flour by weight for the most accurate measurement. This will make certain your biscuits turn out perfectly!
3. Give the dough 10 minutes to rest
As one of my gluten free baking tips, this recipe is a little different in that it just needs 10 minutes as a rest time. Letting the biscuit dough rest before baking allows the starches and liquids to fully combine so your biscuits are light and fluffy.
4. Helpful tools
Here are some great tools that will help in prepping your millet biscuits:
Medium mixing bowl

Parchment paper

Rolling pin

2-inch biscuit cutter

Baking sheet
How to make this recipe
Ingredients & substitutions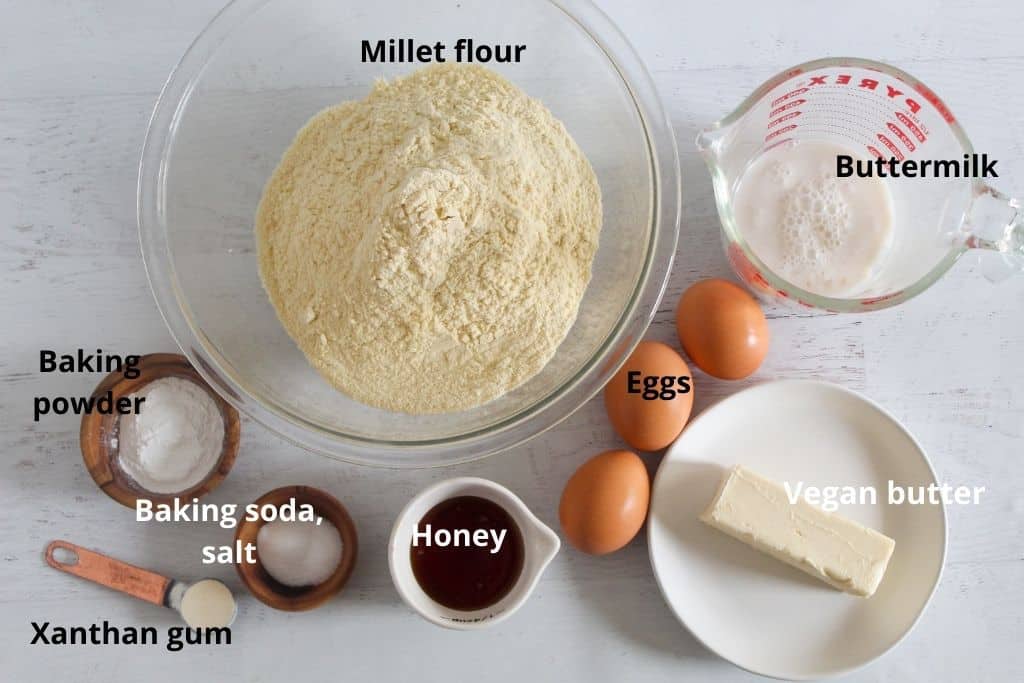 Millet flour - This recipe was tested using the Nuts.com brand of millet flour. I highly recommend this brand because it seems to have a lighter texture than others I've tried. Keep in mind that using a different brand of millet flour may alter the final result of the recipe.

Baking powder - There is no substitute for baking powder in this recipe.

Baking soda - There is no substitute for baking soda in this recipe.

Xanthan gum - There is no substitute for the xanthan gum in this recipe.

Salt - There is no substitute for salt in this recipe.

Vegan butter - This recipe was tested using Earth Balance vegan butter. Regular butter also works great as an alternative in these biscuits.

Dairy free buttermilk - You can make your own dairy free buttermilk by combining the dairy free milk of your choice with either lemon juice or vinegar. Regular buttermilk also works as a substitute in this recipe.

Eggs - Regular eggs work best in this biscuit recipe. No substitutes have been tested so I would not recommend using an egg alternative.

Honey - There is no substitute for the honey in this recipe.
Making the dough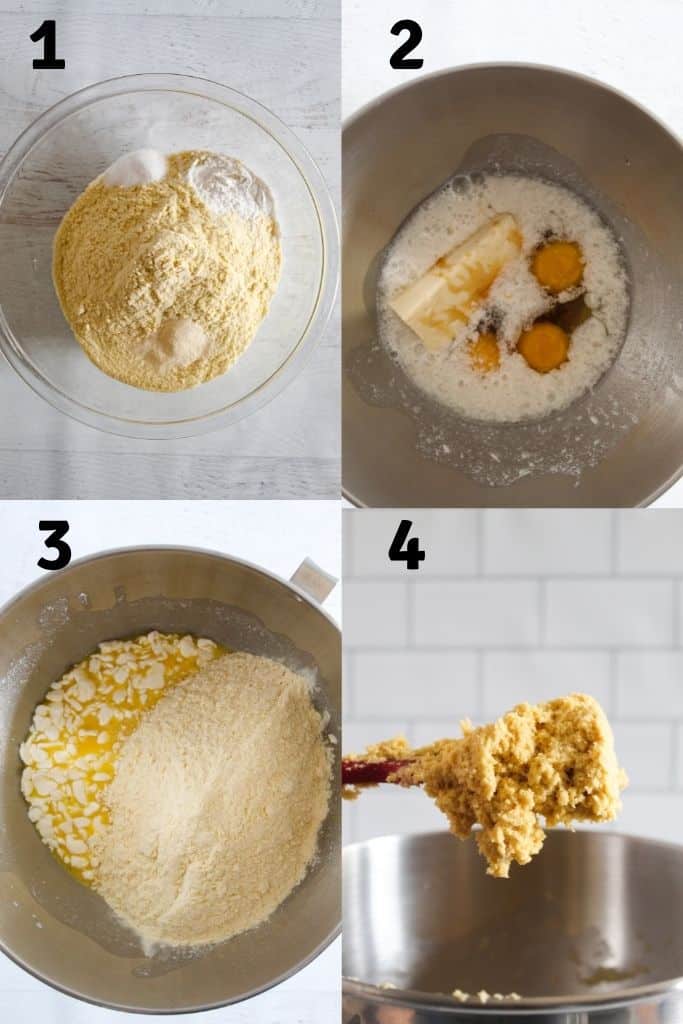 This easy millet biscuit dough can be mixed up in 15 minutes! Once all of your ingredients have come to room temperature, start by adding the flour, baking powder, baking soda, xanthan gum, and salt to a medium mixing bowl (step 1 above). In the bowl of a stand mixer, combine the butter, buttermilk, eggs, and honey (step 2) by mixing for 2 minutes. After mixing, the butter should be in small chunks. Next, add the flour mixture to the butter mixture in the stand mixer bowl (step 3) and mix for 15 seconds. Stop the mixer and scrape down the sides of the bowl and then mix for another 15 seconds to form the dough (step 4).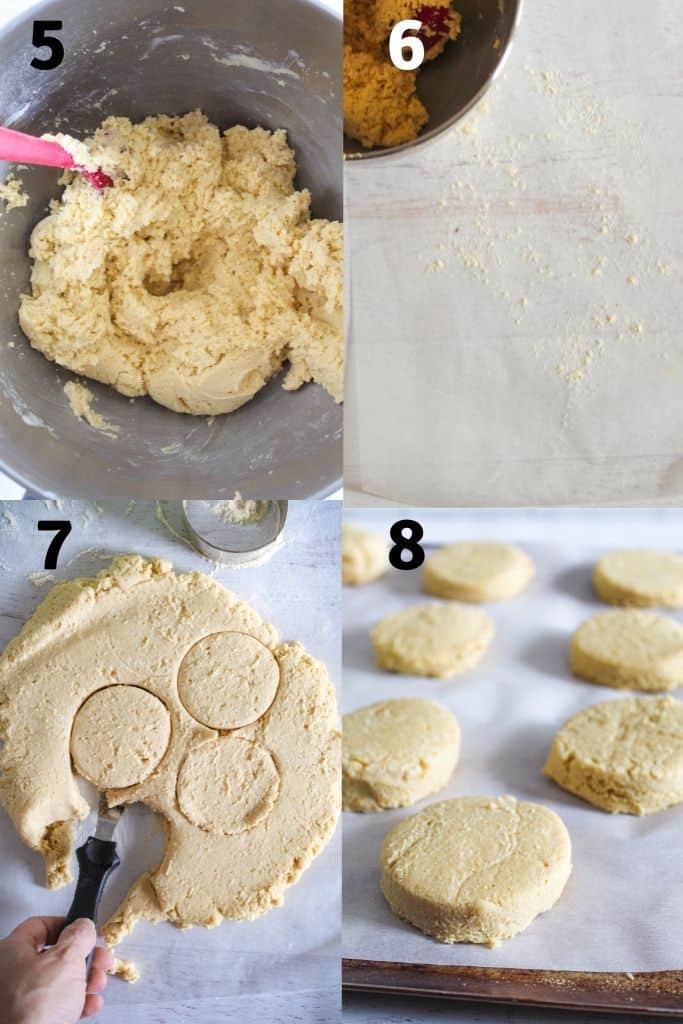 Next, set the dough aside to rest (step 5) for 10 minutes. Meanwhile, preheat the oven to 400°F and line a baking sheet with a piece of parchment paper. Once the dough is finished resting, place a piece of wax paper on the countertop and dust it with flour (step 6). This makes for a quick and easy clean up! Then, place the dough on the wax paper and lightly roll it out to 1-inch thickness. Using a floured 2-inch biscuit cutter, cut out the biscuits (step 7) and place them on the lined baking sheet (step 8). Push the excess dough together and lightly roll out again to cut out more biscuits. You should end up with 9 biscuits.
Baking & serving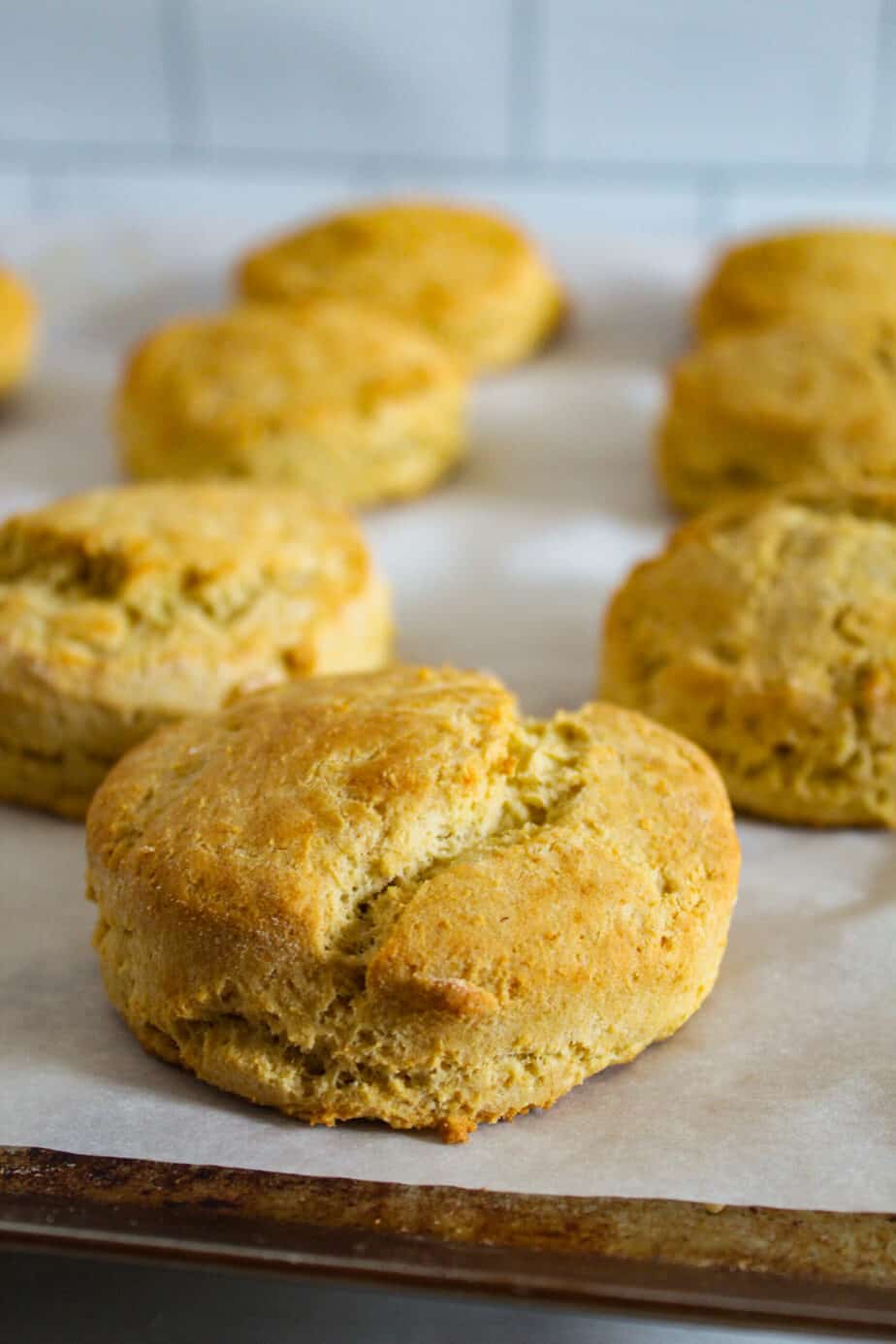 After you have cut out all 9 biscuits, place them in the oven and bake them for 14-15 minutes or until the biscuits are golden brown. They can be served warm with butter, jam, or jelly. They are even delicious plain! If you want to enjoy these biscuits later on, they are best served lightly toasted.
FAQ's about this recipe
Is millet flour gluten free?
Yes! Millet is a naturally gluten free grain that is often ground into flour to be used in baking. It is a great option to use in gluten free recipes. Because many grains are at high risk for gluten cross-contamination, be sure you choose a certified gluten free millet flour.
What do you top millet biscuits with?
These biscuits are delicious served with butter, jam or jelly, honey, peanut butter, nutella, cinnamon sugar, gravy, and more! You can enjoy them toasted or fresh from the oven. They also make great breakfast sandwiches.
What is the best way to store these biscuits?
Once baked and cooled, these biscuits can be stored in a plastic bag or air-tight container at room temperature for up to 3 days. After the first day, serve them toasted for the best flavor and texture. After 3 days, the biscuits can be frozen for longer storage.
Other recipes you may like!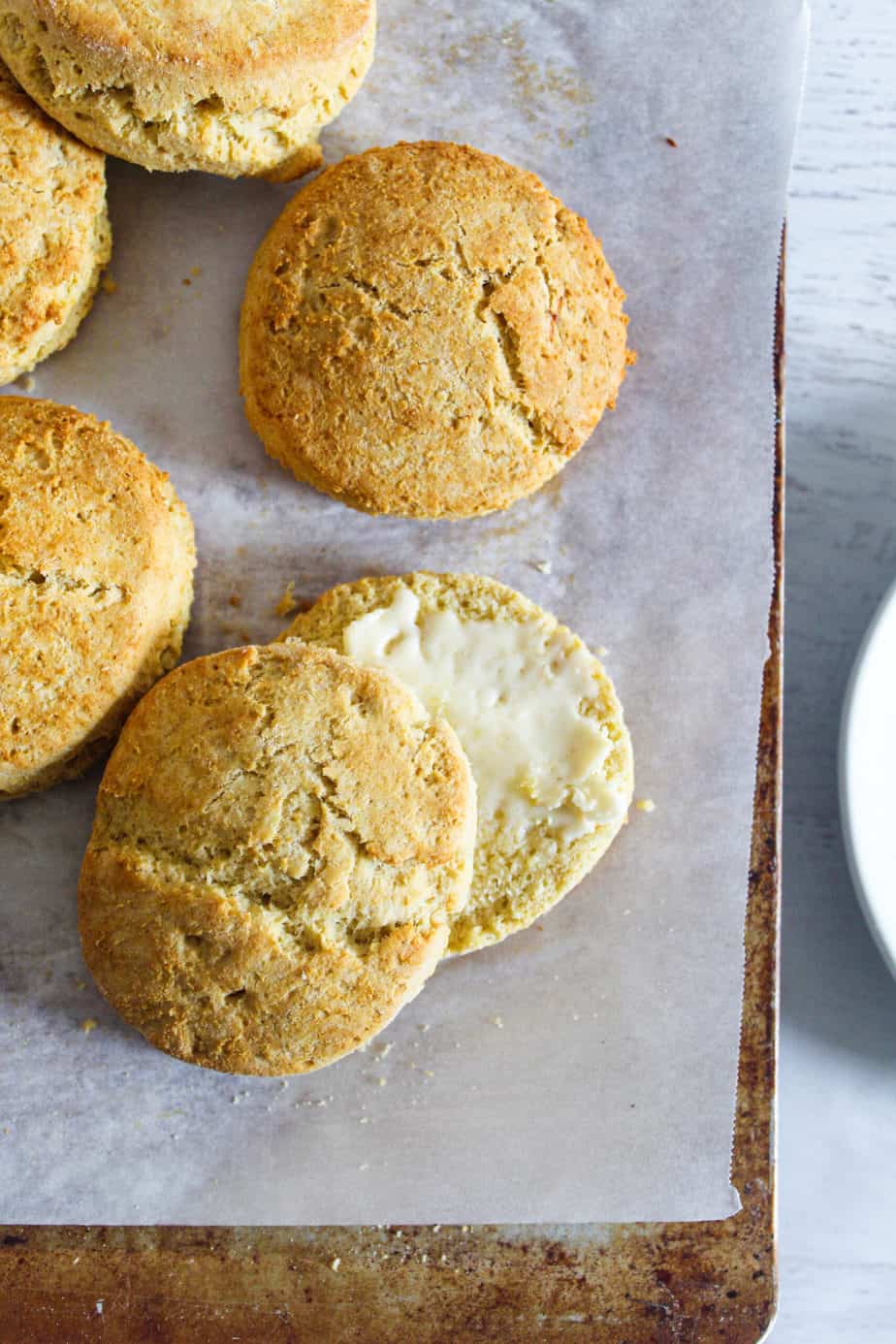 Did you make and love this recipe? Give it your review and

rating below! And make sure to follow me on Instagram, Pinterest and Facebook too!
Recipe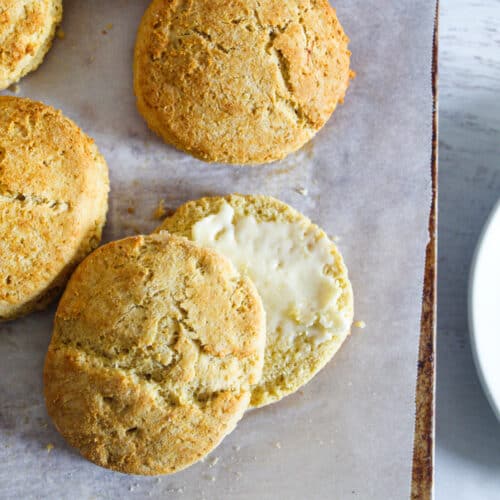 Millet Biscuits (Gluten Free, Dairy Free)
These millet biscuits have a sky high rise and a super simple prep. Add in some butter and jelly and you have a delicious, tender, tasty, gluten AND dairy free biscuit.
Print
Pin
Rate
Ingredients
390

grams

millet flour

about 3 cups

3

teaspoons

baking powder

1

teaspoon

baking soda

1

teaspoon

xanthan gum

½

teaspoon

salt

6

Tabelspoons

vegan butter

softened

½

cup

dairy free buttermilk

3

large

eggs

2

Tablespoons

honey
Instructions
In a medium mixing bowl stir together the flour, baking powder, baking soda, xanthan gum and salt.

In the bowl of a stand mixer, combine the vegan butter, buttermilk, eggs and honey. Mix for 2 minutes. Butter should be in small chunks.

Add the flour mixture. Mix 15 seconds. Stop machine and scrape batter down. Mix another 15 seconds.

Set batter aside to rest for 10 minutes.

Preheat oven to 400 F. Place a sheet of parchment on a baking sheet.

Place a piece of wax paper on countertop. Dust it with flour. Place dough on the wax paper.

Lightly roll dough out to 1 inch thickness. Using a floured 2 inch biscuit cutter, cut out biscuits and place them on the baking sheet.

Push dough together, lightly roll again and cut out more biscuits. You should end up with 9 biscuits.

Bake for 14-15 minutes or until biscuits are golden. Serve warm with butter, jam or jelly.
Notes
All ingredients should be at room temperature.
Make dairy free buttermilk by adding 1 Tablespoon of white vinegar to a 1 cup measuring cup and filling to the ½ cup mark with almond milk or other dairy free milk.
The buttermilk-butter mixture will still have small chunks of butter after mixing,
Using wax paper to roll the dough out makes clean-up a breeze!
Lightly roll the dough to 1 inch thick, any thinner and biscuits will be flatter.
Biscuits will keep for 3 days at room temperature (they're best toasted after the first day) or freeze for longer storage.
Nutrition
Calories:
206
kcal
|
Carbohydrates:
37
g
|
Protein:
7
g
|
Fat:
4
g
|
Saturated Fat:
1
g
|
Polyunsaturated Fat:
2
g
|
Monounsaturated Fat:
1
g
|
Trans Fat:
1
g
|
Cholesterol:
62
mg
|
Sodium:
292
mg
|
Potassium:
258
mg
|
Fiber:
2
g
|
Sugar:
5
g
|
Vitamin A:
115
IU
|
Vitamin C:
1
mg
|
Calcium:
74
mg
|
Iron:
2
mg