What's better than a delicious tender donut on a Saturday morning? Other than sharing it with the people you love… I'd say nothing! With a tender crumb and a light texture, a gluten free cake donut is just about the best thing to enjoy on a lazy day.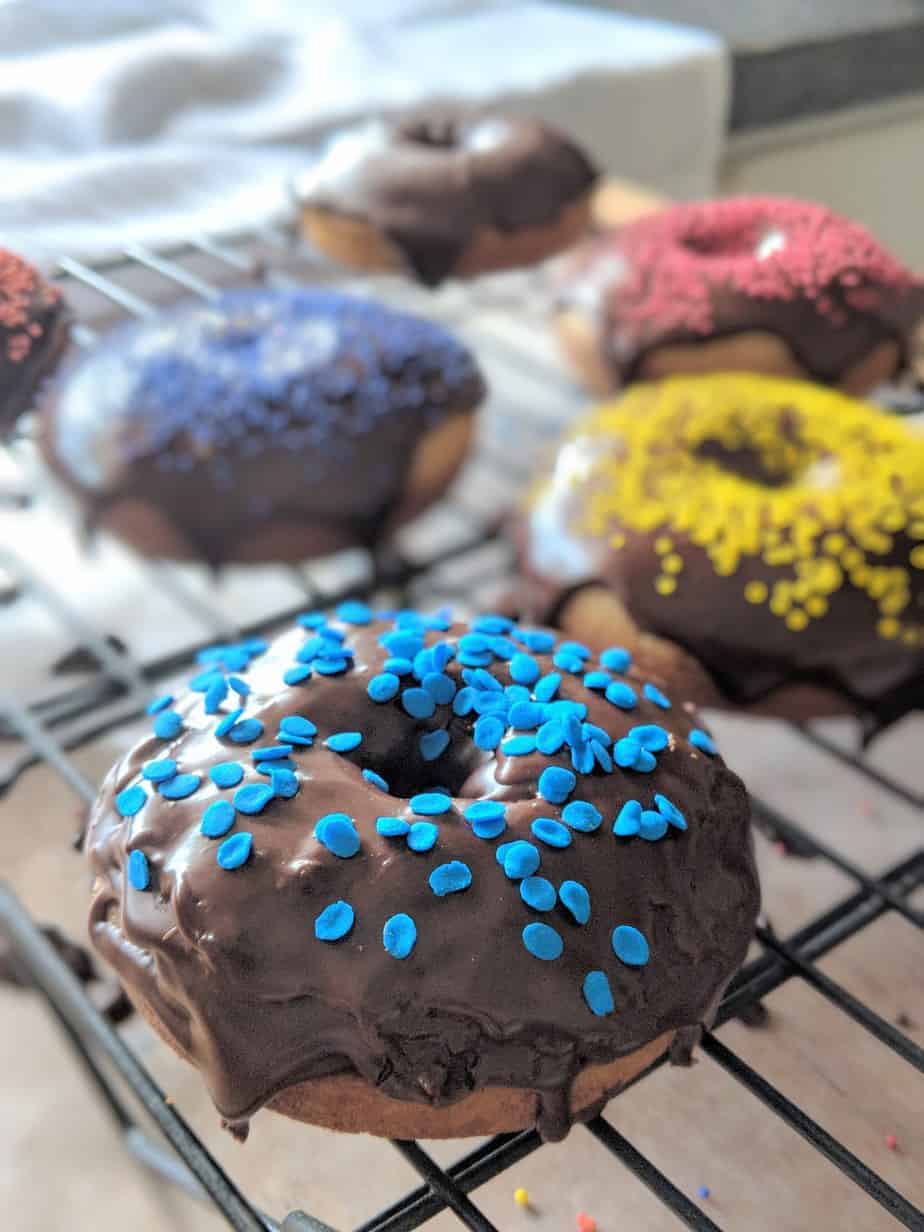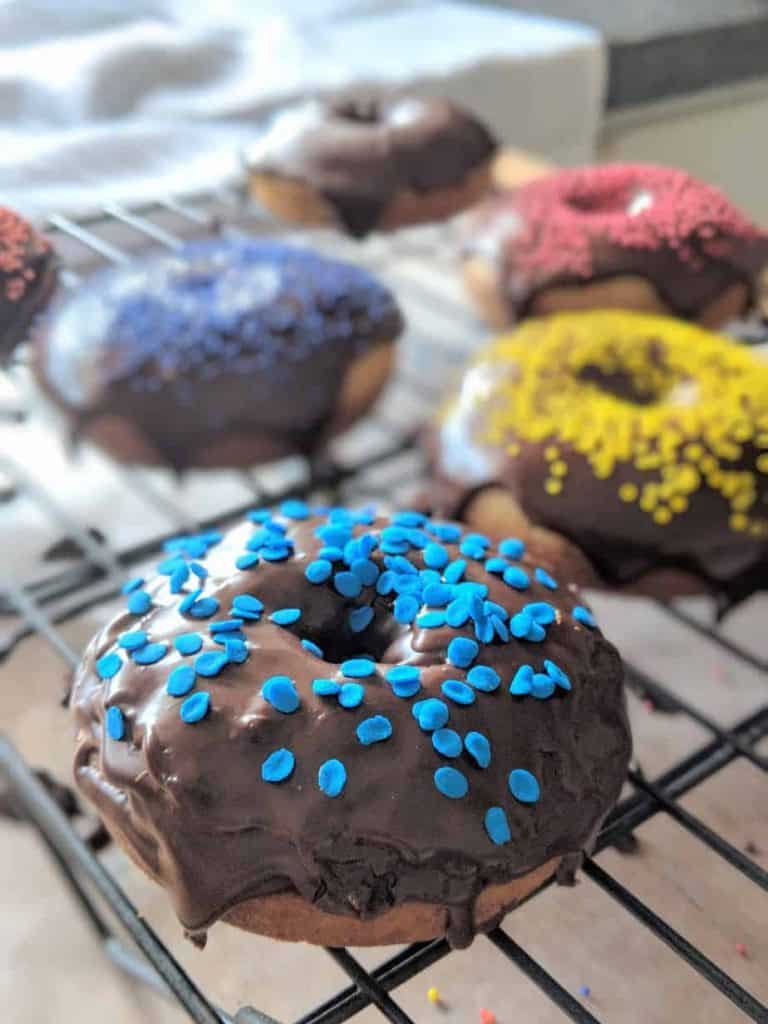 This recipe is also known as 'Anytime-is-a-Good-Time for Tender Gluten Free Cake Donuts' for a reason – it wasn't exactly early morning, but it wasn't quite lunchtime, but everyone wanted donuts! Add in the fact that I had a brand new donut pan (this is the one I bought), that was calling out for a batch of donut batter, whipping up a batch of donuts sounded like something I could agree to.
So in about a 30 minute time frame, donuts were done and on the table. Yum.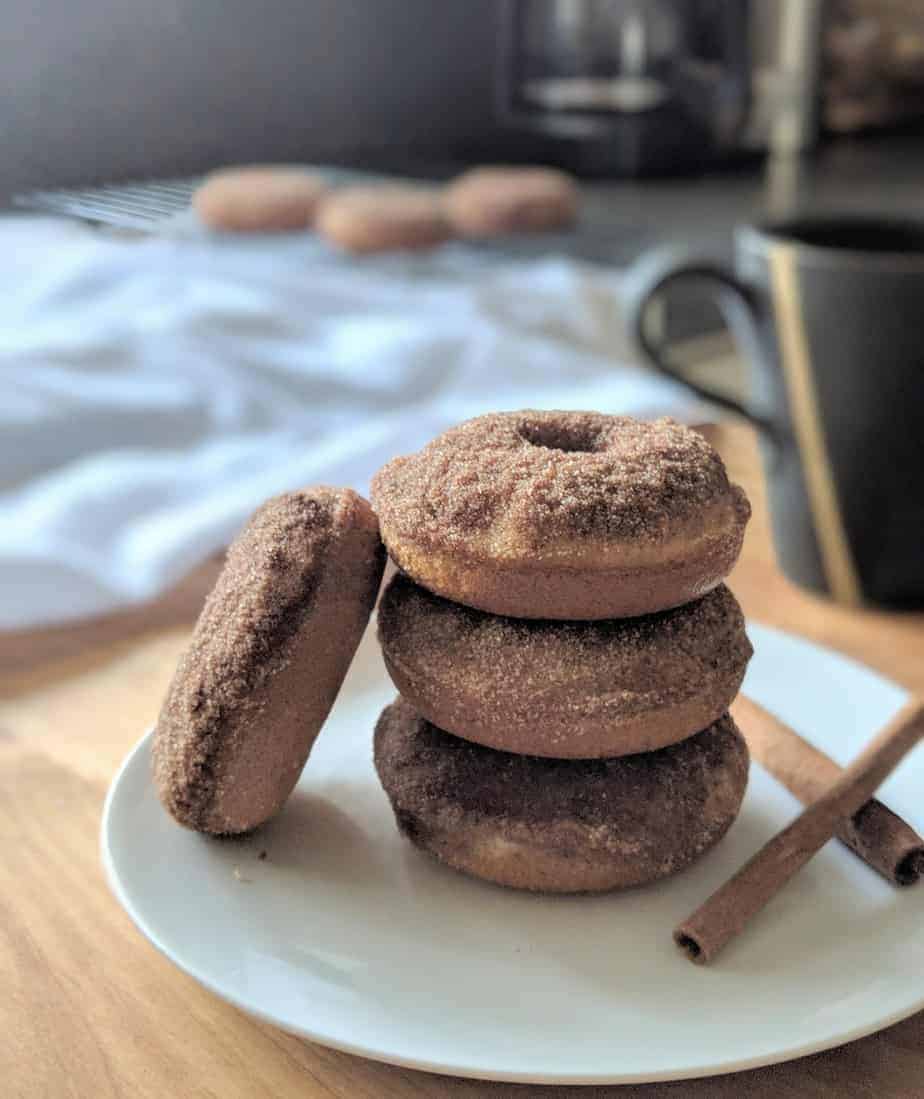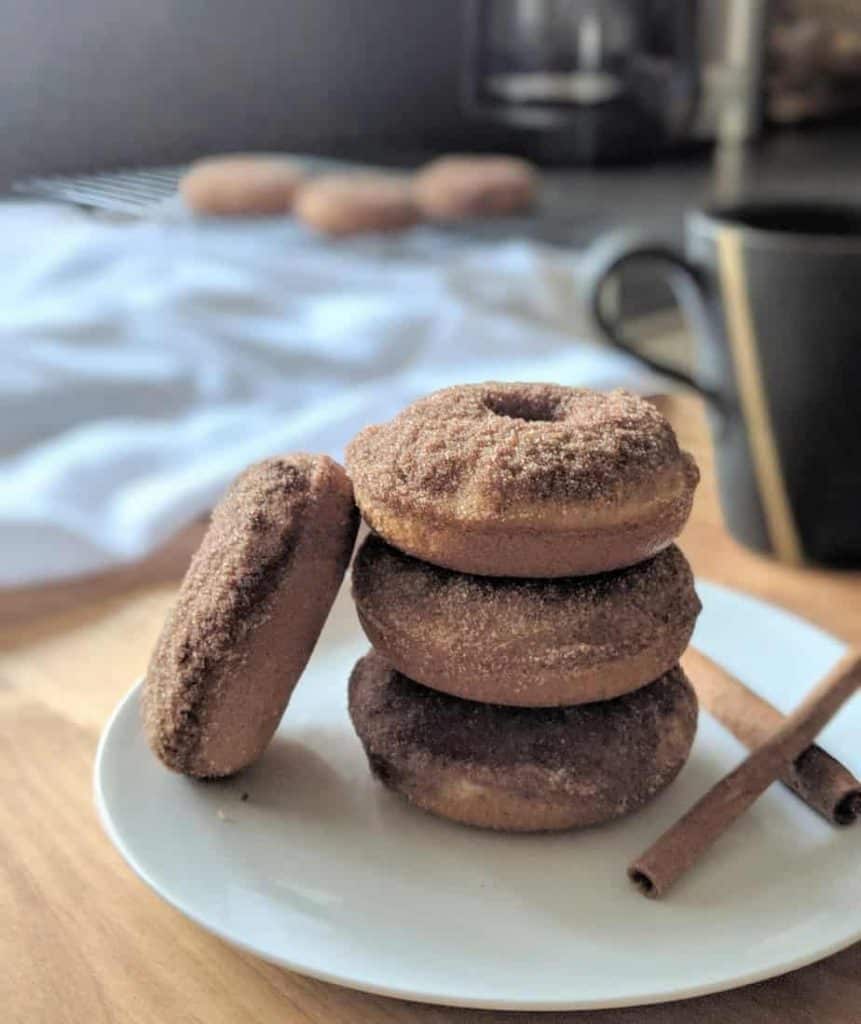 Tips for Making Baked Gluten Free Cake Donuts
Gluten free cake donuts are very similar to other baked donuts (like these carrot cake donuts!), but there are a few tips that will ensure you get the best results and the best tasting donuts.
Alternate the ingredients
If you've ever heard the phrase 'alternate the ingredients' and wondered if there's actually a method for doing this right, you are not the only one! Alternating ingredients plays a big role in the success (or failure) of a recipe – it helps maintain consistency and ensure that the batter does not separate. In the case of these baked donuts, flour and milk are added gradually to the butter and sugar so it doesn't get overloaded with ingredients at one time.
Batter will be very liquid-y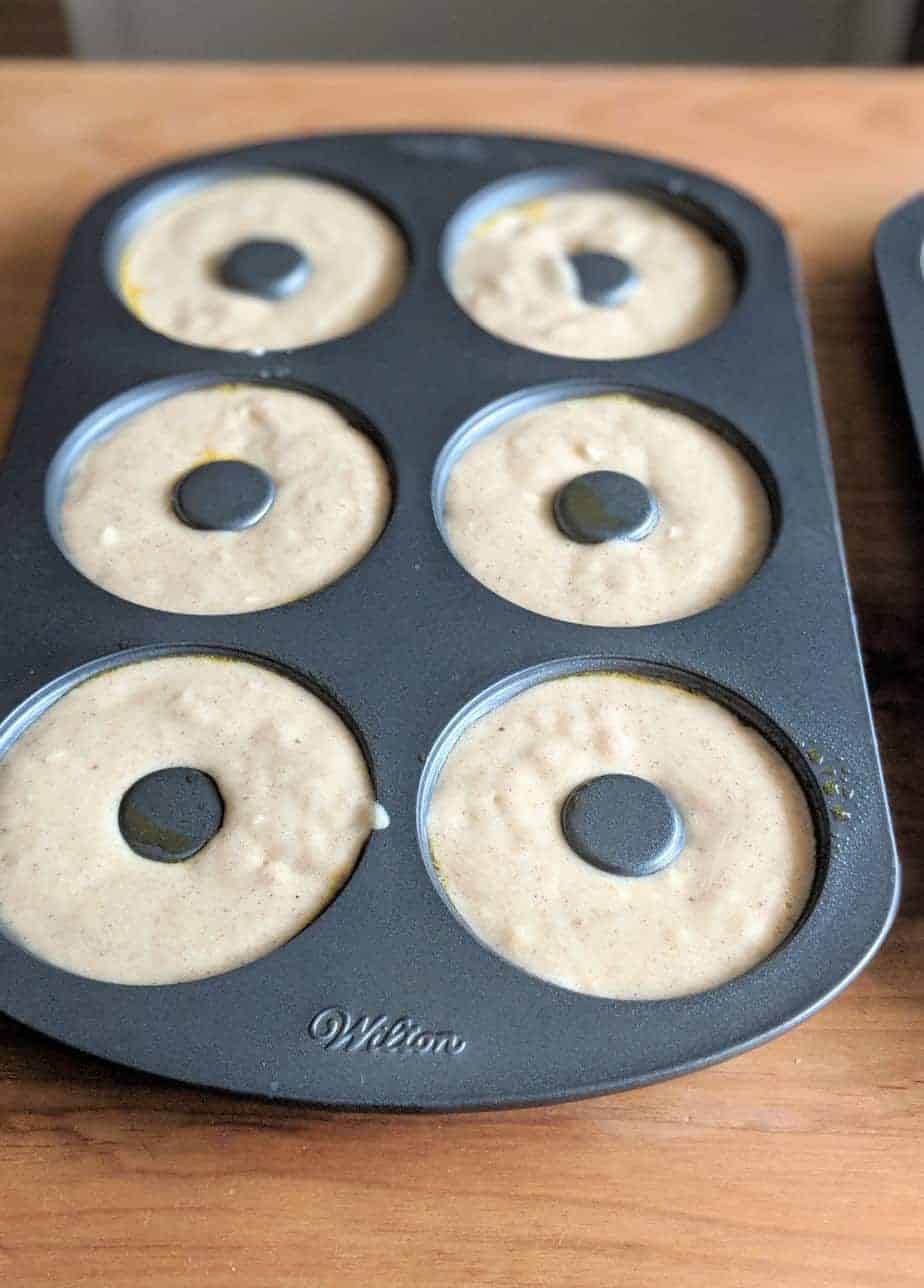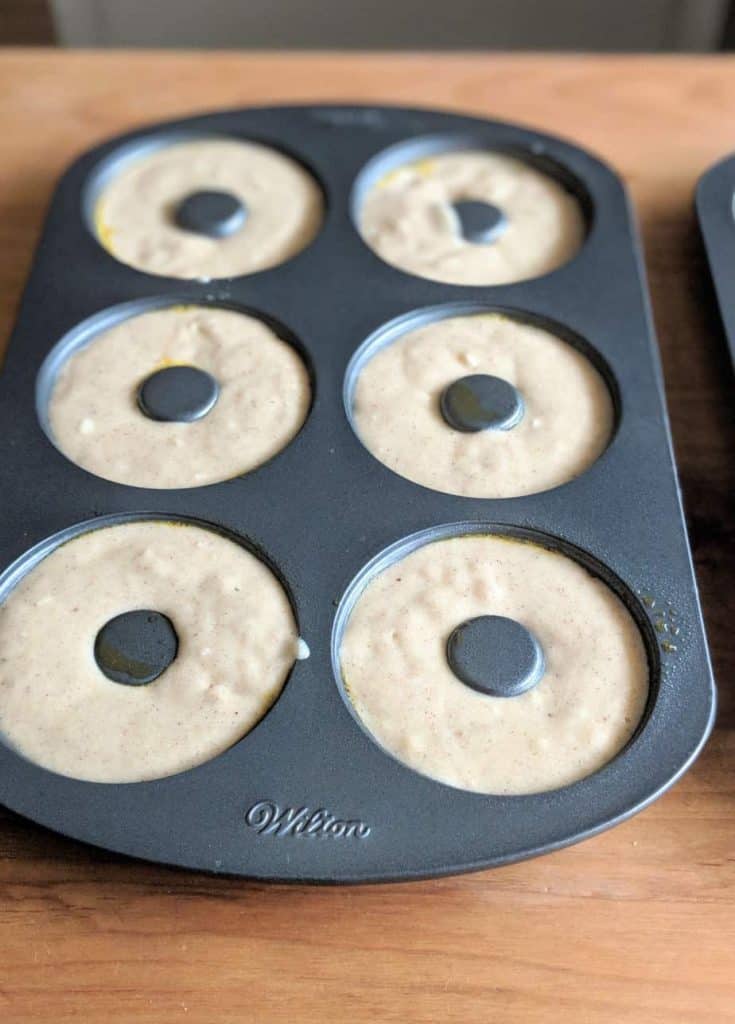 Gluten free batter is very different from other batters. Bread dough looks like cake batter and muffin and donut batter looks like soup. Resist the temptation to add more flour to it to thicken it up. It is supposed to look like that. This gluten free cake donut batter is no different. That's why the batter goes into the plastic bag – to make pouring it into the pan A Lot easier and less messy.
Chocolate glaze consistency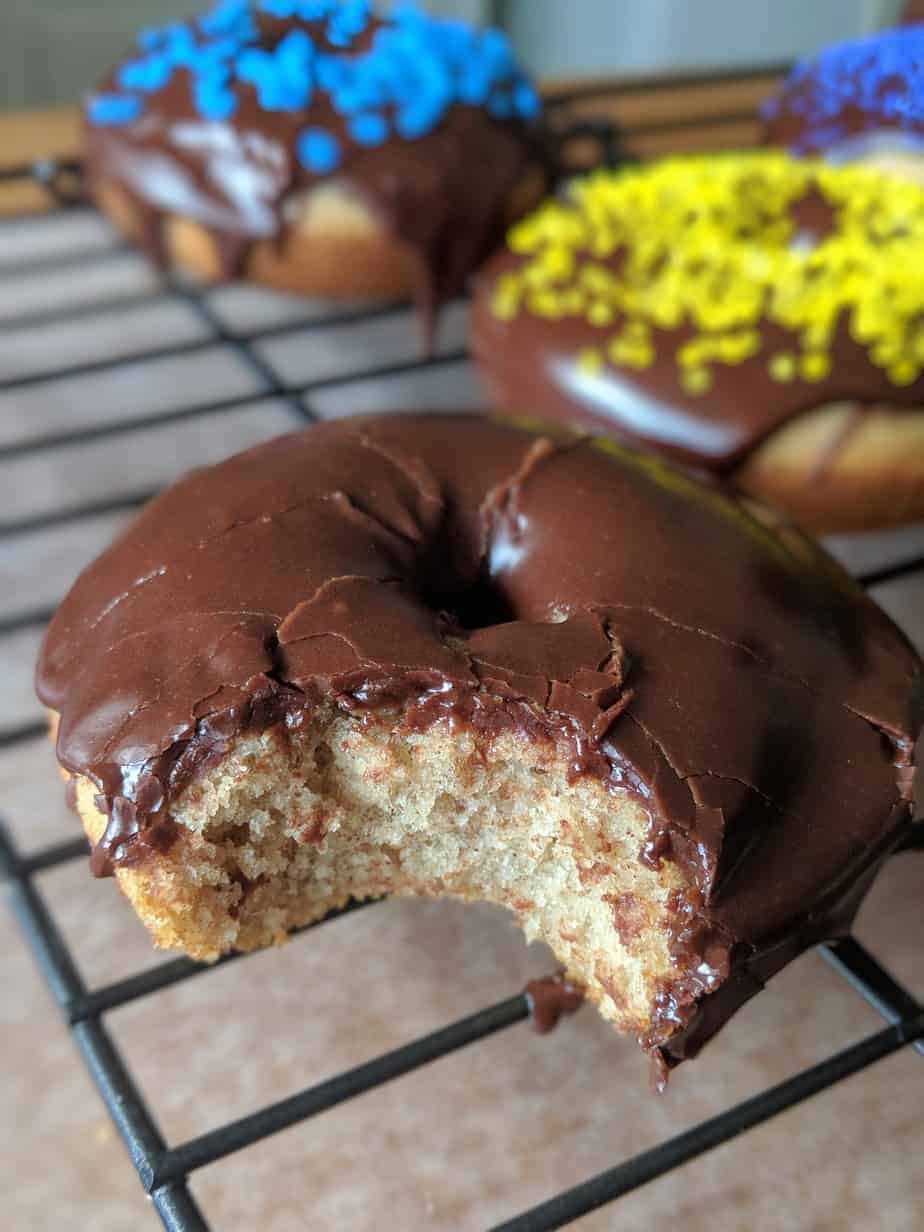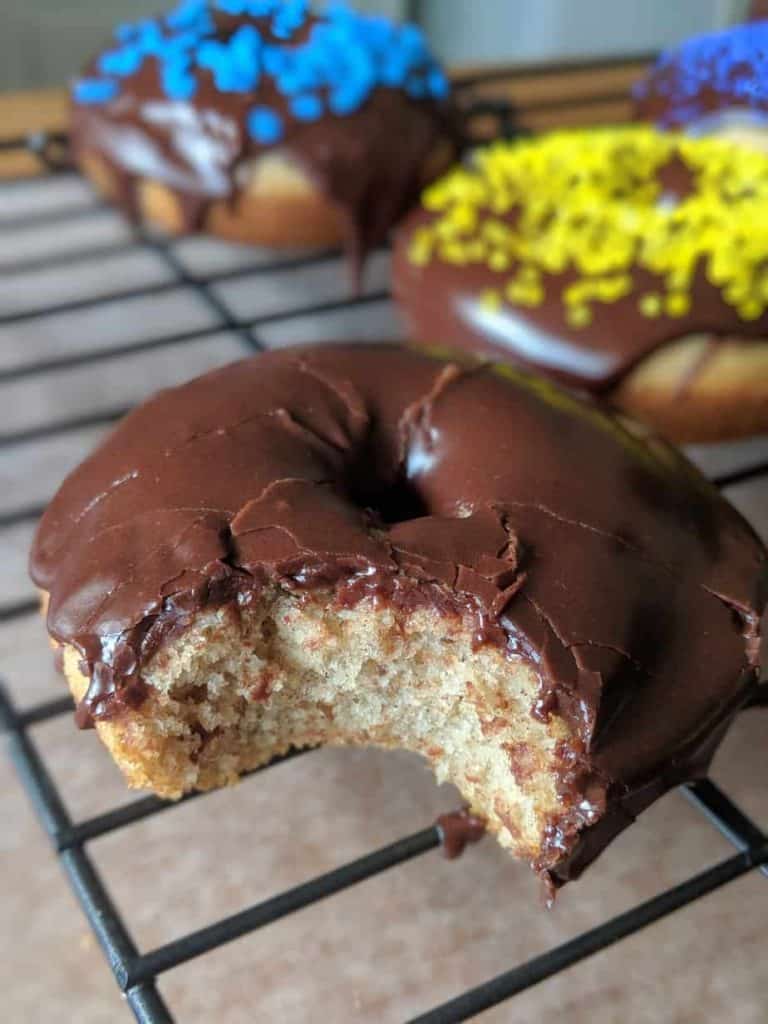 There's a range listed for the milk used in the glaze recipe because it really depends on how thick or pourable you want the glaze. 2 Tbsp. could be enough or you may need the full 4 Tbsp. Start small and add a little at a time.
Tools for Making Gluten Free Cake Donuts
If you have these tools on hand, you'll have have delicious donuts in no time!
Donut baking pans - the regular size pans make the perfect sized donuts. With just a quick spray, they are ready to use!
Large plastic bag - seems like an unusual tool right?! Well, a large bag makes portioning out this batter incredibly easy. In fact, I'd say it's a must-have.
Rubber spatula - this is a great tool for not just these donuts, but any bread recipe. It's a kitchen essential.
Small mixing bowls - these come in really handy when mixing up the donut topping and glaze.
Wire rack - glazing is so much easier and virtually mess free when the donuts are sitting on a wire rack with wax paper underneath. Which brings me to the last essential item...
Wax paper - the uses for wax paper goes on and on. But chocolate glaze drips top the list here!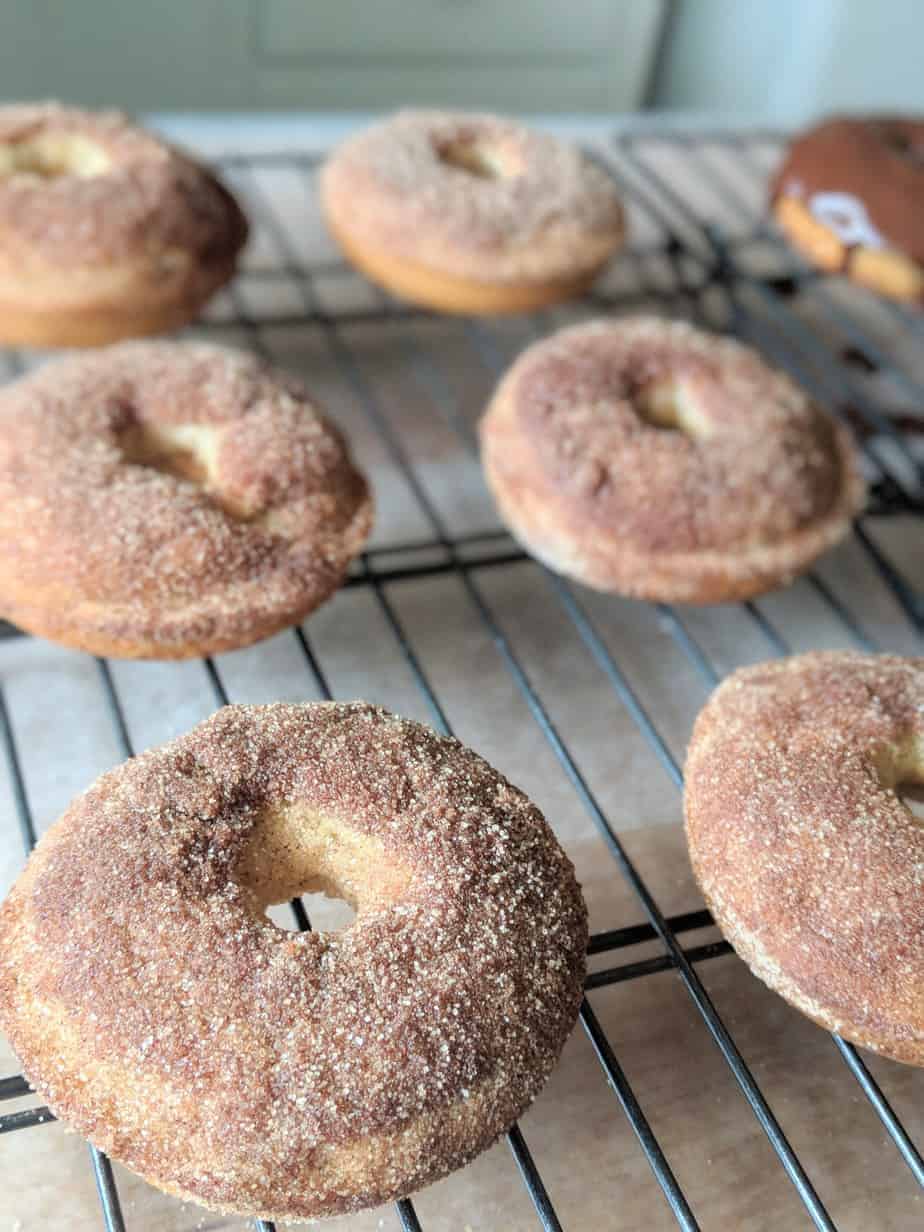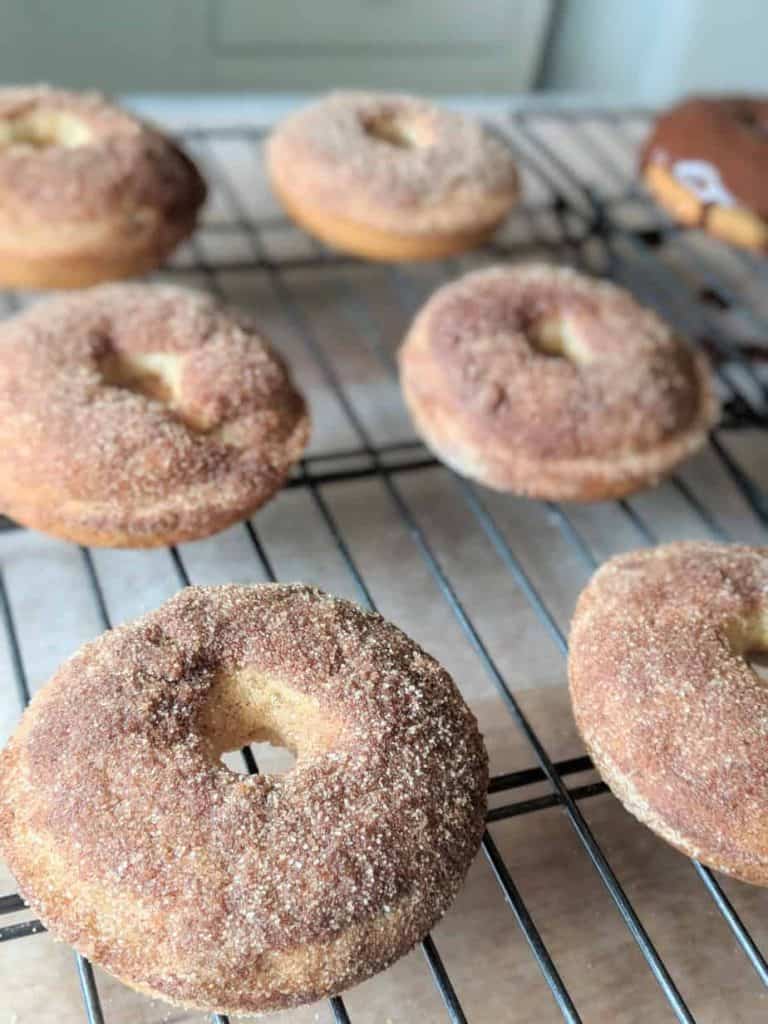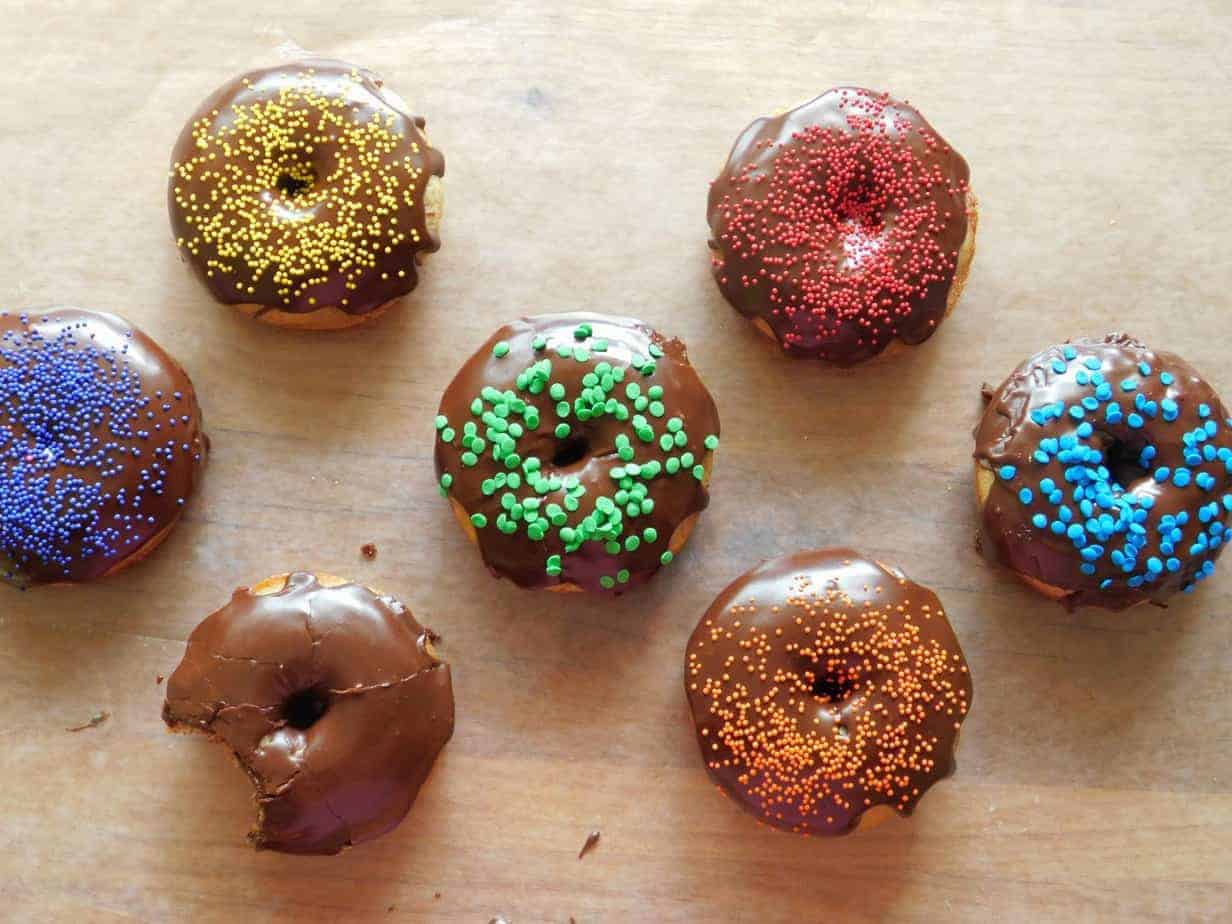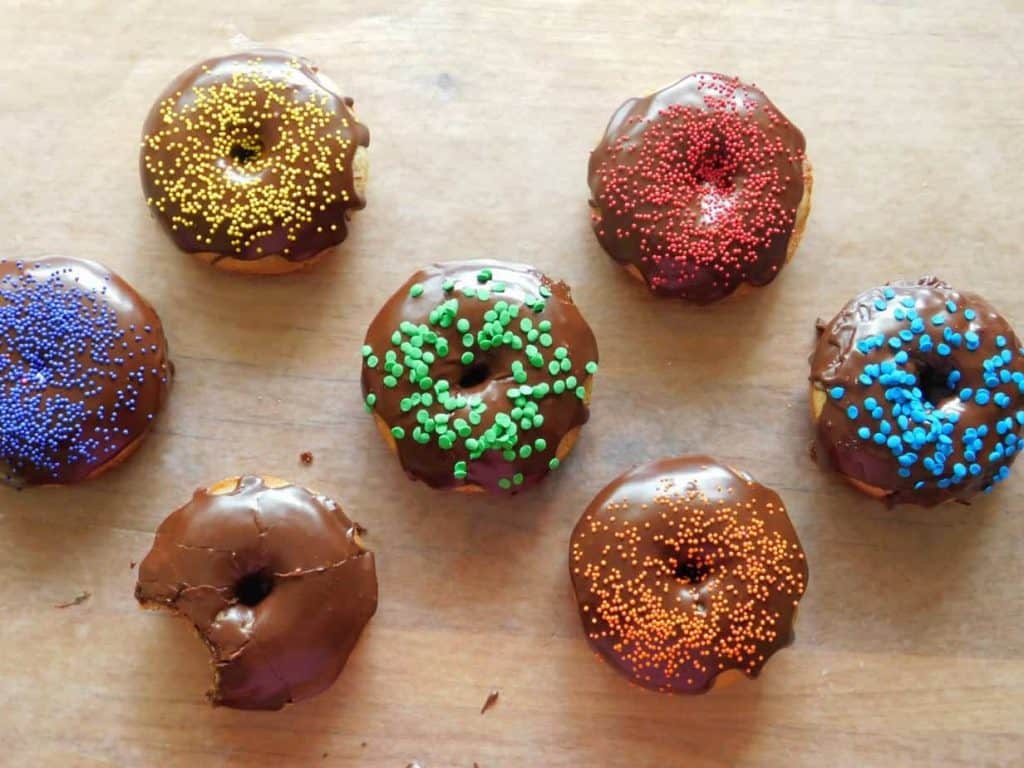 If you enjoy this recipe, will you give it a rating?!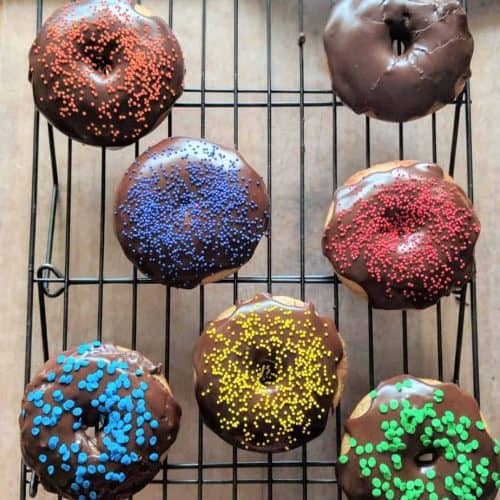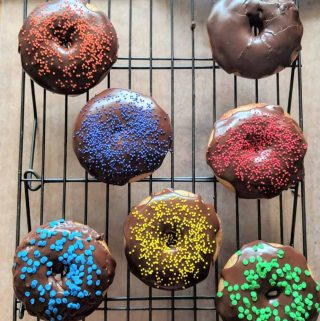 Gluten Free Cake Donuts (Baked)
Anytime is a good time for Gluten Free Cake Donuts! These
baked donuts are mouth watering delicious and the recipe has two topping options
– cinnamon sugar and chocolate glaze – yum!
Print
Pin
Rate
Ingredients
2 ⅔

cup

gluten free bread flour mix

¼

tsp.

xanthan gum

1 ½

tsp.

baking powder

¼

tsp.

baking soda

½

tsp.

ground nutmeg

2

tsp.

ground cinnamon

½

tsp.

salt

¼

cup

butter

softened

¼

cup

vegetable oil

⅓

cup

brown sugar

½

cup

white sugar

2

eggs

2

tsp.

pure vanilla extract

1

cup

milk

room temperature
Cinnamon Sugar Topping
¼

cup

butter

melted

⅓

cup

white sugar

1

Tbsp.

ground cinnamon
Chocolate Glaze Topping
1 ½

cup

powdered sugar

4

Tbsp.

cocoa powder

2

– 4 Tbsp. milk

2

tsp.

pure vanilla extract
Instructions
Donuts
Preheat oven to 425 Spray two regular, 6-donut size donut pans with cooking spray. Set aside.

In a medium bowl, add the flour mix, xanthan gum, baking powder, baking soda, nutmeg, cinnamon and salt. Use a whisk and mix until fully incorporated.

In the bowl of a stand mixer or a large bowl for a handheld mixer, add the butter, oil and brown and white sugars. Beat until creamy.

Stop the machine and add in the eggs and the vanilla. Mix well.

Using an alternating pattern and with the mixer running, start by adding 3 large spoonfuls of the flour mixture to the butter mixture and mix on low. Add ⅓ cup of the milk and let mix for a few seconds. Continue this pattern, ending with the flour mixture. Mix just until combined.

Pour the batter into a large galloon bag and seal. Snip about ½ inch off of a corner and use this to fill the prepared donut pan. The batter should hit the top of the rim, but not run out.

Bake for 8 – 10 minutes or until toothpick tests done. Let cool for a few minutes in the pan, then turn out onto a wire rack.
Cinnamon Sugar Topping
Add the butter to a bowl with a semi flat bottom (enough to fit the donut in). In a small bowl, combine the sugar with the cinnamon.

Dip one donut top into the butter and then into the cinnamon sugar.
Chocolate Glaze Topping
In a medium bowl, mix the powdered sugar and cocoa. Add the milk and vanilla and mix until pourable consistency.

Drizzle over each donut and let set.
Notes
Make sure to alternate the flour and the liquid into the batter.
For less mess wen filling the pans, use a large plastic bag and snip off a small corner.
Either topping can be used for these cake donuts.
Nutrition
Calories:
373
kcal
|
Carbohydrates:
60
g
|
Protein:
5
g
|
Fat:
15
g
|
Saturated Fat:
9
g
|
Cholesterol:
49
mg
|
Sodium:
201
mg
|
Potassium:
194
mg
|
Fiber:
6
g
|
Sugar:
37
g
|
Vitamin A:
315
IU
|
Calcium:
107
mg
|
Iron:
2
mg
Also try these other delicious gluten free recipes:
And check out these baking tips: