There's a freshness to these donuts that just can't be put into words. Besides being tender and delicious, they taste so light and fresh, like they could be served in a spa or at high tea.
There are so many things to love about these blueberry donuts: taste, texture, ease of preparation, but the blueberries are definitely the star of the show. Working with blueberries can be tricky in any recipe, but especially in this one. Here are some other tips to ensure you have the best gluten free baked blueberry donuts ever.

Don't Double the Recipe
This recipe makes 6 donuts. If you want more, make another batch in tandem. Some recipes lend themselves well to being doubled, this one does not.
Use a Gallon Size Bag for Portioning Out the Batter
I wish I'd discovered this tip earlier in my baking career. It's a game changer. Plus, it can be used on lots of other batters too – gluten free batter is not like other batters – it is more like soup sometimes than batter. Using a bag with a hole snipped off to portion things out, makes this process so much easier.
Add the Blueberries to the Donuts, Not to the Batter
Like the name says, blueberries have a tendency to turn things blue. These donuts are no exception. The solution is simple – just add a few blueberries on the top of each donut, then fill with the remaining batter.

Cooking Time
I don't usually give such a wide range for the cooking time, but these donuts can be deceiving. Make sure a toothpick inserted into a donut comes out clean, otherwise they may not be cooked all the way through.

Gluten Free Baked Blueberry Donuts – Egg and Gum Free
Yield: 6 regular size donuts
Ingredients
¼ cup milk
1 tsp. apple cider vinegar
½ tsp. pure vanilla extract
1/4 cup honey
3 ½ Tbls. vegetable oil
1 cup gluten free bread light flour mix
¼ tsp. salt
1 tsp. baking powder
1/8 tsp. cinnamon
½ cup blueberries
Glaze
1/2 cup powdered sugar
1 Tbls. milk
1/2 tsp. pure vanilla extract
Directions
1. Preheat oven to 350° F. Grease a regular size donut pan (this one is the one I recommend) or spray with cooking spray. Set aside.
2. In a small bowl, combine the milk, vinegar, vanilla, honey and oil.
3. In a medium bowl, add the flour mix, salt, baking powder and cinnamon and mix with a whisk.
4. All at once, add the wet ingredients to the dry ingredients and mix until combined.
5. Add the batter to a resealable storage bag and snip a ½ inch hole in one corner.
6. Pipe the batter into the donut pan, filling each cavity only 1/3 of the way full.
7. Using about 6 – 8 blueberries per donut, position them in each donut cavity, pressing slightly into the into the batter.
8. Pipe remaining batter on top of each donut, filling to the top of each one.
9. Bake for 15 – 20 minutes, or until donuts are slightly golden on top.
10. Let them cool for 5 minutes in the pan before removing to a wire rack to cool completely.
11. Prepare glaze by mixing all ingredients together and drizzle lightly over donuts.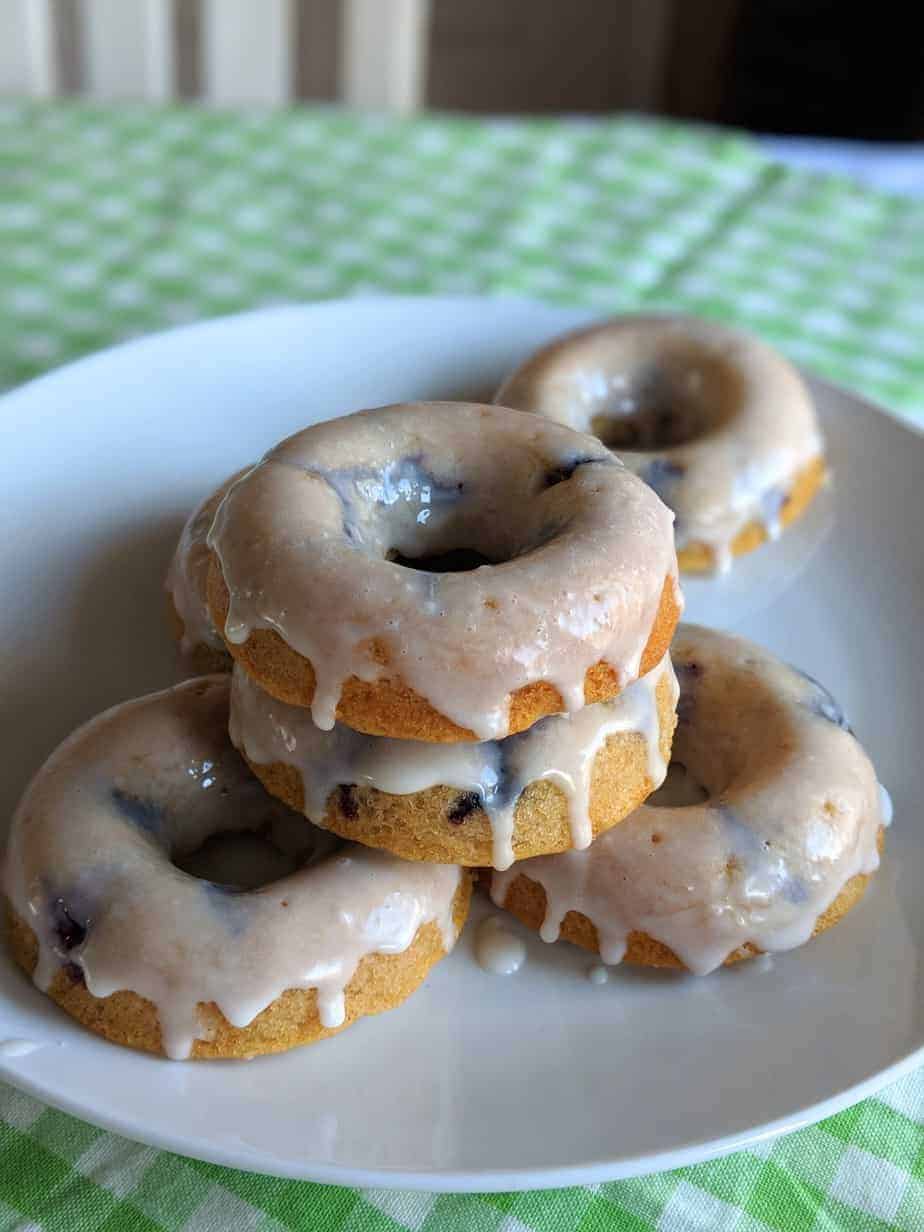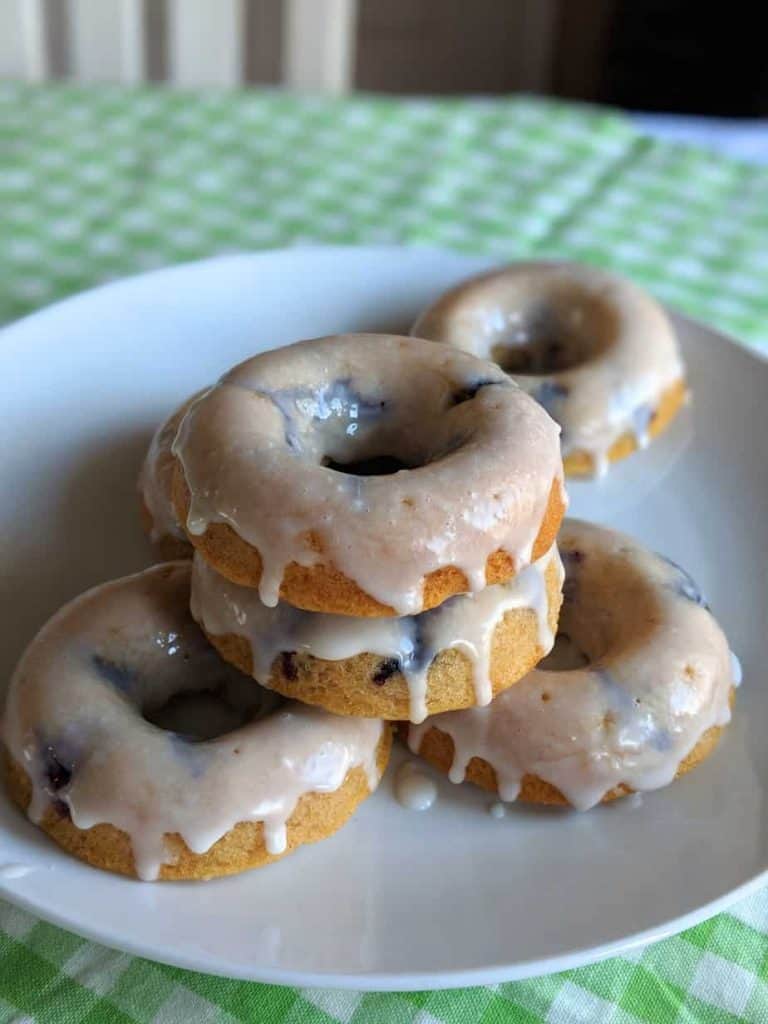 [divide]
[icon type="vector" icon="momizat-icon-arrow-right2″ size="32″ hover_animation="border_increase" ]Check out these delicious gluten free dinner rolls next: Gluten Free, Dairy Free and Gum Free Dinner Rolls
[divide]