Are you new to gluten free baking? Does the very thought of bean flour, sorghum flour and xanthan gum make you feel like a cooking novice (even if you've been doing it for years)?
Whether you are just discovering gluten free recipes or you've been at it for a while, we can all agree that there are certain ingredients you can use in gluten free baking and certain ingredients you can't. The trick is to remember all these little tips and techniques for great gluten free baked goods.
This top 10 list of tips is a point of reference for you. Ultimately, gluten free baking requires other considerations that the regular wheat based loaves do not.
In no particular order, here are 10 tips for gluten free baking:
1. Have you made a gluten free bread, only to have it fall before your eyes? The culprit to this disappointing result more than likely lies in one or all of these 3 (or 4) things…
1. Try using smaller baking pans.
2. Try reducing the liquids.
3. Use a shiny metal baking pan versus the dark metal ones.
In an interview with Carol Fenster, of http://www.savorypalate.com, she told us that the only reason gluten-free bread falls is because it is not cooked long enough. Breads should be baked to 205 – 210 degrees to prevent it from falling.
2. If your flour contains oil such as nut flours, flax seed, etc. store them in the refrigerator to prevent them from going rancid. Other flours are alright if left at room temperature, but ensure they are in an air-tight container and they are kept in a cool place. Refrigeration is best for preserving any flours or if your house is regularly above 80 degrees.
3. As you may already be aware of, gluten-free baked goods tend to go stale rather quickly. The following ingredients will help extend shelf-life:
– salt
– sugar
– vinegar
– alcohol
– Expandex – Expandex is a gluten free starch made from modified tapioca starch. It can be added to bread mixes to give your bread a wheat-like texture and preserve shelf life.
4. In traditional baking you need to be careful not to over-beat your batters once the flour is added, but you do not have to worry about this with gluten-free cooking. There is no gluten in the flour to interact with the eggs. Having said that, some batters should be lumpy (like the Gluten free blueberry muffins) and can still get tough due to excessive mixing.
5. If a recipe calls for rapid rise yeast and you only have instant yeast you can still use it in the recipe. The trick is to use a little less than the specified amount. Here's why: one of our bakers reported having big holes in her loaf after baking. This is usually the result of either too much yeast or too rapid of a rise. So the solution is to decrease the yeast or use regular instant yeast, as opposed to rapid rise yeast.
Because there is no gluten in the bread, there is no "punch down" step, no second rise, and no kneading required. In fact, all those steps are done just to "exercise" the gluten, which is totally lacking in gluten free breads.
6. Here's a short and sweet tip about bread loaves…Breads that use tapioca & potato tend to be more soft and bread-like than the rice-based loaves, which tend to be too dense and mealy for anything but hard toast.
7. Did you know that food coloring can have gluten in it? It's true. And chances are, the kind sitting on your shelf does. Even the ones from Wilton, the cake decorating company, are produced in the same plant where gluten is present. Here is a link for a natural, gluten-free, vegan food coloring. It's made by Select, the manufacturer of Select Teas. Check it out! http://www.seelecttea.com/index.php/food-color-organic-food-color/organic-food-color-food-color-natural-food-colors.html
8. Any gluten free dough that you work with is going to be a wetter dough than a traditional, wheat flour dough due to the lack of gluten. Here's a tip for handling the dough: keep your hands just a little wet. This makes sure the dough sticks to itself, and not to you.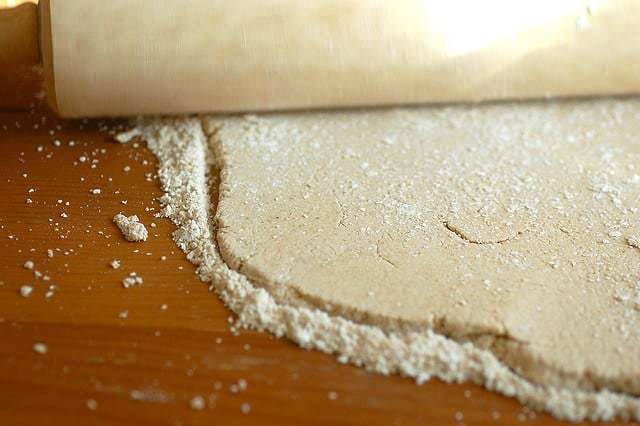 9. Ultrafine gluten-free flours are your friends.
This is a very important part of successful gluten free baking. If you do not have access to grocery stores that sell ultrafine, gluten free flours, then the Internet is your central hub for these flours. Most health stores sell an excellent brown rice flour in their bulk bins.  And Asian grocery stores are a goldmine for white rice flour, tapioca starch, potato starch, and glutinous rice flour. These tend to be relatively inexpensive (about $1.00 or less for a 1-pound bag). Another great place to check out is Authentic Foods superfine rice flours.
For sorghum flour and teff flour, check out Bob's Red Mill varieties.  Although Bob's Red Mill comes with rave reviews, their stone ground rice flours are not the best to use in your breads… unless you like gritty baked goods. I'm also not a huge fan of the Bob's Red Mill Gluten-Free All Purpose Baking Mix – the bean flours tend to be quite strong.
10. Baking can be a little different. Keep a watchful eye on what's in the oven. When it looks done, make sure the batter is firm and set in the center (a quick jiggle of the pan can reveal undercooked batter). A wooden pick inserted in the center can tell you if the batter is still wet (but chocolate chips can melt and make this method sometimes unreliable). A quick read thermometer is your best bet.
Especially with brownies and cookie bars, it is easy to over-bake gluten-free treats. The center may appear too soft while the outside edges are browned just right. Experimenting is the best solution, but remember that the dessert will continue to "bake" for a minute or two after you take it out of the oven before it begins to cool.