The tenderness of a traditional loaf of bread with the taste that will have everyone asking you for the recipe! AND, this bread is gluten free, nut free, gum free and vegan too!
Good gluten-free vegan bread can be difficult to find, especially when you have additional dietary restrictions, not to mention the hefty price tag that's usually attached to it! So a great alternative is to make your own bread at home!

How to Make Gluten Free Vegan Bread
Let's look at this bread recipe step by step:
1. The ingredients: they need to be at room temperature! This is super important for a successful, nicely risen loaf. Cold ingredients do not work well in gluten free baking. Warmth adds height and volume - two very important qualities in baking.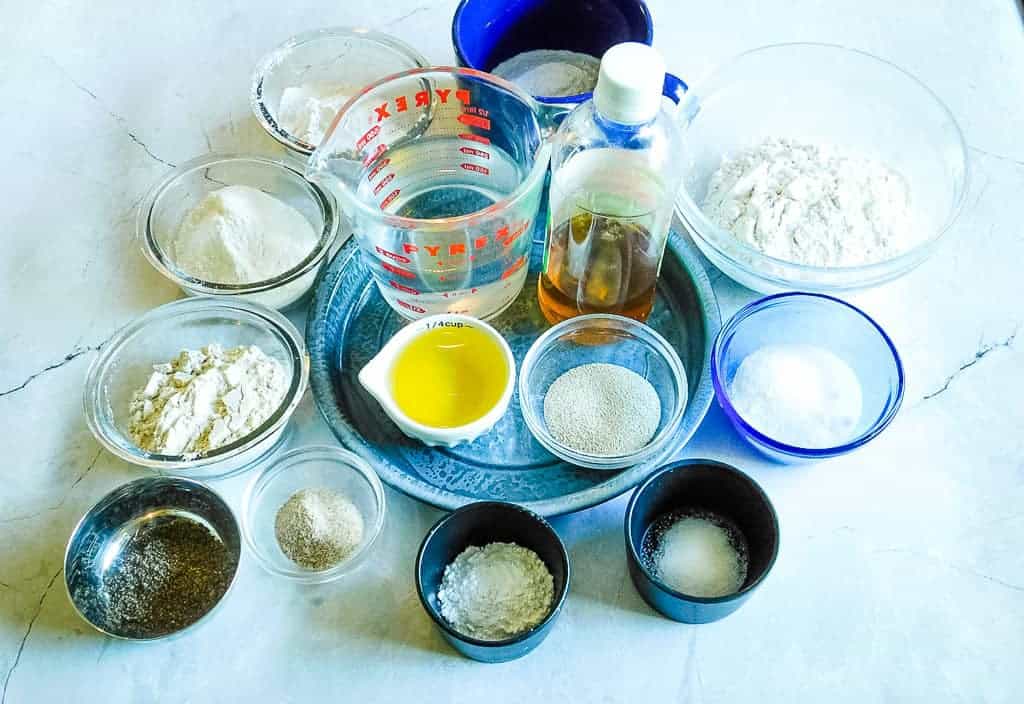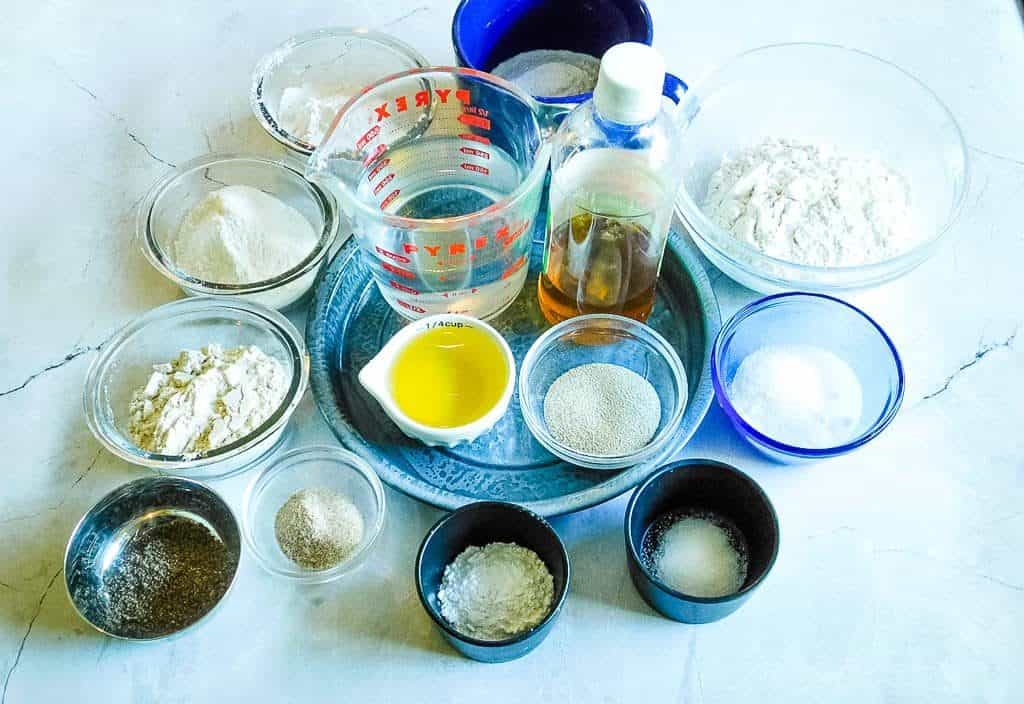 2. Proofing the yeast: See that lovely cup of foamy yeast? That's a nicely proofed yeast. Proof yours beforehand by adding it to the cup of warm water, mixed with some sugar. Set it aside while getting the rest of the recipe ready.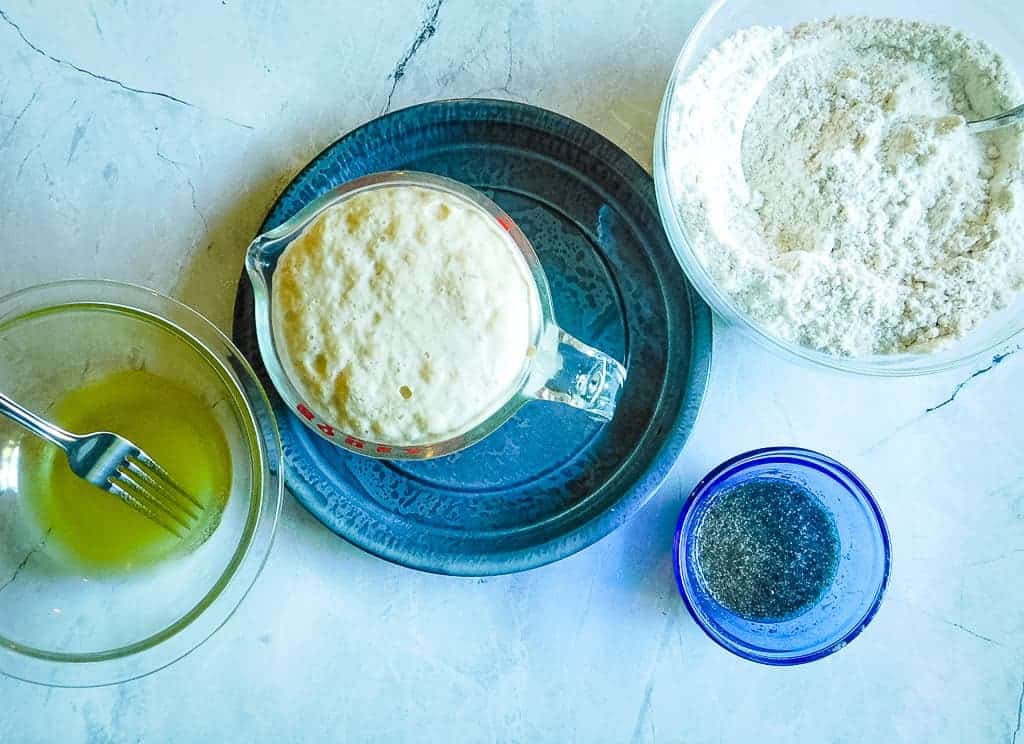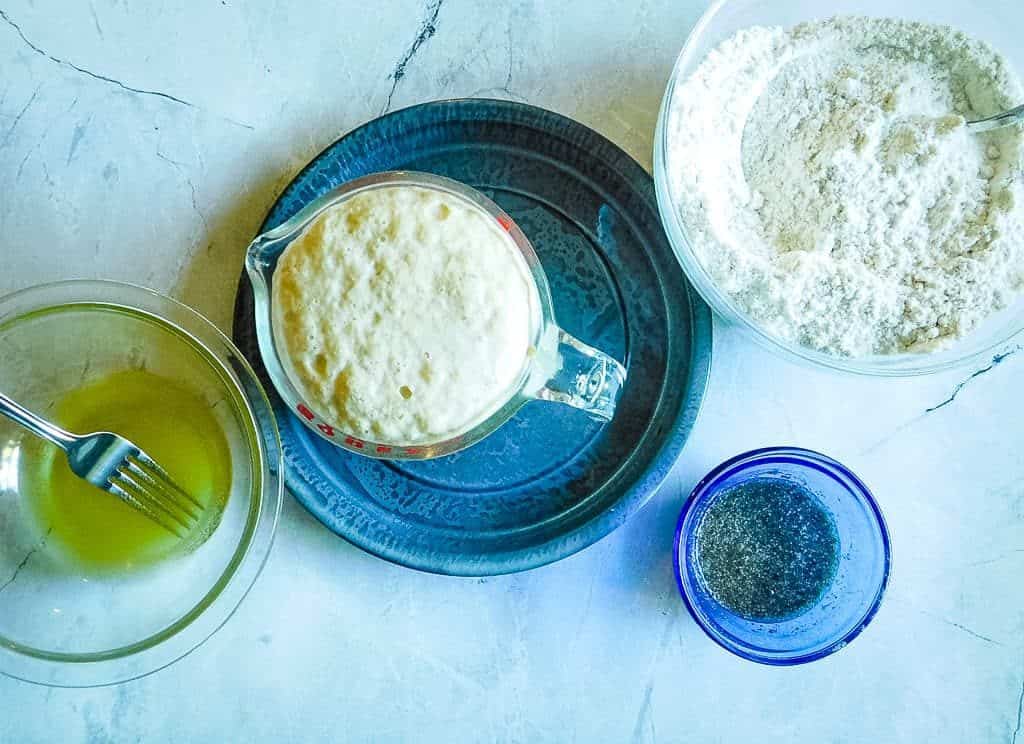 3. Secret for mixing: use a stand mixer for combining them! It makes the job so easy. Just mix the dry ingredients in one bowl, mix the wet ingredients in the bowl of stand mixer and then add the flour to the wet. Turn on the mixer for 3 minutes and it's done!
4. Pan size: my favorite pans are these by Norpro. The is ideal and the grooved design encourages the batter to 'climb' up the walls of the pan. Coat the pan with some oil and dust it with flour and it's ready to go.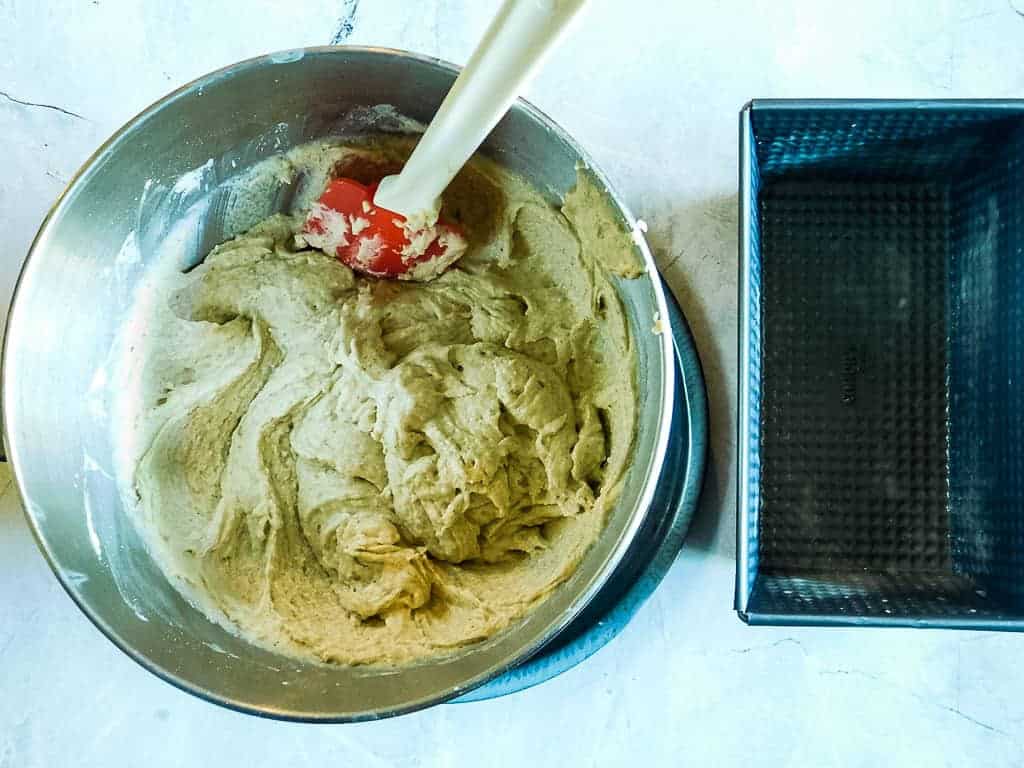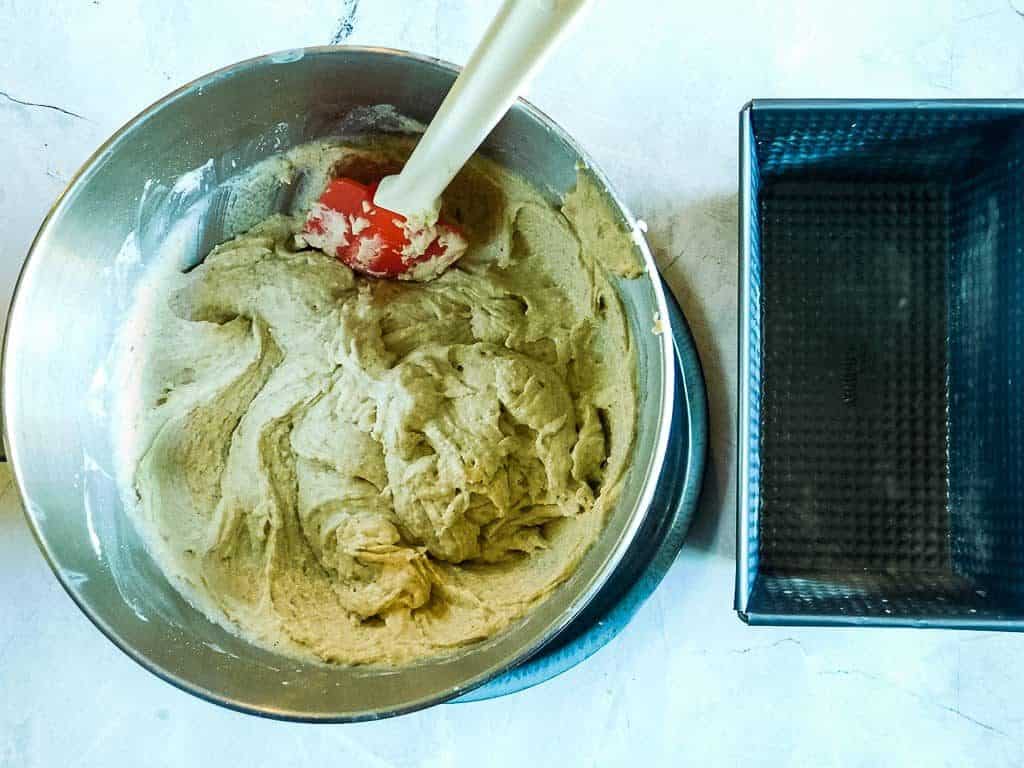 One of the challenges to mimic with a vegan recipe, particularly a gluten free vegan bread are the eggs.
Using binders in gluten free vegan bread
Binders are the 'glue' that helps hold everything together in recipes. Eggs are some of the most common, but they aren't the only option. In this gluten free vegan bread, we've used chia seeds and psyllium husk powder as the binders.
Chia seeds mixed with warm water create a gel that acts just like an egg. While it won't work in all recipes, for example, this English muffin recipe will not bake up those golden muffins with an egg substitute - it positively HAS to be eggs. But, this vegan bread is another story.
Psyllium husk powder makes this bread complete. It doesn't take much - just 1 Tablespoon, but it packs a powerful punch and elevates this bread to 'bakery status'. Seriously, I would expect to find this in a bakery.
But wait, quick reader question... can vegans eat all kinds of gluten free bread?
Unfortunately, the answer is not quite. They are not one in the same. Just because something is gluten free doesn't automatically mean it's vegan and vice versa.
As an example, check out this gluten free white bread recipe. It's gluten free because it doesn't have any gluten containing products in it. But it's not vegan because it has eggs in it.
And now for this delicious gluten free vegan bread! If you enjoy this recipe, would you mind giving it a rating? We'd really appreciate it!
Recipe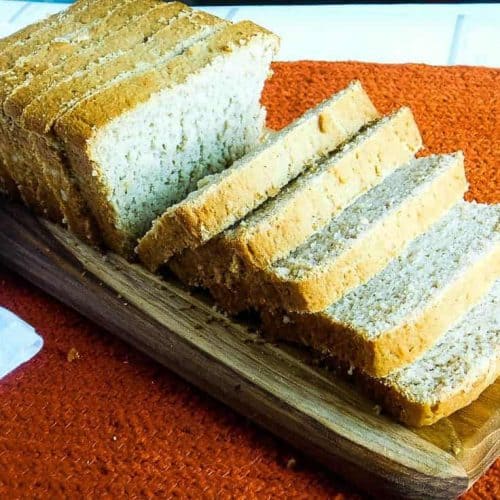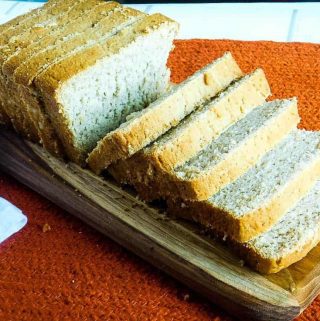 Gluten-Free Vegan Bread: Nut Free & Gum Free
A bread that's free from most major allergens and still tastes amazing?! This gluten free vegan bread is it! And it's nut free and gum free too!
Print
Pin
Rate
Ingredients
2

tablespoons

active dry yeast

1-½

cups

warm water

about 110 degrees F

1

cup

brown rice flour

½

cup

white rice flour

½

cup

sorghum flour

½

cup

tapioca starch

½

cup

sweet rice flour

1

tablespoon

psyllium husk powder

4

teaspoons

baking powder

1

teaspoon

salt

4

tablespoons

granulated sugar

divided

2

teaspoons

apple cider or white vinegar

¼

cup

olive oil
Egg substitute:
1

Tbsp.

ground chia seeds

3

Tbsp.

warm water
Instructions
Prepare an 8" x 4.5" bread pan with olive oil and sprinkle it with tapioca flour. Set aside.

In a 2 cup measuring cup, prepare the yeast by stirring 1 tablespoon of sugar into the warm water until dissolved. Add the yeast and stir. Allow it to sit for about 10 minutes to make sure that the yeast is activating.

In a small bowl, prepare the egg substitute by combining the chia seeds and water. Set aside until the mixture gels. Set aside.

Meanwhile, in a medium bowl, mix together the flours, tapioca starch, psyllium, baking powder, salt, and remaining 3 tablespoons of sugar.

In the bowl of a stand mixer, add the yeast mixture and egg substitute. Mix the wet ingredients together until they are combined and then add the dry ingredients. Beat on high for about three minutes until everything is well-mixed. You should have a thick batter when you are finished.

Pour the mixture into the bread pan and smooth the top. Place it in a warm spot to rise until it is about 50 percent larger, about 30 minutes.

Preheat the oven to 375 F. Bake the loaf for 30 – 35 minutes or until golden brown on top.

Remove the pan from the oven and allow it to cool on a rack for 5 minutes before turning the loaf out and allowing it to cool completely.
Notes
Use room temperature ingredients
Allow your yeast to proof for 10 minutes
Use an 8" x 4.5" size pan
Nutrition
Calories:
238
kcal
|
Carbohydrates:
42
g
|
Protein:
3
g
|
Fat:
7
g
|
Saturated Fat:
1
g
|
Sodium:
237
mg
|
Potassium:
252
mg
|
Fiber:
3
g
|
Sugar:
5
g
|
Calcium:
80
mg
|
Iron:
0.9
mg
Originally posted 2/28/2014
While you're here, check out these helpful tips on gluten free baking:
And these recipes would be a great compliment this gluten free vegan bread:
Want to see more recipes like this? Join our Gluten Free Bread community today! Enter your email below!