Being a gluten free baker, a bread machine is one of my favorite kitchen tools. Actually if someone asked me to name my favorite kitchen tools, a bread machine would be in the top 5. They just make baking bread so easy.
Funny thing is, the one I use for the gluten-free-bread recipes is not even an actual 'gluten free' bread machine! It's similar to this one, but several years older. 🙂 Many bakers will recommend using a bread machine specifically for gluten free baking, but I've found a work around for those of you like me and still using a bread machine without that added feature.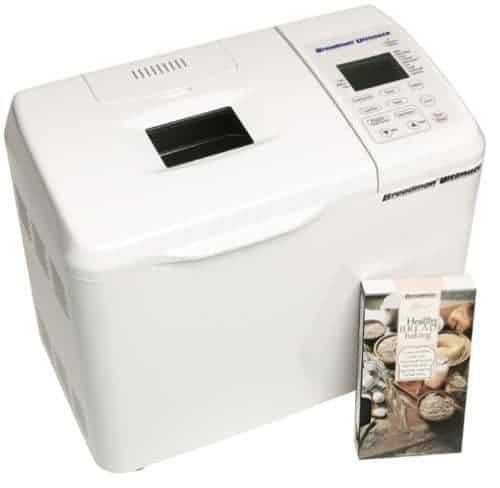 Since gluten free yeast breads only rise one time, they can't be made in a bread machine on a typical 'basic' setting, which has two rise cycles. Bread machine recipes for gluten free baking do really well on a rapid setting, also called ultra fast on some models. This setting will mix the bread for 20 minutes and then give them a rising time of between 12 and 16 minutes. That may seem like a short time, but keep in mind that the environment in a bread machine is very humid and so rising is amplified. The baking time is the one thing you have to watch when baking breads in the bread machine. I had to add 20 minutes to this recipe's baking time because the 37 minutes that the machine times for, was not enough. (But baking time is always something you have to watch anyway)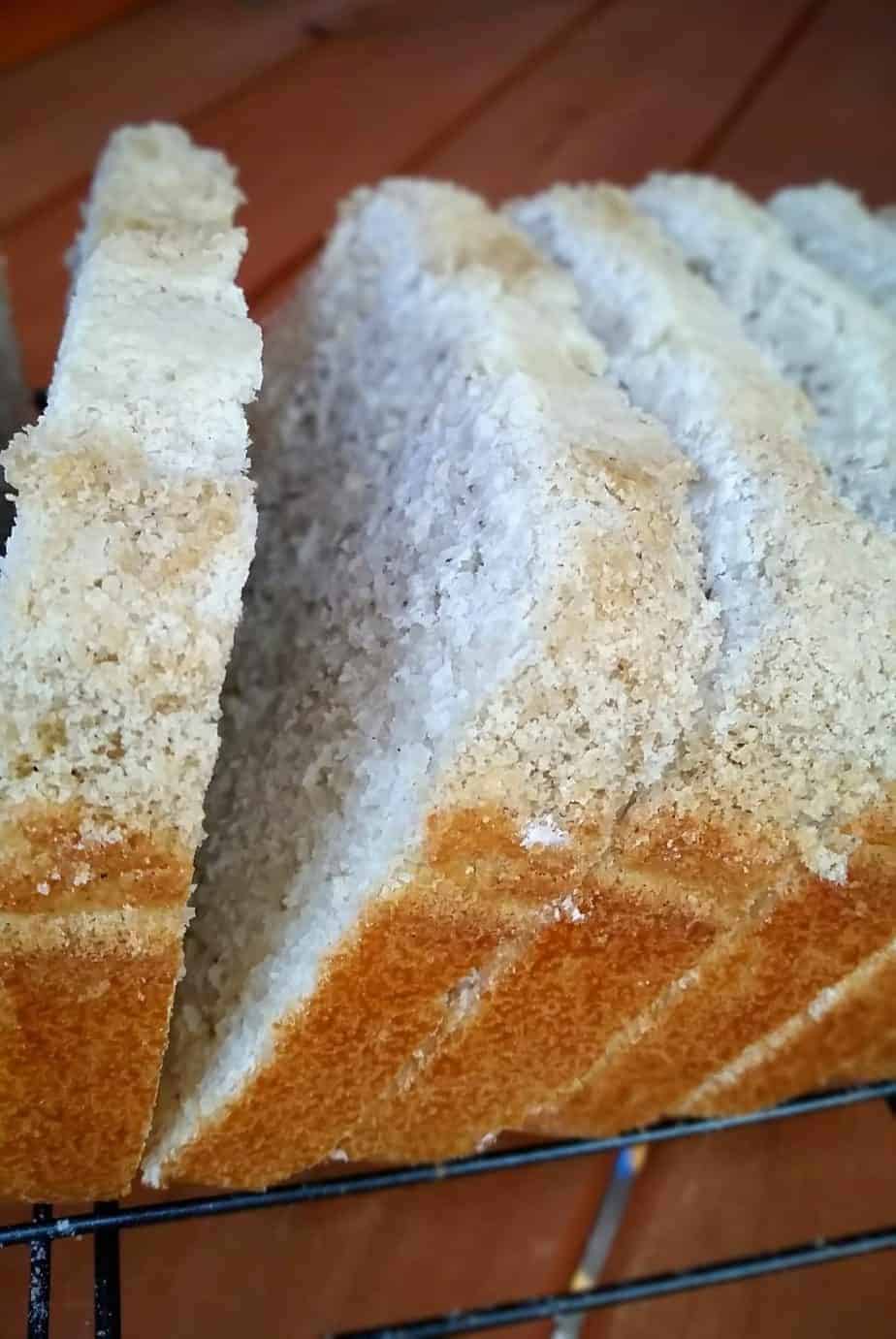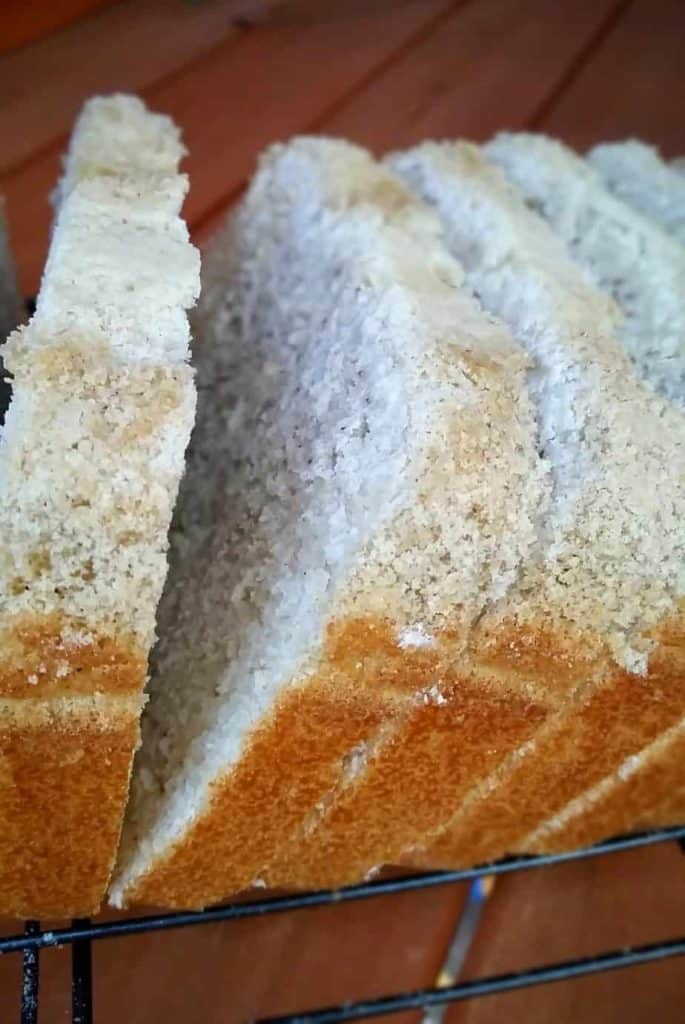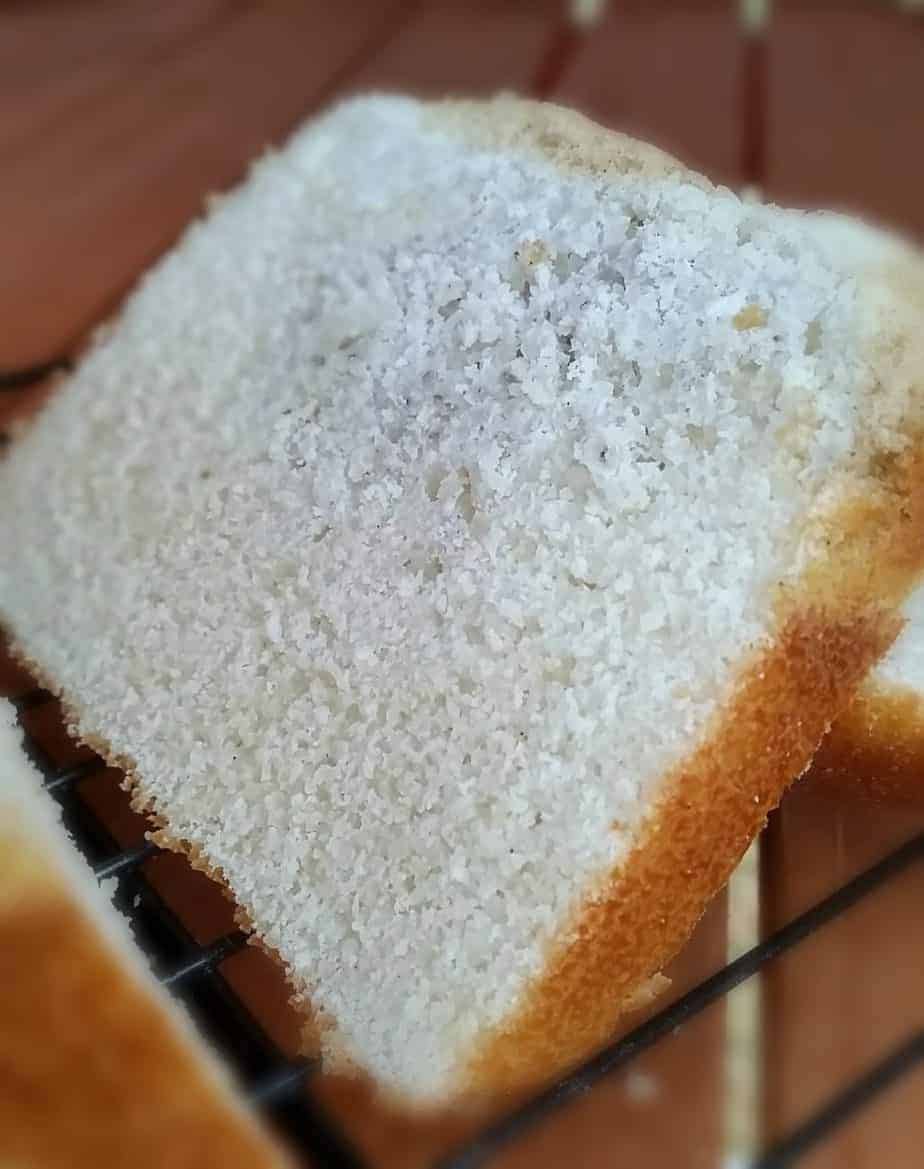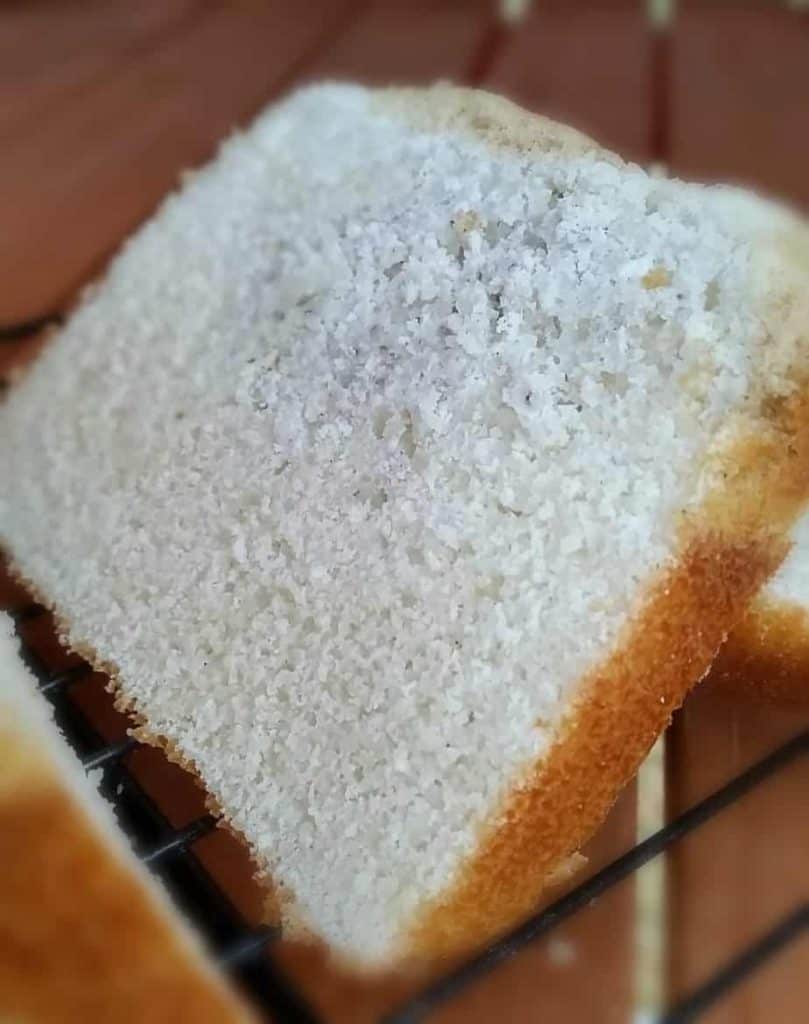 So this recipe is for the times when you just want a good gluten free sandwich bread that's quick and easy. Preparing the ingredients is about the most time consuming part of this recipe.
Gluten Free Sandwich Bread for the Bread Machine
Ingredients
2 cups white rice flour
⅔ cup potato starch
⅓ tapioca flour
½ cup dry milk
3 tbsp. sugar
1 tbsp. + ½ tsp. bread machine yeast (also called rapid rise yeast)
1 tsp. salt
Chia / flax meal mix: (here's why I use a mixture of both chia and flax)
3 tbsp. water
½ tbsp. chia seeds
½ tbsp. golden flax meal
3 eggs
1 ½ cups hot water
3 tbsp. vegetable oil
1 tsp. cider vinegar
Directions:
In a medium bowl, add the white rice flour, potato starch, tapioca flour, dry milk, sugar, yeast and salt. Mix thoroughly.
In a small bowl, make the chia / flax meal. Take the 3 tbsp. water and microwave for 30 seconds. Measure the flax meal and chia seeds into it. Mix and let it sit while you move on to the eggs.
Use a large bowl and separate the eggs. Set the yolks aside in a small bowl, add the whites to the large bowl. Using a hand mixer, whip the egg whites until stiff peaks form.
Add the remaining egg yolks, vegetable oil, hot water, cider vinegar and flax / chia seed mixture to the whipped egg whites. Mix until combined.
Add the dry ingredients to the liquid ingredients and mix.
Pour this batter into the bread machine pan and select the rapid cycle.
Watch the baking time on this recipe – mine needed 20 minutes more. (Which I just used the 'bake only' option and set it for 20 minutes).
Enjoy!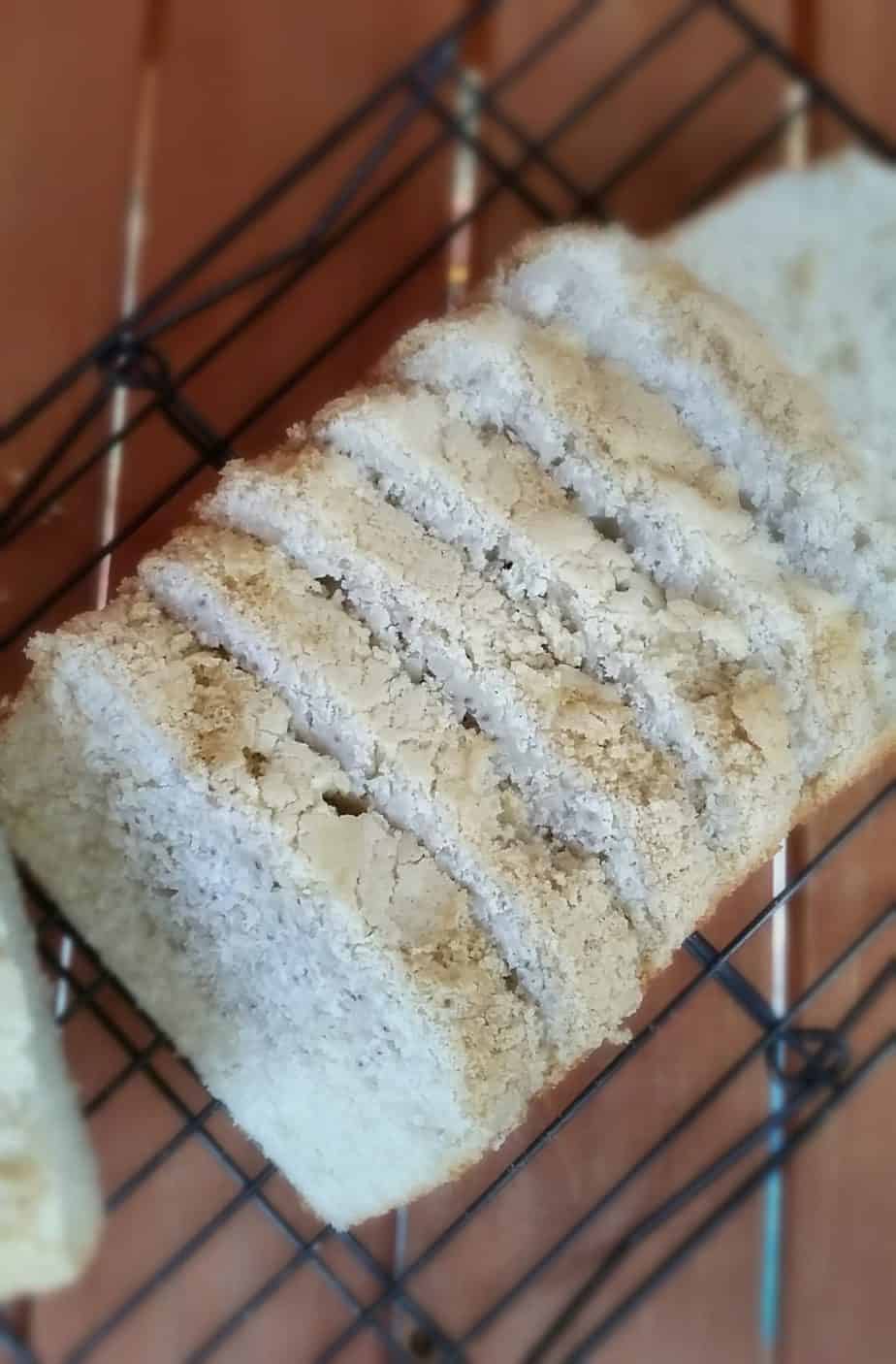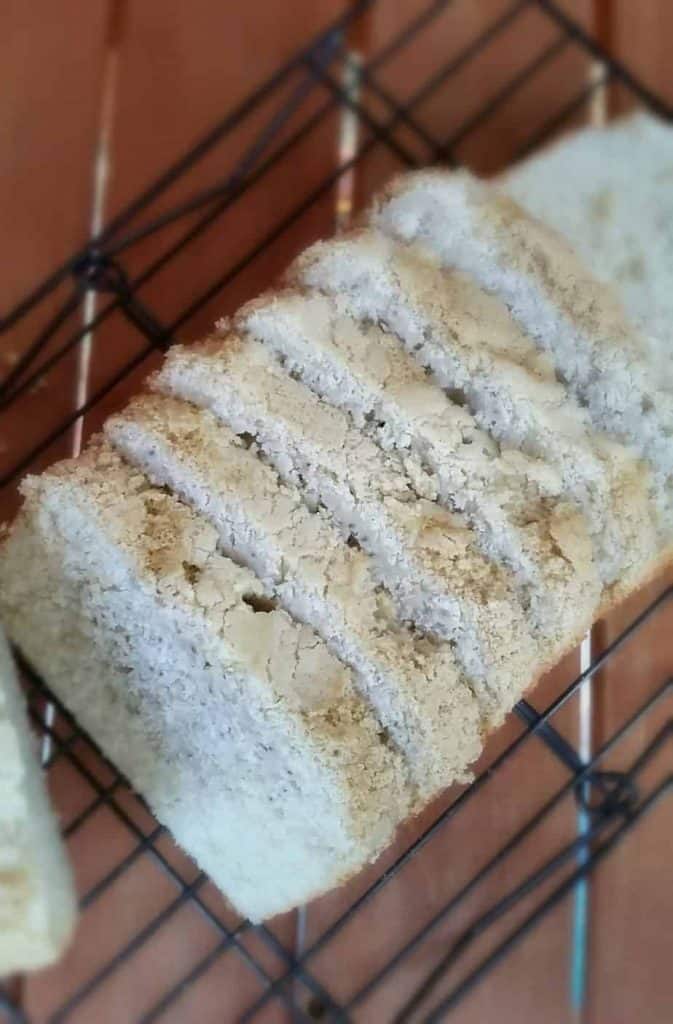 P.S. This bread pairs perfectly with the Slow Cooker Meals cookbook.