When you find yourself craving some granola bars or oat muffins, only to discover that you're out of both oats and oat flour... turn to this guide for oat flour substitutes to get your baking back on track!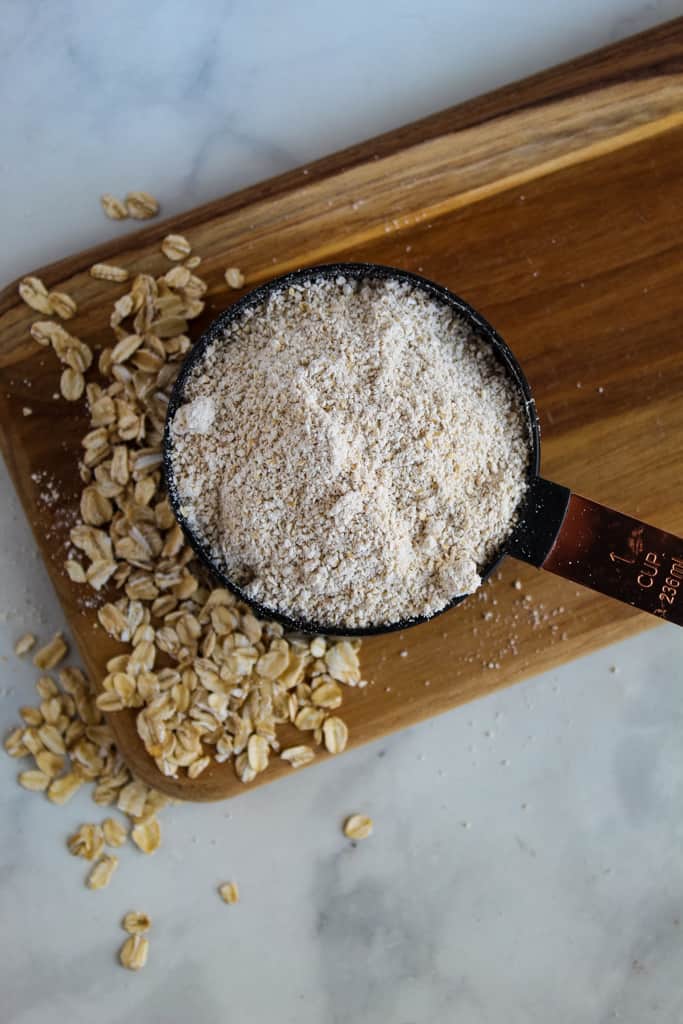 This post contains affiliate links. Affiliate links support Zest For Baking at no additional cost to you. I receive a commission if you choose to make a purchase through these links.
Gluten free baking in general presents it's own challenges with everything from how you're measuring ingredients to the batter rest time to starch content, even altitude, but throw in flour substitutes and it gets even more complicated.
Even the most seasoned baker needs to make a substitution every now and then. (Have a look at xanthan gum substitutions while you're here too.)
Let's take a closer look at oat flour and check out all the options for substitutions.
All about oats
Along with rice, buckwheat, corn, we only see oats as a side dish, porridge, or a loaf of bread.
Specifically, when we think of oats, we immediately think of "health" food, granola bars, and bread.
Who would ever think that you could also transform these grains into flours with varying textures and flavors?
And who would have ever imagined that we can make Heart-healthy Gluten-free Blueberry Oatmeal muffins perfect as a mid-morning snack from an oat flour?
Oats grow in northwest Europe, North America, and the Himalayas-all foothills, temperate regions. Unlike other cereals, oats require more rain and less heat. 
Oats are known for being a "health" food due to the following components and properties:
Oats contain more fat and protein but less carbs and sugar than whole wheat.
They also contain a significant amount of Calcium.
Oats have antioxidant properties which reduce the risk of cardiovascular disease and breast cancer.
Oats also help people stabilize their blood sugar.
It's also suitable for people who want to lower their risk of having type 2 diabetes.
Due to its high water and soluble fiber content, it's good for people who are trying to lose weight.
Get to know oat flour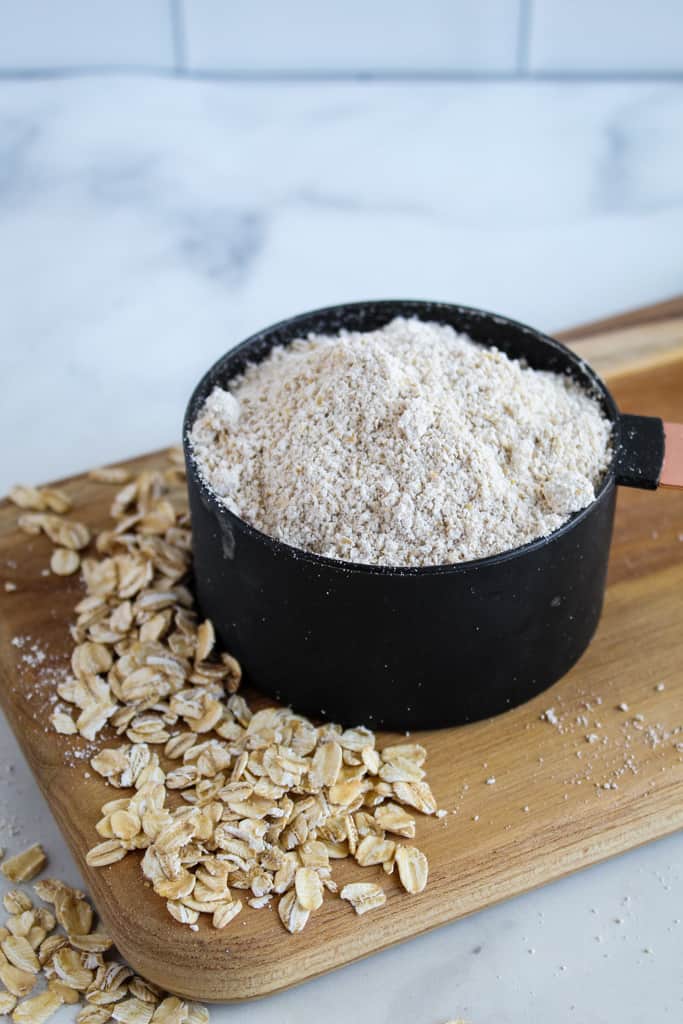 When you mill oats, you'll get oat flour, a fine and tan powder with a sweet and toasty aroma. Of course, having come from oats, it has the oat flavors without the original texture.
Having dealt with oat flours several times, I find that its soft fiber absorbs moisture quickly. Thus, it tends to form clumps.
Also, unlike other whole grain flours, baked treats made from this flour do not have the sandpapery texture some don't like. It gives a soft, fluffy, and dense texture to goods. And an irresistibly chewy texture to oatmeal raisin cookies.
When incorporated, oat flour also lightens baked goods with usually heavy texture, such as oatmeal bread, pumpkin pancakes, and even the biscuit topping for this peach cobbler.
What does oat flour taste like?
Likes oatmeal, oat flour has a mild taste that tastes very light on it's own. It's one of those flours that enhances the flavors of anything paired with it. Things like:
Nuts
Brown Sugar
Caramel
Honey
Maple Sugar
Butter
Fresh Apples
Blueberries
Bananas
Pears
Figs
Dates
Raisins
Prunes
Cinnamon
Nutmeg
Yogurt
Coconut
Coffee
Vanilla
The list goes on and on... But all of these flavors taste amazing when paired with oat flour.
What can you substitute oat flour with?
Whether you're just experimenting or just honestly had run out of oats and oat flours, let's get on our tinkering aprons and find you some excellent oat flour substitutes!
Almond flour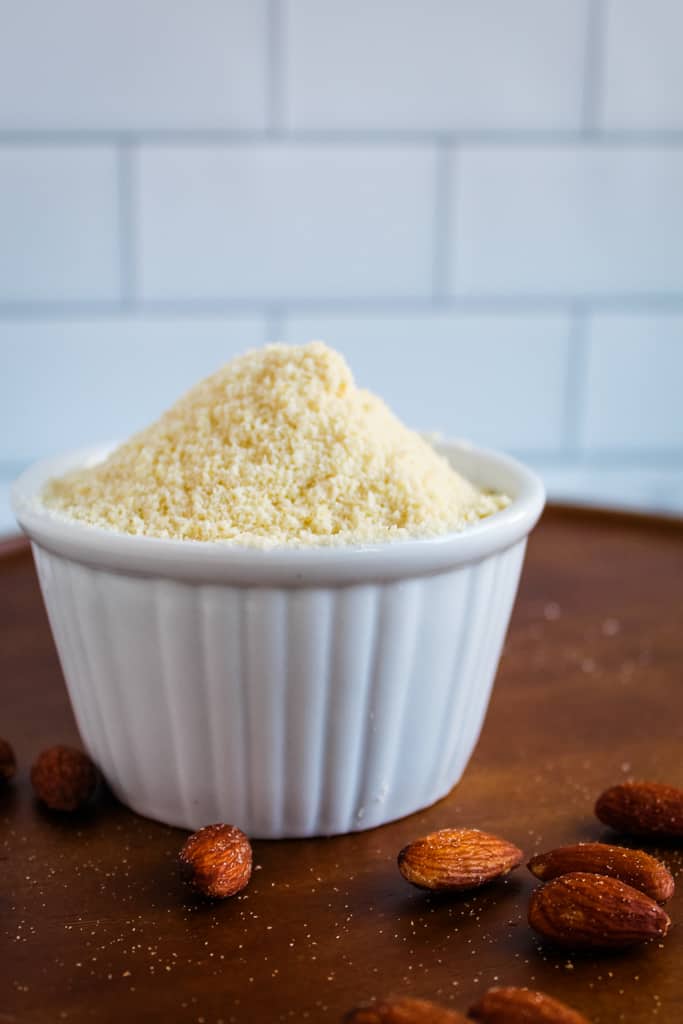 Texture and make-up wise, almond flour is very close to oat flour. Almond flour is 21% protein and about 10% fiber. Whereas oat flour is 17% protein and 10% fiber, so they're a very close comparison.
Just like oats, almonds are also packed with nutrients, including the following:
Vitamin E
Monounsaturated fats
Fiber
Biotin
It has minerals such as Calcium, Phosphorus, and Magnesium.
Flavonoids, Sterols, Phenolic acids
Almond flour is made from ground blanched almonds (without the skin). Almonds also help reduce the risk of you getting heart disease, aid in the growth of your gut bacteria, and have been linked to lowering the risk of obesity.
Oat flour vs. almond flour
Similar to oat flour, golden pale almond flour is also packed with proteins and has a soft, light, cakey, rich, and chewy texture. Plus, it has a neutral flavor, perfect for when you're in the mood for experimenting with flavors.
Well, not really neutral, but it has this distinct nutty, balanced flavor that pairs with the richness and sweetness of almonds. Check out these almond flour sugar cookies to see what I mean!
Because it fluffs up oh so well after baking, it's excellent for recipes with and without eggs.
Such a versatile flour, people who are into keto baking can make unique baked goods with this. It works well in pie crusts, cookies, bread, biscuits, and more!
Thus, I find myself reaching for almond flour whenever I'm out of oats and oat flours.
Almond meal
The only difference between almond flour and almond meal is that almond meal is coarser in texture. The reason being is that almond meal is made from ground raw almonds (with skin).
So, if your recipe calls for oat flours, but you only have almonds in hand, then you can grind them in your food processor or blender for a short period. Tip: Toasting them before grinding gives you the best flavor.
And that's it! You have yourself an oat flour substitute!
Buckwheat flour
Buckwheat flour is also an excellent option for oat flour - it produces yummy, delicate, and sophisticated cakes and cookies.
Before turning into a fine and a bit crystalline powder, buckwheat seeds are first toasted. Thus, this lavender brown flour has this distinct toasty aroma accented with oak, grass, or green tea. Buckwheat flour also has hints of:
Walnuts
Toasted Hazelnuts
Dried fruit
Coffee
Salt
Brown Sugar
Fresh figs
Honey
Want more? It also has hints of rose.
Buckwheat flour is also nutritious! It's high in fiber and protein, contains eight out of 20 essential amino acids, and rich in B vitamins.
If it's your first time hearing about buckwheat flour, here's a super simple Buckwheat muffins recipe you can start on.
Some find its flavor too bold and hearty. In that case, adding honey and butter mellows out its earthy flavor and reduces its heaviness.
Pro tips
When working with any of these flours, be sure to let the batter 'rest' for 30 minutes before pouring into the baking pan. The rest time is essential for properly hydrating the batter.  
Always bring your ingredients to room temperature before mixing - this includes flours too!
Measuring flours is super simple - just use a digital kitchen scale and spoon it into a plastic container. Always measure by weight and not cups!
Where we get our flours and tools
Unless you're opting to make your flour at home, you'll need some high quality GF flour for baking. Here is a list of our essential flours and baking tools:
FAQ's
So, can you use buckwheat flour in place of oat flours?
Certainly! More so, if you're after the nutty and sweet flavor baked goods from oat flour.
Can you substitute oat flour with an almond meal?
Definitely! It contains almost the same amount of fat and fiber as almond flour. Thus, they behave practically similarly in recipes.
What kind of oat should you use for flour?
Any type of oats should work. Your options are oat groats, rolled oats (or quick-cooking rolled oats), and steel-cut oats.
What's the best way to store oat flour?
As for the storage and shelf-life, read about how you can properly store flours here.
Bottomline
Now that you've got three options to choose from as oat flour substitutes (or when you don't feel like using oat flour), it's time to put it to use! Go on and put on your apron and start baking!