The next time you're looking for a healthy mid-morning or afternoon snack, look no further than these baked gluten free blueberry oatmeal muffins. They are packed with nutrients but still sweet and satisfying! Plus they're dairy free with no refined sugar.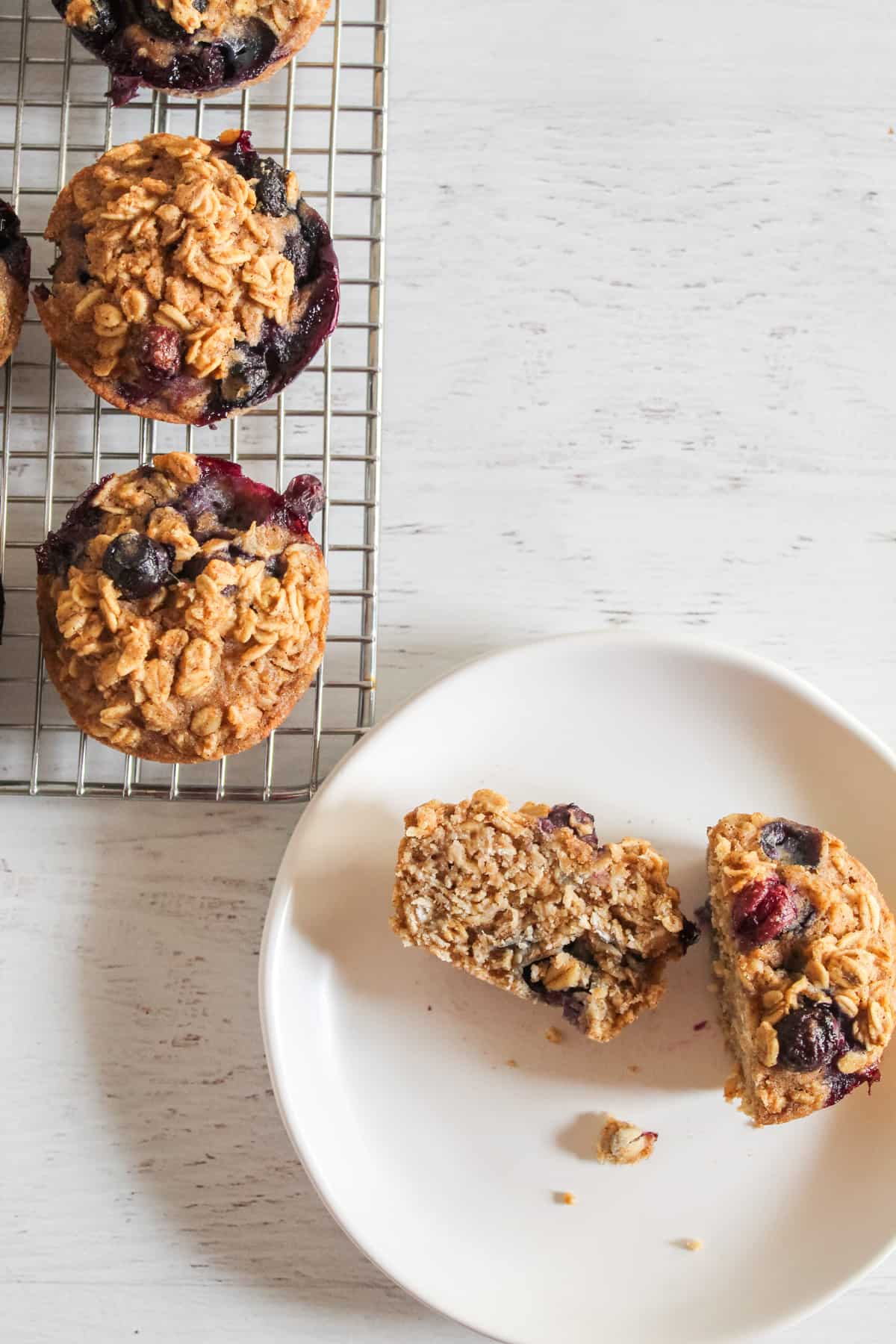 This muffin recipe was originally developed in early 2018 and to this day remains a favorite! These muffins are some of my absolute favorites for combining good-for-you ingredients with an amazing flavor (like these gluten free apple muffins). These oatmeal muffins with blueberries are loaded with hunger-busting oats and the result is an excellent breakfast muffin (or snack or dessert!) that not only tastes delicious but actually helps you stay full. They closely resemble baked oatmeal, only this version is moist, easy to make, and even easier to freeze for later. Plus, the ingredient list is short and sweet (refined sugar free)!
Looking for more gluten free muffins? Check out these one-bowl almond flour banana muffins, these tender lemon chia muffins, and these almond flour blackberry muffins.
Jump to:
Why you'll want to make this recipe!
It's hard enough to find a gluten free snack worthy of eating (protein bars anyone?!). If you want something that doesn't crumble in your hand or taste like cardboard in a fancy package, this one fits the bill. In fact, it will delight every member of your household, whether gluten free or not. Here are a few more reasons you'll love these muffins:
This recipe is quick and easy, with only 15 minutes of prep time needed.
These muffins are low fat, with only 2 tablespoons of coconut oil.
Each bite contains a burst of fresh blueberries.
These muffins freeze well, so you can make them ahead of time and save for later!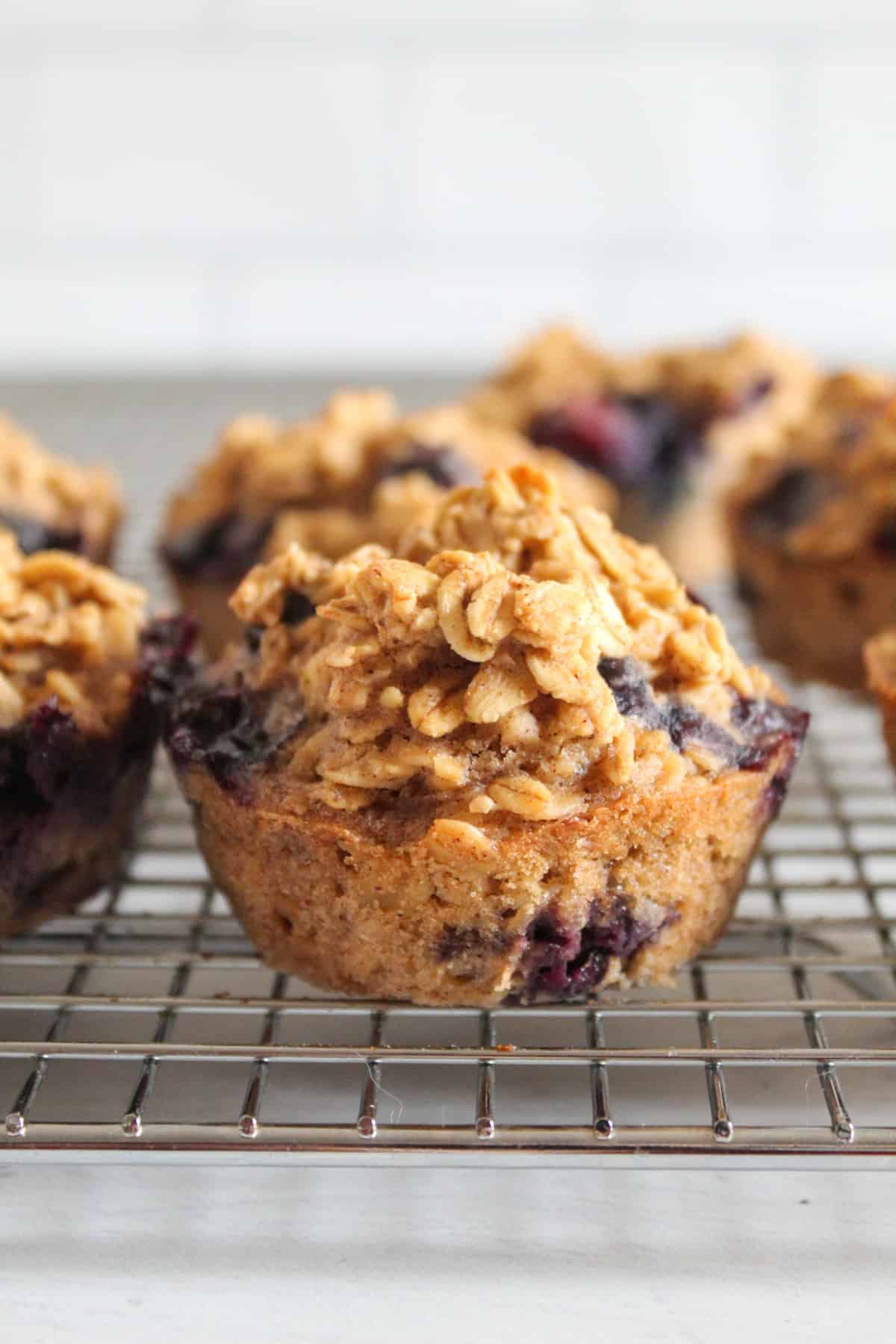 Ingredients & substitutions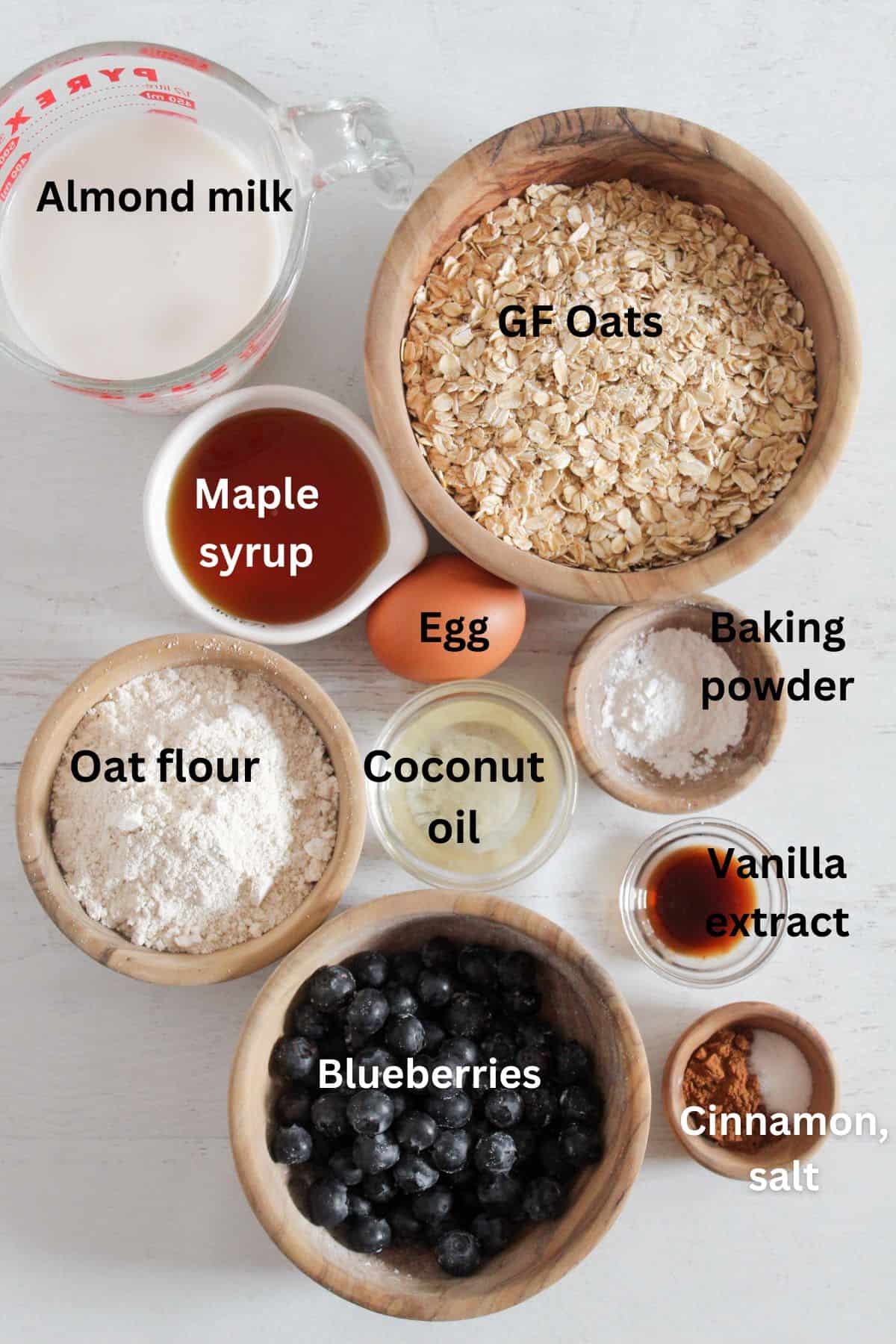 Gluten free oats - Make sure you use a certified gluten free oat brand. I used Bob's Red Mill in this recipe. If you don't want to use oats, I'd recommend turning to this lemon blueberry muffin instead as I haven't tested anything else.
Oat flour - The oat flour can be substituted with amaranth flour or almond flour.
Baking powder - I recommend Clabber Girl brand because it's certified gluten free. If you need a substitute for it, check out this post about alternatives to baking powder.
Cinnamon - Simply Organic is the brand that I reach for. But any good quality ground cinnamon will work. This can be omitted, so no need to substitute it if you are not a fan of cinnamon.
Salt - Morton's salt is the one I use. Any quality salt will work well though.
Almond milk - I used the Silk brand of unsweetened almond milk in this recipe. If you don't want to use almond milk, coconut milk or oat milk would work nicely too.
Egg - I used an organic brown egg in the recipe. If you need a substitute, JUST egg is a great egg-free option. (I go over some other egg substitute options here in my substitutions guide).
Maple syrup - The 365 brand was used in the recipe. Just make sure it's pure maple and not maple flavored syrup. Honey will also work well.
Coconut oil - I used the 365 brand of coconut oil in this recipe. Vegetable oil or melted non dairy butter are also good options.
Vanilla extract - The brand is not as important as the quality of vanilla extract. Use pure vanilla extract. I like the Simply Organic brand but any quality brand will work.
Blueberries - I recommend using fresh blueberries. If you'd like to use something else, some cranberries or blackberries would work well!
Measurements for each ingredient, along with instructions for making the muffins are in the recipe card below.
Note about high quality ingredients
As you can tell from this ingredient list, it's pretty important to use the right kind of ingredients. Look for gluten free oats that are labeled "certified gluten free" to make sure they haven't been cross-contaminated. The maple syrup should be 100% pure maple syrup, not pancake syrup. Getting the ingredients right will make the outcome that much better!
Blueberry oatmeal muffins step by step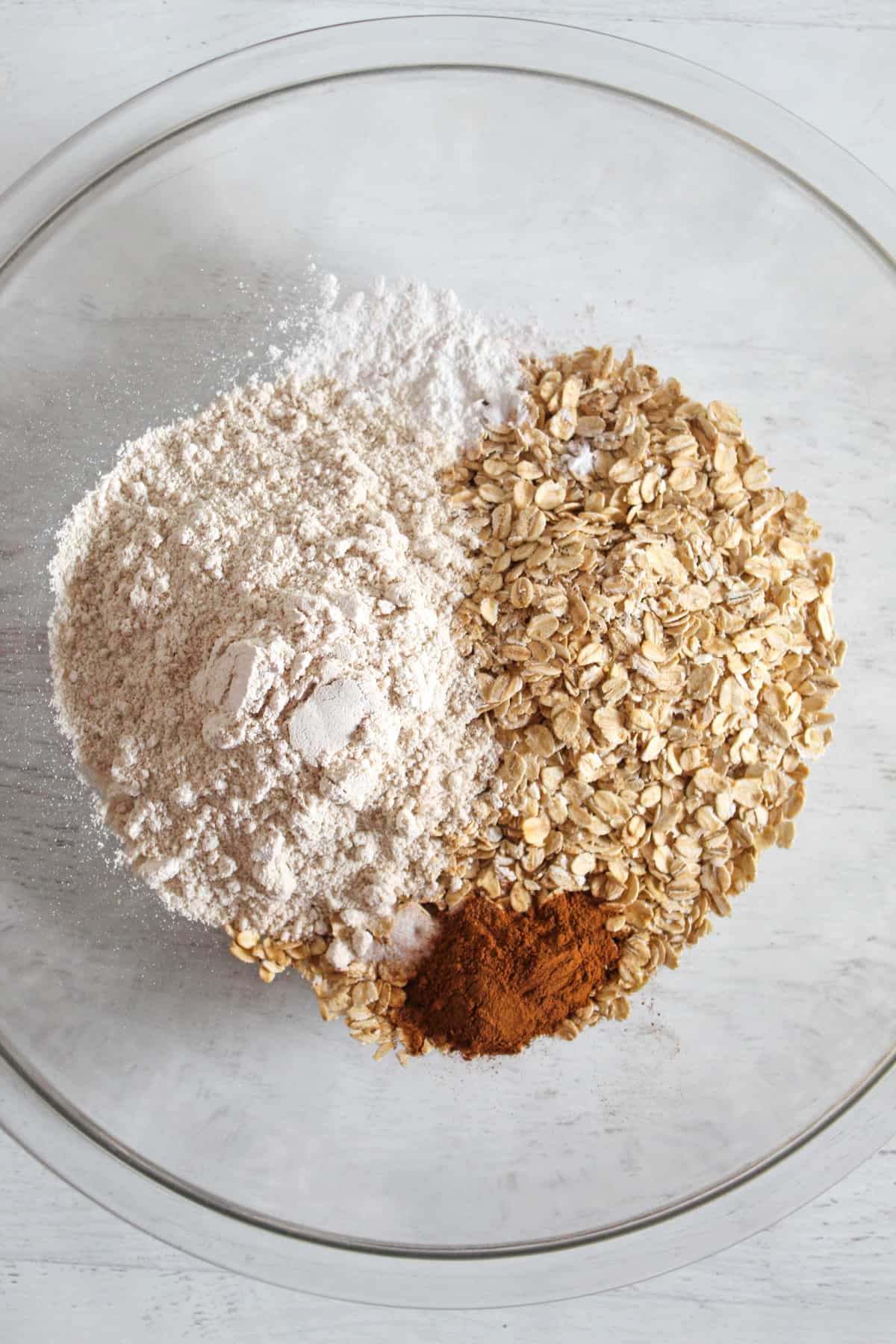 Step 1: Combine the oats, oat flour, baking powder, cinnamon and salt in a large bowl.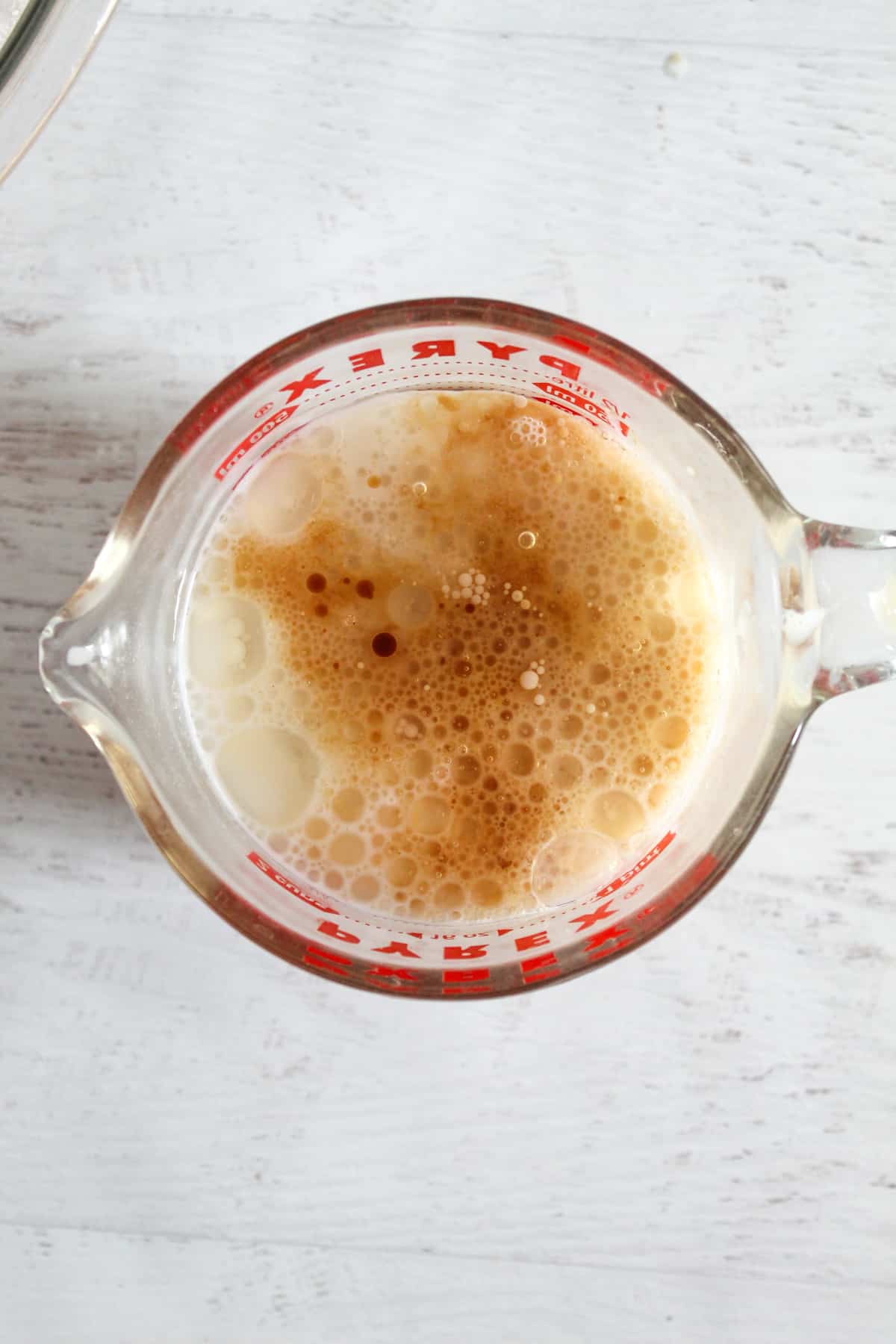 Step 2: In a small bowl, combine the milk, egg, maple syrup, coconut oil, and vanilla. Whisk together with a fork.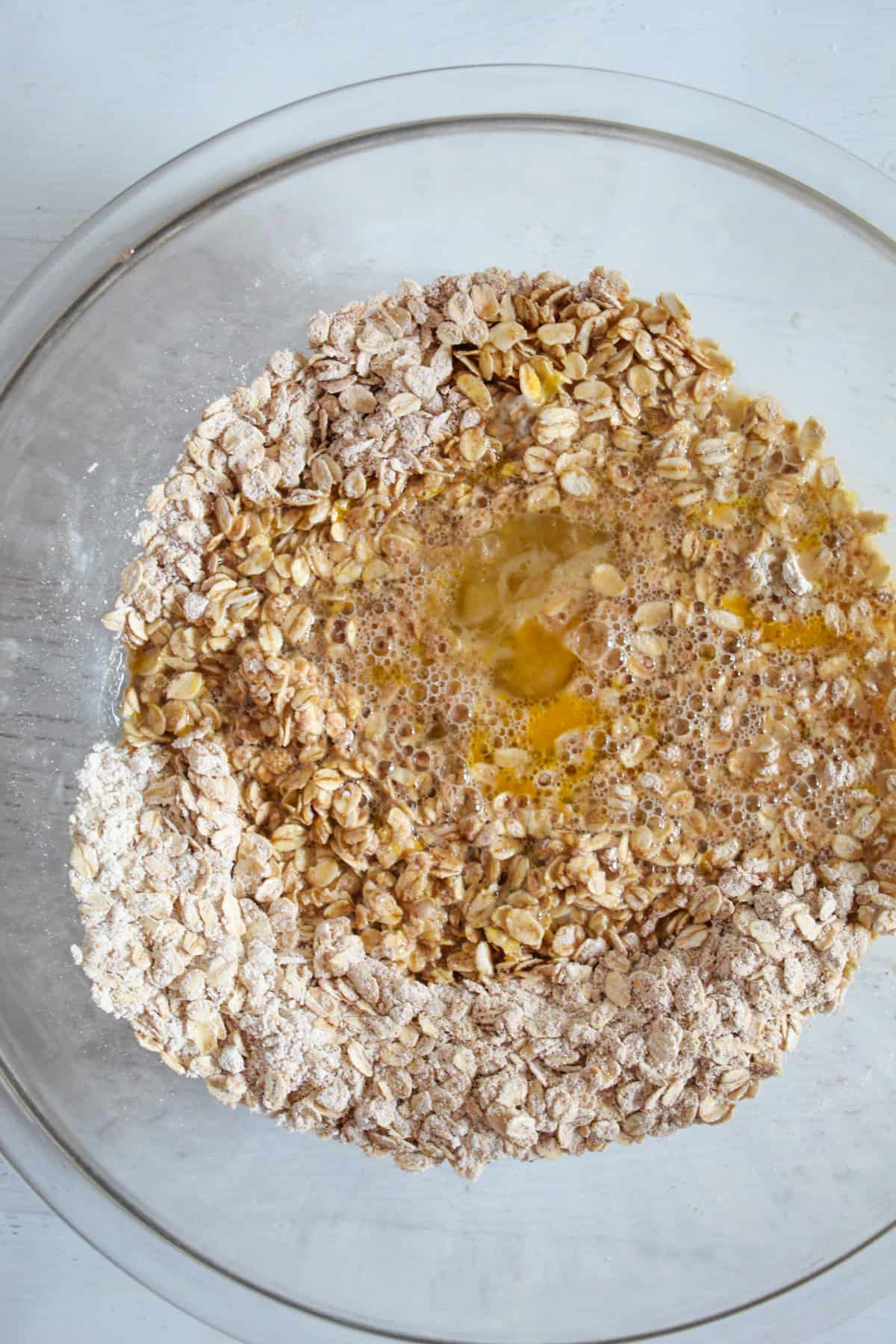 Step 3: Add the wet mixture to the dry mixture.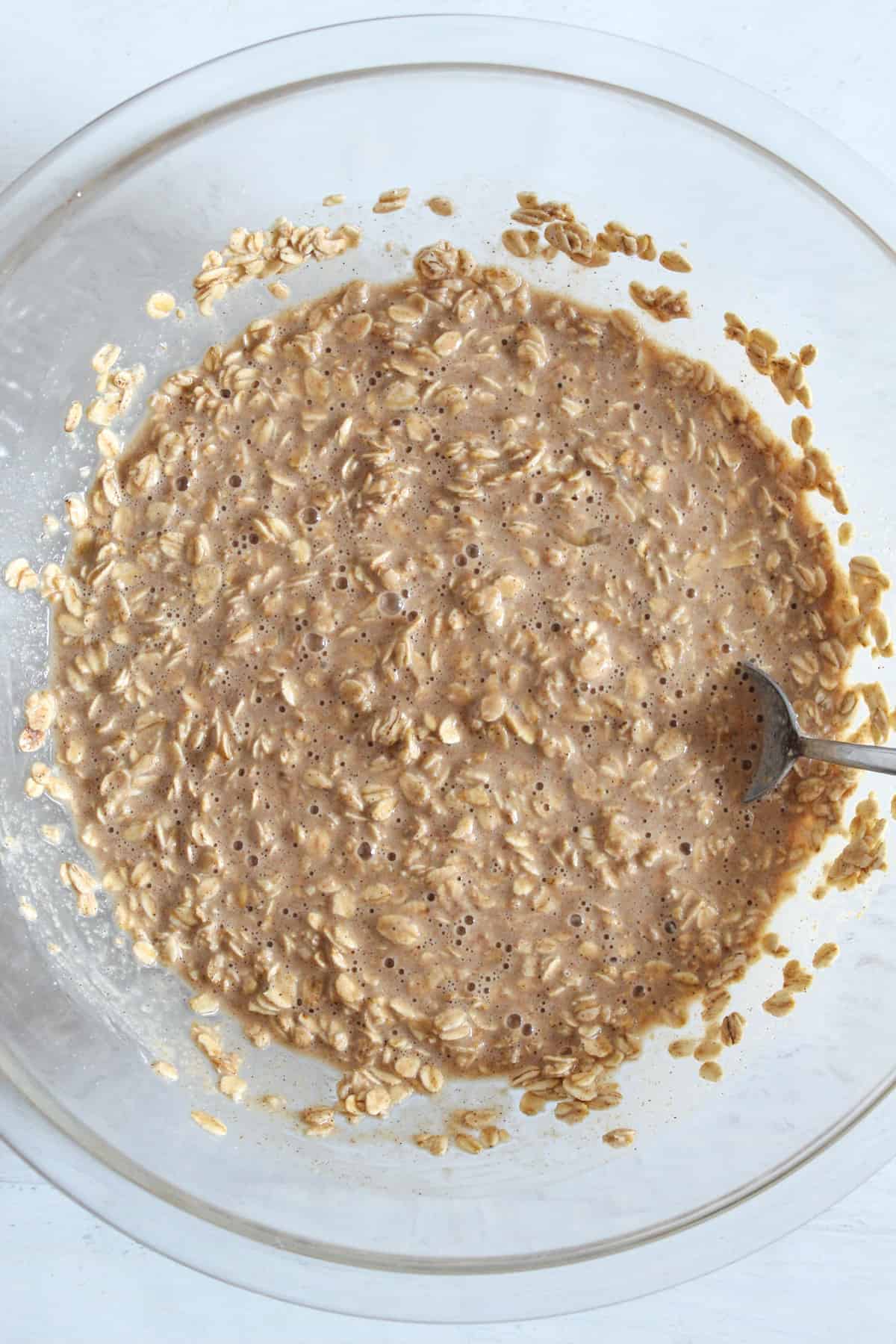 Step 4: Stir for 30 seconds, until batter is combined.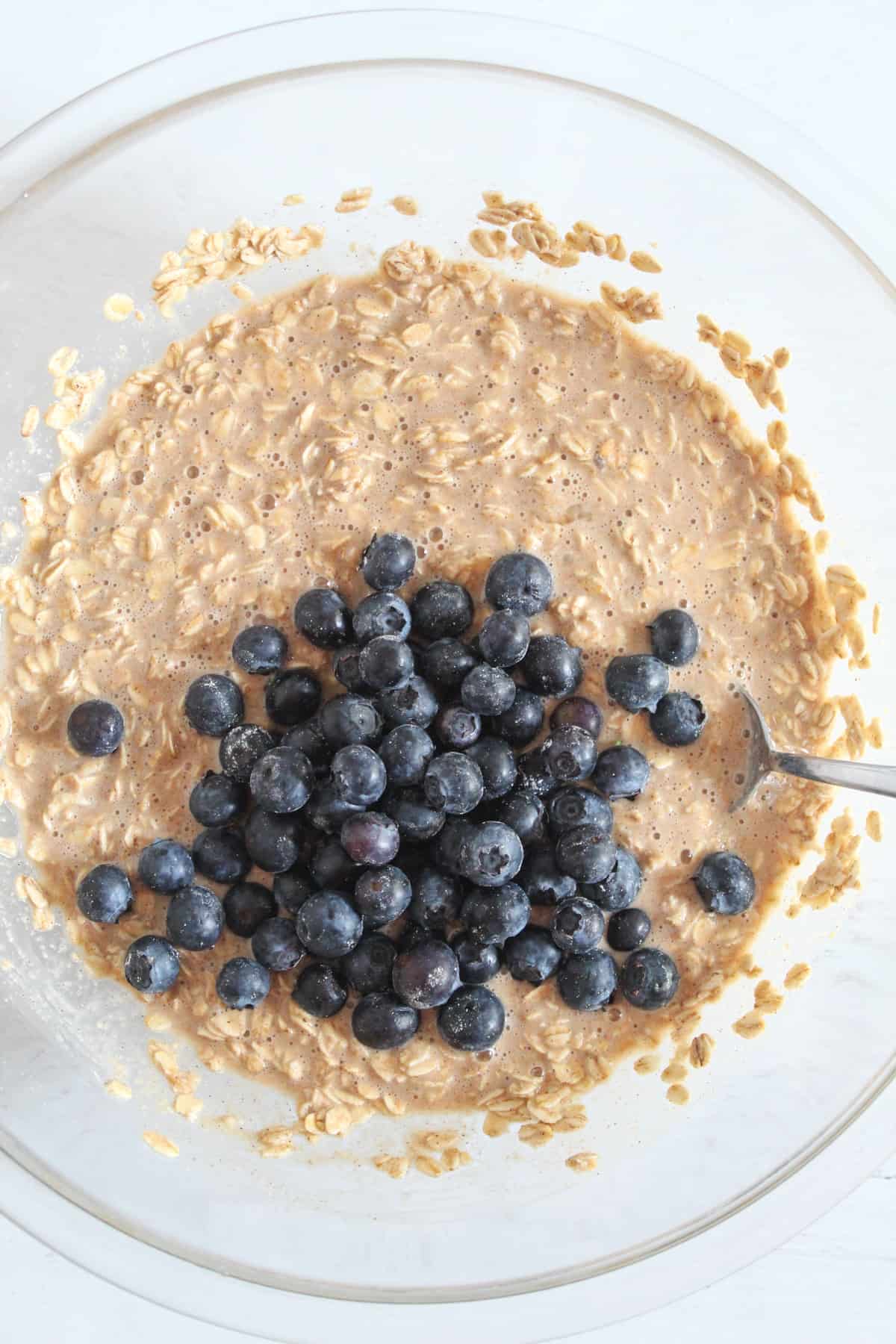 Step 5: Gently fold in the blueberries with a rubber spatula. Lelt the batter rest for 30 minutes.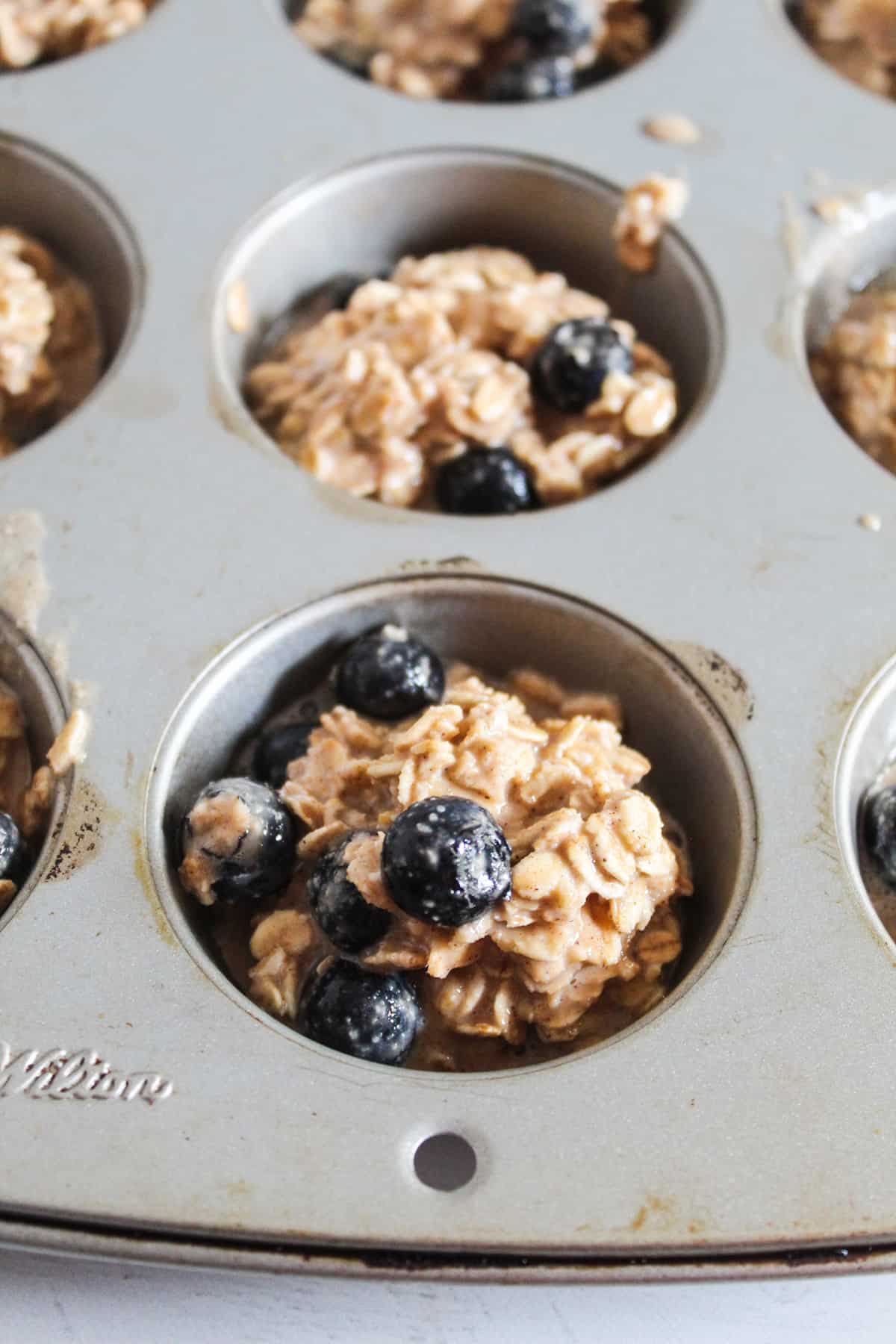 Step 6: Preheat the oven to 375F and spray a 12-cup muffin tin with cooking spray. Fill each muffin cup ¾ full.
Baking & serving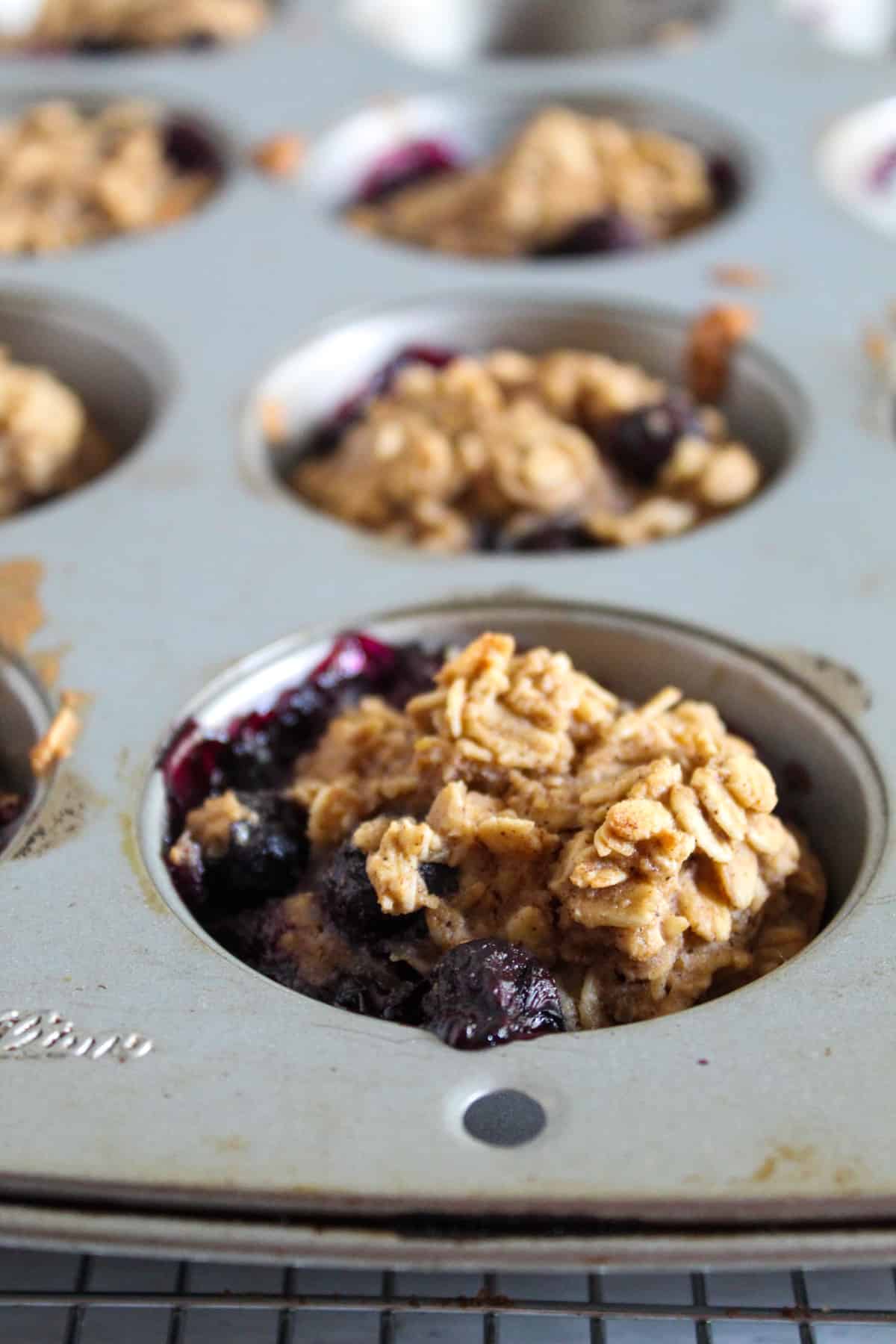 Step 7: Bake at 375F for 25-30 minutes or until a toothpick inserted into the middle comes out clean.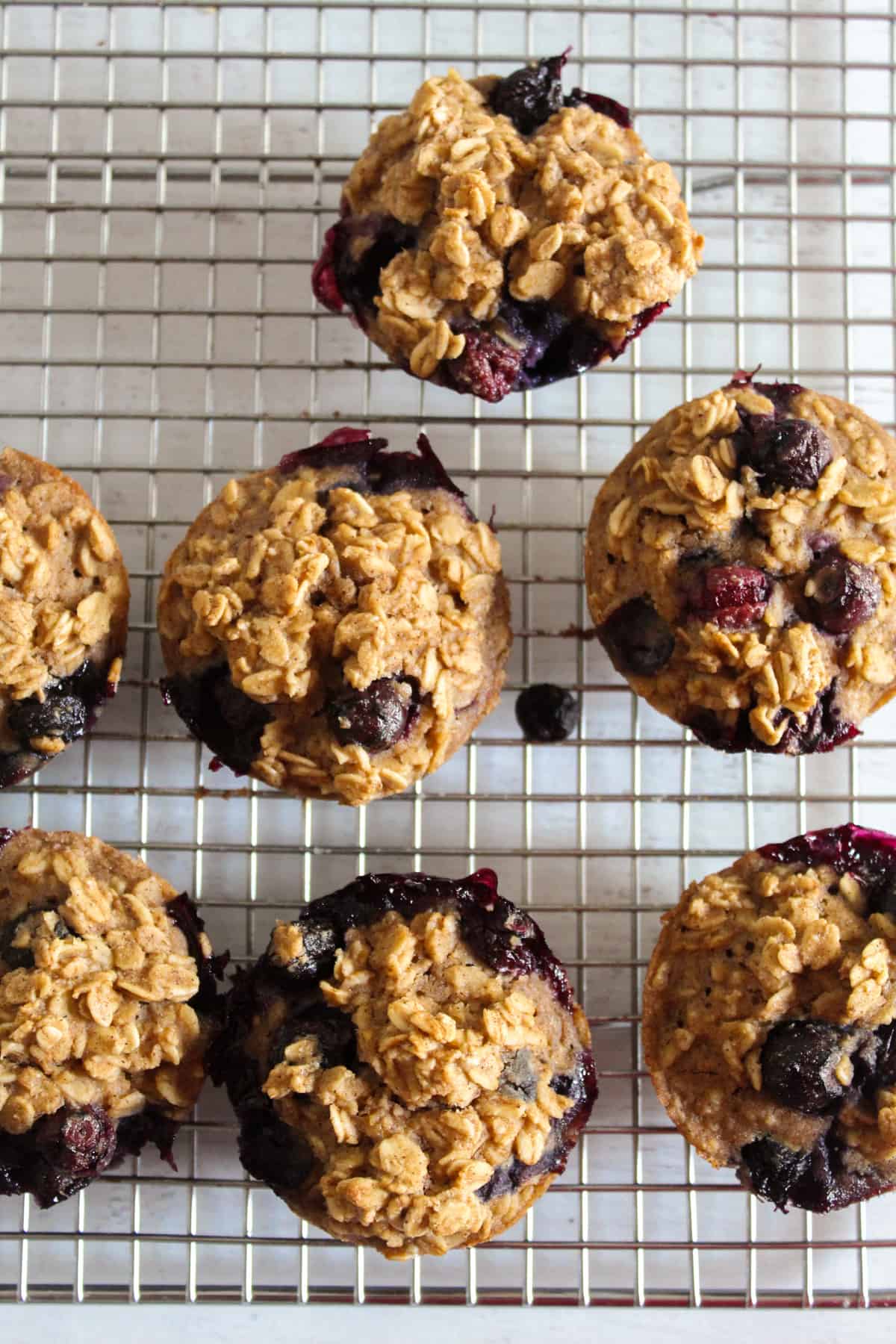 Step 8: Let the muffins cool in the pan for 5 minutes. Use a fork to remove each one and place on a wire rack to finish cooling. Serve and enjoy!
💭Pro tips for making these muffins
1. Let the batter rest
The 30 minute rest time is essential for this recipe. This gives the oats and flour time to hydrate, resulting in a more moist muffin with the ideal structure.
2. Use room temperature ingredients
Although it might be tempting to grab that egg straight from the refrigerator to get right to the recipe, don't do it! The ingredients (maple syrup included) need time to come to room temperature so they mix properly. I talk about this in my baking masterclass, but it's one of the gluten free baking essentials.
3. Measure the ingredients by weight
A good rule of thumb for baking is if weight measurements are given in a recipe, use them! Most of my recipes on Zest For Baking are given in grams, particularly the flour and sugar. Weight is more accurate than cups. And accuracy is essential in gluten free baking, so break out that digital scale!
4. Spray the muffin tin
Give your muffin tin a good spray with nonstick cooking spray. Otherwise, the muffins may stick and you'll break all your blueberries when trying to take the muffins out of the pan.
Blueberry oatmeal muffins FAQs
How do I store blueberry oatmeal muffins?
Place the muffins in a plastic bag and store them on the counter for up to 2 days or for longer storage, freeze them in a well-sealed plastic bag.
Can I use a fruit other than blueberries?
Yes! Cranberries would be delicious, or even blackberries.
The muffins turned out heavy, what did I do wrong?
Likely nothing - these muffins are not light and airy. They are made with oats, so they are heavy by nature. I'd compare them to baked oatmeal. Hearty, so they fill you up!
Other blueberry recipes you may like!
Did you make and love this recipe? Give it your review and

rating below! And make sure to follow me on Instagram, Pinterest and Facebook too!
Recipe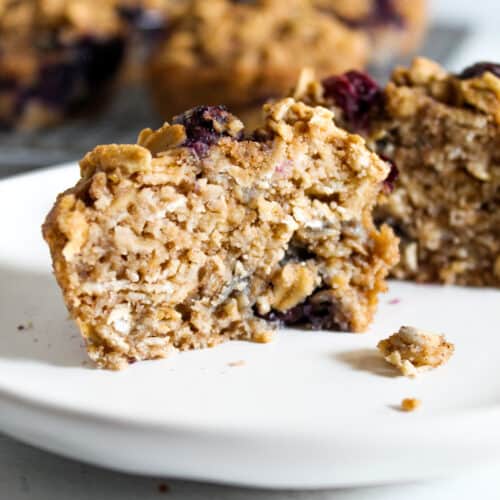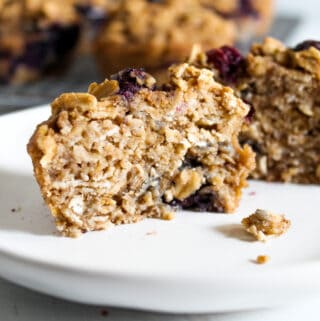 Easy Blueberry Oatmeal Muffins: Healthy, Gluten Free & Dairy Free
A delicious, healthy gluten free blueberry oatmeal muffin - perfect for breakfast or whenever you need a quick snack!
Print
Pin
Rate
Ingredients
200

grams

gluten free oats

about 2 cups

75

grams

oat flour

about ½ cup

1

teaspoon

baking powder

1

teaspoon

ground cinnamon

⅛

teaspoon

salt

1

cup

almond milk

1

egg

⅓

cup

maple syrup

2

Tablespoons

coconut oil

melted

1

teaspoon

pure vanilla extract

150

grams

fresh blueberries

about 1 cup
Instructions
In a large bowl, combine the oats, oat flour, baking powder, cinnamon and salt.

In a measuring cup or small bowl, combine the milk, egg, maple syrup, coconut oil and vanilla extract. Whisk with a fork until combined.

Add the wet ingredients to the dry ingredients and stir for 30 seconds or until batter is combined.

Use a rubber spatula and gently fold in the blueberries.

Set batter aside to rest for 30 minutes.

Preheat the oven to 375 F. Spray a 12 cup muffin pan with cooking spray.

Fill each muffin tin ¾ full of batter.

Bake for 25 – 30 minutes or until a toothpick tests clean.

Let muffins cool in the pan for 5 minutes. Use a fork and gently remove each one to a wire rack to finish cooling.
Notes
Make sure ingredients are at room temperature.
Use certified gluten free oats like Bob's Red Mill brand.
Instead of the oat flour, use amaranth flour or almond flour.
Honey may be substituted for the maple syrup.
Melted butter or vegetable oil may be substituted for the coconut oil.
Spray the baking pan with cooking spray to prevent sticking.
Test the muffins for doneness with a toothpick.
These muffins store well at room temperature in a plastic bag for up to 2 days. 
Freeze them for longer storage. Defrost in the microwave for 30 seconds - 1 minute.
Nutrition
Calories:
149
kcal
|
Carbohydrates:
24
g
|
Protein:
4
g
|
Fat:
5
g
|
Saturated Fat:
2
g
|
Polyunsaturated Fat:
1
g
|
Monounsaturated Fat:
1
g
|
Trans Fat:
0.002
g
|
Cholesterol:
14
mg
|
Sodium:
60
mg
|
Potassium:
153
mg
|
Fiber:
3
g
|
Sugar:
7
g
|
Vitamin A:
27
IU
|
Vitamin C:
1
mg
|
Calcium:
66
mg
|
Iron:
1
mg