When it comes to gluten free snacking, it's in a celiac sufferer's (or those who just don't tolerate gluten) best interest, to always be prepared. Let's face it, that doesn't always happen. The best planner will still find themselves running on an impromptu errand or filling up the gas tank and realize they're starving. The nearest gas station or convenience store is not the place to stop.
Or is it? It's easy to assume it's a snake pit of food you can't eat, and starve until you get home, maybe wait it out for these tasty granola bars? But surprisingly, those shoulder height shelves are lined with some options that won't make you sick. We've created this helpful guide so you can easily navigate to a safe, emergency gluten free snack.
Scrumptiously Salty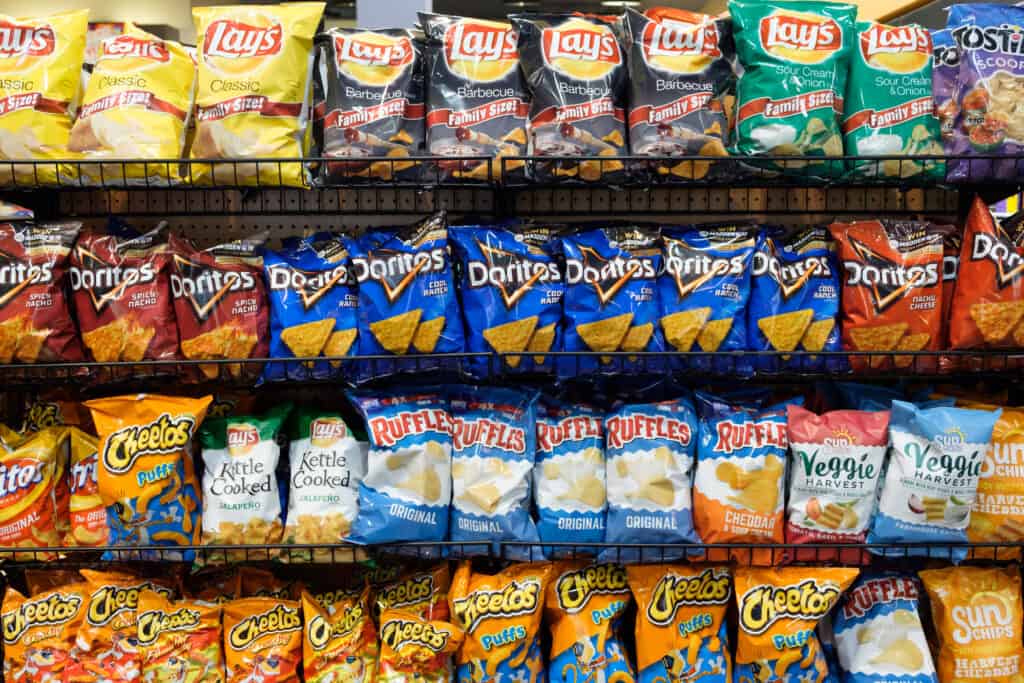 Chips
Frito Lay has worked hard to convert products into safe alternatives for their gluten-free customers, and have tested since 2011. Lays, Ruffles, Tostitos and Doritos potato chip flavors as well as Cheetos contain less than 20 parts per million of gluten. For a complete list of products that you can feel good about snacking on, click here.
Additionally, all flavors of Kettle Chips, Food Should Taste Good, and Cape Cod chips are also gluten free.
Crackers
It might be a little more challenging to find gluten free crackers in a gas station, but if you see these options, grab a few as they are gluten free:
Milton brand crackers - the Baked Crackers variety
Good Thins - all varieties are GF!
Schar Table Crackers - Schar foods are all GF
Simple Mills crackers - Simple Mills is a gluten free company also
Nut Thins - there are 9 varieties that are gluten free
Glutino - Glutino is a GF company
Crunchmaster - also a gluten free company
Back to Nature Crackers - not everything is GF, watch the labels!
Candy for the Sweet Tooth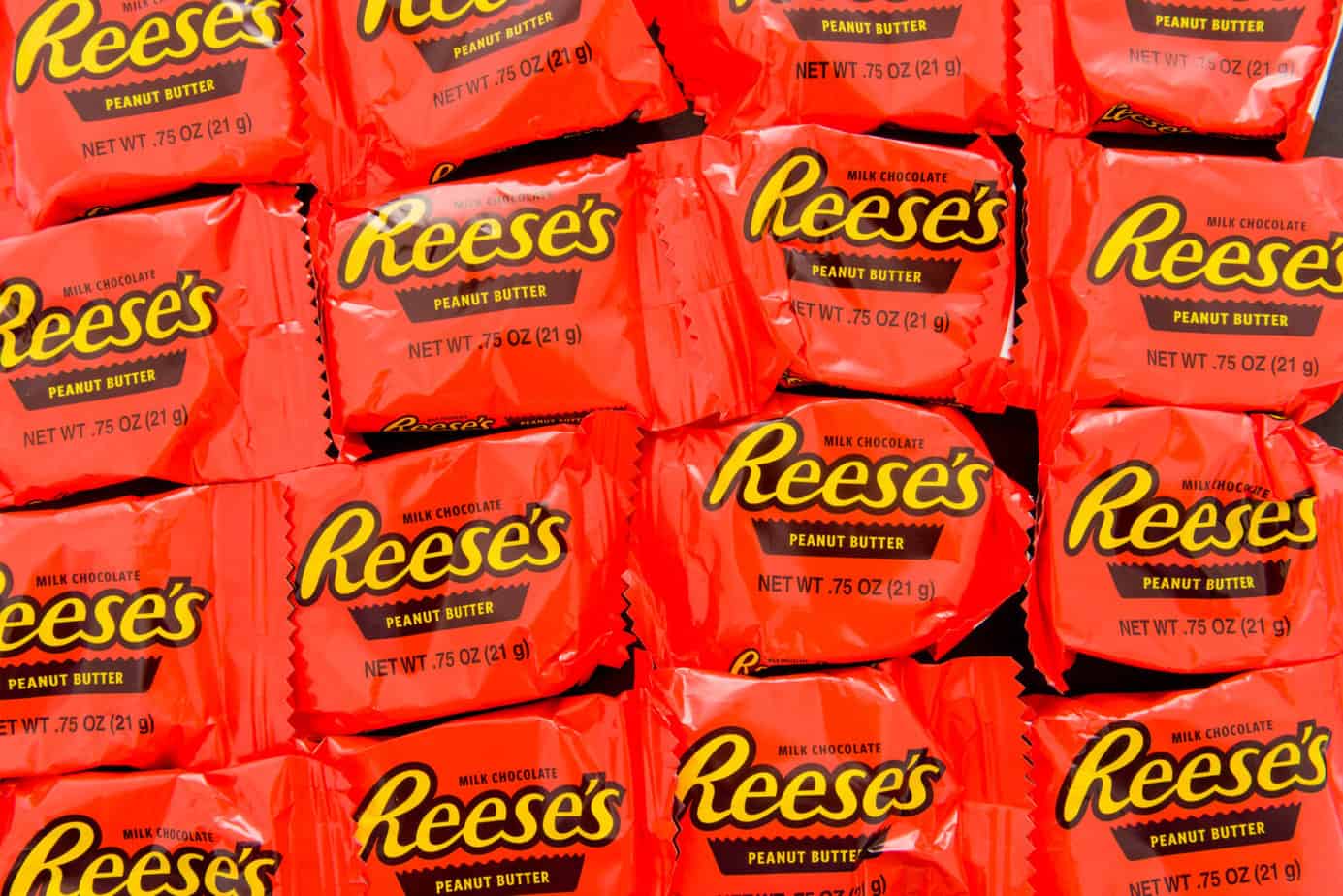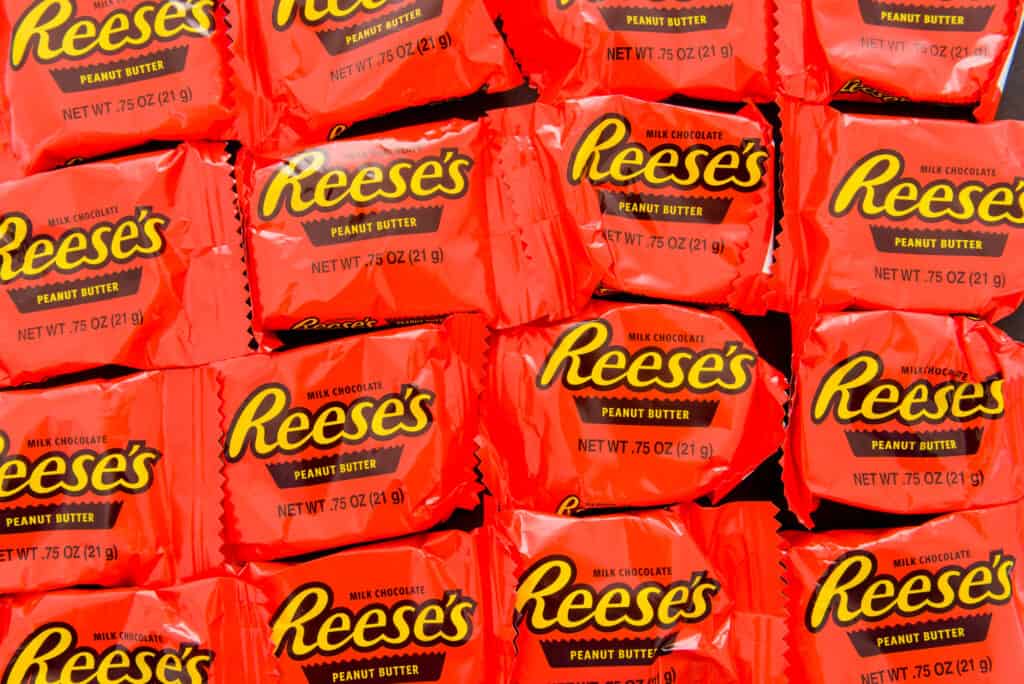 Candy and sweets can be deceiving. And with cross contamination, it might be tough to know for sure which sweets to say yes to. Here's a long list of gluten free candy and bars that you can snag from convenience store shelf without worrying. And those appealing licorice candies... they DO contain gluten, so write those off right away.
Chocolate
Baby Ruth
Milk Chocolate
Goobers
Oh Henry!
Raisinets
Sno-Caps
Regular M&M's
Original Flavor Butterfinger Bar
3 Musketeers Bars (all flavors)
Milky Way Midnight Bar
Milky Way Caramel Bar
Plain Dove Chocolate products Snickers Bars (all flavors)
Tootsie Rolls
Junior Mints
Cella's Milk Chocolate Covered Cherries
Cella's Dark Chocolate Covered Cherries
Tootsie Pops
Almond Joy (all)
Mounds (all)
Hershey Kisses
Hershey's Milk Chocolate Bar, only in the 1.55 oz. size
Hershey's Milk Chocolate with Almonds Bar, only in the 1.45 oz. size
Hershey's Air Delight
Hershey's Milk Duds
Hershey's Nuggets
Heath Bars
Regular Reese's Peanut Butter Cups
Reese's Pieces (all except for Reese's Pieces Eggs)
Rolo Caramels in Milk Chocolate (all except for Minis)
Skor
Skor Toffee Bar
York Peppermint Patties (all except for York Pieces, York Minis and York Shapes)
Non-chocolate candy
Bit-O-Honey
Nips - check the packaging to be certain
Sugar Daddy Pops
Sugar Mama Caramels
Sugar Babies
Smarties
Wonka Pixy Stix
Fluffy Stuff Cotton Candy
Payday
Tic Tacs
Creme Savers
Sour
Sour Patch Kids
Sour Patch Xtreme
Fruit flavored
Laffy Taffy
Wonka Lik-M-Aid Fun Dip
Fruit Rolls
Frooties
Dots
Tropical Dots
Swedish Fish
Dubble Bubble
Charms Blow Pops
Charms Super Blow Pops
Charms Pops
Zip-A-Dee-Mini Pops
Mike and Ike's
Lifesavers
Skittles
Starburst
Jelly Belly jelly beans
Enjoy Life brand - all candy is GF
Other Snack Options
Aside from chips and candy, there are a couple handfuls worth of options at a gas station that you can indulge in.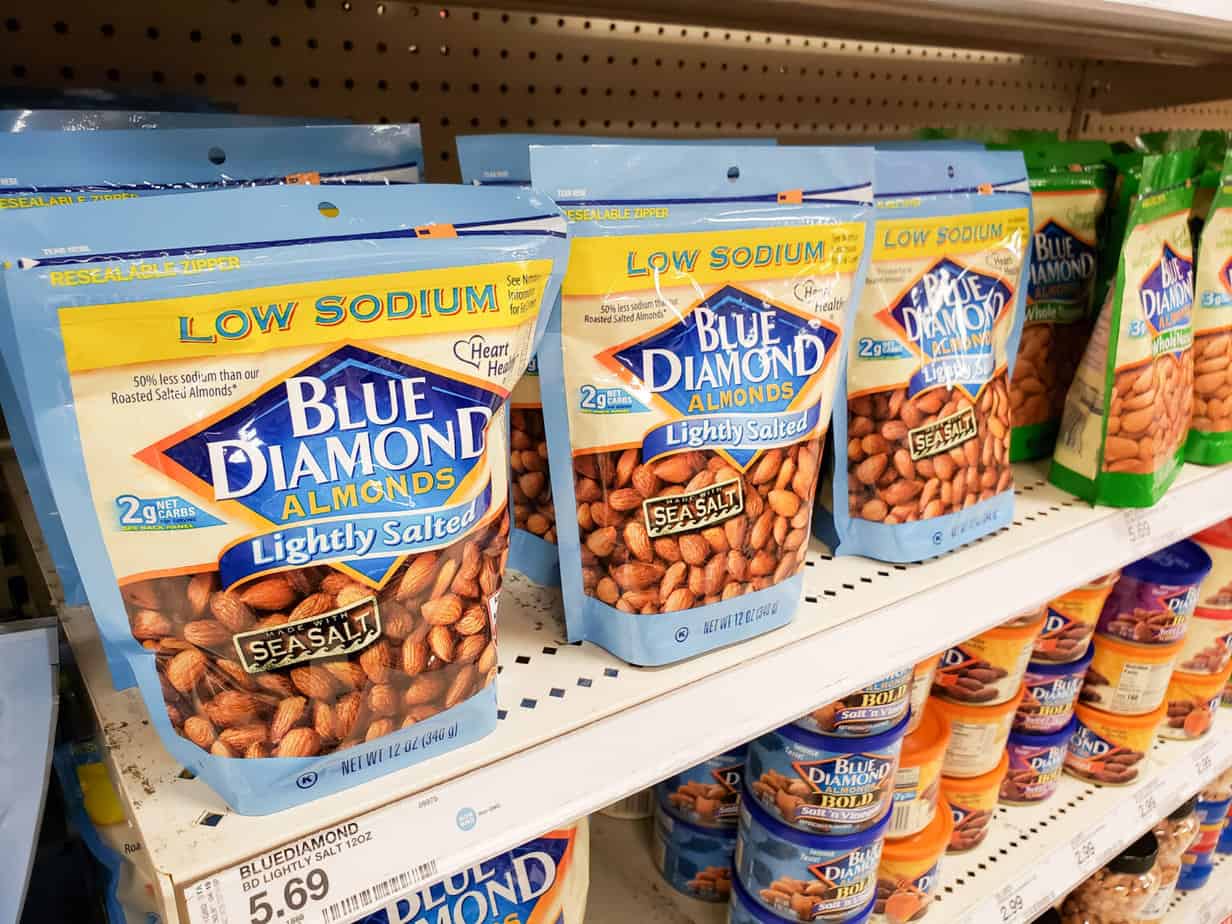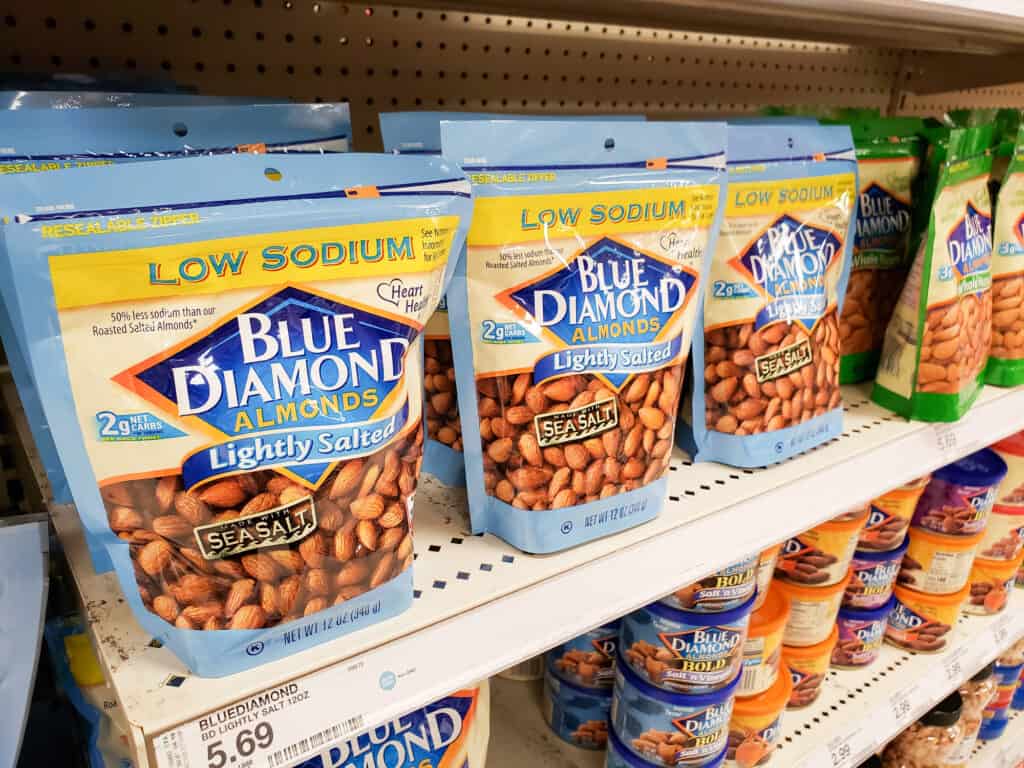 Nuts are full of protein, filling, and have a nice crunch. They're naturally gluten free. However, not all nuts are processed equal. Blue Diamond Almonds are gluten free and processed on separate machinery, so grab those little bags if you spot them. (Or stock up on them!) A great tip to reduce risk of contamination is to purchase nuts roasted in their shells.
Popcorn is also a great option.
String cheese and hard-boiled eggs are a couple quick grabs that won't bother your stomach. Additionally, fresh and dried fruits are usually a great option.
Another regular find in gas station are energy or protein bars. KIND bars protein bars, Quest bars and No Cow Bars are all gluten free, check out 11 more options for protein bars here. If the gas station has them, RXbar and Lara bars are also great options with no worry in the wrapper.
Also check out 8 Simple and Delicious Gluten-Free Kids' Snacks
Jerky is a great protein boost and are always hanging somewhere in a small convenience shop. It's easy to assume they all are good, but artificial flavors (especially those with soy) tend to contain wheat in the marinade. Oberto and Jack Links original and pepper flavors are safe, with testing done regularly and product handling being done to minimize contamination.
Wash it Down


Keep in mind, most of these snacks are processed and not super healthy, and you're probably going to want a drink. Those rows of refrigerated cases might be a bit daunting. Juices or tea are your best bet.
Coca Cola has made major strides in creating drinks that test below 20 parts per million and have contracts with other companies for production as well. These include Fuze and Minute Maid.
Gatorade's simplest flavors are all great options, especially on hot days.
Other juice companies that claim ALL their juices are gluten free are Arizona Iced Teas, Snapple, Dole, Simply Orange, Sunkist sodas and juices, V8 blends, and Welch's.
In recent years, coconut water has edged its way into many small stores and refill stations. It's popularity isn't a hype. It's a natural way to get more electrolites and is naturally gluten free. A big bonus is most major brands you'll commonly find ONLY make coconut water, so there's no need to worry about cross contamination.
Just because smaller stores stock up on junk food doesn't mean you won't be able to find something your body can handle. Companies big and small are becoming more and more aware of Celiac and gluten-related illness, and thankfully, convenience store owners are considering all types of customers. Armed with this read, you'll feel more confident stepping into one and walking out with a safe and tasty snack.
Need recipes you can make ahead and reheat later? These fit the bill!
Oatmeal crepes (easy to make and store)
Oat flour pancakes (freezer friendly)
Granola bars (easy to eat in the car)
Banana Blueberry Muffins (travel really well!)
Do you have a corner store favorite to add to the list? Please share it in the comments below!