Picking out a gluten-free flour blend at your grocery or natural foods store can be overwhelming. There are so many options and no real way to figure out which one will appeal to your taste buds, your budget or the recipe you have in mind. We've rounded up the top commercial ones and compared them to some mixes found in the gluten free blogosphere. The GF online community can be just as exhaustive as the store shelves, but we've done some homework for you. Hopefully, you'll find what you need or get inspired to experiment and create your own.
Andra at The Brighter Side of Gluten Free – Lighter Flour Blend
Size: About 5 cups.
Price Point: $7 a batch or $1.40 per cup
Information: This flours-only mix utilizes lentil flour, which is hard to find but easy to make at home with some cheap lentils from your local grocer. The lentil flour and potato flour that are also in the recipe add fiber and flavor. She recommends this flour mix for quick breads that don't require yeast such as muffins or breakfast specialties.
Review: Andra states, "People often can't even tell that my muffins/pancakes are gluten free. You can substitute this for regular flour in most quick bread recipes as long as you add an extra egg and double the amount of baking soda or baking powder (whichever is called for)."
Anne at EZ Gluten Free - 3 Ingredient Fine Baking Flour Mix and Copycat GF Bisquick Mix
Size: 1 cup for each recipe
Price Point: $1.63 per cup / $1.70 per cup
Information: Both of these mixes are super easy to make at home and relatively cheap. Anne has a great tutorial video on this post. She's used it in streusels, muffins, sweet loaf breads, and coffee cake.
Review: Anne states in the post, "If the original recipe called for wheat flour and a leavening agent like baking soda or baking powder, I tried substituting the flour for an equal measure of gluten free Bisquick and then eliminating the leavening agents and salt that were called for in the original recipe…"
Pam at Low Carb and Delicious – 3 Low Carb GF Flour Mix Options
Size: 2 cups
Price Point for mix #3: $7.80 or $3.90 per cup.
Information: Pam uses Honeysville's Hi-Maize Starch and almond meal to up the protein and diminish the carbs in this flour. It has the same 1:1 substitution ratio as other flour mixes. She recommends putting it in the fridge to keep it fresher longer due to the almonds.
Glutino – Beth's All-Purpose Flour Mix
Size: 2 cups (16 oz.)
Price Point: $5.49 or $2.75 per cup.
Information: Lots of great recipes on the site. Ingredients include white rice flour, potato starch, tapioca starch, pea hull fiber, acacia gum, rice protein. There is a note regarding corn or soy contamination, so anyone with these allergies should be aware.
Reviews: Kate from Gluten Free Milwaukee gave a great review last December: "I used it for a batch of madeleines. While the batter had a gritty texture (as have many other gluten-free flours, in my experience), once the madeleines were baked the texture was gone."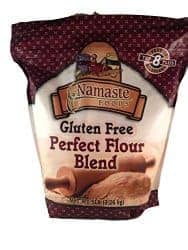 Namaste's Perfect Flour Blend
Size: 6 cups (48 oz.)
Price Point: $11.69 or $1.95 per cup
Information: Especially recommended for breads. Ingredients include sweet brown rice flour, tapioca flour, arrowroot flour, sorghum flour, xanthan gum.
Review: Jen over at thefithousewife.com said, "This stuff is awesome. All you have to do is substitute it cup for cup in your favorite recipe. So far, every recipe I've tried it in has turned out fantastic….as if I had made it with wheat flour! I made this Simple Chocolate Fudge Cake with Namaste and it turned out perfect."
Silvia Nardone's All Purpose Flour Used in her Book Cooking for Isaiah
Size: 6 cups (3 lbs.)
Price Point: $15.99 or $2.67 per cup.
Information: Substitute cup for cup in all recipes. Highly recommended by Calvin of theglutenfreechefblog.com. Basic mix with rice flour, tapioca flour, potato starch, xanthan gum and salt. It's dairy, gluten, wheat, nut, soy, and preservative free.
Bob's Red Mill All Purpose GF, Dairy Free Flour
Size: 25 lbs, about 50 cups.
Price Point: $39.80 or .79 per cup.
Information: Made with garbanzo bean flour, potato starch, whole grain white sorghum flour, tapioca flour and fava bean flour. Rich in fiber.
Bob's Red Mill is one of the better known companies on the market. People often complain about the prices, but we just discovered that you can buy it in bulk for a whole lot cheaper! (Source: bobsredmill.com) They even have 44 oz. bags, a tad bigger than the ones often found on store shelves, and per cup price is cheaper at $1.47 per cup. This flour mix is suggested for desserts requiring a finely milled product such as cakes, cookies, and quick breakfast breads.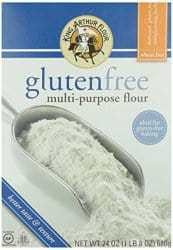 King Arthur GF Multi-Purpose Flour
Size: About 3 cups (24 oz.)
Price Point: $5.48 or $1.83 per cup
Information: Certified GF, Kosher, ideal for baking, finely milled.
Reviews: According to reviewers, this is a great all around flour and has been used in pie crusts, banana bread, pizza crusts, and french bread successfully. Allowing the batter or dough rest for 30 minutes is recommended to allow the flour to absorb moisture so grittiness is avoided. (Source: Amazon.com)
GFB's Own Light Mix (mentioned in our Flaky, Buttery GF Biscuit Recipe)
Makes: About 9 cups.
Price Point: $30 a batch or $3.29 per cup.
Combine:
1 ½ C. Brown Rice Flour
1 ½ C. White Rice Flour
3 C. Tapioca Flour
3 C. Cornstarch
3 Tbls. Potato Flour
That was a whole lot of Information!
So did you find the perfect flour mix here or have one you swear by? Have you tried any of these and had success or utter failure? Are you going to try some out? Please tell us in the comment below and share this with anyone else experimenting with GF flour blends.