One of summer's most enjoyable past times is a good, ol' fashion cookout with neighbors, family, and friends. As a child, I have multiple memories of giant slices of watermelon and the smoky aroma of whatever was being barbequed. For those of us with celiac or gluten sensitivities, attending can be frustrating as most of the classic dishes brought to the picnic table are loaded with our nemesis. The worst thing according to one of my friends who avoids gluten for the sake of her joints often complains when her husband grabbed the white buns she couldn't enjoy.
Thankfully, there are convenient options on the market shelves as far as hotdog buns go. The biggest question is which one to choose? We've gathered some info and scoured blogs for awesome reviews. Each gluten free bun has its pros and cons, and some have raving reviews from foodies who are avoiding the same ingredients as you.
Udi's
Udi's Gluten-Free offers a classic hot dog bun. In addition to nix-gluten, they are also dairy and soy free. Ingredients include tapioca, brown rice, eggs, corn, yeast, potatoes and sugarcane. They come in a six-bun package, unlike many of their competitors. Udi's Gluten Free Foods are certified by GFCO, certified Kosher, and tested to 10ppm of gluten. They have a particularly great review over on Gluten Free Dairy Free NJ where their cost and ability to hold up to a loaded dog is raved about.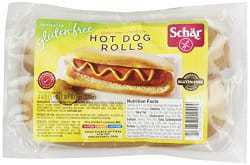 Schar Hot Dog Rolls
Technically labeled a roll, Shar's gluten-free dog option is specifically crafted to be soft and airy. Due to their success in this department, some people have mentioned their need for toasting. What they lack in sturdiness they make up in flavor. The ingredients include rice flour and starch, corn starch, millet, sugar, psyllium husk, rice syrup, sunflower oil, soy protein. They come in a four pack, so you may end up spending a little more to make sure you have enough for guests or family members.
Canyon Bakehouse GF Hotdog buns
A while back, we did a poll and talked about favorite GF breads on the market. Canyon Bakehouse got the most mentions and seemed to be the crowd favorite. Their hotdog buns are just as impressive as their bread! They're made with 100% whole grains, offer plenty of fiber and are high in protein to boot. Most people find them in a market's freezer section. From what I've read online (I have yet to find some in my area, boo!) the company is really good at making their products look like their gluten-filled counter parts, and still manage to get plenty of flavor into each bun. It's this accomplishment that makes them a hit with kiddos. Each bag comes with six kosher and certified GF buns. Their ingredients include brown rice, tapioca, amaranth, and sorghum flours as well as agave syrup, eggs, and EVOO. Check out what the gal over at the Slice of Orange blog had to say about them after a family beach grill out.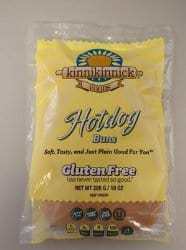 Kinnikinnick Foods
Though Kinnikinnick Foods has been around since 1998, they revamped their hot dog buns in 2012. The fresh take on a classic was a major improvement, offering a white bread like consistency and some sausage-handling suave. These buns come four to a package but don't come pre-sliced, so make sure you bring a knife to do so if you are taking them to a nature setting. In addition to being gluten-free, they are also dairy-free and soy-free, with tapioca, white rice, and pea protein giving them a wonderful flavor.
Kinnikinnick has its products independently tested to keep them under 5 parts per million of gluten, and have adapted a special gluten-free logo to signify their commitment to the cause. They get a thumbs up over at Gluten Free Food Reviews, with a special emphasis on taste.
Ener-G
With their unique focus on offering products that give energy naturally, Ener-G offers an impressive list of gluten free options. For hotdogs alone, they offer three types of buns. If you want the fluffy feel of a white bun, their tapioca option will suit you. It's made with tapioca and white rice, and toasting is suggested for optimum enjoyment.
If you'd prefer a heftier, "whole grain" option, Ener-g's Seattle-style hot dog bun is a better choice. Brown rice, tapioca starch, potato starch and Montina flour make up their unique taste without any grainy texture.
Lastly, they've made a hotdog member of their SELECT line, a group of specialty creations made with extra protein from eggs. All three bun kinds are dairy-free, casein-free and nut-free and recently became part of the Non-GMO Project. They come four to a package. Similarly to the above competition, Ener-G tests its own products to make certain they contain less than 5 parts per million of gluten.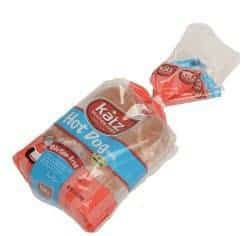 Katz Gluten-Free
The four dog buns in each package of Katz Gluten-Free claim not to crumble, making them a wonderful option for home-based or outdoor gatherings. They've been repeatedly noted to have a sweet flavor which they get from brown sugar and honey. The ingredient list also includes rice, tapioca, corn, arrowroot, potato, flaxseed, soy, eggs, and yeast. They take gluten contamination very seriously, owning a dedicated gluten, dairy, and nut free facility for their production. Additionally, they are GF certified by GFCO and test to 10 parts per million. Nothing is slipping into their products that can hurt their customers!
Local Oven
Though we have not tried the gluten free hot dog bun from Local Oven, if its anything like their breads, it is amazing! Local Oven is based out of Carrollton Texas and bakes all their goodies in their dedicated gluten free facility. The ingredients list of their hot dog buns is pretty basic: rice milk, white rice flour, potato starch, tapioca flour, dehydrated egg whites, canola oil, eggs, sugar, yeast, salt and xanthan gum. These are gluten free, dairy free, soy free and corn free buns. They come 4 to a package. For a gluten free hot dog bun with the perfect amount of balance and texture and a whole lot of traditional hot dog bun taste, check out Local Oven!
Rudi's
This bigwig gluten-free bakery is another reader favorite. Rudi's multigrain hot dog rolls get texture and taste from a well-balanced combination of rice, potato, sorghum, flax and millet. They do contain eggs, corn, and yeast as well. Once warming is achieved, the buns have a wonderful taste and texture. Be careful about how you warm them due to a tendency to harden upon cooling. They also take gluten banishment seriously, testing to 10 parts per million and getting the GFCO certification.
Three Bakers
Three Bakers (previously known as The Grainless Baker), presents whole-grain gluten-free hot dog buns to customers in packages of four. The buns are comprised primarily of brown rice flour with corn and tapioca starch, eggs, potato flour, and yeast adding some texture and flavor. No need to toast these 6-inch rolls, which can stand a lot of toppings or longer dog without going soggy. They're soy and dairy free, and boast GFCO certification and the standard 5ppm product gluten levels.
How have you wrapped your grilled dogs and still maintained your gluten-free diet? Have you tried the products above or baked a stellar homemade version? Please tell us in the comments below and share these suggestions so others can enjoy their summer cookouts as much as everyone else attending!