A plethora of snacks on the market are laden with gluten, so it's hard to find something fun for kiddos with gluten allergies to nibble on. Making fancy ones yourself can be time consuming and require a lot of preplanning and specialized ingredients. But there are a couple handfuls of easy-to-prepare snacks that you're kiddos will love, so we've herded them together for you.
1. Grape Pops
This is unique and might sound silly but it's a child favorite! For some reason freezing grapes makes them extra special. The sweet or sour flavor is intensified with an icy texture. This can also be done with watermelon, and can especially help with teething pain.
2. Greek Yogurt Sundae
IF you're kiddos love ice cream, this one will become their new favorite. Freeze a single-serve cup of plain or honey-flavored Greek yogurt. Let it thaw about 20 minutes so it can be mixed but not its normal texture. Mix in a quarter cup chopped banana, 2 tablespoons raw cocoa powder, and 1 tablespoon ground flaxseed. They'll love this healthy sundae!
3. Smoothies
Using a blender makes smoothies a snap! Purchase frozen fruit mixes and keep a variety in the freezer. To make two smoothies, put 1 cup fruit mix, 3 ice cubes, ½ cup milk or non-dairy milk of choice, 1 teaspoon vanilla in the blender. Use crush setting to break up frozen fruit and ice cubes, and then blend all the ingredients together. If you want to add some more nutrients, substitute the milk for Boost Kids Essentials or your other choice of gluten-free nutritional shakes.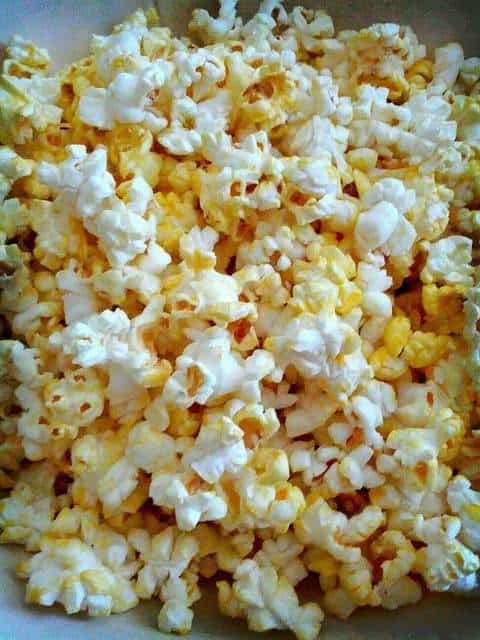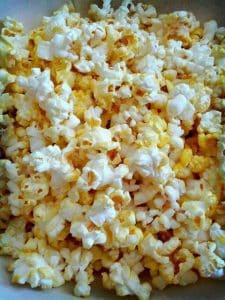 4. Peanut Butter Popcorn
This is a great way to get sweet and salty in one snack! Melt ¼ cup peanut butter and 1 tablespoon regular butter in a small saucepan. Pop some popcorn and drizzle the peanut butter over the popcorn. Toss and allow to cool. This yummy treat can also be drizzled with Nutella or other nut butters your kiddos like.
5. Creamy Ball Bites
These ones will satisfy your little ones and tempt you too! Mix equal parts soft goat cheese and cream cheese. Roll into 1 inch balls and roll in crumbled bacon, thyme, and basil. You vary up the toppings to your children's taste preferences.
6. Fruit Snakes
This one takes a second, but your munchkins can help! Let them help you mix 3 tablespoons milk or milk substitute, ¼ cup powdered sugar, and ½ teaspoon vanilla extract with a fork. While they do that, slice up strawberries, kiwi, and bananas into ¼ inch thick slices (save one whole strawberry per snake you're making.) Help your kiddo put frosting between each slice of fruit in a pattern to make it stay together. Attach the whole strawberry to one end; attach two raisins on each for eyes. Then let you're kiddos gobble the snakes up!
7. Stuffed Eggs
Think deviled eggs, but let your kid's taste preference dictate what you add to the filling. Aside from the traditional mustard and pickles, you can also add bacon, herbs, cream cheese, shredded cheeses, natural vegetable dyes to make them colorful, and even ketchup. If you boil one dozen eggs at a time, it's easy to crack a couple and whip up a filling! Just be sure to mark the boiled ones with an X in permanent marker, so you don't confuse them with the raw ones.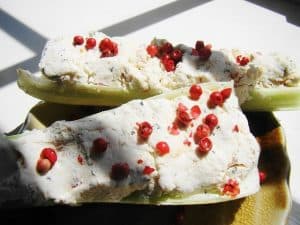 8. Snowy Log
Instead of the common, peanut butter stuffed "ants-on-a-log", consider stuffing your celery sticks with cream cheese. You can doctor up the cream cheese either sweet or savory. For sweet, consider cinnamon, cocoa powder, or chopped fruit. For savory, add herbs, olives, relish, bacon, cheese, or chopped vegetables.
9. Smoothie Pops
If you're kiddos are like mine, they often can't finish a whole smoothie. Put those leftovers to use and freeze them into popsicles. Or you can whip up a double batch and freeze what they don't slurp down. When I do this at home, I always add a little cocoa powder. My girls love chocolate in their popsicles!
These stress-free snack ideas for your gluten-free cuties are sure to please them! Have you used these ideas before? What other super quick and child pleasing snacks to you make for your family?
P.S. If you haven't joined our newsletter list, here is your chance! We only send wonderful and amazing things out - recipes, articles, reviews... just the good stuff. Join below!