Coconut sugar is fast becoming a popular choice for baking. But if you find yourself needing an alternative to coconut sugar, you have come to the right place! Here are 21 coconut sugar substitutes that you can use for all your baking needs, in both granulated and liquid forms. We'll also show you how to use them so the end result is just like using coconut sugar.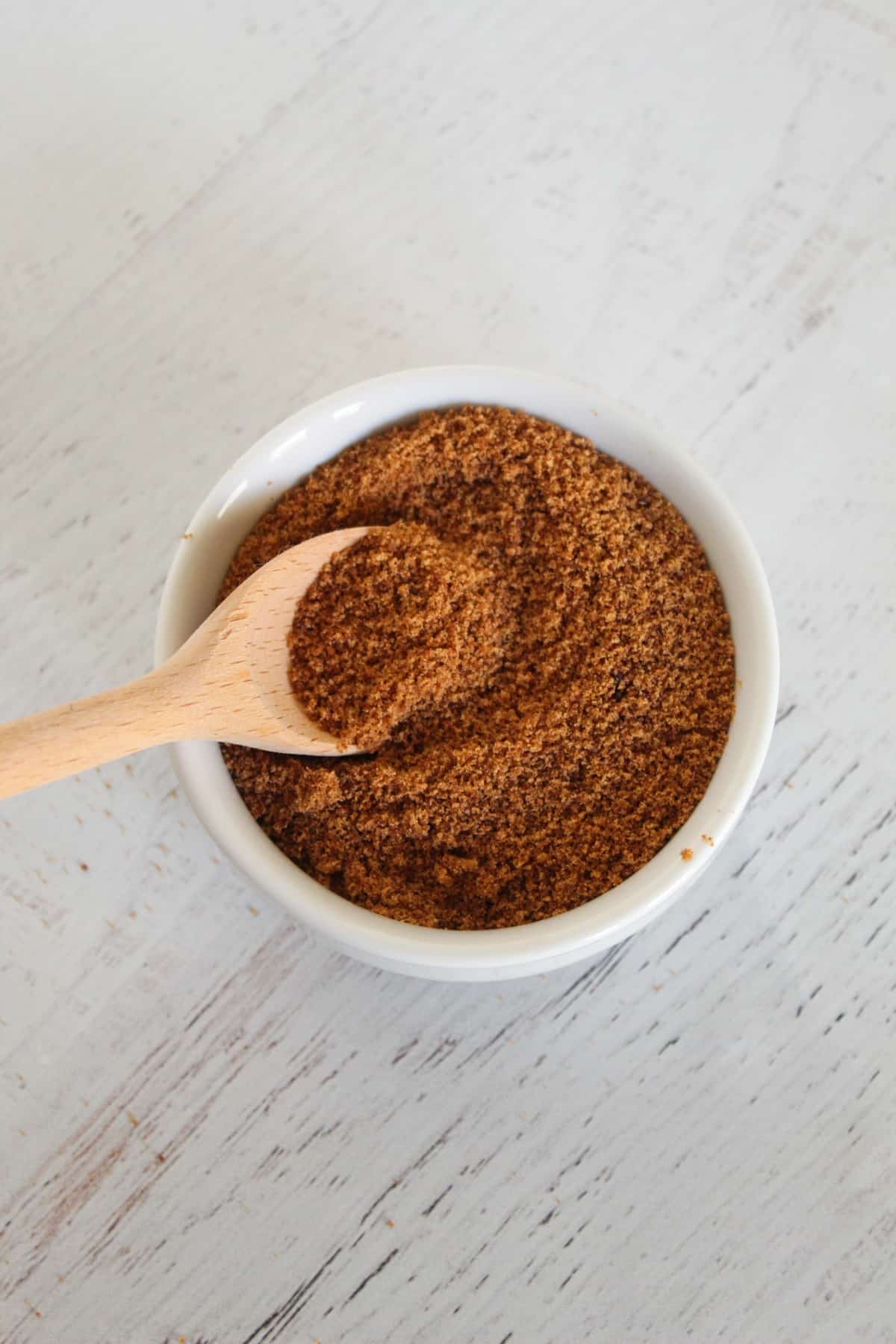 Looking for more resources on gluten free baking? Check out this xanthan gum substitutes post, this tapioca starch vs tapioca flour post and this almond meal vs almond flour post.
Jump to:
Coconut Sugar Substitute: Key Take-Aways
There's a lot of buzz around coconut sugar - it's quickly become a go-to alternative to the regular granulated sugar most of us grew up on. It's considered a healthier option since it is less processed, lower in fructose, and higher in nutrients. But it's not always the easiest to get your hands on, but there are many options for substitutes for it as well.
Best Substitutes: Light brown sugar, dark brown sugar and the homemade coconut sugar substitute are the closest to coconut sugar in recipes.
Low Glycemic Index Substitute: For a low GI substitute, use Swerve brown sugar.
Other Granulated Substitutes: Palm sugar, granulated sugar, cane sugar, date sugar, maple sugar, monk fruit sweetener, Stevia, xylitol, allulose are granulated alternatives to coconut sugar.
Liquid Alternatives: Banana, agave nectar, maple syrup, honey, date syrup, and brown rice syrup are liquid coconut sugar alternatives.
What is Coconut Sugar?
Coconut sugar (also known as coconut palm sugar) is made from coconut palm tree sap. The sap is extracted, reduced, and granulated into light brown crystals. It becomes slightly caramelized in this process, so it has a caramel flavor and color to it. Because of this, it is often compared to brown sugar. Coconut sugar is well known as a healthier sugar, which is technically true considering it doesn't have near as much fructose as cane sugar and is less processed. It is sugar though, so enjoying it in moderation is still key to a healthy diet.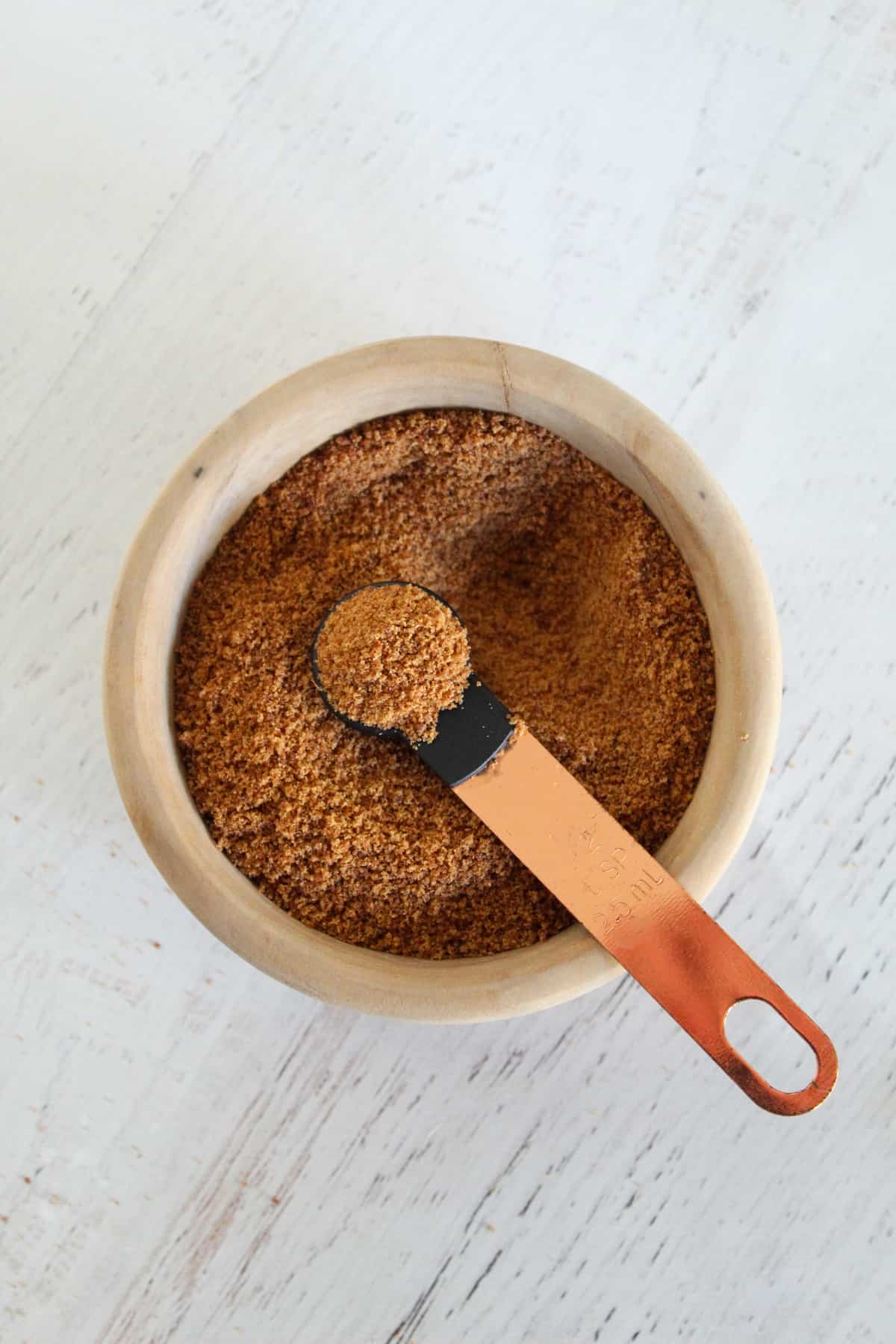 How to Use Coconut Sugar in Baking
As a general rule of thumb, coconut sugar can be used as a 1 for 1 substitute in most recipes calling for brown sugar or granulated sugar. There are occasions when it may not be best to use an alternative, for example, when the recipe was developed around coconut sugar. But most of the time, it's a 1:1 or ¾:1 ratio for substituting.
Best Coconut Sugar Substitutes
1. Light Brown Sugar
Light brown sugar makes for an excellent coconut sugar substitute since it shares so many similarities with coconut sugar. Light brown sugar is white sugar that has been combined with rich molasses (like in these gluten free molasses cookies). It has the same moist texture, light brown color, and slightly caramelized flavor.
Light brown sugar can be substituted for coconut sugar at a 1 cup for 1 cup ratio.
2. Dark Brown Sugar
Dark brown sugar is basically the same as light brown sugar, but it contains more molasses. It's another great option if you don't have coconut sugar on hand. Dark brown sugar has more of a deep, rich flavor thanks to its higher percentage of molasses.
Dark brown sugar can also be substituted for coconut sugar at a 1 cup for 1 cup ratio.
3. Homemade Coconut Sugar Substitute
If you find yourself without coconut sugar, you can always make your own substitute. It's simple to make since you only need white sugar and molasses. By combining the two, you can make your own brown sugar and then use it in place of coconut sugar.
The recipe for homemade coconut sugar substitute is in the recipe card at the bottom of this post. It works well with a 1 cup to 1 cup ratio.
Best Low Glycemic Index Substitute for Coconut Sugar
4. Swerve Brown Sugar
Swerve brown sugar alternative is one that I often recommend in my recipes. It's a lower glycemic index, low carb, and low calorie substitute for brown sugar that works really well in baking. Swerve is a natural sweetener found in root vegetables, and it conveniently measures cup for cup with regular sugar.
Substitute Swerve brown sugar for coconut sugar in a 1 cup for 1 cup ratio.
Granulated Alternatives to Coconut Sugar
5. Turbinado Sugar
Turbinado sugar is raw cane sugar that's less processed than the regular white sugar we're all familiar with. It's made from the first press of sugar cane, so it contains the plant's flavor and a small amount of natural molasses. Turbinado sugar is really a natural form of brown sugar, and it has much larger crystals and a more subtle flavor.
Substitute coconut sugar with turbinado sugar in a 1 cup to 1 cup ratio.
6. Demerara Sugar
Demerara sugar is another type of raw cane sugar that has a lighter color and large crystals. Raw means that in the sugar-making process, it was only crystallized once (rather than twice for white sugar) so it resembles what you'd think of as natural sugar - pretty coarse and crunchy.
Substitute demerara sugar for coconut sugar at a 1 cup for 1 cup ratio.
7. Sucanat
Sucanat is actually a brand name for a sugar known as "sucre de canne naturel". According to this article about sucanat, it is whole cane sugar that's derived from sugar cane juice. It's less processed than plain white sugar and is a light brown color. Since it's so coarse, it is often recommended to grind it first (like if you have a coffee grinder or food processor) before using it in a recipe.
Use sucanat as a substitute for coconut sugar at a 1 cup for 1 cup ratio.
8. Palm Sugar
Palm sugar is often confused with coconut sugar, but the two sugars are made from different trees. Palm sugar is made by boiling and reducing palm tree flower sap, so it is processed in the same way as coconut sugar. It's mostly sold as a paste or in a compressed block, but now you can find it in granulated form, too.
Use palm sugar as a substitute for coconut sugar at a 1 cup for 1 cup ratio.
9. White Sugar
We all know the old classic: white sugar (also known as granulated sugar). Although it's not the most unique or exciting option to substitute coconut sugar with, it will certainly work! It doesn't have the more rich color or flavor that coconut sugar has, but it will do the job of sweetening.
White sugar can be used as an alternative to coconut sugar at a 1 cup for 1 cup ratio, but oftentimes it's a bit too sweet, so I would recommend trying ¾ cup of white sugar for every 1 cup of coconut sugar.
10. Date Sugar
Date sugar is made of whole dates that have been dehydrated and ground up into a granulated texture. It's probably the most nutrient-dense sugar on this list since it's just made of dates, which are full of fiber and other good nutrients. Dates have a rich caramel flavor that translates to the date sugar, too.
Date sugar can be used in place of coconut sugar at a 1 cup for 1 cup ratio, but baked goods will look a little different since the date sugar is just tiny pieces of dates and may not fully dissolve.
11. Maple Sugar
Maple sugar is basically granulated maple syrup. It's made by cooking down the sap of maple trees until it becomes dry granules. Naturally, maple sugar has the same flavor as maple syrup. So it's not similar to coconut sugar in that aspect, but it will still sweeten a recipe in the same way.
Maple sugar can be substituted for coconut sugar using ¾ cup of maple sugar for 1 cup of coconut sugar.
12. Monk Fruit Sweetener
Monk fruit sweetener is a natural sweetener that has become a very popular sugar alternative, praised for its health benefits. It is made by crushing the skin and seeds of the monk fruit into juice, then drying the juice into a powder. Monk fruit sweeteners (find out more about it here) don't have the same texture or flavor as coconut sugar, but they're a great option if you are looking for a keto and zero calorie sugar replacement as it will not raise blood sugar levels.
In general, monk fruit sweetener can be substituted for coconut sugar 1 cup for 1 cup, but I've found it to be a bit sweeter than coconut sugar, so I'd recommend ¾ cup of monk fruit for every cup of coconut sugar.
13. Stevia
Stevia is a well-known sugar alternative that comes from the stevia plant's leaves. It's a popular choice because it contains no carbs, calories, or artificial ingredients. Stevia is another great option if you don't care about finding something similar to coconut sugar as much as you want something low calorie.
Keep in mind that Stevia is much sweeter than regular sugar, so start out with ¾ cup of stevia for every 1 cup of coconut sugar and adjust from there.
14. Xylitol
Xylitol is yet another widely-used sugar substitute. It's a sugar alcohol that naturally occurs in many fruits and vegetables. Xylitol is often used as the sweetener sugar free candy. It isn't as similar to coconut sugar as some of the others on this list, but is another good low calorie sugar alternative. While not widely available in stores, xylitol is available here.
Like with stevia, try substituting xylitol at a ¾ cup for 1 cup ratio and check the sweetness level.
15. Allulose
Allulose is possibly a lesser-known sweetener that is a zero calorie sweetener. It's low in carbs and is a good sugar alternative, if you can find it. Allulose isn't the easiest ingredient to find if you're browsing in the store, but it can be ordered online here.
Substitute allulose for coconut sugar at a 1 cup for 1 cup ratio.
Liquid Substitutes for Coconut Sugar
Keep in mind, if used in baking, liquid substitutes will change the consistency of the batter of a recipe. For example, if replacing 1 cup of coconut sugar with agave nectar, the batter will become thinner and the result may not be the same as with the granulated sweetener. Adjustments to the flours or dry ingredients may be necessary.
16. Banana
Bananas may seem like a bit of an odd substitute for coconut sugar, but they're wonderful at adding natural sweetness! Whenever you're using banana to sweeten a recipe, make sure your bananas are ripe.
Try out ½ cup of mashed banana for every 1 cup of coconut sugar, and if you don't get the desired sweetness add a bit of brown sugar.
17. Agave Nectar
Agave nectar is a sweet syrup that comes from the agave plant. It has become another popular alternative to use in healthy recipes. Although it's a natural sweetener, it still has a high fructose content like regular sugar does. It has a mild flavor and is a liquid, which may not be suitable for every recipe.
When you do use it, substitute it for coconut sugar at a ½ cup for 1 cup ratio.
18. Maple Syrup
Maple syrup is a very common ingredient that most of us already have in our kitchens. It's made from maple tree sap and is an excellent sweetener. It's important to note that anytime we're talking about maple syrup in the context of baking and sweeteners, we're talking about 100% pure maple syrup (like the kind used in these almond flour blueberry muffins), not maple-flavored pancake syrup. The real stuff is natural and replaces other sugars well.
Substitute maple syrup for coconut sugar using ¾ cup of maple syrup for 1 cup of coconut sugar.
19. Raw Honey
Honey is one of those handy household ingredients. It's an excellent natural sweetener to use in this oat flour banana bread, just make sure you get raw honey for the more nutrient-dense option. Raw honey is straight from the hive, so it's a great choice for those looking for the most natural ingredients.
Since honey is a lot sweeter, substitute it at a ¾ cup for 1 cup ratio.
20. Date Syrup
Date syrup is exactly what it sounds like: liquified dates. If you don't have date sugar but want all the nutrients that dates provide, this date syrup may be a good choice. Plus, it can be made at home if you have whole dates on hand.
Date syrup is very rich and sweet, so substitute date syrup for coconut sugar at a ⅔ cup for 1 cup ratio.
21. Brown Rice Syrup
Lastly, brown rice syrup is another good liquid substitute for coconut sugar. It's extracted from brown rice and is gluten free and vegan. So it's an especially great option if you are sensitive to gluten. Brown rice syrup is mildly sweet and pretty thick, almost like the consistency of corn syrup. Brown rice syrup is another one that might be difficult to find in stores, online is a better option.
Try substituting brown rice syrup for coconut sugar at a ¾ cup for 1 cup ratio, and adjust as needed.
Coconut Sugar Substitute FAQs
Is coconut sugar healthier than cane sugar?
Since coconut sugar is less processed and contains less fructose and more nutrients, it is a healthier option than cane sugar. But, like any sugar, it should still be consumed in moderation - especially if you have to pay close attention to your blood sugar levels.
Which coconut sugar substitute is best?
Light brown sugar is the substitute that is most like coconut sugar. They both have a granulated texture, caramelized flavor, and brown color. It's an easy 1 to 1 swap for these two sugars!
What is the healthiest substitute for coconut sugar?
Date sugar is probably the most nutrient-dense substitute on this list since it's made of whole dates. It will give your baked good all the nutrients and goodness that dates contain!
How do you make a coconut sugar substitute?
Homemade coconut sugar substitute is easy to make at home, and all you need is white sugar and molasses! By mixing the two, you're essentially making brown sugar, which is an excellent replacement for coconut sugar.
Did you make and love this recipe? Give it your review and

rating below! And make sure to follow me on Instagram, Pinterest and Facebook too!
Recipe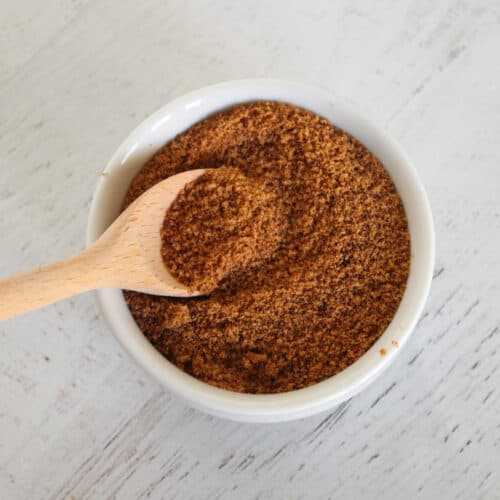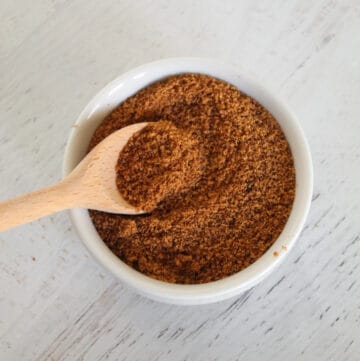 Homemade Coconut Sugar Substitute
No coconut sugar on hand? It's easy to substitute with this homemade coconut sugar recipe.
Print
Pin
Rate
Ingredients
200

grams

granulated sugar

about 1 cup

1

Tablespoon

molasses
Instructions
In the bowl of a food processor, add the sugar and the molasses.

Pulse until mixture comes together and is completely combined, about 10-15 seconds.
Notes
Store homemade coconut sugar in an air tight container, at room temperature, for up to 1 month.
Freezing is not recommended.
Nutrition
Calories:
52
kcal
|
Carbohydrates:
13
g
|
Fat:
0.04
g
|
Polyunsaturated Fat:
0.001
g
|
Monounsaturated Fat:
0.001
g
|
Sodium:
1
mg
|
Potassium:
19
mg
|
Sugar:
13
g
|
Calcium:
3
mg
|
Iron:
0.1
mg