Are you working on a recipe and trying to make do with what you have on hand? There are so many different grains out there, and it can be hard to know which ones can be used and when. If you're wondering can you substitute cornmeal for flour, you'll learn everything you need to know right here!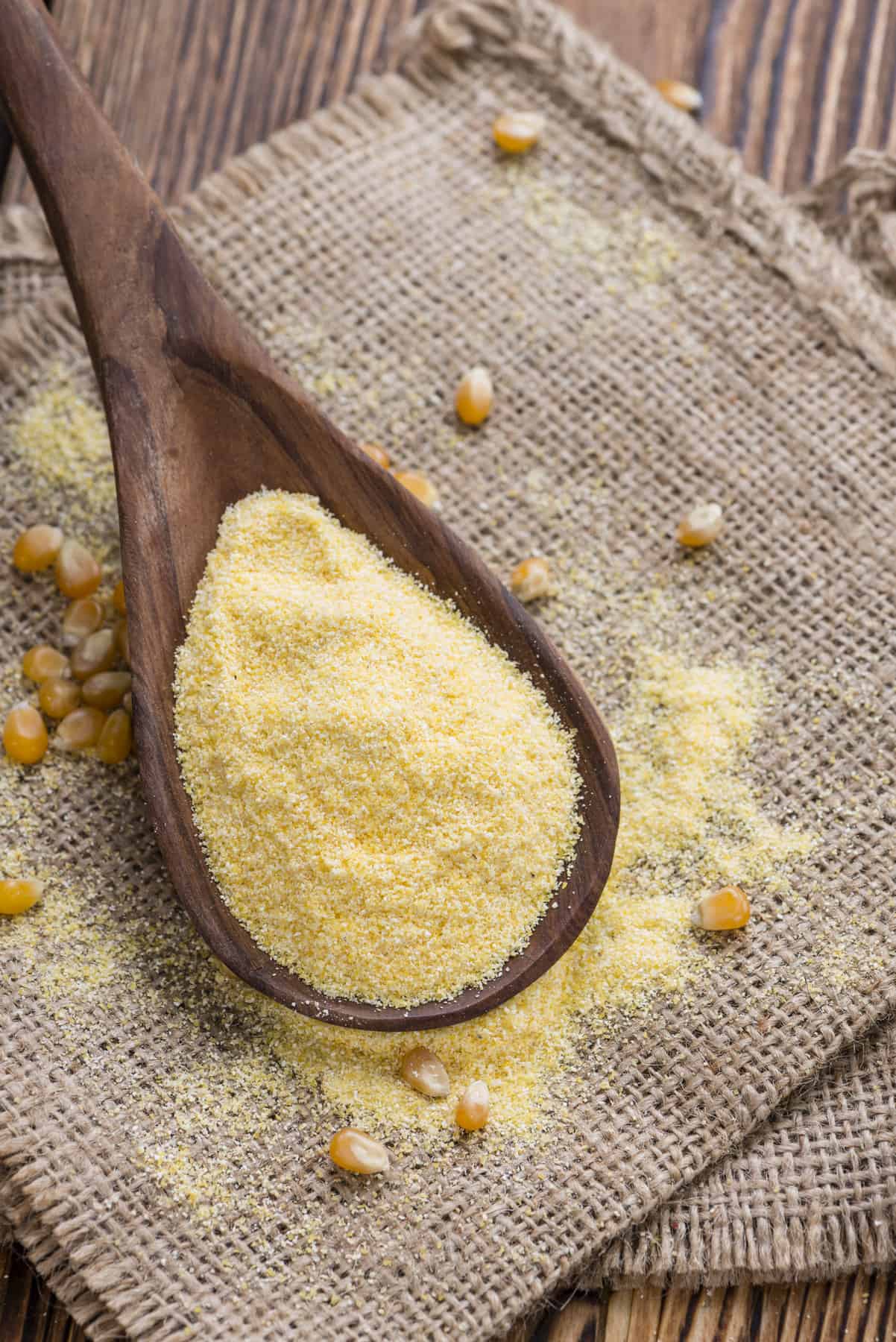 Jump to:
Cornmeal Substitutions for Flour: Key Takeaways
Can you substitute cornmeal for flour? Typically yes. It can be more nuanced than that, but you can often replace flour with cornmeal following a 1:1 replacement in light preparations like breading and sometimes baking. This makes cornmeal a great flour substitute, especially for people on a gluten-free diet.
Best Substitutes for Baking: Corn flour is the best for replacing all-purpose flour in baking recipes, but it's not a 1:1 replacement. You'll typically need about half as much corn flour and additional liquid. Instead, opt for almond flour or oat flour, as they are a closer match.
Best Substitutes for Breading: Cornmeal, corn starch, and corn flour are all great for breading. Avoid very coarse meals, like stone-ground cornmeal, as it will have larger pieces that won't soften in quick preparations.
Best Substitutes for Thickening: Try using half as much corn flour as flour to thicken a gravy. You can also make a slurry using corn starch and water.
Best Substitutes for Frying: Cornstarch is a great choice for frying as it will give you a lovely, crispy texture. If you don't have corn starch, try corn flour or finely ground cornmeal. 
What is Cornmeal?
Cornmeal is made by grinding dried dent corn into three different sizes: fine, medium, and coarse grain. It is traditionally used in Mesoamerican cultures and is a pillar ingredient in Mexican foods. You'll often find it in corn tortillas, tortilla chips, tamales, and other corn products.
Types of Cornmeal
Fine cornmeal: This type of cornmeal is made by grinding dried corn into a fine powder called corn flour. With a finer texture, it can often be used interchangeably with medium cornmeal in recipes.
Medium cornmeal: You'll find this texture the most often. It's often used for baking cornbread and other baked goods.
Coarse cornmeal: This corn meal has larger pieces of the endosperm. It typically requires soaking or cooking to soften, like when making polenta or grits.
What's the Difference Between Cornmeal and Corn Flour?
One of the most confusing parts of substituting with cornmeal is understanding the different types of corn products out there. There is yellow cornmeal, white cornmeal, coarse cornmeal, masa harina, corn flour, cornstarch, and more, and they all come from dried corn!
Cornmeal refers to dried corn ground into a meal, which usually has larger pieces than regular flour.
Corn flour is a very fine flour made from grinding dried corn. It feels more like all purpose flour, but has a slightly sweet taste and notable corn flavor.
Learn more about the best corn flour substitutes here.
Can You Use Masa Harina to Replace Flour?
Masa harina is a type of corn flour made with dried corn that is nixtamalized or processed with lime to make it softer and easier to digest before grinding. It is often used for tortillas or tamales. Masa harina has more of a savory flavor than regular cornmeal and is excellent for thickening soups or chilis. It can also replace cornmeal or all-purpose flour in savory bakes.
Is It Better to Use Cornmeal or Flour?
The answer depends on your particular recipe and cooking method. For example, most cornbread recipes call for a mix of cornmeal and flour because the flour helps balance the coarser texture and sweet flavor of cornmeal. However, corn is a great substitute for people with celiac disease as it is naturally gluten-free and fiber-rich. Plus, it's a whole grain with additional health benefits.
The best way to use cornmeal as a substitute for flour is to use it in a small part of a recipe, like the breading chicken, etc. It isn't as flexible for baking recipes that require flour as a main ingredient. To replace flour in baking, mix half flour and half cornmeal, mix cornmeal with another flour substitute like oat flour, or use your favorite gluten-free flour blend.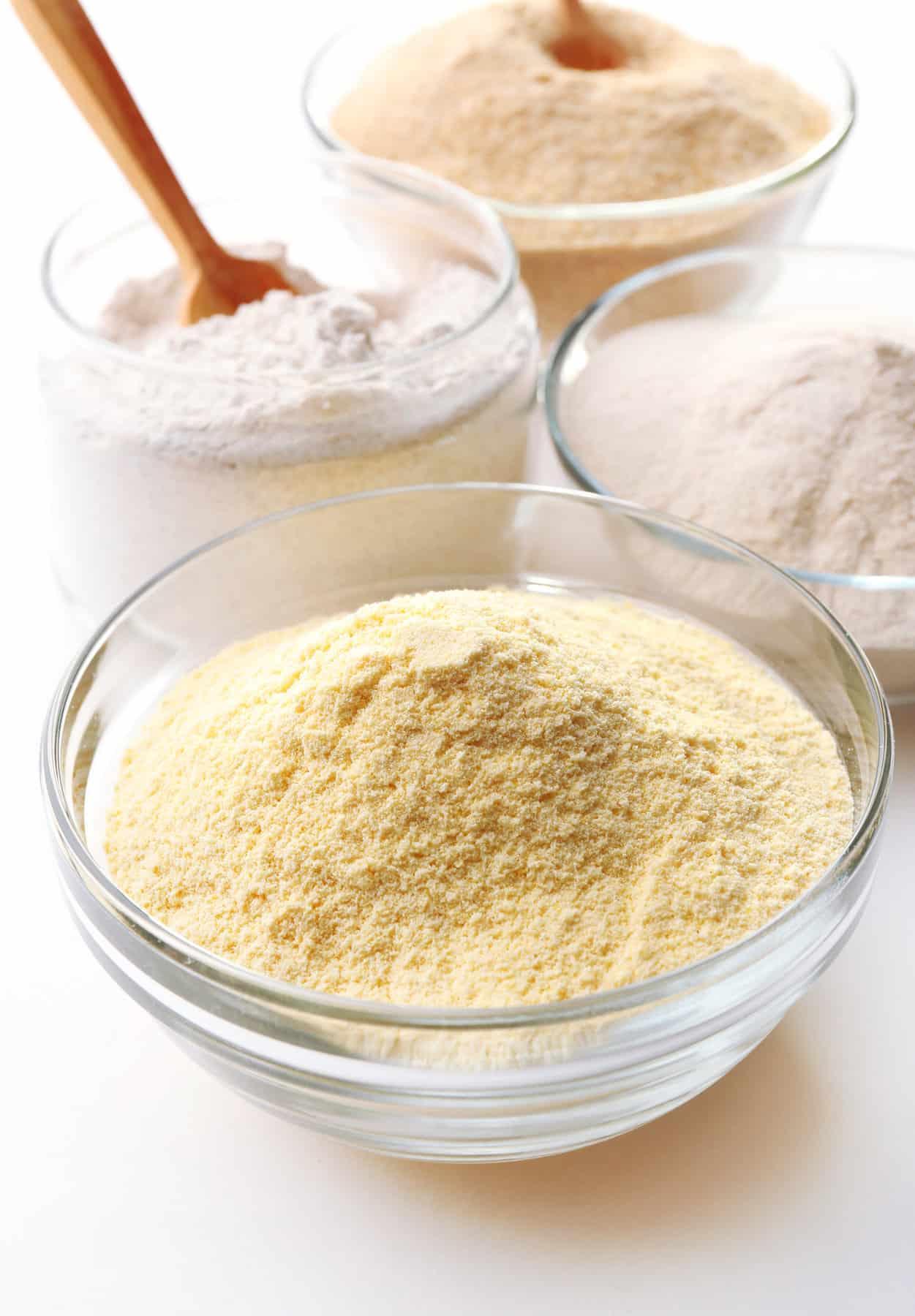 More Flour Substitutes
There are many substitutes for all-purpose flour these days, and each one is suitable for different purposes.
1. Almond Flour
Made by grinding almonds into meal, almond flour is an excellent, coarse flour that can replace wheat flour in almost any recipe. It is a popular low-carb, gluten-free flour alternative that is ideal for breading at a 1:1 ratio. When baking with almond flour, it won't absorb moisture the same way, and you may need to add more almond flour or an additional egg to maintain the texture.
2. Chickpea flour
Chickpea flour is a fantastic food that is naturally gluten-free, high in fiber and protein, and low in carbohydrates. It can replace flour in a variety of recipes, but you'll need to use 75% as much chickpea flour as wheat flour. It is typically best for quick-cooking recipes like breading, making pancakes, or making gravy.
3. Oat Flour
Oat flour is another popular gluten-free substitute made from ground oats. It has a neutral taste and fluffy texture, similar to regular flour or fine cornmeal. You can make your own by pulsing rolled oats in the food processor. You will usually need slightly more oat flour than wheat flour; replace each cup of flour with 1 ¼ - 1 ⅓ cups of oat flour. This is perhaps the best substitute for flour in a variety of recipes.
4. Coconut Flour
Using coconut flour to replace flour is trickier as you usually need about ⅓ as much coconut flour as wheat flour. Because it is so dense, you often need to add an additional leavening agent, like an egg, to counteract it.
5. White Rice Flour
This soft, tender flour is a main-stay in gluten-free baking for a reason. White rice flour is a beautiful neutral flour and an ideal substitute for regular wheat flour. You can use a 1 to 1 ratio and add an extra tablespoon of water per cup. This may not always work for larger bakes, like cakes. It's best to use tested gluten-free recipes in that situation.
6. Sorghum Flour
This African grain looks like regular flour and has a sweet, nutty flavor that tastes great in your baked goods. It can be used in a wide variety of gluten-free recipes, including breads, muffins, and more. It's not an exact replacement for flour, so you'll want to choose a recipe adapted for this grain. Learn more about sorghum flour and try my favorite sorghum flour recipes!
7. Gluten Free Flour Blend
There's a reason why many gluten-free bakers use different types of flour instead of just one flour alternative. Each one has its own strengths and weaknesses, and they all react differently in different recipes.
For best results, choose a blend of flours designed to be used a 1:1 replacement for flour. This will be the perfect substitute for all-purpose flour and can be used as a cup-for-cup replacement in your cakes, cookies, quick breads, and more.
Make your own gluten-free flour blend following this simple recipe! 
Flour Substitute FAQs
Can I substitute cornmeal for flour in cookies?
Although cornmeal can often replace flour at a 1:1 ratio, this is less reliable in baking. Cornmeal will add a denser texture and notable corn flavor, which often tastes great in baked goods but can give your cookies a chewier, thicker texture. If you run out of flour, try replacing half the flour with cornmeal or use a gluten-free flour blend.

Each recipe will vary depending on the ingredients and the preparation method, so any substitutes are best attempted with a small batch.
Can corn flour replace all-purpose flour?
Yes, corn flour is a great gluten-free replacement for all-purpose flour! If you are breading chicken or trying to thicken a sauce, you can use corn flour, but you would need to use approximately half as much.
Is cornmeal and all-purpose flour the same thing?
Not at all. Cornmeal is made by grinding dried whole corn kernels, and all-purpose flour is made by grinding wheat. They are from totally different plants and have completely different textures.
Recipes Using Cornmeal