If you're in the middle of a recipe and you're all out of baking soda, try a handy baking soda substitute! There are several products that can help you in a pinch, and you may even already have them on hand.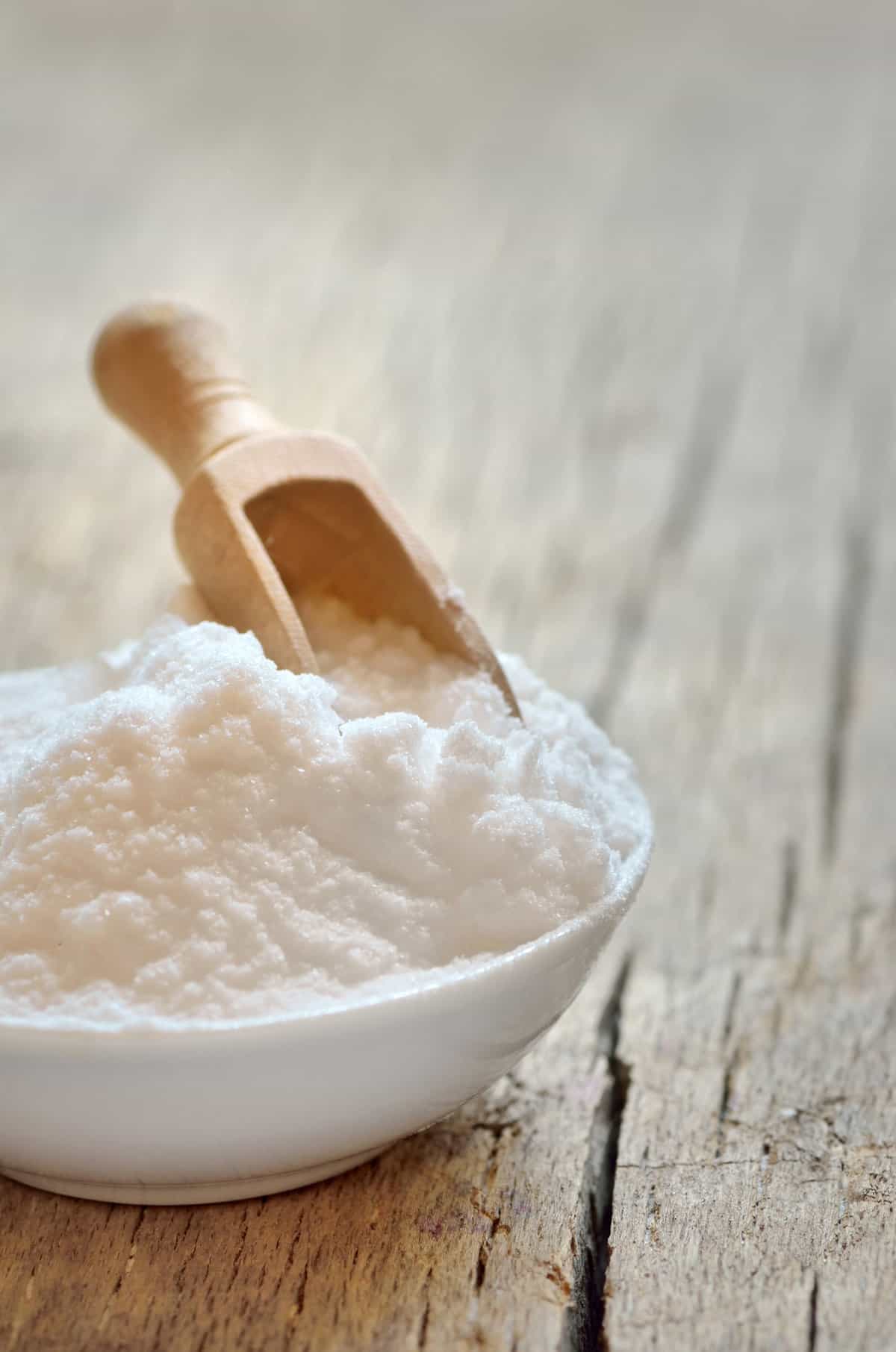 Jump to:
Baking Soda Substitute: Key Takeaways
Baking soda is a base ingredient that reacts with acids in recipes to produce carbon dioxide air bubbles in your batter. This is how you make cakes, your favorite chocolate chip cookies, waffles, and pumpkin muffins rise!
If you are out of baking soda, baking powder is an almost perfect baking soda replacement. It contains baking soda, cream of tartar, and salt and will create that same carbon dioxide reaction in any recipe. You'll need three times as much baking powder as baking soda.
What is Baking Soda?
The scientific name for baking soda is sodium bicarbonate (or bicarbonate of soda). It is a type of salt that reacts to acidic ingredients, producing lots of carbon dioxide gas. If you've ever seen a middle school science fair, you've seen this reaction between baking soda and vinegar. 
In your bakes and other recipes, baking soda will react to any acids, like lemon juice or buttermilk, and produce this chemical reaction, giving your pancakes, quick breads, and more a lovely, fluffy texture.
What Does Baking Soda Do in A Recipe?
Baking soda is used as a leavening agent. This means it is used to help your recipes rise. It may even begin rising even before you begin the baking process!
What Is the Difference Between Baking Soda and Baking Powder?
The main difference is that baking soda is an ingredient in baking powder, which is made from baking soda, cream of tartar, and salt. This is why baking powder is one of the best substitutes for baking soda: it contains approximately ⅓ baking soda in addition to cream of tartar and salt.
Baking powder is designed to give you the reaction of baking soda with an acid all on its own. If your recipe does not have an acid, baking powder will create this chemical reaction for you. The cream of tartar is a dry acid, and the baking soda is a base, so when combined with liquid, they'll give you the leavening power you need.
Why Do Some Recipes Call for Baking Powder and Baking Soda?
On its own, baking soda requires some form of acid in the recipe. This could be sour cream or buttermilk or even chocolate or brown sugar! However, it will only react with that one type of ingredient. This may not be enough lift to give you the rise you're looking for in the final product. 
Plus, if you add too much baking soda without enough acids, your fluffy cakes will have a bitter taste. That's why many recipes call for additional baking powder. Since baking powder is an all-in-one leavening agent, it will create its own chemical reaction even if your recipe contains no acids at all. When paired together, baking powder and baking soda will give you the fluffiest cakes and muffins possible. It's a very important ingredient!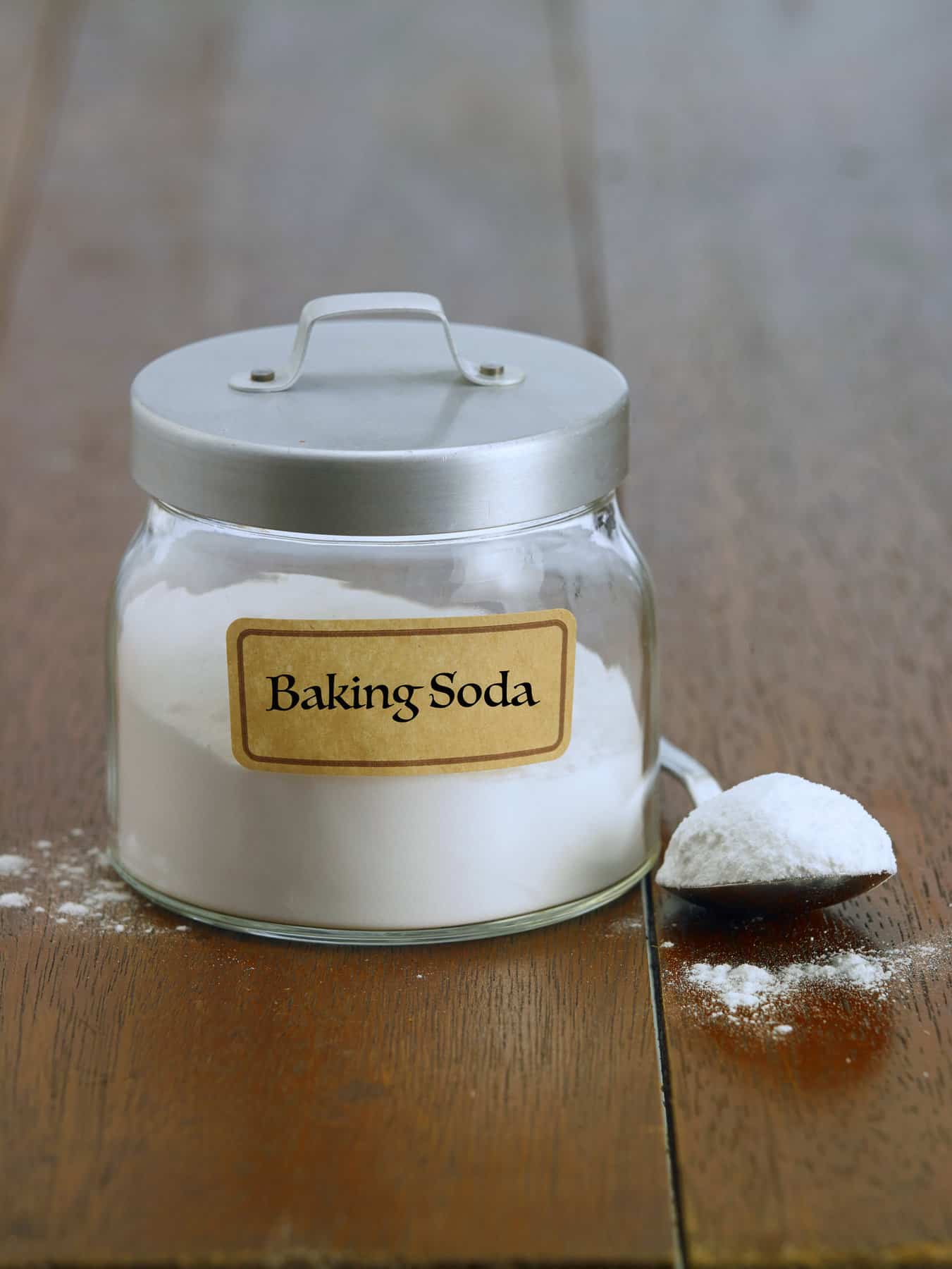 6 Best Baking Soda Substitutes
The good news is that even if you're out of this key ingredient, you don't have to stop baking! There are some great baking soda alternatives that can help you in a pinch.
1. Baking Powder
Since baking powder already contains baking soda and you likely already have some on hand, it is the most convenient and effective substitute.
To use baking powder instead of soda, you'll need 3 times as much powder. For example, if you need ½ teaspoon of baking soda, you will need 1 ½ teaspoon of baking powder. You can use this swap in any recipe, including cakes, muffins, and quick bread recipes.
Also check to make sure the brand is gluten-free as not all of them are!
2. Eggs
Another way to get that light, fluffy texture is by using a classic leavener: whipped egg whites. This is how many sponge cakes are raised. It will help, but there's a little math to use this baking soda substitute.
First, you'll need to use 2-3 egg whites per 1 teaspoon of soda in your baking recipe. You will also need to remove the same volume as the eggs from the wet ingredients. So, measure the egg whites and remove that extra liquid from the milk or other liquid in the original recipe. Then, whip the egg whites to stiff peaks and carefully fold the whipped whites into your batter or dough right at the end.
This method is best for cakes and pancakes or for recipes that call for both baking soda and baking powder.
3. Baker's Ammonia
Ammonium bicarbonate, or baker's ammonia, is a great baking soda substitute, but with some limits. If you've ever smelled ammonia before, it has a really foul, cat urine-like odor. When you dilute baker's ammonia in recipes, that smell is released. It bakes off in small, dry bakes like cookie recipes, but it's not recommended for larger bakes like cakes.
It is a 1:1 substitute though, so you'll need precisely the same amount of baking soda as your recipe calls for.
4. Potassium Bicarbonate
Although potassium bicarbonate is not exactly a common ingredient, you may have it on hand to use as an antacid or potassium supplement. This salt is very similar to baking soda and can be used interchangeably with it in baked goods. However, you will need to add a bit of salt to support the leavening process. A good rule of thumb is to add ¼ to ⅓ teaspoon of salt for every teaspoon of potassium bicarbonate you use.
5. Club Soda
If you don't have eggs or any chemical leaveners on hand, try club soda. It is already full of carbon dioxide bubbles, which can lend an airy texture to your recipe. This only works for recipes that have liquid ingredients because you will need to replace ¼ cup of that liquid with the club soda. It will not produce a reaction in the oven, unlike baking soda or powder, so it's important to get your dish in the oven before the bubbles pop!
6. Gluten Free Self-Rising Flour
If you are a gluten-free baker and have self-rising flour on hand, use that! Self-rising flour already contains the baking soda you need to raise your recipe, so it's a perfect substitute. You typically just replace the number of cups of flour in your recipe with the same amount of self-rising flour. It's that simple!
FAQ
What happens if I leave out baking soda?
The answer depends on the recipe. If you leave out the baking soda from pancakes, you'll have flat, slightly dense cakes similar to crepes. In larger recipes like quick breads or muffins, you will have a dense product with no aeration that is unpleasant to eat.
Can cornstarch replace baking soda?
Although you may sometimes see people replace baking soda with cornstarch for cleaning recipes, it will not produce any sort of chemical reaction in your baked goods and will not give you the rise you are looking for.
Can I bake a cake without baking powder or baking soda?
If you are all out of these two classic leavening agents, you'll need to go old school and use whipped egg whites. You typically need to whip 2-3 egg whites to stiff peaks, then fold them into your batter right at the end before baking. Be sure to weigh the egg whites first to remove the same amount of liquid to ensure the proper texture. You can also use ingredients like buttermilk or sour milk, which can help a batter rise slightly on its own.
Recipes Without Baking Soda