Watch out because these gluten free carrot muffins may not last long! These dairy free delights are packed with shredded carrots and unsweetened applesauce and make an amazing snack or breakfast.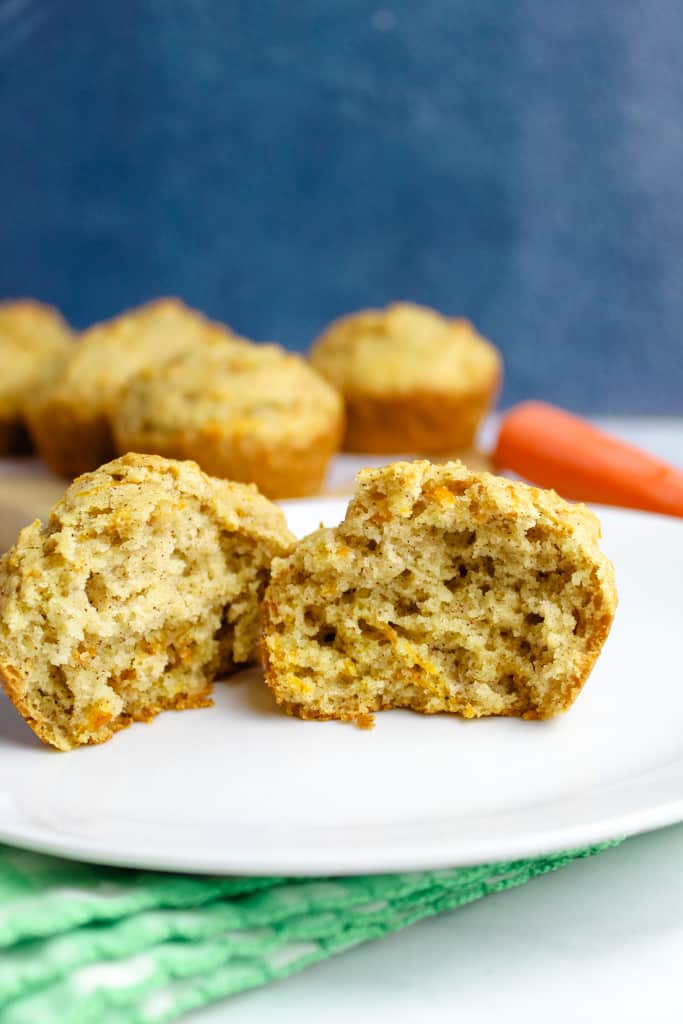 I love keeping muffins on hand. Ones like these banana ones and these lemon blueberry ones are a great addition to a snack-stash of muffins. Add in these carrot ones and it's like hitting the jackpot. They are moist, tender, not at all crumbly and have enough heartiness to keep you full without being heavy. And if that wasn't enough - the ingredients list is super simple – nothing out of the ordinary!
Are these carrot muffins with applesauce easy to make?
They are SUPER easy. But it helps to have a few tools on hand to make the prep process easier…
A 12 cup muffin tin – muffin liners are not necessary. Just spray the pan with cooking spray and fill each cup.
A large balloon-style whisk – something large enough to really 'sift' through the ingredients and mix them well.
Grater or food processor with grater blade – if you have a food processor with the grater blade attachment, use it! It makes shredding the carrots so much easier. Otherwise use a grater to shred 1 carrot.
Kitchen scale – a kitchen scale is a must for gluten free baking! I measure all my flours (and sometimes sugars too) in grams for accuracy. So that when you go to make my recipe, it's as reliable as when I make it.
Are these carrot muffins healthy?
With healthy ingredients like carrots and unsweetened applesauce, they are definitely healthier than say these gluten free blondies. But they still have sugar and a bit of oil… overall, they are great for vitamin A!
Can I make these vegan?
These muffins can easily be made to be vegan carrot muffins. They're dairy free as written, so simply substitute the egg in the recipe with a flax egg or chia egg and they will taste exactly the same. Fair warning – they may not rise as high as they would with the egg, but the taste won't change.
What's the best way to store these carrot muffins?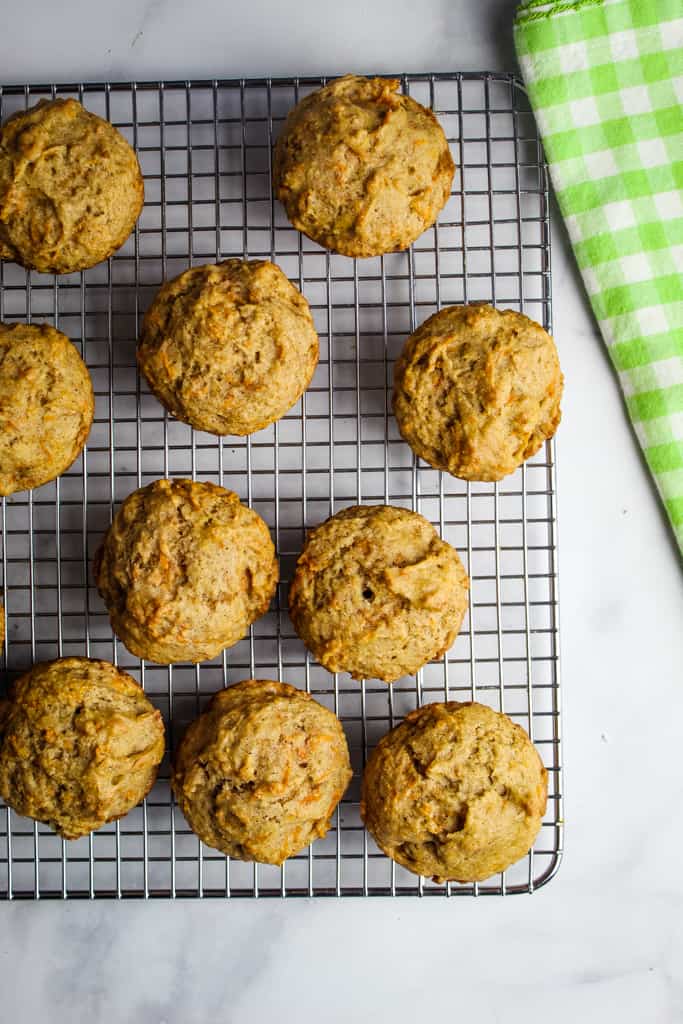 As someone who stores batches upon batches of muffins on a regular basis, my two recommended methods for storing them are:
1. At room temperature – use this method if you'll be enjoying them within two days. Just place them all in a plastic bag (once they've cooled completely) and tightly seal it. Remove them as you need.
2. Freezing – this is my preferred method because I hate to see mold on muffins when I've forgotten and left them sitting for too long. Take your plastic bag of muffins and place it in the freezer.
Tip to enjoy them once frozen: remove a muffin from the freezer bag, place on a plate and lightly cover with a damp paper towel. Microwave for 30 seconds. The muffin should be completely defrosted and ready to enjoy! As an added extra that really takes the taste of a once-frozen muffin over the top, after microwaving, take the muffin and place it in a toaster oven and turn it to 'toast'. Leave it in for about 3 minutes, until it gets a lovely golden brown color. I promise you - definitely worth the extra step!
How to make this gluten free carrot muffins recipe
Pro tip #1 – Room temperature ingredients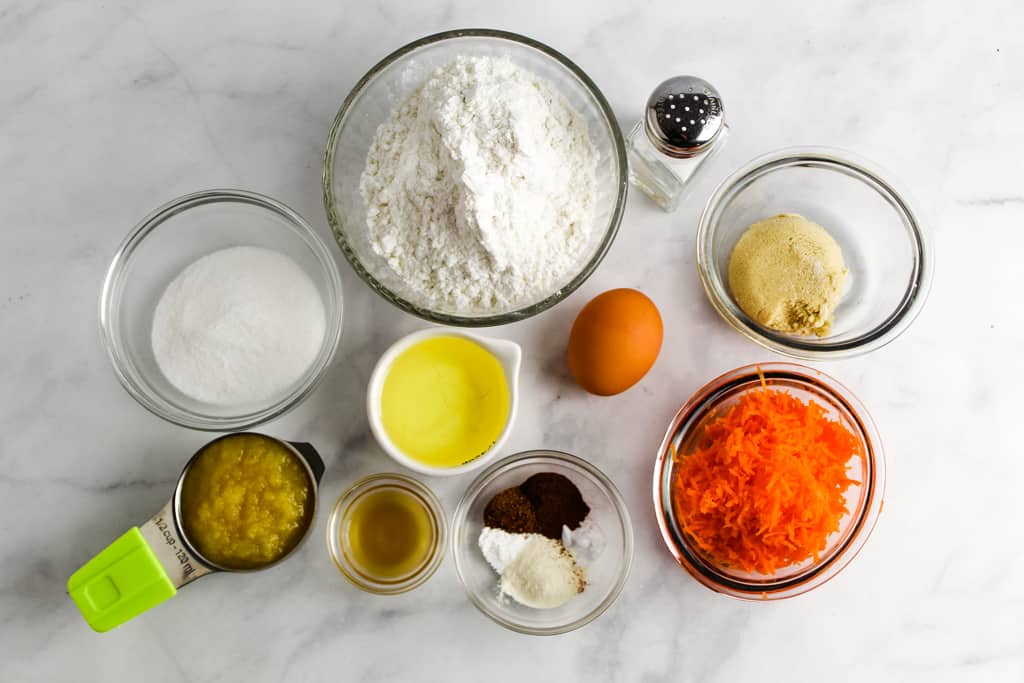 If you store your flour in the refrigerator, remove it and the egg and place it on the counter to warm up. It might take around 30 minutes so in the meantime, prep the carrot and portion out the other ingredients.
Pro tip #2 – Weigh the flours
Weighing may seem like an extra step here, but trust me, it's an essential part of measuring the dry ingredients. Watch the grams weight carefully and be precise with the amount.
Pro tip #3 – Mix the dry and wet ingredients separately
Mix the dry ingredients in a large bowl and the applesauce, oil, egg and cider vinegar in a small bowl. Then add the applesauce mixture to the flours and stir.
Pro tip #4 – Fold in the carrots last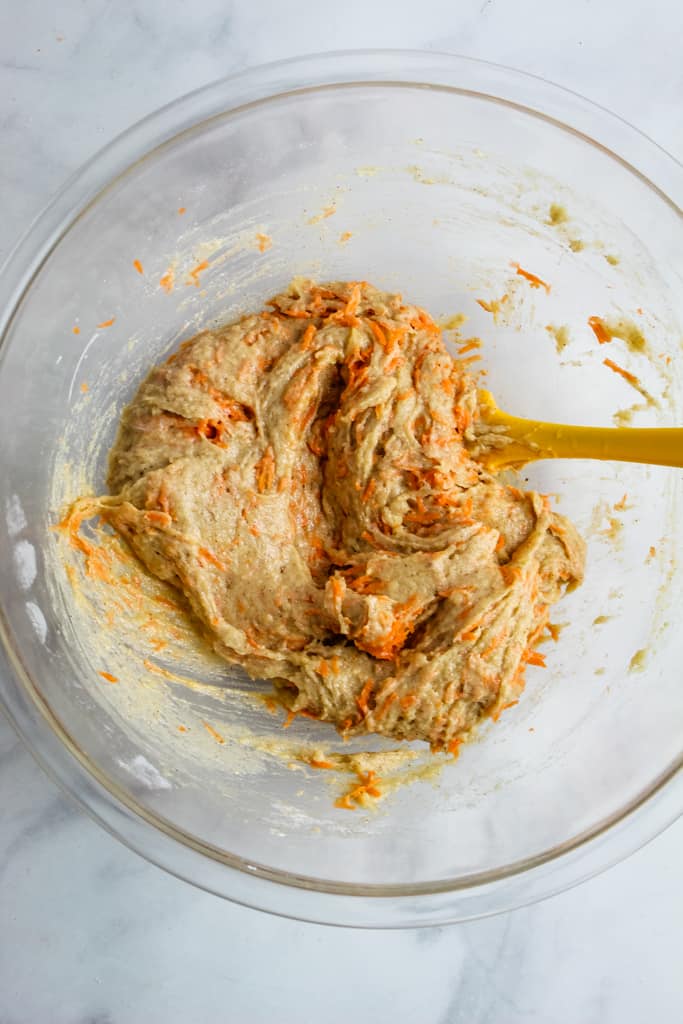 Use a rubber spatula and fold the grated carrots into the batter. The batter will be thick!
Pro tip #5 – Let it rest
Set the bowl of batter aside to let it rest for 20 minutes. The texture won't visibly change, but it will do wonders for the texture of the baked muffin.
Pro tip #6 – Bake and cool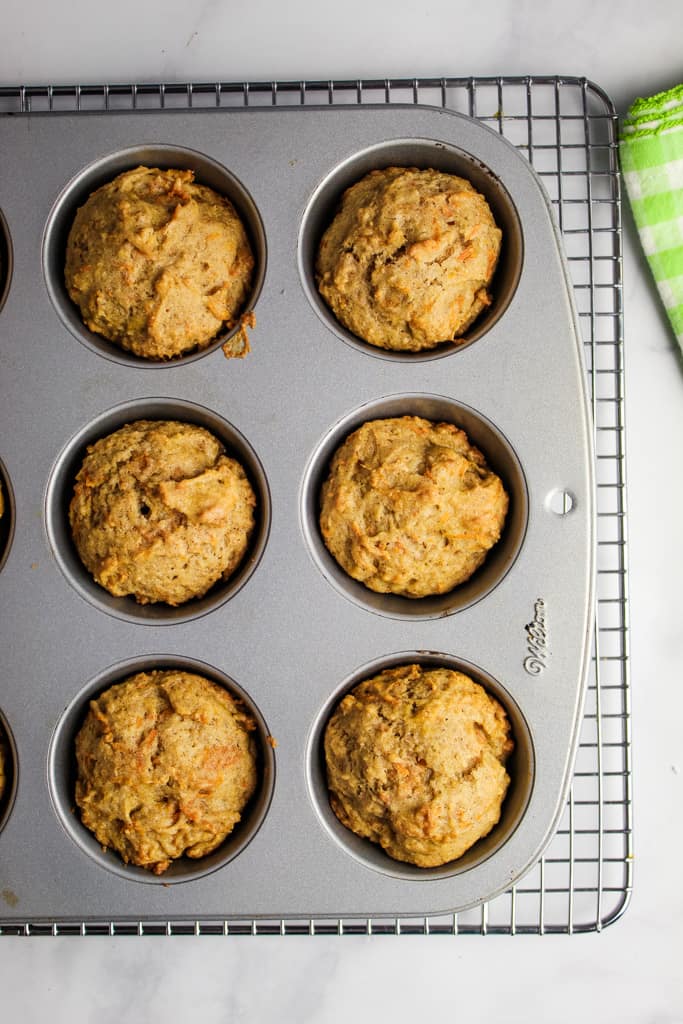 These muffins will bake for 17 – 20 minutes at 350 F. Then they'll need to cool on a wire rack before you can store them – let them cool completely before placing them in a plastic storage bag! Or you can just enjoy them warm from the oven.
Warm gluten free carrot muffins… they're hearty enough to keep you going, with the qualities of tender carrot cake.
Recipe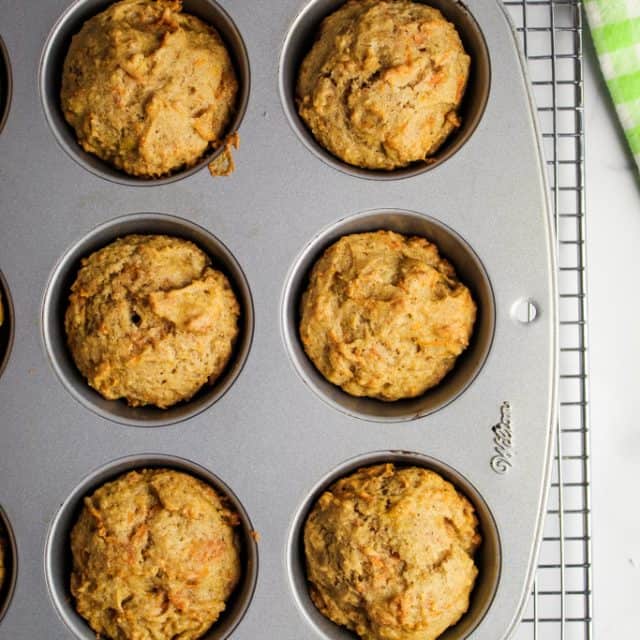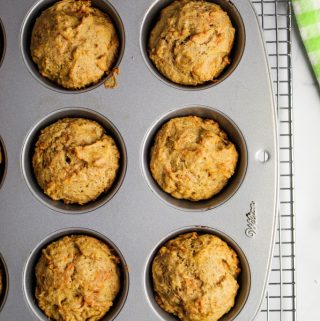 Gluten Free Carrot Muffins (Dairy Free)
Enjoy delicious gluten free carrot muffins - they're tender, easy to make and they taste amazing!
Print
Pin
Rate
Ingredients
260

grams

gluten-free flour blend

about 2 cups

65

grams

brown sugar

about ⅓ cup

65

grams

granulated sugar

less than ⅓ cup

½

teaspoon

baking powder

¼

teaspoon

salt

¼

teaspoon

baking soda

½

teaspoon

xanthan gum

1

teaspoon

ground cinnamon

½

teaspoon

ground nutmeg

½

cup

applesauce

smooth and unsweetened

¼

cup

vegetable oil

1

egg

1

tablespoons

apple cider vinegar

1

cup

shredded carrot

about 1 large
Instructions
In a large bowl, stir together the flour, sugars, baking powder, salt, baking soda, xanthan gum, cinnamon and nutmeg.

In a small bowl, mix together the applesauce, vegetable oil, egg and vinegar.

Add applesauce mixture to the dry ingredients and stir together until batter is fully mixed.

Fold in the carrot.

Let the batter rest in the bowl, for 20 minutes. Prep pan by spraying muffin tin with cooking spray. Preheat oven to 350 F.

Fill muffin cups until they are ⅔ full. Bake for 17-20 minutes, or until a toothpick inserted into the center of a muffin comes out clean.

Let the muffins cool in the muffin pan for a few minutes, then take them out and put them on a cooling rack.
Notes
Weigh the ingredients for the best results.
Make sure ingredients are at room temperature before mixing.
Let the batter rest the full 20 minutes before baking.
Muffins can be enjoyed warm or at room temperature.
Nutrition
Calories:
160
kcal
|
Carbohydrates:
27
g
|
Protein:
3
g
|
Fat:
6
g
|
Saturated Fat:
4
g
|
Cholesterol:
14
mg
|
Sodium:
89
mg
|
Potassium:
71
mg
|
Fiber:
3
g
|
Sugar:
13
g
|
Vitamin A:
1802
IU
|
Vitamin C:
1
mg
|
Calcium:
32
mg
|
Iron:
1
mg
Enjoy these other tasty muffins and breakfast delights: