One of the most commonly used baking ingredients is vanilla extract. Most sweet recipes call for at least a little touch of vanilla to give it the right balance of flavor. Today we'll dive into the big questions: what is vanilla extract, is it safe for gluten intolerance and those on a gluten-free diet, and what are 10 gluten free vanilla extract brands?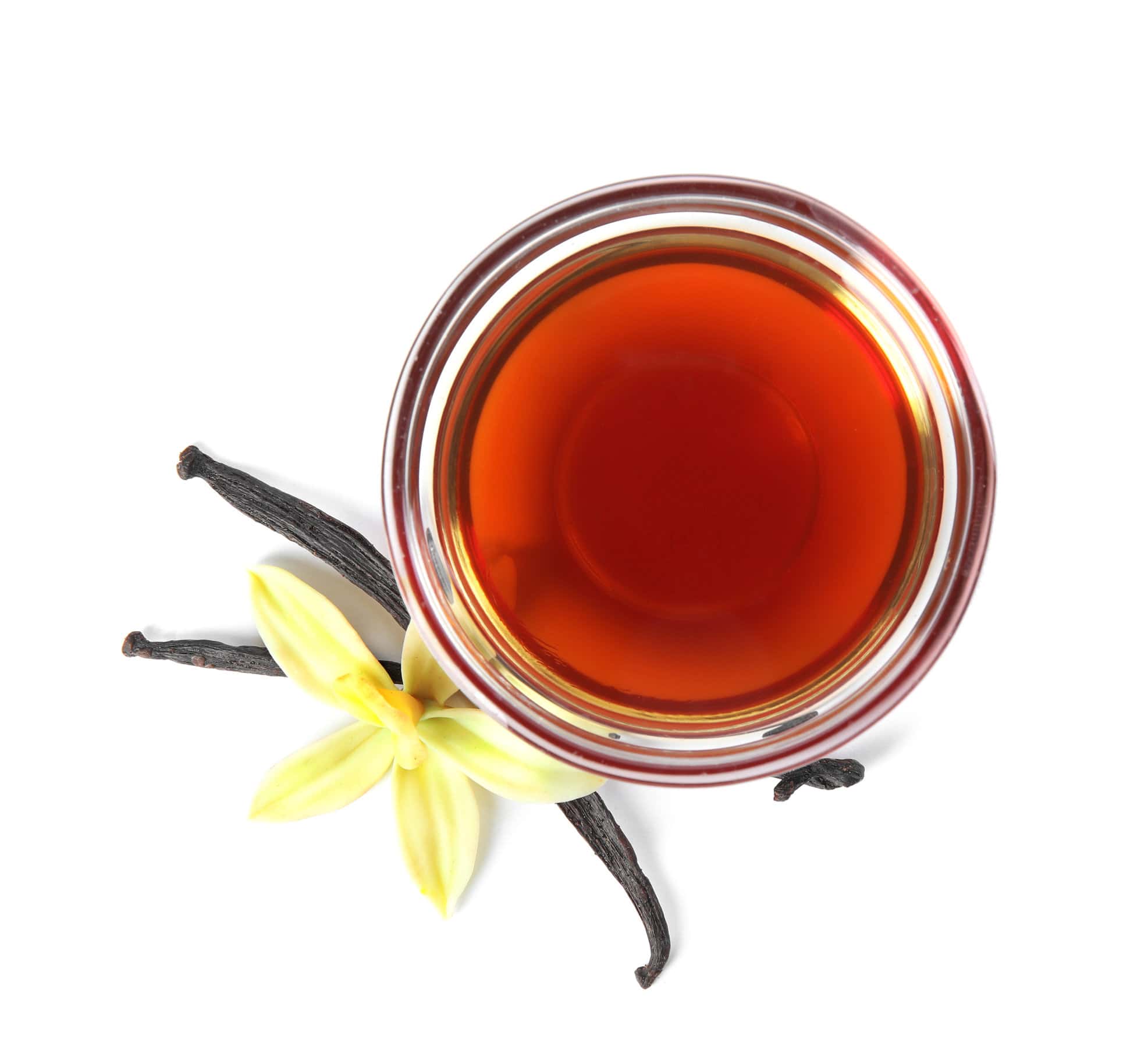 Find more expert advice on gluten-free ingredients in these posts: Gluten Free Oatmeal Substitutes, Gluten Free Flour Substitutes Chart. and Gluten Free Thickeners.
Jump to:
Vanilla Extract: Key Take-Aways
Is vanilla extract gluten free? The truth is, not all brands of real vanilla extract are gluten-free. Although the gluten content may not come from the ingredients list, the cross contamination may mean anyone with gluten sensitivity may react to certain brands. These brands are certified gluten free:
Nielsen Massey
Simply Organic
Singing Dog
McCormick
Rodelle
Watkins
365
Great Value
Stonemill
Simply Truth Organic
What is Vanilla Extract?
Vanilla extract is made by marinating high-quality vanilla beans in a mixture of ethyl alcohol and water. With this distilling process, over time, the liquid soaks in all the natural flavor from the vanilla beans and then vanilla extract is born. Pure or natural vanilla extract must contain only these ingredients and be at least 35% of alcohol content to be considered "pure".
There is also something called imitation vanilla extract or imitation vanilla flavoring which is far from organic. It contains artificial ingredients to create the vanilla flavor, like vanillin (the molecule responsible for vanilla's distinct flavor) plus additional ingredients like added sugars. Artificial vanilla extract and vanilla extract are two different products, but they behave similarly in baked goods.
Is Vanilla Extract Gluten-Free?
The good news is that most high-quality vanilla extract is naturally gluten free, since it only contains vanilla beans and ethyl alcohol. The reason that not all types of vanilla extract are gluten free is due to the risk of gluten contamination in the manufacturing and extraction process. So unless it's labeled as pure extract, certified gluten-free, then there could be gluten-containing ingredients in the extract. Always check the ingredient label for to be sure.
Is Vanilla Extract Safe for Celiacs?
Those with celiac disease should be cautious and buy certified gluten-free brands of vanilla extract. There's always a chance of cross-contamination, with traces of gluten in the product and celiacs shouldn't take that chance. Fortunately, there are plenty of certified gluten-free vanilla extract brands! The 10 brands listed below can be trusted because the manufacturing process was in a facility completely free of gluten.
Common Uses of Real Vanilla Extract in Recipes
Because it has such a robust favor, a good rule of thumb for baking with vanilla or any extract (like lemon, mint or almond extract) is that a little goes a long way. Most recipes call for a teaspoon or two of vanilla extract, but this depends on the type of baked good and how many servings the recipe is making.
Vanilla extract brings a rich caramel color and is great in all kinds of recipes, from this flourless vanilla cake to this birthday cake, and even these almond flour brownies.
10 Gluten-Free Vanilla Extract Brands
1. Nielsen Massey
This brand of vanilla extract is certified gluten free by the GFCO (Gluten Free Certified Organization). Nielsen Massey sources its vanilla from Mexico, Tahiti, and Madagascar. These countries are considered the world's main vanilla-growing locations. You can find this vanilla in many grocery stores and online.
2. Simply Organic
Simply Organic's vanilla is made only from premium Madagascar vanilla beans and organic alcohol. Its claim to fame is the fact that it's pure, with no additives. Plus, it's gluten free and Kosher. This vanilla extract is available from several online retailers, including Amazon and the Simply Organic website.
3. Singing Dog
Singing Dog is an online retailer that offers a variety of vanilla products, including pure vanilla extract. This vanilla is gluten free, sugar free and corn free. The company proudly claims their vanilla beans are grown by farmers who share in their profits. The vanilla is sourced from Indonesia, Papua New Guinea, and Uganda. Singing Dog vanilla extract can be purchased on their website and from several other online retailers.
4. McCormick
McCormick is a popular brand of spices and extracts, and chances are you probably have at least one of their products in your cabinet. Their vanilla extract is made with Madagascar vanilla beans. Possibly the most notable attribute of this vanilla is that it's the most widely available one on the list. You can find it in store or online pretty much anywhere.
5. Rodelle
Rodelle is a gourmet ingredient company that offers products like vanilla, cocoa, and seasonings. Pure vanilla extract is made from high quality Bourbon vanilla beans. The company's website boasts that its vanilla beans are pure, natural, and hand-selected. This vanilla is produced in a facility free of peanuts and tree nuts. Plus it's gluten free and Kosher. This vanilla is available on the Rodelle website and other websites, like Amazon.
6. Watkins
Watkins makes its pure vanilla extract with Madagascar Bourbon vanilla beans. Their ingredients are all naturally derived, non-GMO, gluten free, and Kosher. You can find this vanilla extract online and in some stores, including Walmart.
7. 365
365 is Whole Foods' store brand, which is known for having the highest quality, pure ingredients. It offers an organic vanilla extract made with organic alcohol and high quality vanilla beans. This vanilla extract is Kosher, organic, and non-GMO, as well as gluten free. It's sold online and in store at Whole Foods.
8. Great Value
Great Value is the well-known store brand of Walmart, and its vanilla extract is consistent with the Great Value brand. It is made with only vanilla beans and alcohol, so it's gluten free. There isn't anything that really sets it apart from the crowd, other than its price. This vanilla is probably the most budget-friendly one on this list. You can find it online and in store at Walmart.
9. Stonemill
Stonemill is Aldi's store brand, and it also produces a vanilla extract. There isn't much information about this vanilla to be found, but since it's sold by Aldi, you can assume it will be another very affordable option. It's available in store at Aldi.
10. Simple Truth Organic
Simple Truth Organic is Kroger's store brand. It's vanilla extract is free of artificial flavors and is certified organic and non-GMO. As you can guess by the name, this brand is dedicated to offering nigh quality, organic products, and this vanilla is no exception. You can find this one online and in store at Kroger.
Gluten Free Vanilla Extract Brands FAQs
What is vanilla extract?
Vanilla extract is a popular baking ingredient made by submerging vanilla beans in ethyl alcohol and water. This dark brown liquid is used in small amounts to flavor everything from cakes to cookies to puddings.
Is imitation vanilla the same as pure vanilla extract?
Pure vanilla extract is made with vanilla beans, water, and ethyl alcohol and contains a minimum of 35% alcohol. Imitation vanilla extract is just that: an imitation. It's made from several other ingredients that artificially imitate the vanilla flavor.
Which brands of vanilla extract are gluten free?
There are many brands out there that produce certified gluten free vanilla extract. A few are: Nielsen Massey, Simply Organic, Singing Dog, McCormick, Rodelle, Watkins, 365, Great Value, Stonemill, and Simple Truth.
What is the difference between vanilla and Mexican vanilla?
The thing that differentiates regular vanilla extract with Mexican vanilla is where the vanilla beans are from. Mexican vanilla is made only from Mexican vanilla beans grown and hand-selected in Mexico. The vanilla plant originates from Mexico, so that's why Mexican vanilla is so popular. The vanilla beans from this region have a wonderful and distinct flavor that makes an excellent vanilla extract.
Which gluten free vanilla extract is cheapest?
Your best bet for most affordable vanilla extract is Great Value (Walmart brand) and Stonemill (Aldi brand). These are not the most unique or special on the list, but they cost the least and will still do the job!
Recipes Using Vanilla Extract