Which is best for your recipe: unsweetened vs bittersweet chocolate? Although they are similar, you need to know some key differences that can make or break your bake!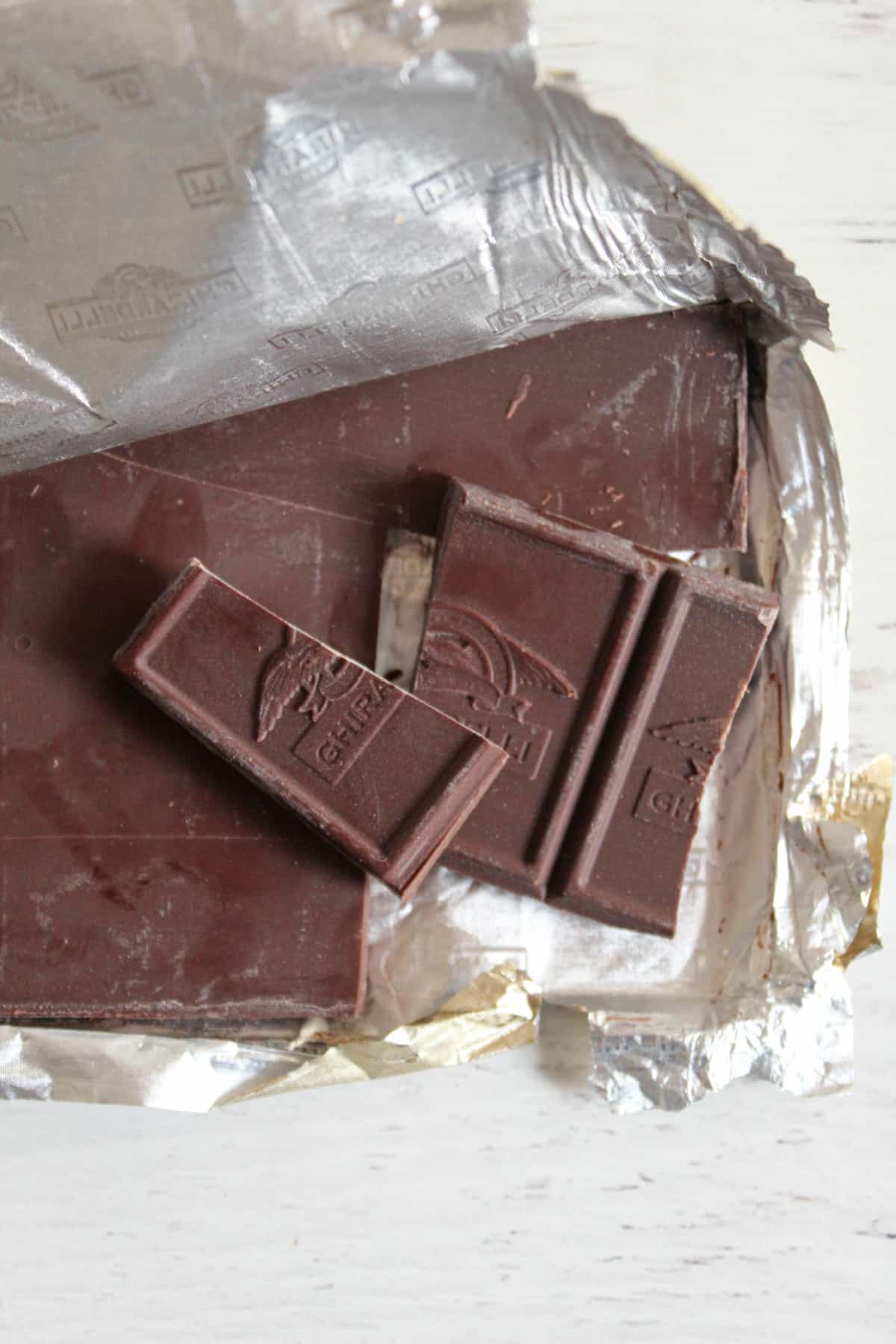 These two types of chocolate can be hard to tell apart. They are sold near each other in the baking aisle, and even worse, each can go by various names, making it harder to find the right one. Let's demystify your unsweetened chocolate questions to help you choose the right one for every recipe!
Jump to:
What is Unsweetened Chocolate?
Unsweetened chocolate is a special type of chocolate made from 100% cacao. There is absolutely no added sugar.
Unsweetened chocolate is made by grinding cacao beans into cocoa mass, also known as pure chocolate liquor. During this process, the cocoa butter is removed, leaving a very rich, dark chocolate flavor with absolutely no sugar and minimal fat.
It has a bitter, unsweetened flavor that can be unpleasant to eat on its own. Unsweetened chocolate is also relatively dry and crumbly as well due to the lack of milk solids, sugar, and cocoa butter. It is typically used to add chocolate flavor to sweetened recipes, like homemade brownies, or savory dishes like mole sauces.
Tip: Whether you see "chocolate" or just "cocoa mass," you're looking at pure, unsweetened chocolate with absolutely nothing added. For the best quality unsweetened chocolate, choose a brand that shows that they use "100 percent cacao" and check the ingredients list for any additives.
What is Bittersweet Chocolate?
Similarly, bittersweet chocolate also contains a high amount of pure chocolate, but there are a few differences.
To be labeled as bittersweet chocolate, the product should contain at least 65% cacao. However, chocolate brands can decide exactly how many cocoa solids to add and adjust the ratios of other ingredients to meet their flavor standards.
For example, some companies label their product as bittersweet chocolate when it has at least 70% cacao. Companies like Ghiradelli sell bittersweet baking chocolate at both 60% and 70%. The higher the percentage of cacao, the darker the chocolate will be.
Is Semisweet Chocolate the Same as Bittersweet Chocolate?
Depending on where you live, you're much more likely to find semi-sweet chocolate than bittersweet chocolate in your baking aisle. This type of chocolate typically contains no more than 50% sugar and can have 35% to 65% pure cocoa. This high concentration adds a rich chocolate flavor with less sugar than milk chocolate or white chocolate while still being meltable and not too bitter (perfect for chocolate chip cookies, oatmeal chocolate chip muffins or gluten free chocolate cookies).
This makes both semisweet and bittersweet a great way to add a stronger flavor to your brownies, cakes, and other recipes. Bitter chocolate and semisweet chocolate are the best substitutes for each other!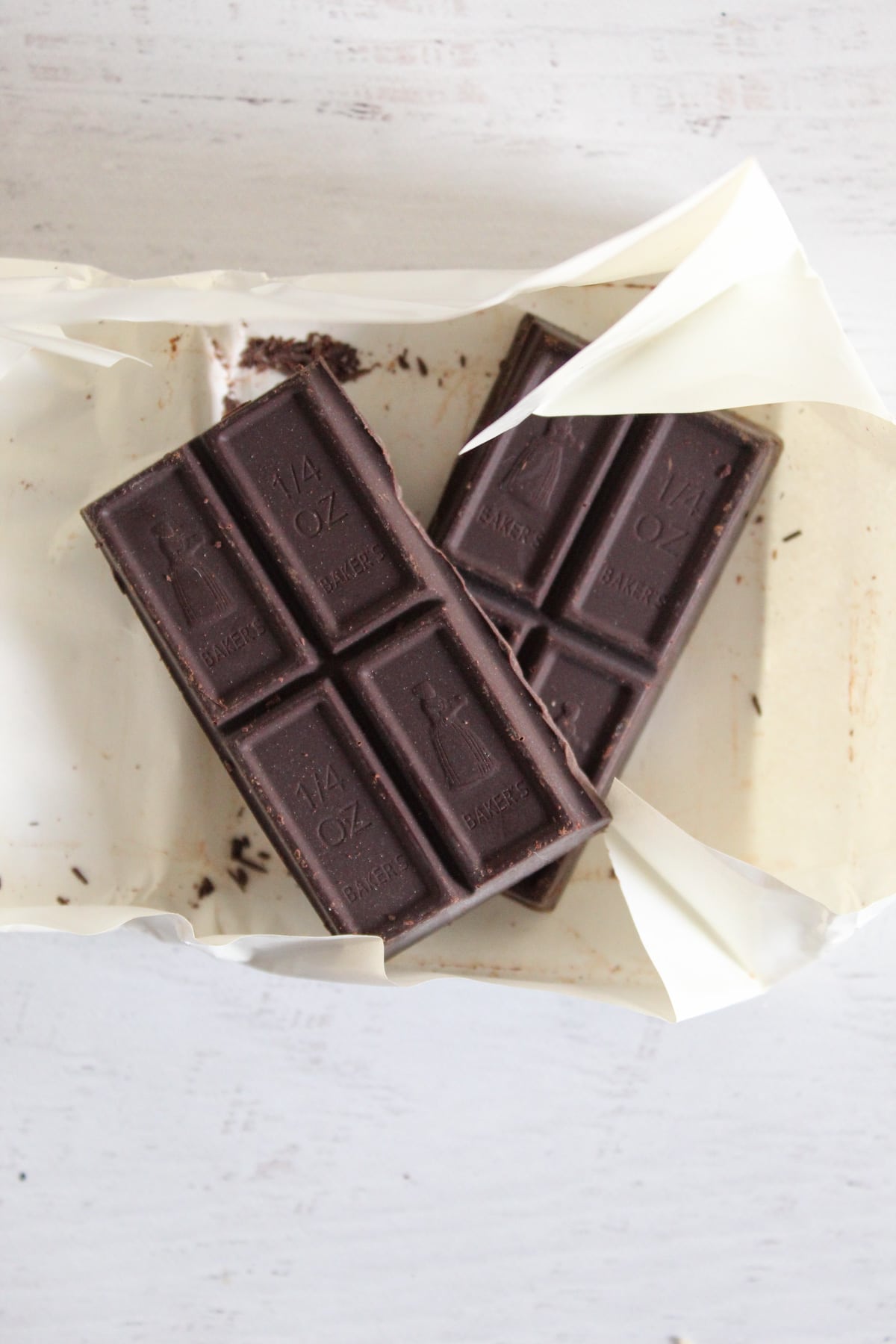 What's the Difference Between Unsweetened and Bittersweet Chocolate?
Remember this: unsweetened baking chocolate is made from pure cocoa beans. It has a bitter taste, is rather crumbly, and is totally unsweetened. Bittersweet chocolate is much more like your favorite bars of dark chocolate. It's slightly bitter, but it's sweetened with sugar and has a smooth, creamy texture from cocoa butter and any emulsifiers.
Unsweetened Chocolate FAQs
Recipes Using Chocolate