A perfect partner to a dreamy cake, this dairy free chocolate ganache is velvety smooth and ready to use in about 10 minutes.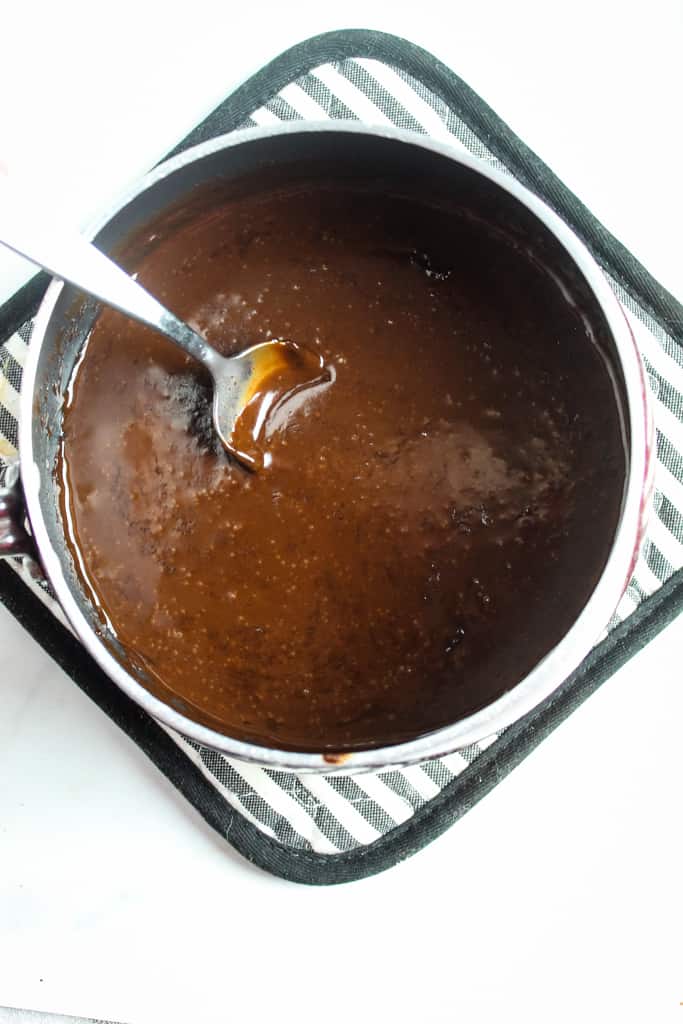 When you need a quick way to top off a dessert, turn to this impressive chocolate ganache! Made with just two ingredients, it's incredibly smooth and very easy to make. And since it's made with coconut cream, it's perfect for dressing up vegan desserts too. One of the many reasons to love a good ganache is how versatile they are – from cupcakes to cakes to dipping strawberries – ganache takes minutes to prepare yet dresses up even the most simple gluten and dairy free dessert.
Is ganache similar to dairy free chocolate glaze?
It is similar, yes! In fact, people often interchange the terms – they're both deliciously chocolate and pourable. But the similarities end there. Even though glaze sounds simpler than ganache, it actually has more ingredients and takes a bit longer to make.
A ganache is usually just cream and chocolate. Glaze can be cocoa powder, boiling water, vanilla, sugar and more.
What's the best way to use this vegan chocolate ganache?
It makes a wonderful topping for cakes, cupcakes, tortes and more. Anything needing a chocolate touch! But it was created especially for this gluten free flourless cake.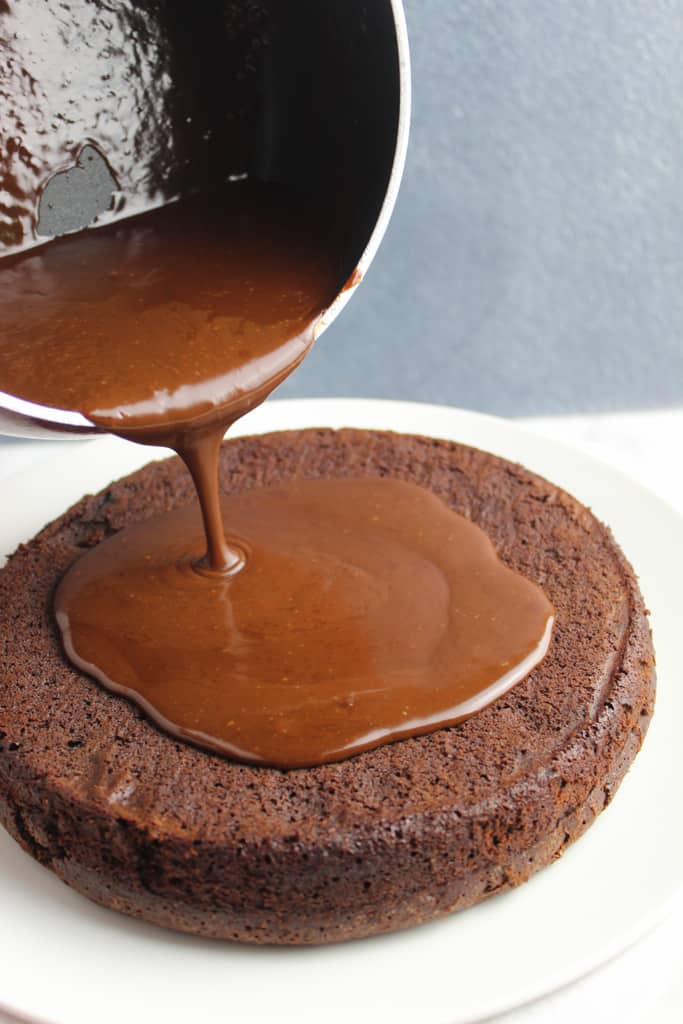 How to thicken ganache
So you've got this glorious dessert and ganache would be perfect for it BUT you want something thicker than the typical thin mixture.
Here are two methods for thickening ganache while maintaining the delicious chocolate cream balance…
Follow one of these methods if you've already prepared it and find that it's too thin:
Option 1. Allow the ganache to cool, anywhere from 15 to 30 minutes and check for consistency. Remember, once ganache cools completely, it becomes hard. The cooling process helps firm it up so in many cases, all it needs is to cool off and it will become thicker and useable.
Option 2. Place the pan of ganache back on the stove and turn to low-medium heat. Add 3 more ounces of chocolate and stir until the chocolate is melted. Remove from the heat and allow to cool a bit to check for consistency.
Follow this method if you haven't made it yet:
Decrease the cream in the recipe by 2 Tablespoons. By decreasing the cream, you are changing the balance of cream to chocolate. Less cream will thicken it and more cream will thin it. Allow the completed mixture to sit for 15 minutes and check consistency.
How to store chocolate ganache
There are a couple storage methods that work with ganache. Place it in a glass storage container (you'll see why I say glass in the next step) and refrigerate it for up to 1 week.
For reheating refrigerated ganache:
Take the glass container out of the refrigerator and microwave for 20 seconds, then stir. Check for the correct consistency and microwave again if needed.
How to make ganache for cake
Follow these tips for the best tasting chocolate ganache:
Tip #1 Measure correctly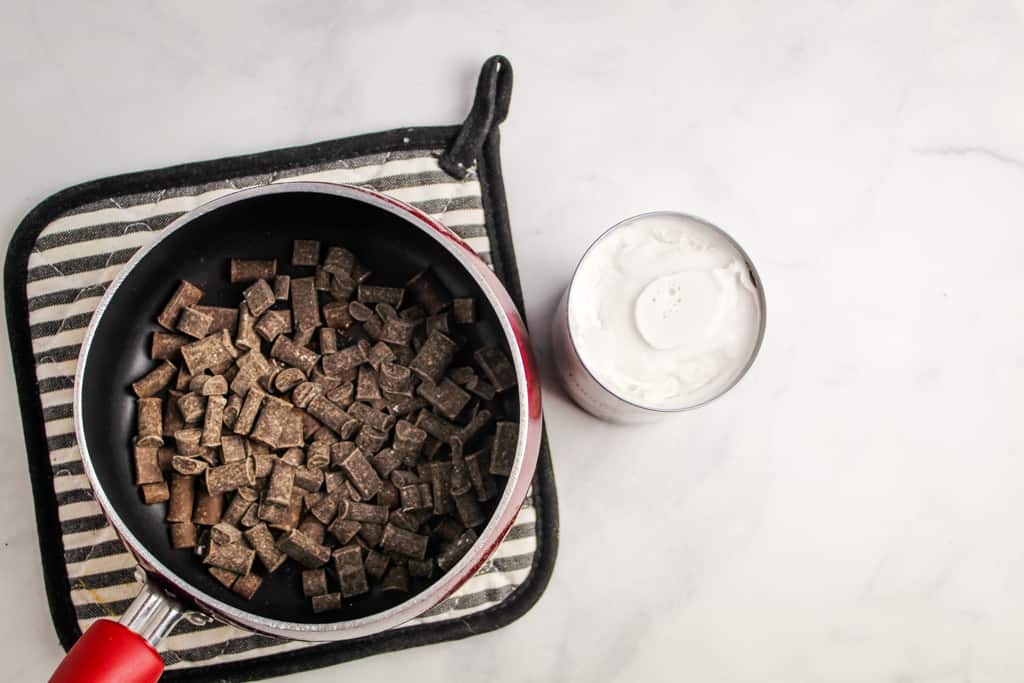 Too little cream and you'll have a thicker mixture than you wanted. Too much and you'll be dealing with running liquid. Use a kitchen scale to measure the chocolate and watch the can size for the coconut cream.
Tip #2 Don't overheat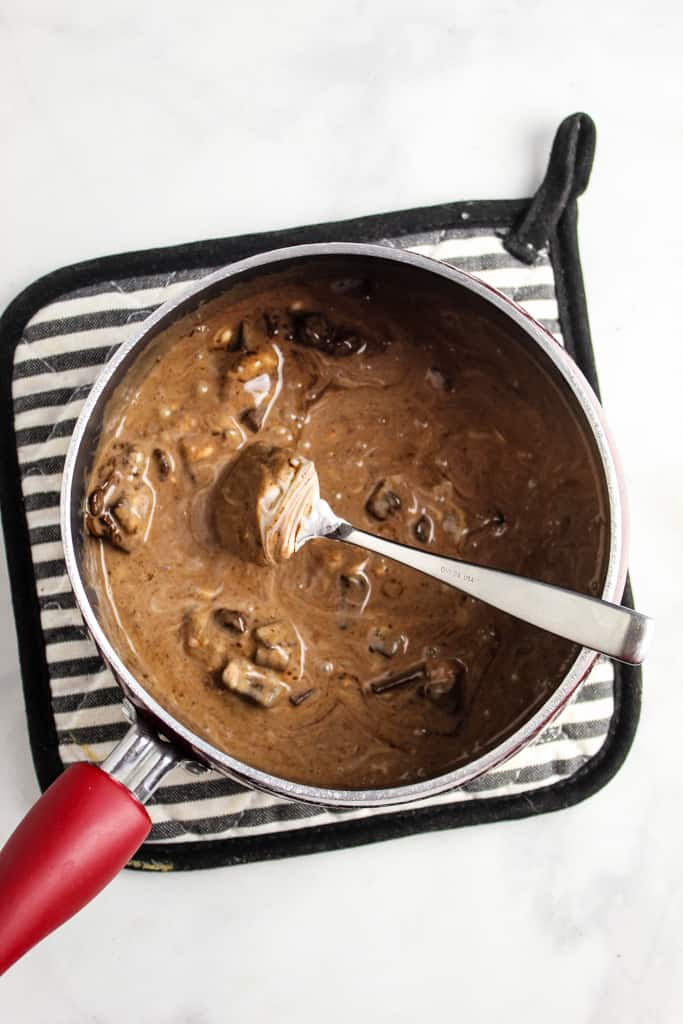 Heat the chocolate and cream mixture just until the cream is melted. The chocolate can be melted by stirring the warm cream.
Tip #3 Check for consistency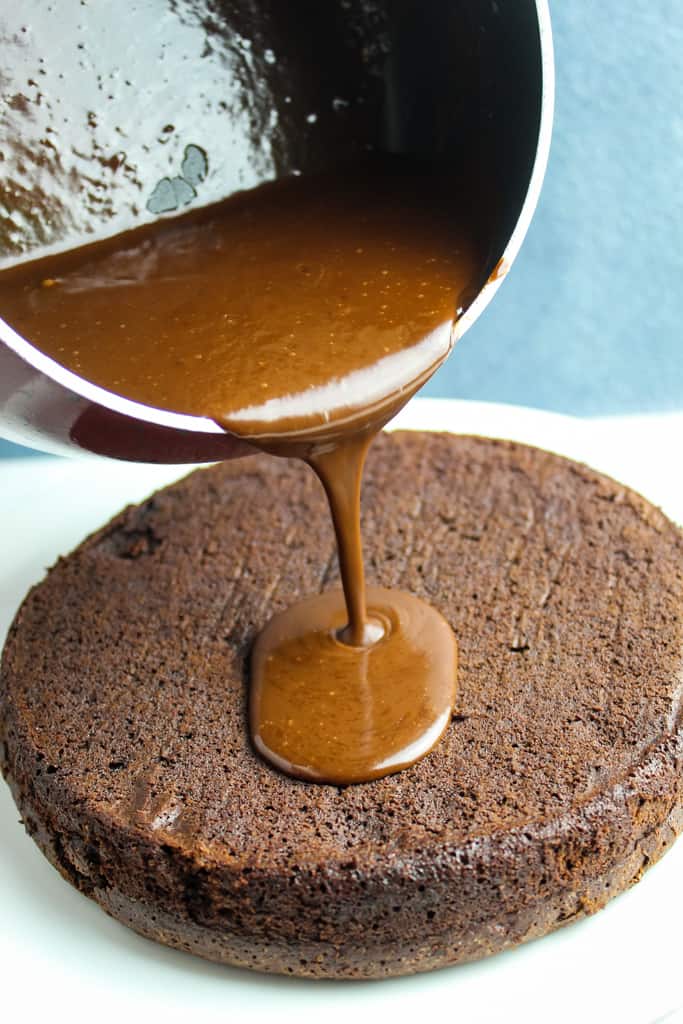 If you're making this flourless chocolate cake, you'll pour the ganache on right after melting. If you want something a little thicker, set the ganache aside for a few minutes.
Tip #4 Enjoy!
It's not often that a dessert can be so luscious with minimal effort, but this dairy free chocolate ganache is one of those times!
Recipe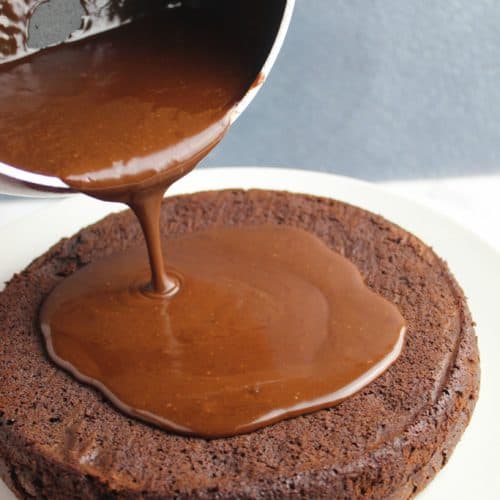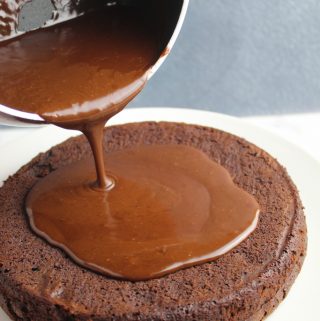 Dairy Free Chocolate Ganache
No one will ever know this rich dairy free chocolate ganache is actually dairy free! The recipe is simple to make and makes enough to top a full 8 or 9 inch cake.
Print
Pin
Rate
Ingredients
8

ounces

dairy free semi-sweet chocolate chips

1

cup

coconut cream
Instructions
In a medium saucepan, combine the chocolate chips and the coconut cream.

Stirring constantly, heat pan over low-medium heat to melt chocolate chips.

Ganache is ready to use when chocolate is completely melted.

Carefully pour ganache over cake.
Notes
Ingredients should be at room temperature.
Make sure to use coconut cream and not coconut milk. 
Use just the cream part in the can (use a spoon to scrape it out).
Ganache is ready when the chips are melted.
Use immediately or it will harden and be tough to spread.
Nutrition
Calories:
1053
kcal
|
Carbohydrates:
67
g
|
Protein:
11
g
|
Fat:
85
g
|
Saturated Fat:
62
g
|
Cholesterol:
7
mg
|
Sodium:
16
mg
|
Potassium:
1033
mg
|
Fiber:
12
g
|
Sugar:
42
g
|
Vitamin A:
57
IU
|
Vitamin C:
3
mg
|
Calcium:
84
mg
|
Iron:
10
mg
Check out more decadent cake and cookie recipes: