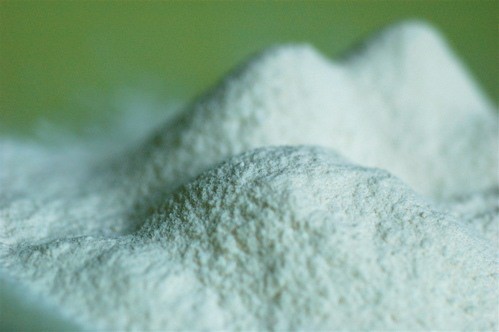 Have you ever bought a new food product with the intention of using it for so many things, only to use it once or twice and then run out of ideas for it?
It's de-motivating when that happens – especially if it's a tasty product, you just don't know what else to do with it.
Usually what happens is it ends up going bad and/or it just gets thrown away.
But that's not going to happen this time. Because this time, you will have an arsenal of things to use this product for. It's not going to be a one-shot wonder; not only will you know all about what makes this product wonderful, but you'll also have a list of wonderful uses for it.
With that thought, let's introduce a gluten free flour that will surely NOT get wasted…
Coconut flour!
Coconut flour is a gluten free flour that is high in protein, high in fiber, yet low in carbs.
But this punch of nutrients is only part of what makes coconut flour such a sought after flour. With its slightly sweet and nutty flavor, coconut flour is a great, gluten free alternative to wheat flours for cooking and baking.
Coconut flour is actually a natural byproduct in the production of coconut oil. The oil is removed from the meat, which is then grinded to make our beloved coconut flour.
The nutritional breakdown of coconut flour is fairly impressive.
Just 2 tablespoons of coconut flour boasts:
A mere 60 calories
No cholesterol
1.5 grams of fat (this is about 2% of your daily value for fat on a 2,000 calorie diet)
10 grams of carbohydrates (which is about 3% of the daily value on a 2,000 calorie diet)
6 grams of fiber (24% of your daily value)
No sugar
2 grams of protein
0.4 mg of iron
So coconut flour is a nutrient rich powerhouse of good stuff. But what about the uses for this delicious flour? What can you use it for, other than baking in recipes?
Below are just a few ideas of how to incorporate coconut flour into your daily routine. And below these tips, you'll find a bonus muffin recipe also!
Use coconut flour to replace anywhere from 10 to 30 percent of the other flour (or flour blend) in recipes for muffins, loaf breads, dinner rolls, cookies, cakes, bars, and quick breads
In meatloaf and meatballs, replace crackers or breadcrumbs with half as much coconut flour. Then add an equal amount of water, milk, or dairy-free milk as coconut flour
Sprinkle on your morning cereal to add nutrients and fiber to your diet
Add to oatmeal, smoothies and desserts
Add to your casseroles and soups
Use as a thickener in sauces and gravy's
Enhances the flavor of chocolate, vanilla when cooking or baking foods
Note: If adding coconut flour to a conventional recipe, you may need to double the number of eggs to give the baked goods lift. If you're using egg replacer, add twice the amount you would normally use in a recipe. This is due to the fact that coconut flour is a very dry flour and will soak up liquids like a sponge.
And now for the bonus recipe for using that delicious coconut flour.
Gluten Free Chunky Monkey Muffins with Coconut Flour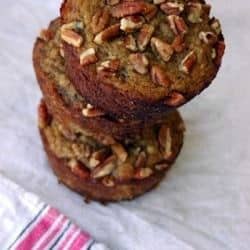 ½ cup coconut flour
½ teaspoon sea salt
½ teaspoon baking soda
½ teaspoon cinnamon
6 eggs
⅓-1/2 cup honey
⅓ cup coconut oil, melted*
1 tablespoon vanilla
¾ cup mashed ripe bananas
½ cup chopped crispy pecans (plus extras for topping, optional)
⅓ cup coconut flakes
⅓ cup chopped, high quality dark chocolate (optional)
Step 1:
Preheat oven to 350 F. Grease a medium, 12 hole muffin pan. Set aside.
Step 2:
In a small mixing bowl, mix together the coconut flour, sea salt, baking soda and cinnamon. Set aside.
Step 3:
In a large bowl, mix together eggs, honey, melted coconut oil, and vanilla.
Step 4:
Add the dry ingredients to the wet and mix until combined.
Gently fold in the mashed bananas, pecans, coconut flakes and chocolate, if using.
Step 5:
Using a muffin scoop, scoop the batter into the muffin tins to ¾ full. Sprinkle the top with more pecans (optional).
Place on the middle rack of the preheated oven and bake for 20-30 minutes.
Let the muffins cool slightly before removing to a wire rack to cool completely.
Enjoy!
*Note: as a substitute to coconut oil, you can use melted shortening.