In the world of gluten free flour options, rice flour and sweet rice flour are two great contenders. Since the two sound so similar, there is a lot of confusion surrounding them. There are several defining differences between the two flours, so it's important to know how exactly to use them and achieve the best results in your baking. So, here's everything you need to know about rice flour and sweet rice flour.
Looking for recipes using rice flour? Check out these rice flour pancakes, this rice flour bread and this flour mix.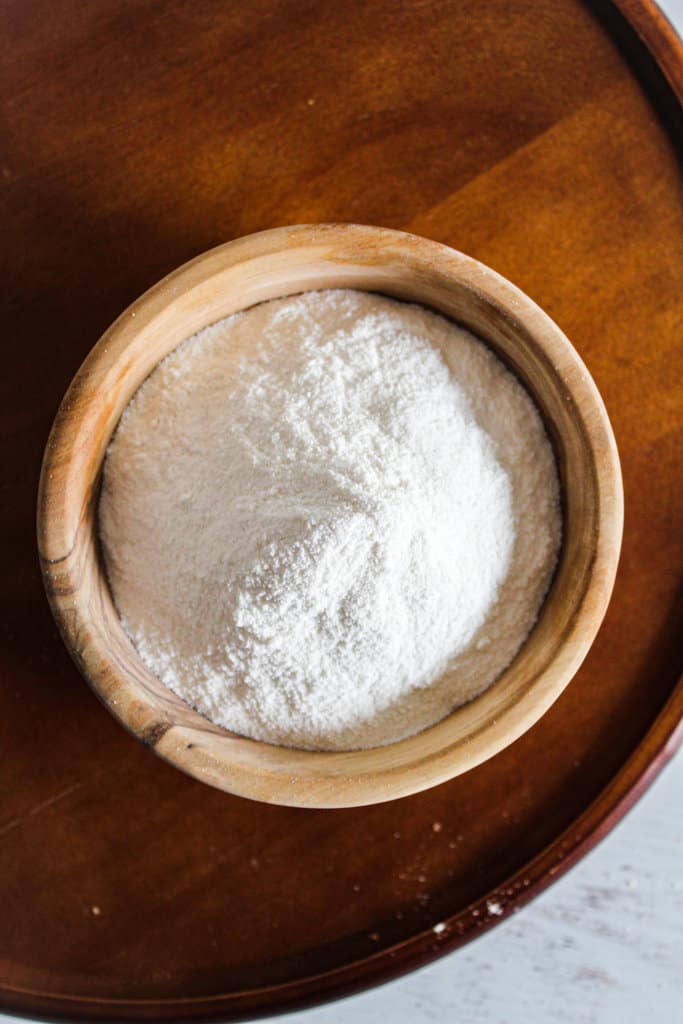 This post contains affiliate links. Affiliate links support Zest For Baking at no additional cost to you. I receive a commission if you choose to make a purchase through these links.
Similarities & differences
Both rice flour and sweet rice flour are made from finely-ground rice, but the difference between the two lies in the type of rice used. Rice flour is made with medium or long-grain white rice, and sweet rice flour is made with glutinous rice. Both flours are very affordable since there is so much rice grown around the world. Neither flours have a strong flavor, so they allow other flavors to shine through in baked goods.
Rice flour and sweet rice flour differ in their purposes for baking. While rice flour can yield more of a crisp or crunchy texture, sweet rice flour yields a moist and chewy texture. They can both be very effective in baking, depending on what you're making and what other ingredients you combine them with. Rice flour can be gritty in texture, while sweet rice flour is more fine and powdery.
What is rice flour?
Rice flour, also known as white rice flour, is an all-around great gluten free flour to have on hand. It's made by grinding medium or long-grain white rice to a fine consistency. Since rice is one of the world's top crops and is so widely available, rice flour is one of the most affordable gluten free flour options.
Uses
Since rice flour has virtually no flavor and a fine texture, it's great for gluten free baking. It can be used in cakes, cookies, and breads and lets the flavor of other ingredients shine through in the finished product. It's also great for thickening sauces and soups. And since it's so light, it's great for baked items that need a crisp and crunchy outside. This easy rice flour bread is an excellent example of rice flour doing what it does best.
For many recipes, rice flour shouldn't be the only flour used. It needs to be used in conjunction with a starch (or multiple flours and starches) to create the right texture in a baked good. A great option is to make this gluten free flour mix that contains rice flour and a few other flours and starches that all work together really well.
Nutrition
Since rice flour is derived from rice, it's naturally gluten free. It's not the most nutrient-dense flour, with 1 cup containing around 578 calories, 9.4 grams of protein, 2.2 grams of fat, and 127 grams of carbohydrates. It has one of the highest carb counts of all types of flours, so it's not considered the most healthy option. Despite this, it has so many other things going for it so it remains a gluten free baking staple.
Best for baking
There are so many brands to choose from, but they're not all made equally. You can hear me explain why this is in my baking masterclass. This brand stands out from others and is a great choice for any kind of gluten free baking.
What is sweet rice flour?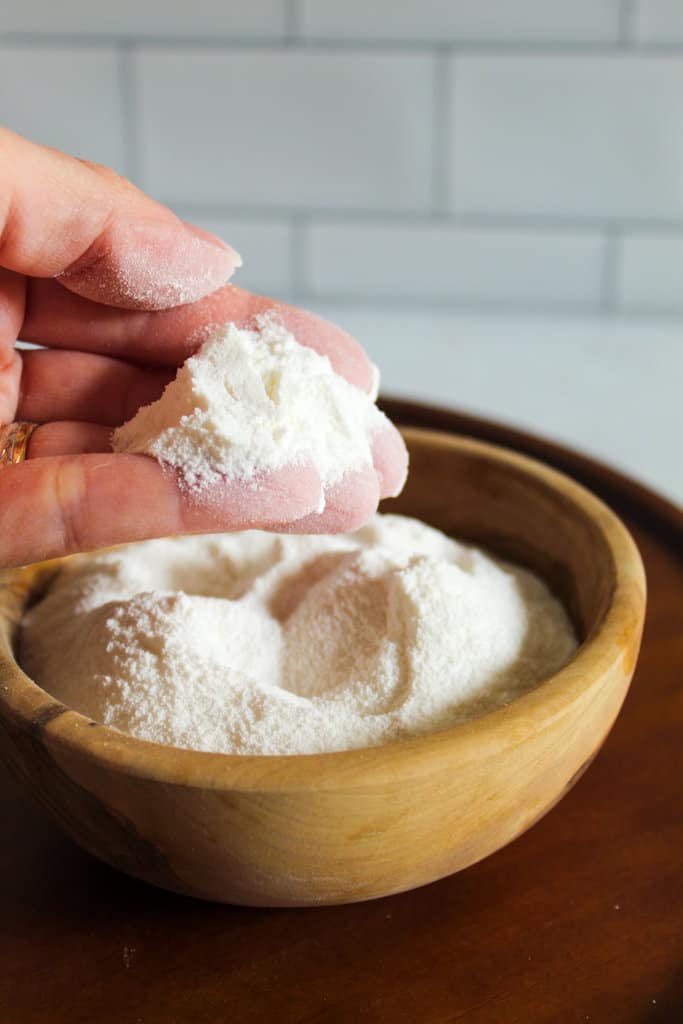 Sweet rice flour, also known as glutinous rice flour, is another good gluten free rice to have in your kitchen. It's made from finely grinding short-grain glutinous rice (sticky rice). "Glutinous" refers to the sticky texture it creates, not that it contains any gluten. Even though it's called sweet rice flour, it's not actually sweet on its own. It has a very mild flavor, which is great for letting other flavors be the star of the show.
Uses
One of the most popular uses for sweet rice flour is in mochi, the beloved and uniquely chewy Japanese rice cake. Since sweet rice flour has such a high starch content (higher than most other flours actually), it's great for baking. It has excellent binding properties, which are needed to achieve the right bouncy texture in baked goods. Sweet rice flour also absorbs liquid much better than white rice flour, which gives the final product the moisture it needs.
Just like with white rice flour, it's a good idea to use a blend of gluten free flours instead of solely using sweet rice flour. While it's excellent at providing moisture, using too much of it in a recipe without balancing it with other flours may result in a cake or bread that's too chewy and soggy. In this potato bread, rice flour, sweet rice flour, and potato starch all work together wonderfully.
Nutrition
Sweet rice flour is gluten free since it's made of rice. Like regular rice flour, it is very high in carbohydrates and the balance of protein, fat, and carbs is very different from other flours. Since it's so great for making chewy things like mochi and adding moisture to cakes and breads, it continues to be a popular gluten free flour.
Best for baking
While there are many brands of sweet rice flour available, they're definitely not all the same in terms of quality. This brand offers a good, high-quality glutinous rice flour that, when used correctly, will add the perfect touch in your gluten free baking.
FAQs
Are rice flour and sweet rice flour interchangeable?
Plain rice flour and sweet rice flour aren't the same, so they can't be used interchangeably.
Is sweet rice flour the same as glutinous rice flour?
Yes! Glutinous rice flour is just another name for sweet rice flour.
Does glutinous rice flour contain gluten?
Even though it has "glutinous" in the name, glutinous rice flour does not contain gluten. "Glutinous" is actually referring to the sticky texture the flour creates when combined with liquids and cooked.
What is the best substitute for sweet rice flour?
This gluten free flour mix can be substituted at a 1:1 ratio for sweet rice flour. Also, while you can't substitute it in a 1:1 ratio, you can replace 1 cup of sweet rice flour with ⅔ cup white rice flour and ⅓ cup of a starch (arrowroot or tapioca). Discover more substitutes here.