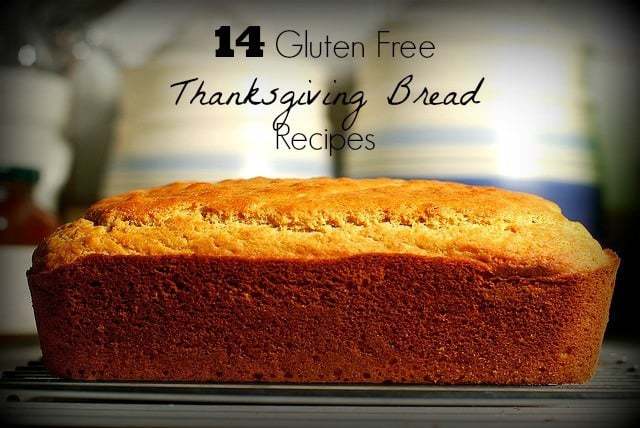 Thanksgiving is just around the corner and nothing says 'the holidays' like fresh baked breads, heavenly rolls and to-live-for scones. Although the customary, never ending spread of turkey, ham, green beans and stuffing fill hungry Thanksgiving tummies, it's the sweets and treats that will really delight your taste buds.
So move over green bean casserole and take a step back cranberry sauce, these gluten free breads are going to be the hit of the day! Who can resist a fresh from the oven slice of pumpkin bread or a pillow soft roll with a smear of butter? Both gluten free of course!
And one of the great things about these recipes is that many can be made ahead of time and frozen. So when the big day comes and you're scrambling for oven space or looking for 'one more thing' to bring to the host's house, all you have to do is look in your freezer and relax. You thought ahead and prepared your breads ahead of time, so they are ready to go at a moment's notice.
So let's get baking now! So that when you're busy checking your turkey and stressed that you may have forgotten something, you can impress (and distract) all your impatiently waiting, hungry guests with some delicious gluten free cranberry bread.
Here's a list of some of our best loved thanksgiving bread recipes. From quick breads to impressive breakfasts…
Sweet, quick breads
Quick Gluten Free Cranberry Bread
Omega-3 Loaded Gluten Free Banana Nut Bread with Coconut Flour
Muffins
Gluten Free Autumn Apple Pecan Muffins 
Gluten Free Chunky Monkey Muffins with Coconut Flour 
Yeast rolls
 Tender Gluten Free Rosemary Potato Rolls
Delicious Gluten Free Cinnamon Rolls
Biscuits
Flaky, Buttery Gluten Free Biscuits 
Crisp and Delicious Gluten Free Chocolate Biscotti
Pancakes
Melt in your mouth Homemade Gluten Free Pancakes
Waffles
Donuts
Delicious Gluten Free Pumpkin Donuts (Baked, Not Fried)
Gluten Free Double Chocolate Baked Donuts
Cornbread for stuffing
How to Make the Best Gluten Free Cornbread
*When you make this recipe for your stuffing, make sure to let it dry out for at least a day and then toast it in the oven for a little while (this helps it hold its shape in the stuffing).
All of these breads can be made ahead of time and stuck into the freezer until the big day arrives.
And the best part is, your guests will be raving that, "I can't believe its gluten free!"