An end-of-summer deal can only mean one thing, well two things, 1: something is on sale for a great price and 2: its probably something that wasn't even on your list in the first place but now it is. But now it just can't be passed up; it would be a shame not to buy it, right?! Who else is guilty of buying something 'because it's such a great deal!'…
Well, that is exactly what happened with these blueberries. So because of the deal seeker in me, I am often searching and wondering what to do with the extra stuff that I just could not pass up. This gluten free blueberry banana muffin recipe is a great example of an overabundance of this luscious fruit.
Blueberries are a wonderful little berry. They contain so many wonderful nutrients, it's a wonder they aren't in my shopping cart more often.
Blueberries have:
Vitamin C – a 1 Cup serving has 25% of your daily requirement
Vitamin K
Fiber – a handful contains enough fiber to help satisfy your daily fiber intake
Manganese – these plump little bits are full of the nutrient that protects your bones
Antioxidants – antioxidants are essential to good health by trapping the free radicals that can damage cellular structures as well as DNA
Plus, a low GI rating
But aside from all the health benefits from eating blueberries, they are the foundation of many amazing recipes – My original recipe for gluten free blueberry muffins was the inspiration for this new one.
I really liked this original recipe. And I mean a whole lot. They are tender, light and are exactly what a blueberry muffin should taste like, gluten free or not. They have been a mainstay, without any changes for a long time.
However, because they contain xanthan gum, I feel like steering away from gums would be in you, dear readers, and my, best interest. So we're throwing out the xanthan gum and bringing in the alternative binding agents. See 10 Things You Probably Didn't Know About Xanthan Gum for more on this topic.
This recipe turned out to be parallel to the original. And the best part, it was a smash hit at the first attempt. (That never happens!) Besides the xanthan gum, I did make some other changes to the original recipe, really, it was to compensate for the gum AND see what I could do to cut down on the sugar. The original recipe used 1 cup of sugar, which I felt was an overkill. If you're like me, you can relate to my 'sweet tooth' but I'm cutting down on sugar as much as I can. Plus, incorporating other sweeteners, like honey and banana can really give a bread that extra pizzazz.
Here are the Marvelous Makeover Gluten Free Blueberry Banana Muffins, using no xanthan gum:
Ingredients
2 ½ cups Gluten-Free-Bread's light gluten free flour mix
½ cup granulated sugar
1 tsp. powder psyllium husk – get it at Amazon for a great deal 🙂
2 ½ tsp. baking powder
½ tsp. salt
1 ½ blueberries (can be fresh or frozen)
2 large eggs, room temperature (see tip in Step 3 on this)
4 Tbls. Unsalted butter, melted (see tip in Step 3 on this)
2 tbsp. honey
¼ vegetable oil
1 banana, mashed
½ cup light sour cream
½ cup low fat or fat free milk
1 tsp. pure vanilla extract
Coarse sugar for sprinkling (optional)
Directions:
Step 1:
Preheat oven to 425. Spray two 12-cup muffins tins with cooking spray. Set aside.
Step 2:
In a large bowl, stir together the flour mix, sugar, psyllium husk, baking powder and salt. Add the blueberries to this mixture and lightly toss to coat.
Step 3:
Here's the tip on the eggs and melting the butter for this recipe… Place the butter in a medium size bowl – put the bowl in the microwave for 30 seconds or so to melt the butter. Then add the eggs to this bowl. Instant room temperature eggs AND it only uses one bowl.
Add the honey, vegetable oil, banana, sour cream, milk and vanilla extract to this bowl. Mix thoroughly.
Step 4:
Add the wet ingredients to the dry ingredients and mix gently. Use a spatula if need to prevent the blueberries from breaking.
Step 5:
Fill the muffin tins 2/3 of the way full. (These batter scoops from Wilton are AMAZING for this – you'll love them!) There won't be enough batter to completely fill every cup in the second pan. Fill the remaining cups hallway with water to make sure everything bakes evenly.
Bake for 17 minutes or until the muffins are golden brown.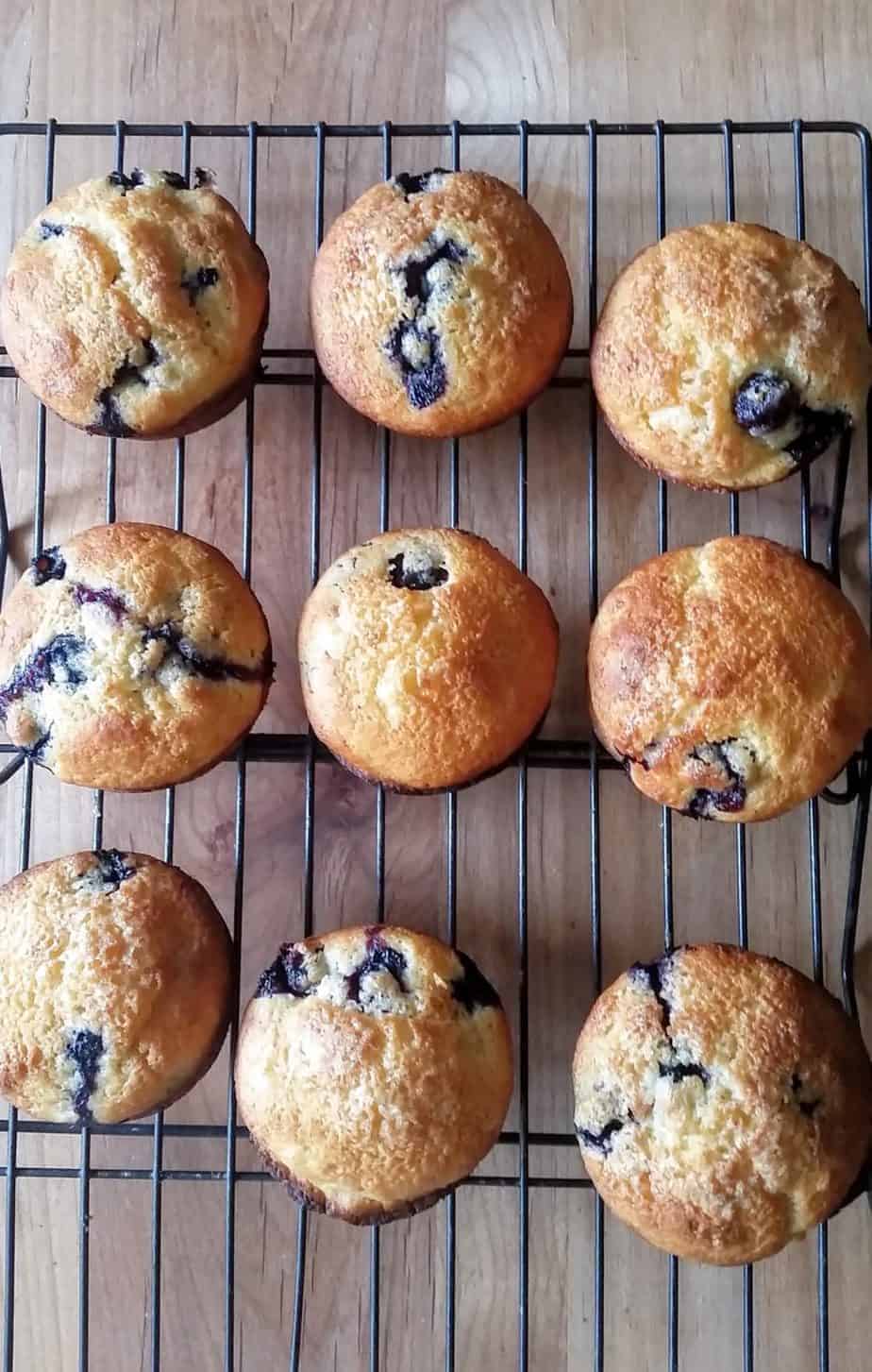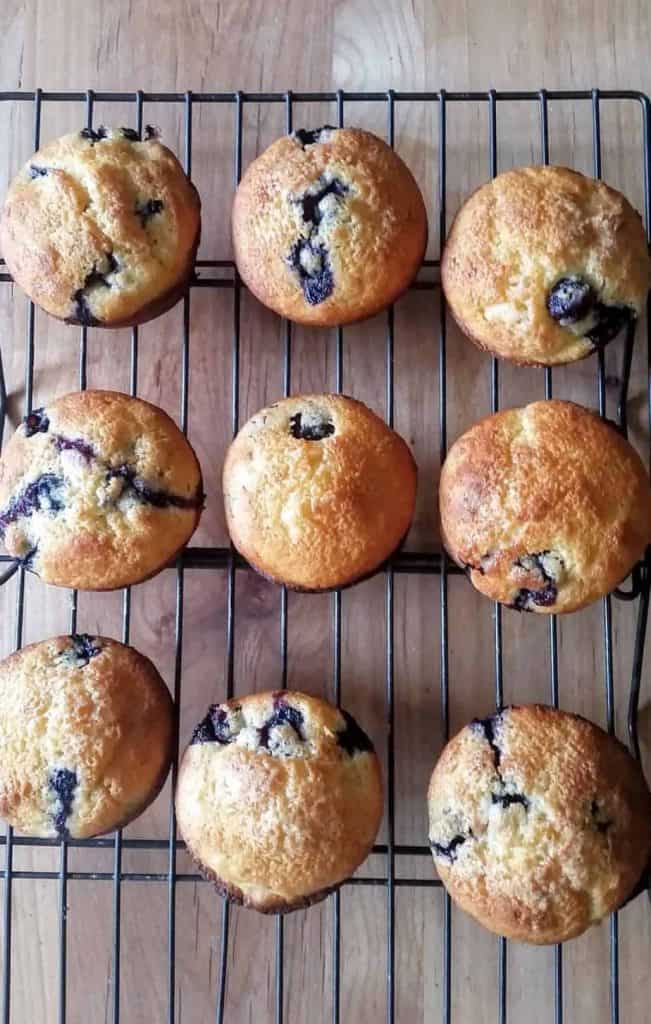 We could not wait for them to complete the customary 'cool for 5 minutes in the pan, then let cool on a wire rack'. About 2 minutes after I removed them from the oven, they were being eaten 🙂
These gluten free blueberry banana muffins are great just by themselves or try a pat of butter on them for a delightfully rich treat.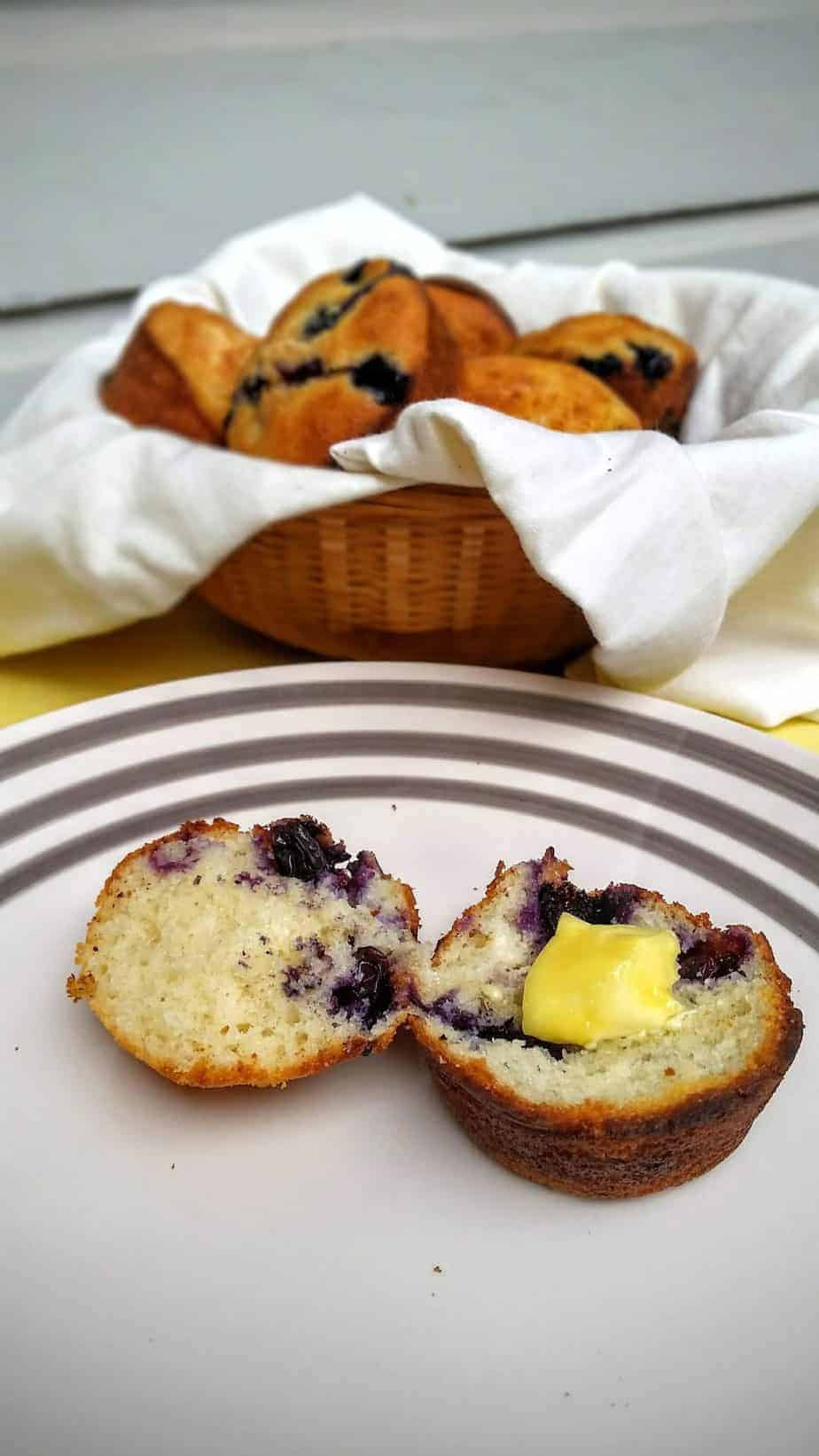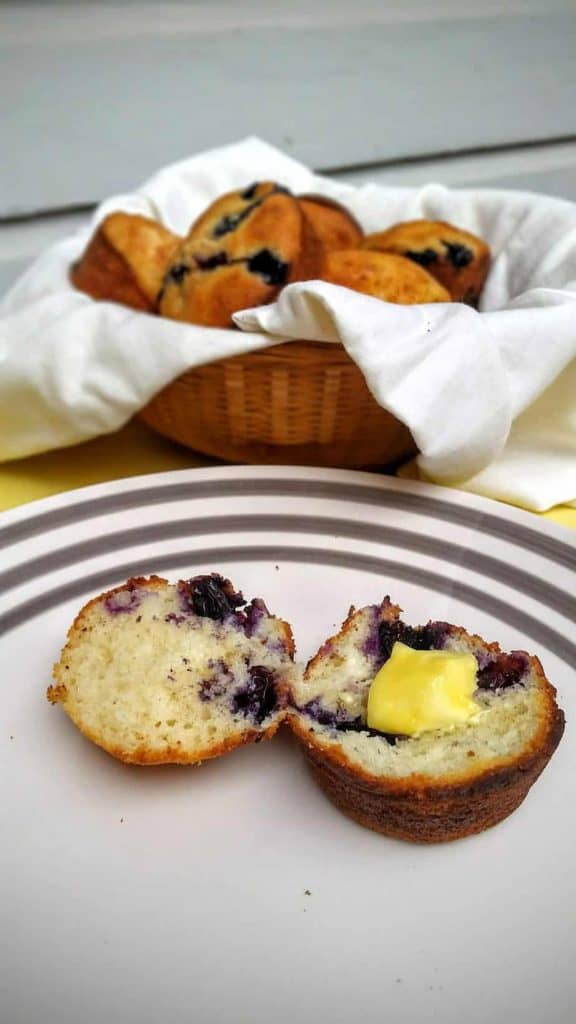 I imagine they would freeze well, if you have any left over.
You know what would also go well with these? Some gluten free blueberry scones!