Quinoa… in a muffin? Yes and yes! You won't believe how tasty these apple quinoa muffins are! They're hearty, lightly spiced and incredibly delicious plus they're packed with good-for-you ingredients without being heavy.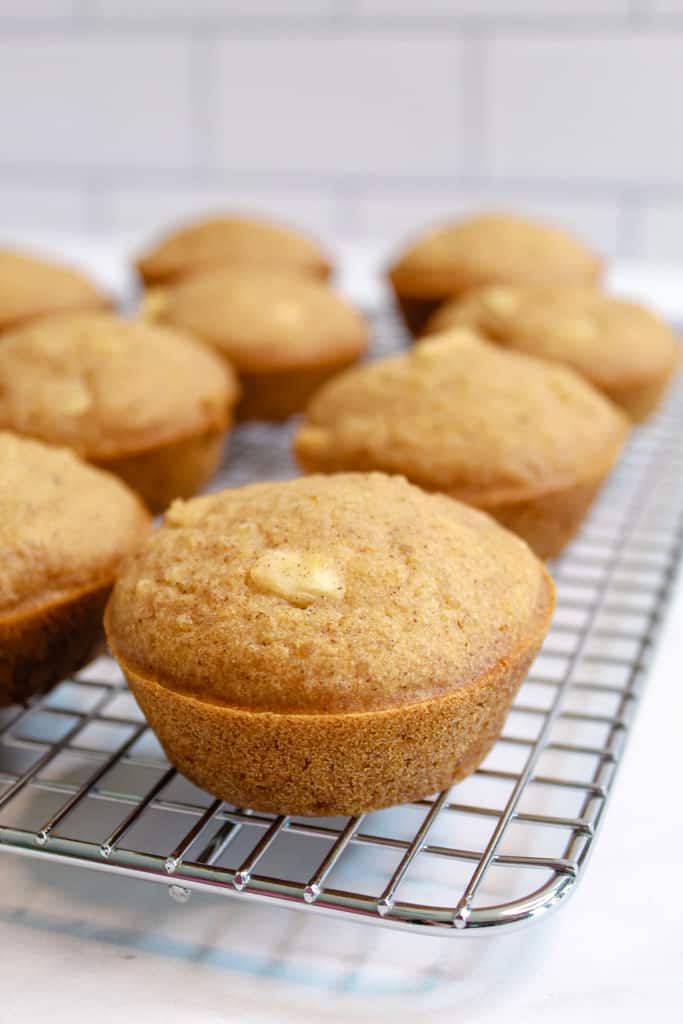 If you are a quinoa fan (and even if you're not), you need these muffins in your life!
They're the heartiest, most stick to your ribs muffins ever. And yet they're so tender and easy to eat. Chock full of quinoa and chopped apples, plus sweet agave nectar, there is nothing boring about these muffins.
Plus it's a great way to get this seed superfood into your picky eaters (aka almost every toddler out there). Disguised with natural sweetener and chopped apples, they'll never suspect they're healthy!
What type of quinoa is best for this recipe?
The quinoa used in the recipe is this Organic Quinoa. It's certified organic and gluten free – which not all quinoa is. Check the label to make sure it's gluten free. This is not the quick cooking variety, but it won't take long to cook.
How do you prepare quinoa?
Preparing quinoa takes nothing more than a saucepan and a timer. This recipe needs 1 ¼ cups of cooked quinoa so a heaping ½ cup of uncooked quinoa should come out to 1 ¼ cups cooked. If you have any left over, it won't be much. Take the quinoa and add it to a medium saucepan and add a cup and a couple extra Tablespoons of water to the pan. Bring it to a boil and then reduce the heat to low to simmer for about 20 minutes.
When almost all of the water is absorbed (or the 20-minute mark), remove it from the heat and let it cool to room temperature.
Can I make mini muffins out of these?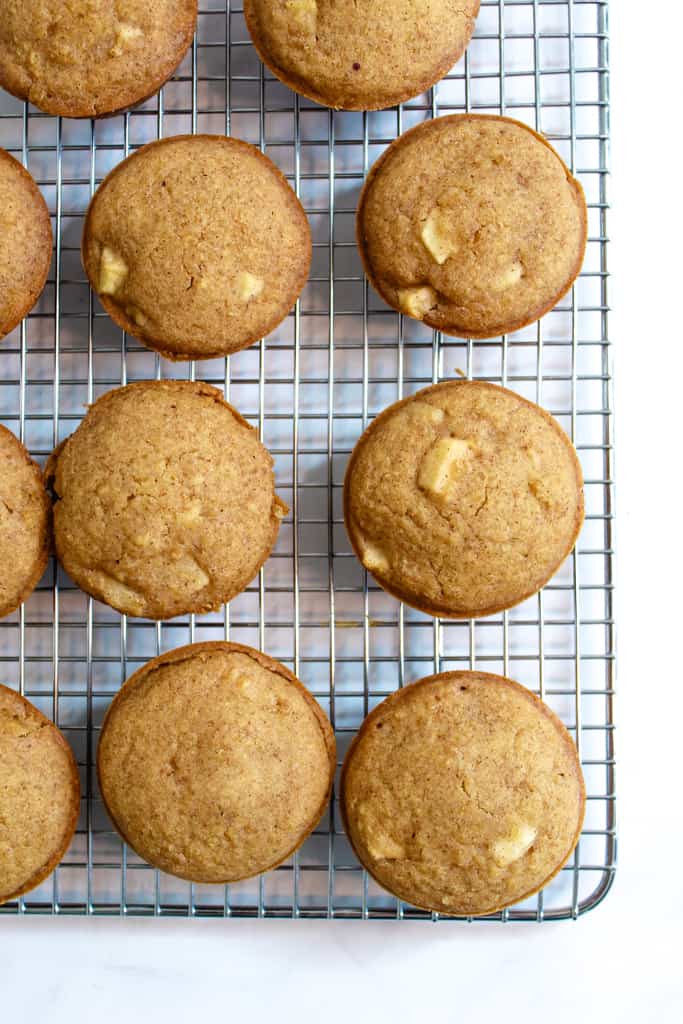 Yes! These quinoa muffins make excellent mini muffins – just chop the apples a bit smaller and portion the batter into 3 mini muffin tins. Bake at 350 F for about 10 – 15 minutes. Love mini muffins? Also check out these flourless mini muffins!
Can I substitute some other sweetener?
Agave nectar is fabulous in the recipe but maple syrup is very close and can be used as a substitute with no differences. Honey is also a possibility but not one that's been tested in the recipe.
What about adding something different, like berries or carrots or dried fruit?
Chopped apples are amazing in the recipe, but if you'd like to change things up, go for it! Dried fruits like cranberries, raisins, even apricots taste delicious too. If the pieces are any bigger than a dried cranberry, chop them into smaller bits.
How do I store these quinoa muffins and how long do they last?
After they're baked and cooled, store the muffins sealed in a plastic bag on the counter. Any longer than 2 days and you'll need to stick them in the freezer for longer storage.
Tips for Making Apple Quinoa Muffins
The ingredients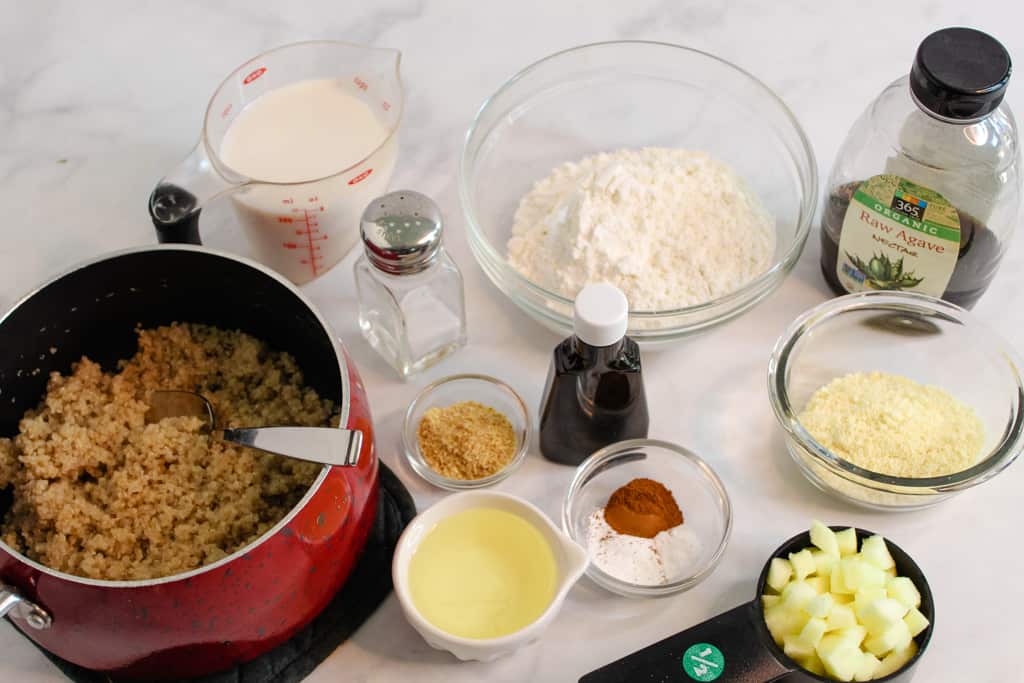 Start the quinoa cooking in a medium saucepan while getting out the rest of the ingredients. It's hands-off time for the quinoa so the milk will have time to come to room temperature (which is important for gluten free baking). Chop up the apples or other fruits and portion out the rest of the flours and ingredients.
Mixing the wet ingredients
No mixer needed for this recipe! But you'll want to be sure to mix the flaxseed and milk in a bowl first and let it sit for a minute before adding in the rest of the liquid ingredients.
Sifting the dry ingredients
The easiest way to sift these dry ingredients is to place a sifter over a large bowl and add the ingredients directly to it. So add the gluten free flour blend, almond flour, baking powder and soda, salt and cinnamon. Then just sift them all together.
Folding in the quinoa and apples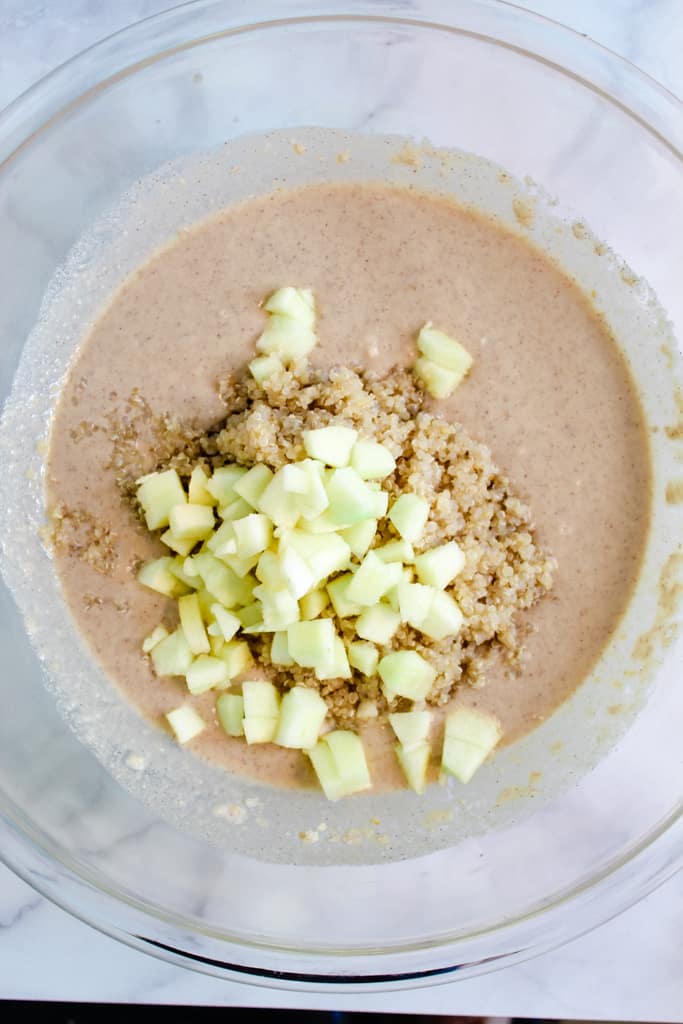 After adding the liquid ingredients to the dry ingredients, gently stir in the quinoa and chopped apples with a rubber spatula.
Pro tip: The batter will be thin, so it will be more stirring than folding.
Baking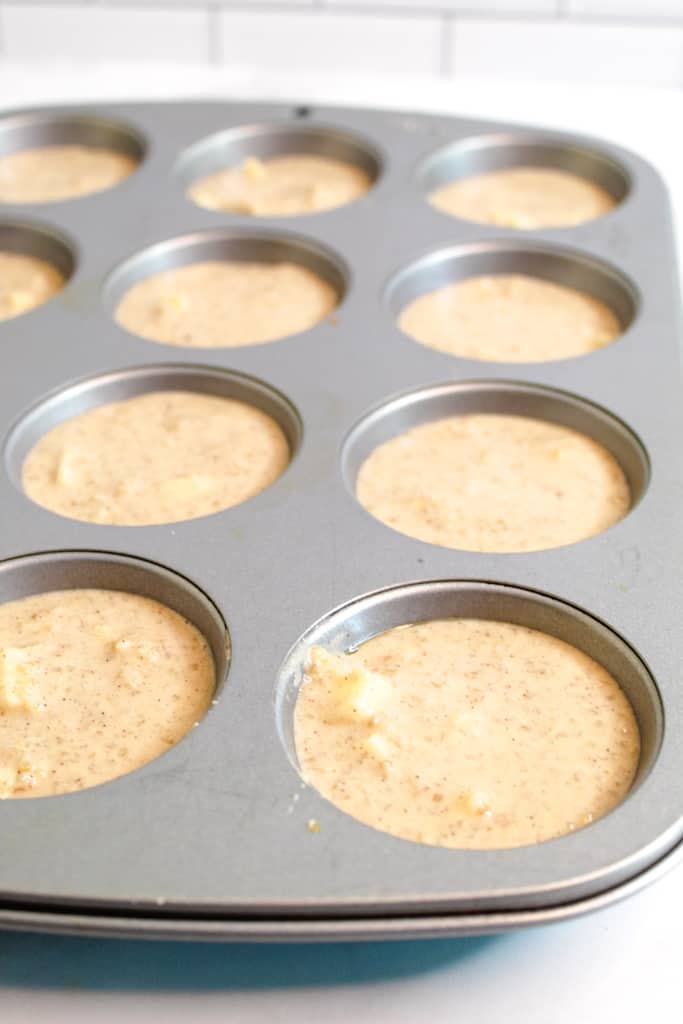 After letting the batter sit for 10 minutes, then it's time to fill up your muffin tin - fill each cup almost to the top with batter. Then pop the muffin tin into the oven and bake for about 20 minutes. A toothpick should come out clean when you test the middle muffin.
Let's bake some tasty apple quinoa muffins!
Recipe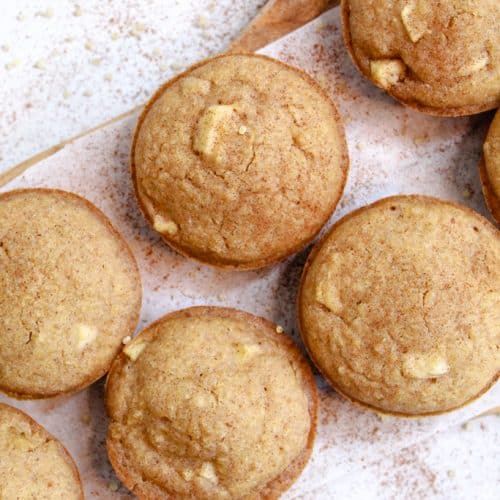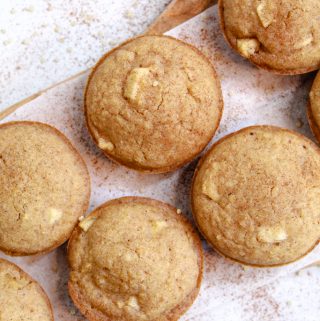 Delicious Apple Quinoa Muffins
You won't believe how tasty these apple quinoa muffins are! They're hearty, lightly spiced and incredibly delicious plus they're packed with delicious ingredients without being heavy.
Print
Pin
Rate
Ingredients
1

cup

almond milk

1

tablespoon

ground flaxseeds

¼

cup

vegetable oil

¼

cup

agave nectar

½

tsp.

pure vanilla extract

175

g.

gluten free flour mix

about 1 ¼ cups

25

g.

almond flour

about ¼ cup

1 ½

tsp.

baking powder

½

tsp.

baking soda

½

tsp.

salt

1

tsp.

ground cinnamon

1 ¼

cups

cooked quinoa

½

cup

finely chopped apples
Instructions
In a medium size bowl, whisk together the almond milk and ground flaxseed. Allow the mixture to sit for 1 minute.

Add oil, agave nectar and vanilla and whisk until mixed.

In a large bowl, sift together the flour mix, almond flour, baking powder, baking soda, salt, and cinnamon.

Add the wet ingredients to the dry, mixing until just incorporated.

Gently fold in the cooked quinoa and the apples and mix until only the large lumps are gone.

Let batter sit for about 10 minutes before filling the pan.

Meanwhile, preheat oven to 350 F and lightly grease a 12-cup muffin tin.

Pour the batter into the prepared muffin tin.

Bake for 20 to 22 minutes until a toothpick inserted into the center of a muffin comes out clean.
Notes
Bring all ingredients to room temperature.
The recipe can be used for mini muffins - just portion batter into 3 mini muffin tins and reduce bake time to 10-15 minutes.
Let the batter rest for 10 minutes before filling up the muffin cups.
Nutrition
Calories:
142
kcal
|
Carbohydrates:
19
g
|
Protein:
3
g
|
Fat:
7
g
|
Saturated Fat:
4
g
|
Sodium:
165
mg
|
Potassium:
106
mg
|
Fiber:
3
g
|
Sugar:
4
g
|
Vitamin C:
1
mg
|
Calcium:
74
mg
|
Iron:
1
mg
Here's more tasty gluten free baking recipes to check out: