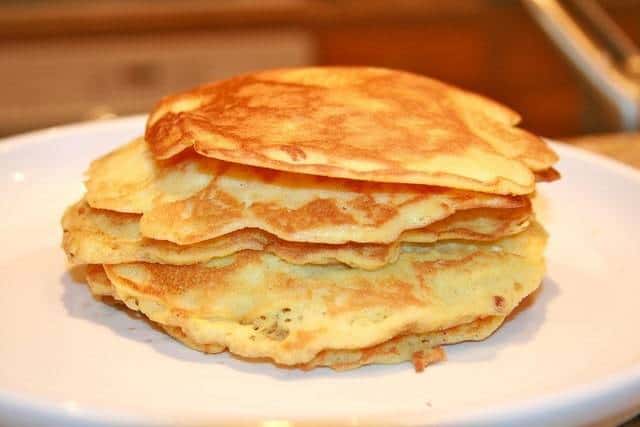 Just the name 'coconut flour' sounds exotic.
If I didn't know better, I would imagine it's something the locals in some amazingly beautiful island use, not for us ordinary, but oh-so-talented bakers.
But thanks to modern production, coconut flour is easily found and therefore, easy to fall in love with.
Coconut flour also has many great health benefits, the most noticeable one being the fiber count.
Did you know that a 2 tbsp. serving of coconut flour has 6 grams of dietary fiber? 6 grams is a considerable amount, particularly when you consider that regular, all-purpose flour has 0.2 grams in 1 Tbsp. This megadose of fiber provides 24% of your daily nutrient requirement for fiber.
Plus it contains about 0.4 grams of iron per serving. Not a ton, but enough to provide 2% of your daily iron requirement.
So, all things considered, it is really a powerhouse flour to use in your cooking and baking. Add in the fact that it's gluten free and that just makes it all the more appealing.
Are you as excited about coconut flour as we are?
Well, here is something that just takes the cake, pancake that is… a recipe for coconut flour pancakes!
With gluten free baking, you would normally use a combination of flours to get the right consistency. But these pancakes use just coconut flour.
The result is nothing short of spectacular.
Really.
Tasty and nutritious, they are a delight for the taste buds.
We highly recommend them.
Coconut Flour Pancakes
Ingredients:
4 Eggs (at room temperature) *Tip: to quickly bring eggs to room temperature, place them in a bowl of lukewarm water for a few minutes.
1 Cup of Coconut Milk (Raw Milk, Nut Milk, or Rice Milk can also be used, but coconut milk is really amazing)
2 – 3 Tablespoons of Raw Honey (melted if solid)
1 Tablespoon Vanilla Extract
½ Cup of Coconut Flour (sifted)
A dash of Ground Ginger, optional (a dash is approximately 1/8 teaspoon)
A dash of Ground Cinnamon
½ teaspoon of Sea Salt
1 teaspoon of Baking Soda
Directions:
1. In a medium sized bowl, beat the eggs with a hand mixer until they are foamy.
2. Add in the milk, honey and vanilla to the eggs and continue to beat it until the mixture is combined.
3. In another, smaller bowl mix all the dry ingredients: Sifted Coconut Flour, Ginger, Cinnamon, Salt and Baking Soda.
4. Pour the dry ingredients into the wet ingredients. Using a hand mixer, beat on low speed just until the batter is well combined (no visible lumps).
5. Heat your pancake skillet over medium heat. Get your gluten free cooking spray handy or just use some dabs of butter.
6. For the first pancake – spray the griddle with cooking spray or put a dab of butter on it. Then pour ¼ cup of the batter onto the hot skillet.
7. When you begin to see the bottoms dry out and bubbles form on the pancake, flip and cook for another minute or two.
Note: Spray the griddle or use a dab of butter before cooking each pancake.
These pancakes are delicious by themselves or with some butter and syrup. Fruit topping also tastes amazing on them.
Does this recipe sound tasty? Please share it!