These gluten free Anzac biscuits are one of the best kept secrets in the baking world. They're sweet, chewy and loaded with hearty oats - plus they have a history that's worth diving in to.
Yes these are biscuits, yes they look like cookies and yes they taste amazing.
Unless you're from New Zealand or Australia, you may never have heard of the holiday of Anzac Day, these biscuits are a big part of that holiday so we thought it might be a real treat to indulge in these delicious cookies/biscuits aptly named Anzac biscuits.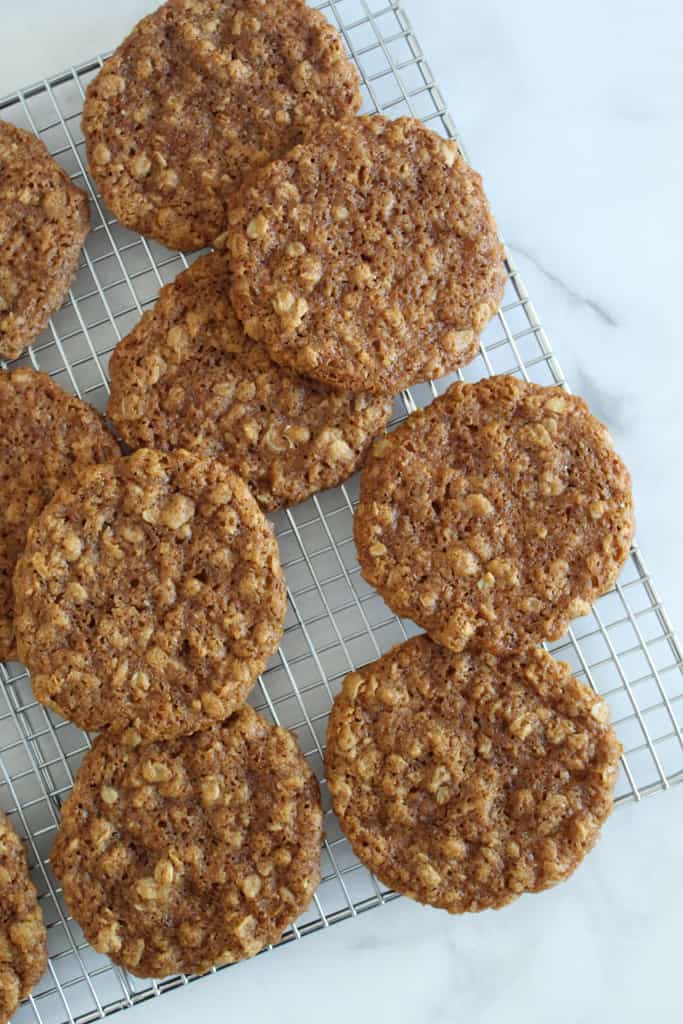 Why these are the best!
These are the best because they come with a history lesson...
The story of these biscuits dates back to Anzac Day, the anniversary of the first campaign that led to a high number of casualties for both Australia and New Zealand armed forces during World War I.  The term ANZAC was actually an acronym for Australian and New Zealand Army Corps. April 25 was officially declared Anzac Day in 1916 to remember the 60,000 Australians and 18,000 New Zealanders that perished in the War. That day was marked by ceremonies and a commemorative march through London involving Australian and New Zealand troops.
Anzac biscuits have long been associated with the troops during World War I. It has been claimed that Anzac biscuits were a very popular sweet treat during the war. Army wives would send dozens of these biscuits to their spouses. Being very cookie-like, the Anzac biscuits did not spoil and were ideal for transporting to their beloved soliders.
Plus these biscuits actually lend themselves very well to turning them into a gluten free treat! The basic ingredients are rolled oats, flour, desiccated coconut, sugar, butter and golden syrup. Some easy, gluten free substitutions and you have a recipe for a commemorative treat that is also gluten free.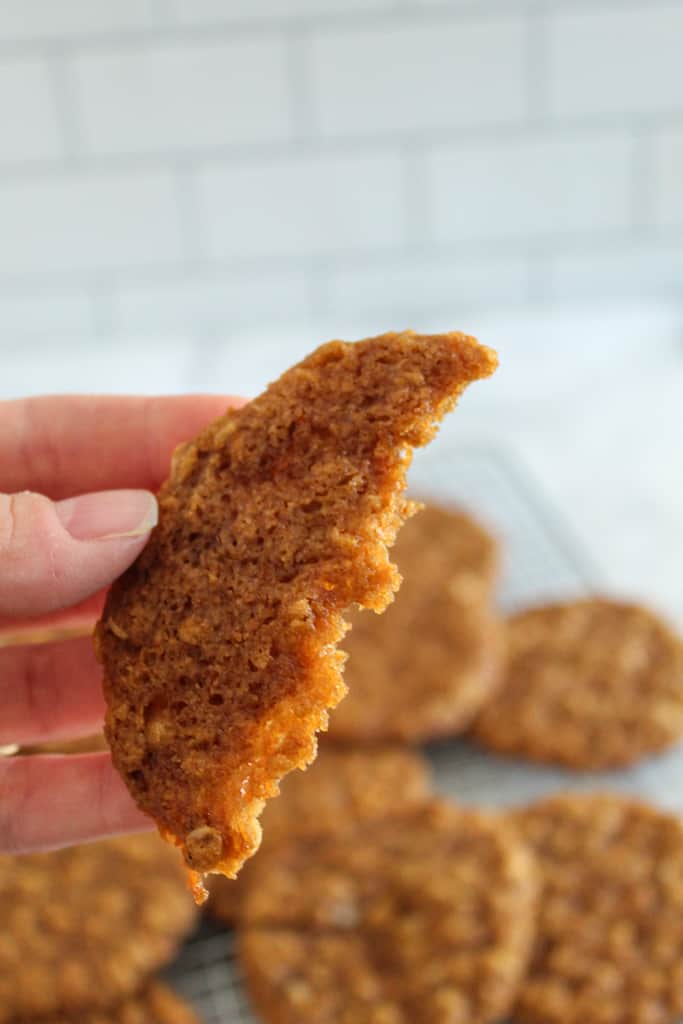 Baking tips
The recipe itself is pretty simple, but keep these tips in mind for the absolute best biscuits:
No mixer needed - BUT, use a sturdy spoon, the mixture will get very thick.
Weigh the ingredients - it's very important to measure the ingredients by weight instead of by cups. One cup of flour can vary greatly in the actual amount.
Use coconut sugar - coconut sugar compliments the desiccated coconut perfectly in this recipe. The Bob's Red Mill brand was tested in the recipe and produces a wonderful texture and flavor.
Golden syrup - golden syrup is the traditional way to make Anzac biscuits. It's a thick, almost buttery flavored syrup that gives the biscuits their chewy texture. Check it out here.
Desiccated coconut - in the states, this is not something that's easy to find, but just as in this flourless vanilla cake, desiccated coconut is easy to make. Just take the unsweetened flaked coconut and place it in the food processor to process for about 45 seconds.
Oats - oats don't agree with everyone but if you can tolerate them, I recommend Bob's Red Mill oats for this recipe.
How to make these gluten free Anzac biscuits
The ingredients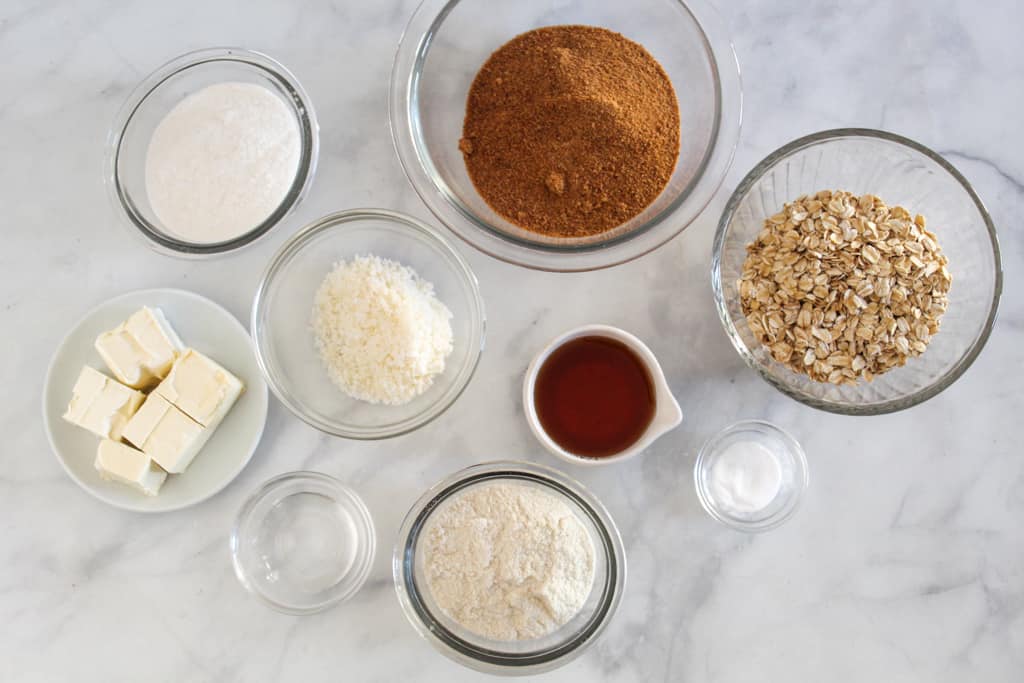 Make sure the flours, oats, sugar, golden syrup, baking soda and coconut are at room temperature. The butter can be taken straight from the refrigerator as it's going to be melted anyway.
Mixing the dry ingredients
Use a large mixing bowl and mix together the flours, oats, coconut and sugar.
Making the butter syrup mixture
Take the butter and golden syrup and place them in a medium saucepan to melt over low-medium heat. While that's melting - heat the water to boiling and mix in the baking soda.
Add this baking soda mixture to the melted butter mixture and give it a good stir.
Mixing the batter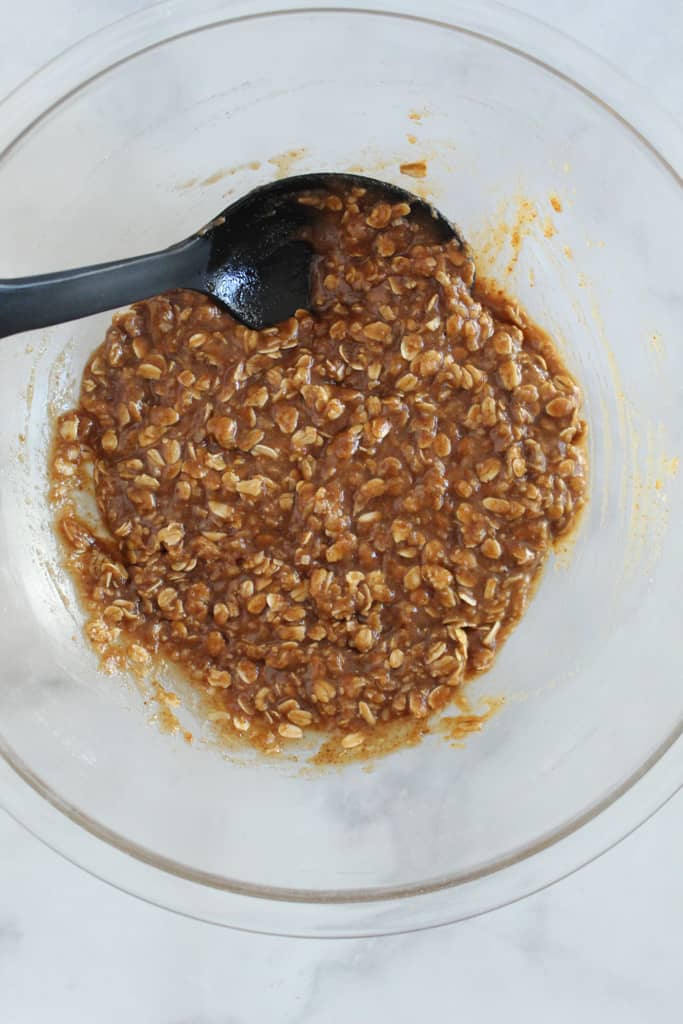 In the same bowl with the dry ingredients, add the butter mixture and using a sturdy spoon, stir it until everything is completely mixed.
Set the batter aside to rest for 30 minutes.
Shaping and baking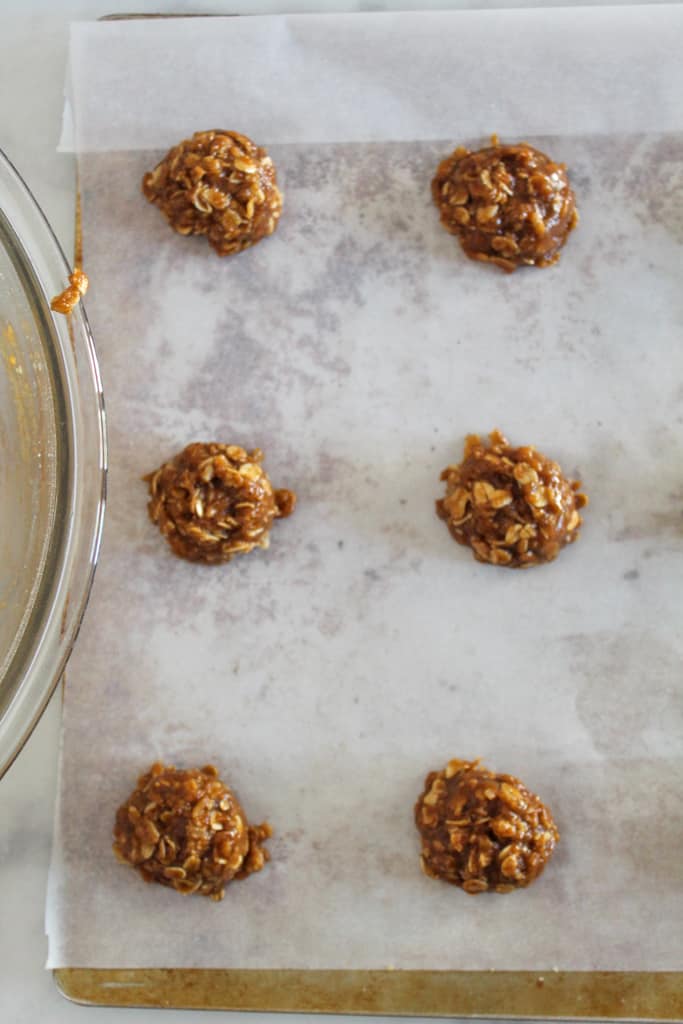 Using a cookie scoop, portion cookies 2 inches apart on the cookie sheet (they will spread, so make sure to give them 2 inches of space).
Then bake at 350 F for about 10 - 12 minutes.
FAQ's about this recipe
What can I use in place of golden syrup?
Golden syrup is what makes these Anzac biscuits. It can be substituted but it steers away from the tradition of them. Having said that, honey or in a pinch, maple syrup can be used.
Can I substitute the oats?
Oats are tough - it's difficult to mimic that texture. But quinoa flakes would be an acceptable substitute for the oats.
Can I make this with regular butter?
Absolutely! Regular butter can be used. Just make sure it isn't margarine and use an unsalted butter.
What is desiccated coconut and what if I don't have it?
Desiccated coconut is fancy for 'coconut that's been processed into small pieces.' It can easily be made at home if you don't have it on hand. Place the coconut into a food processor and blend for about 30 seconds. Just enough to get small pieces of the coconut.
Can anything be substituted for the coconut?
Coconut adds texture and of course, flavor. It can be substituted though - something like ground nuts or finely chopped dried fruit (raisins) would also work. But again, with any substitution other than the butter, it alters the flavor of the traditional Anzac biscuit.
More delicious recipes!
Recipe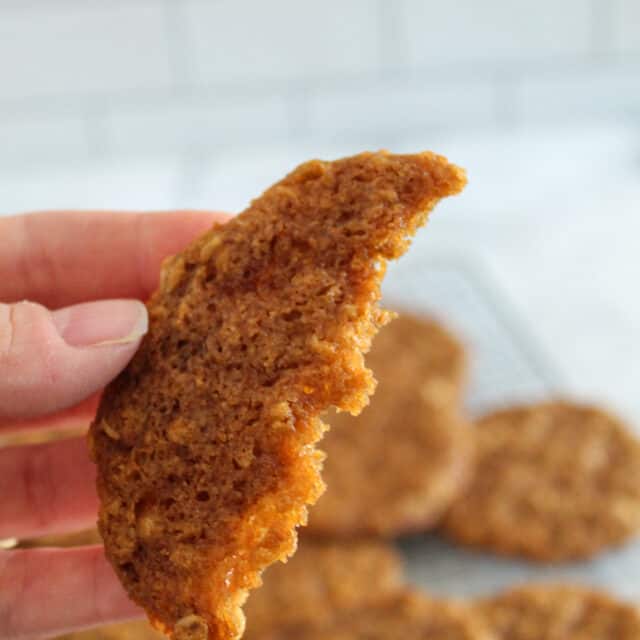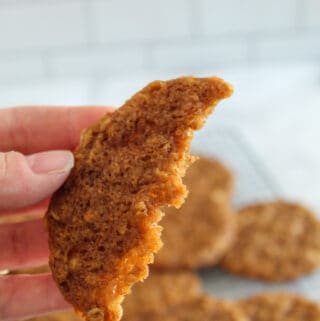 Gluten Free Anzac Biscuits
These sweet, chewy Anzac biscuits are super simple to make and mix in just one bowl!
Print
Pin
Rate
Ingredients
90

grams

gluten free rolled oats

about 1 cup

88

grams

white rice flour

about ½ cup

77

grams

brown rice flour

about ½ cup

23

grams

desiccated coconut

about ¼ cup

126

grams

coconut sugar

about 1 cup

125

grams

vegan butter

½ cup plus 1 Tablespoon

4

Tablespoons

golden syrup

½

teaspoon

baking soda

1

Tablespoon

boiling water
Instructions
In a large mixing bowl combine the oats, flours, coconut and coconut sugar. Set aside.

In a small saucepan, combine the butter and golden syrup and stir over low heat until the butter is melted.

Mix the baking soda with the boiling water in a small bowl and add it into the melted butter mixture.

Stir the butter mixture into the dry ingredients. Mix just until combined.

Set the batter aside to rest for 30 minutes.

Preheat your oven to 350 degrees F.

Line 2 baking sheets with parchment or baking paper. Set aside.

Scoop 1 Tablespoon of dough and place it 2 inches apart on the pans.

Cool on cookie sheets and remove to wire racks.
Notes
Make sure to weigh the ingredients.
Let the batter rest for 30 minutes before baking.
Place dough 2 inches apart on cookie sheets as the batter will spread.
Bake for 10-12 minutes.
Nutrition
Calories:
70
kcal
|
Carbohydrates:
10
g
|
Protein:
1
g
|
Fat:
3
g
|
Saturated Fat:
1
g
|
Trans Fat:
1
g
|
Sodium:
45
mg
|
Potassium:
21
mg
|
Fiber:
1
g
|
Sugar:
4
g
|
Vitamin A:
133
IU
|
Vitamin C:
1
mg
|
Calcium:
2
mg
|
Iron:
1
mg