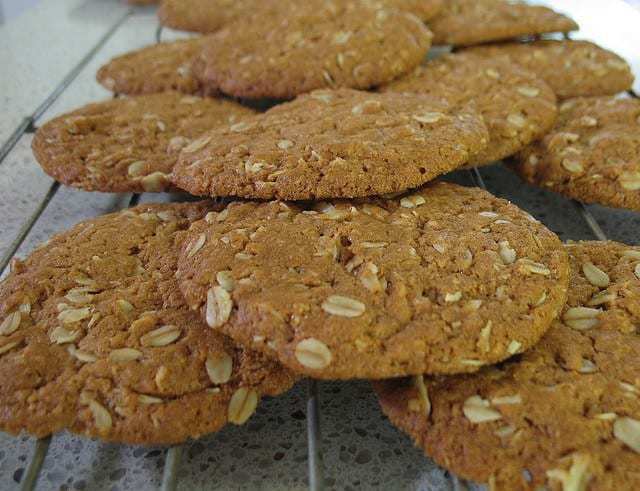 This recipe is for all of our Australian and New Zealand friends…
To commemorate the upcoming holiday of Anzac Day, Gluten-Free-Bread.org thought it might be a real treat to indulge in these delicious cookies/biscuits aptly named Anzac biscuits.
The story of these biscuits dates back to Anzac Day, the anniversary of the first campaign that led to a high number of casualties for both Australia and New Zealand armed forces during World War I.  The term ANZAC was actually an acronym for Australian and New Zealand Army Corps. April 25 was officially declared Anzac Day in 1916 to remember the 60,000 Australians and 18,000 New Zealanders that perished in the War. That day was marked by ceremonies and a commemorative march through London involving Australian and New Zealand troops.
Anzac biscuits have long been associated with the troops during World War I. It has been claimed that Anzac biscuits were a very popular sweet treat during the war. Army wives would send dozens of these biscuits to their spouses. Being very cookie-like, the Anzac biscuits did not spoil and were ideal for transporting to their beloved soliders.
These biscuits actually lend themselves very well to turning them into a gluten free treat. The basic ingredients are rolled oats, flour, desiccated coconut, sugar, butter and golden syrup. Some easy substitutions and you have a recipe for a commemorative treat that is also gluten free.
The following recipe is a combination of ingredients that brings out the sweetness of the syrup but doesn't overpower the whole treat.
Gluten Free Anzac Biscuits
Ingredients:
1 cup gluten free rolled oats
1/2 cup white rice flour, sifted
1/2 cup brown rice flour, sifted
1/4 cup desiccated coconut
1 cup coconut sugar
125 g butter (1/2 C. plus 1 Tbsp.)
4 Tbsp. golden syrup
1/2 tsp baking soda
1 Tbsp boiling water
Step 1:
Preheat your oven to 150 degrees C or 300 degrees F.
Line 2 baking sheets with parchment or baking paper. Set aside.
Step 2:
In a large mixing bowl or mixer combine the oats, sifted flours, coconut and coconut sugar. Set aside.
Step 3:
In a small saucepan, combine the butter and golden syrup and stir over low heat until the butter is melted.
Step 4:
Mix the baking soda with the boiling water in a small bowl and add it into the melted butter mixture.
Step 5:
Stir the butter mixture into the dry ingredients. Mix just until combined.
Step 6:
Place 1 tablespoon of the mixture onto the oven trays (it will spread, so allow enough room between biscuits).
Bake the biscuits for 20 minutes at 150 degrees C / 300 F.
While they are still warm, take a spatula and remove the biscuits onto wire racks to cool completely. Make sure to do this while they are still warm, otherwise they will stick to the sheets.
These gluten free Anzac biscuits will keep for up to 2 months, covered in an airtight container.
Enjoy!