There's nothing quite like sour cream for adding that sought-after richness and fluffy texture to baked goods. Whether you're making muffins, breads, biscuits or even tacos, adding sour cream makes them even tastier!
But what exactly is in sour cream and is it gluten free? Can you just grab any container off the shelf and assume you're good to go? (What about dairy free varieties too?) Those are questions we'll explore a little more as it's come up quite a bit here at Zest For Baking. This is another 'ingredient question' that we're excited to dive in to.
Below, you'll find everything you need to know whether sour cream is indeed gluten free, gluten free sour cream brands you can choose from, recipes using sour cream and more.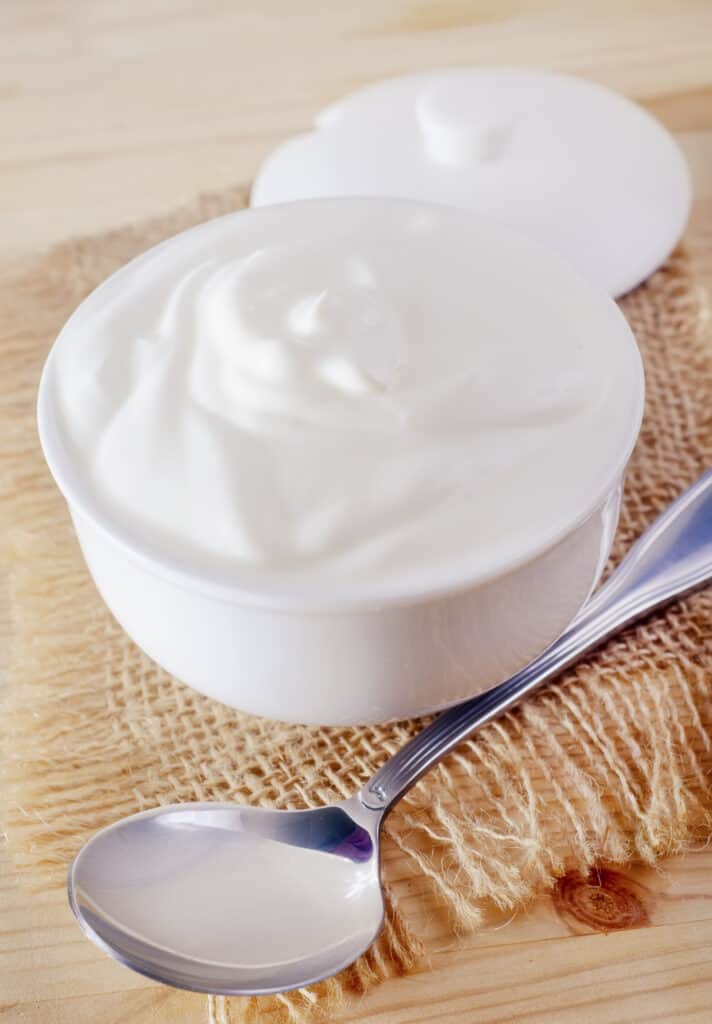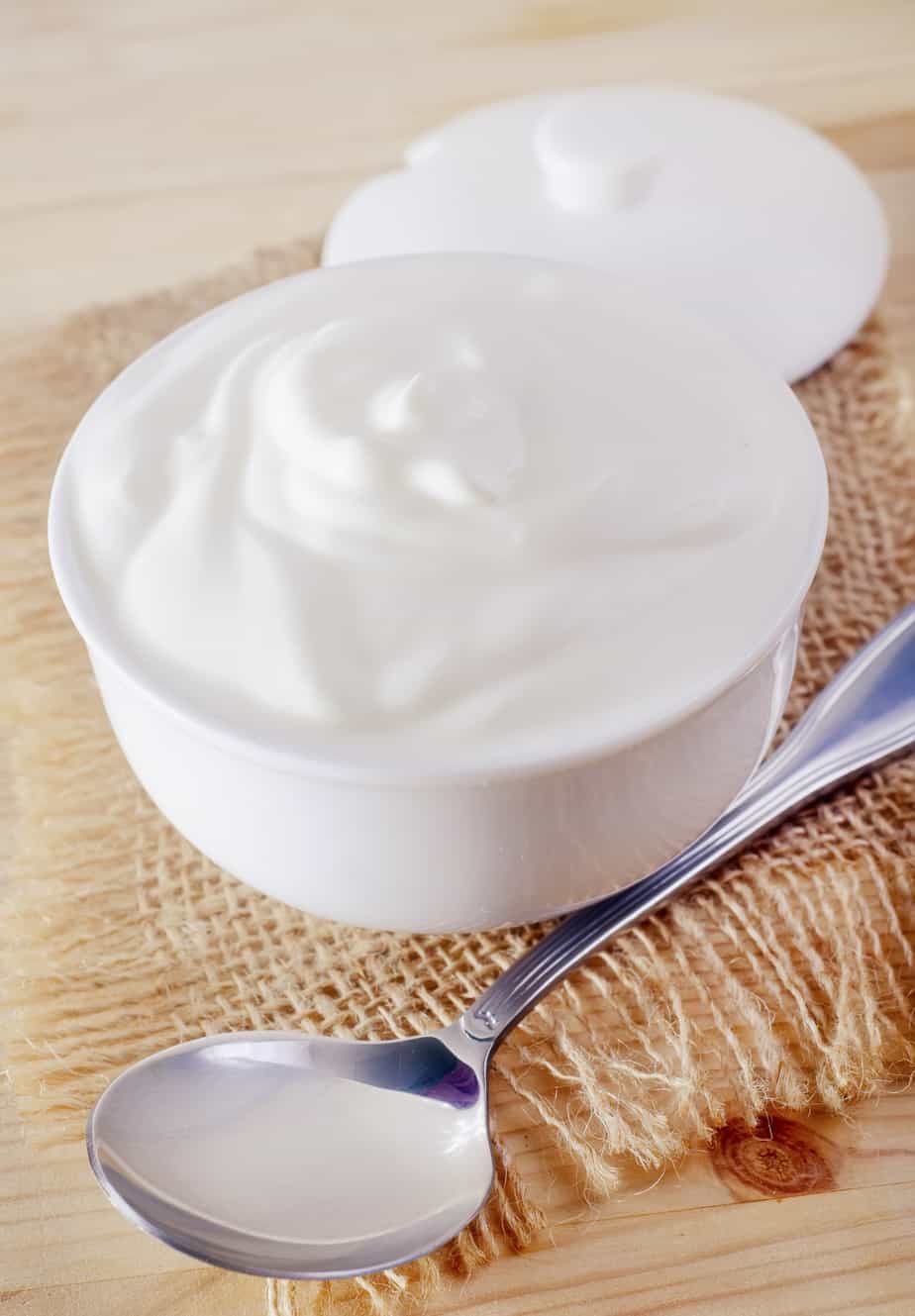 This post contains affiliate links. Affiliate links support Zest For Baking at no additional cost to you. I receive a commission if you choose to make a purchase through these links.
Why use sour cream in baking?
Using sour cream in baking might sound a bit weird for some. But its acid and fat content elevates baked goods, in every way you can think of:
Richness: Sour cream contains not less than 18% milkfat. And more fat means richer and creamier baked goods.
Moisture: It also lends moisture without making your batter thinner.
Activates Leavener: Sour cream's acid content helps activate leavening agents, like baking soda.
Tangy flavor: This cream also gives your treat a delicately tangy flavor.
In a pinch, sour cream can act as a heavy cream, yogurt, and whole milk replacement.
So, baking with sour cream is a win-win situation.
Is it gluten free?
Sour cream, as the name implies, is a soured cream. To achieve this, the pasteurized cream is fermented by introducing lactic acid-producing bacteria.
These bacteria, then, act by denaturing the whey proteins.
The result? The ever-versatile sour cream-a thickened liquid with a tangy and creamy flavor! Thus, pure sour cream is definitely gluten free. The problem, though, is in determining whether store-bought ones are gluten free too.
Other sour cream ingredients
According to the FDA, manufacturers can add the following sour cream ingredients, as long as they are safe and fit for consumption:
Optional Ingredients
Ingredients that enhance sour cream's texture, prevent syneresis (liquid oozing from sour cream) and extend sour cream's shelf-life.
Sodium citrate
Sodium citrate is added to pasteurized cream before fermentation. This component gives sour cream its salty and sour flavors. It also acts as a preservative.
Rennet
Rennet is a combination of enzymes that thickens dairy. Rennet usually comes from animal stomachs, fermentation, plant enzymes, and, lastly, from molds and microbes.
Sweeteners
Flavoring
Fruit and fruit juice, and/or artificial flavoring.
How do you know if sour cream has gluten?
If it isn't clearly labeled GF, you have to check with the manufacturer to determine whether a certain sour cream is gluten free, especially, IF the brand contains the following ingredients:
Natural flavoring (might come from barley)
Artificial flavoring (possibly coming from barley)
Flavorings (might contain wheat fillers)
Seasonings (may contain wheat fillers)
Best GF sour cream brands
The following brands are ones we know and love and are definitely GF!
Brand
Ingredients
365 by Whole Foods
Cultured organic cream
Organic milk
Organic non-fat milk Microbial enzymes
Forager Dairy Free
Coconut & Cashewmilk (Filtered Water, Coconut Cream, Cashews), Tapioca Starch, Sea Salt, Pectin, Distilled Vinegar, Lactic Acid, Locust Bean Gum, Agar, Live Active Cultures
Organic Valley
Organic Cultured Pasteurized Nonfat Milk, Organic Pasteurized Cream, Acidophilus And Bifidus Cultures, Microbial Enzyme
Green Valley Lactose Free
Organic Pasteurized Cultured Cream Lactase Enzyme
Live And Active Cultures.
Daisy
Milk
Cultured cream
Kite Hill
Almond Milk (Water, Almonds), Coconut Oil, Rice Starch, Coconut Milk, Maltodextrin, Chickpea Protein, Salt, Cultures.
Recipes to check out!
Yes, you read it right! Your biscuits will benefit from a dollop or two of sour cream.
This 8-ingredient grain-free recipe makes use of buckwheat flour. The results? Soft, full, and light-textured biscuits with earthy and wheat-y flavors!
Toasted or fresh, for breakfast, lunch, or dinner--it doesn't matter! Slather with butter, strawberry preserves, or tuna salad to uncover its even more delectable side!
I promise this is a recipe worth doing again and again!
The combination of rice flour and tapioca starch gives these bite-size biscuits a slightly crisp crust with a soft and tender interior; and an evident butter and sour cream flavor.
If you're looking for a yeast roll recipe that makes use of pantry staples and won't take ages to bake, then definitely check out this recipe.
No-knead, quick-rise, and tons of flavor! The combination of sour cream and Greek yogurt made these rolls tender yet firm with a slight edge.
Whipping up these super tender chocolate chip muffins (with chunks of mildly sweet real chocolate) will make your mornings lovely.
Pair these muffins with a nice cup of coffee, and you've got yourself a treat!
These mouthwatering buttery biscuits are golden brown outside yet tender on the inside!
Of course, you will want to serve these with jam, but they also taste great when you turn them into sandwiches (ham, tuna, or chicken salad sandwiches)!
An easy-to-do yet hearty and full of flavor breakfast sandwich? This might be the recipe for you.
Big and cheesy gluten free bread buns are already great on their own.
But, these buns taste best when you slice them up and top them with eggs and bacon-a heartier and crunchier sandwich, indeed.
FAQ's
Are all Daisy sour cream varieties gluten free?
Yes! Daisy Sour Cream has cultured cream listed as its only ingredient. The Light Sour Cream ingredients includes cultured cream, skim milk and Vitamin A Palmitate.
No gluten ingredients!

What's the best way to store sour cream?
Unless otherwise noted, store sour cream in the refrigerator.
Can you freeze sour cream?
Yes! Most sour cream freezes well - just place the container in the freezer and use within 6 months. Thaw the frozen container in the refrigerator.
How long will sour cream last?
If kept in the refrigerator, unopened, it can last for about 1 month. After opening, you'll need to use it quicker - usually within 2 weeks as it can spoil quickly when spoons and knives come in contact with it (cross contamination).
Is dairy free sour cream a one-for-one substitute for dairy sour cream?
It is, yes. A full fat, dairy sour cream can be substituted for dairy free sour cream.
Looking for more gluten free baking tips and recipes? Sign up below!