Gluten free baking comes with a unique set of challenges. After all, it is quite a feat to achieve the perfect light and fluffy texture without the help of gluten. Baking gluten free bread requires the right ingredients and tips, which I'm going to give you in this post.
A common mishap in gluten free bread is that it rises while it bakes but then collapses after it comes out of the oven. This can be so discouraging, especially when you've invested the time and ingredients to make a loaf of bread. The good news is that there are plenty of things you can do to prevent this from happening again.
Want a few gluten free bread recipes to try? Check out this soft flaxseed bread, this potato bread, this artisan bread, and this Italian bread.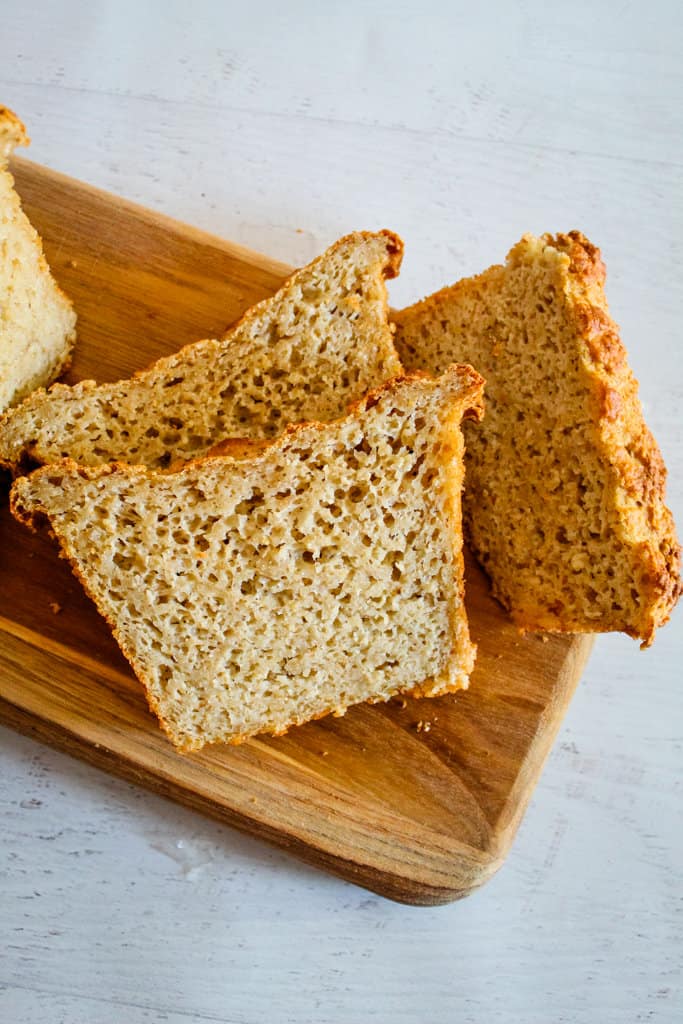 This post contains affiliate links. Affiliate links support Zest For Baking at no additional cost to you. I receive a commission if you choose to make a purchase through these links.
10 Reasons why gluten free bread deflates
When you're trying something new in baking, it really helps to know why you get certain outcomes. So before we go over how to prevent your bread from collapsing, let's talk about the top 10 reasons why this happens in the first place.
1. The batter was overproofed
A mistake that many new gluten free bakers make is letting the dough proof too long. It may seem like you need to proof the dough until it has doubled in size, but this is often too much. Proofing dough allows it to be filled with air. But when gluten free bread is proofed too long, it lets too much air into the dough, which results in it collapsing while in the oven or after coming out. In many recipes, like this white bread, if the dough has risen above the sides of the pan, it has over-proofed and will be more likely to collapse.
2. Too much water content
The amount of moisture in gluten free bread is very important to get right. When bread sinks in on itself after baking, it could be due to too much moisture in the bread. While there are some external factors that influence how much liquid is needed in the bread, including room temperature, humidity, and altitude, there are things to keep in mind with the structure of the bread and the ratio of liquids to dry ingredients. For example, this millet bread, uses roughly 2 ½ cups dry ingredients to 1 ½ cups liquid, but this flaxseed bread uses around 2 ¾ cups dry ingredients to 1 ⅔ cups liquid. So roughly a 1:2 ratio of liquid ingredients to dry ingredients.
3. Wrong baking temperature/time
A sunken loaf of bread can also be a result of the wrong oven temperature. Another common mistake is baking gluten free bread at too high of a temperature. If your bread seems to rise properly in the oven but collapses after coming out, it may have needed to bake at a lower temperature. Gluten free bread can sometimes require a lower temperature and longer baking time to properly cook all the way.
4. Underbaked
A good rule of thumb for gluten free yeast breads is to test the bread with an instant read thermometer rather than relying on the 'hollow tap method'. Many times gluten free baked goods need an additional 3 minutes of baking time.
5. Too much yeast
In the same way that you don't want the dough to proof too long, you also don't want to use too much yeast. Too much yeast will cause your dough to rise more than it should within the proofing time, and then you'll have the same collapsed result as when you let it rise too much. Also check that you're using the kind of yeast the recipe calls for, as active dry yeast and instant yeast are not the same.
6. Ingredients were different temperatures
This one is a great tip for baking in general, but very apt for baking bread. If you haven't been letting all of your ingredients (including gluten free flours that are stored in the refrigerator) come to room temperature, you should start this habit now. Ingredients that are too cold can cause the yeast to not react as it should.
7. Wrong pan type/size
Gluten free bread can also collapse if it has been baked in the wrong kind or size of pan. Most recipes specify what kind of pan should be used, and it's a good idea to follow that. If a pan isn't tall enough, the bread can easily rise above the sides and then collapse because it didn't have enough support. Also keep in mind that glass and metal pans retain heat differently and may produce slightly different outcomes.
8. Inaccurate measurements
If you don't use a digital scale to weigh out your ingredients, this is your sign that you should! Weighing out ingredients (especially flour) is the most accurate way to measure them. When you scoop a measuring cup into a container of flour or starch, since the texture is so fine, it can really pack into the cup and you can end up with a lot more flour than you need. It's best to weigh your ingredients to make sure you have the right amount of everything.
9. Incorrect flours/starches
There are so many different gluten free flours and starches, all with their own unique attributes. So it makes sense that they don't all work the same in bread! Some are better than others, and bread typically requires a combination of several of them. If you've been veering away from recipes and substituting flours or starches, this may be why your bread has been falling. For the best results, try to follow the recipe exactly.
10. High elevation modifications were needed
Baking at high elevations require modifications (unless you use a recipe specifically for high elevation, which can be super helpful). So, if you are trying to bake gluten free bread at a high elevation, you have even more of a challenge! If your bread came out of the oven and collapsed, it could have been one of the previous reasons, or a result of the altitude you are at. At high altitudes, your rise time will be even shorter, so modify this or find a recipe that has been created for your elevation.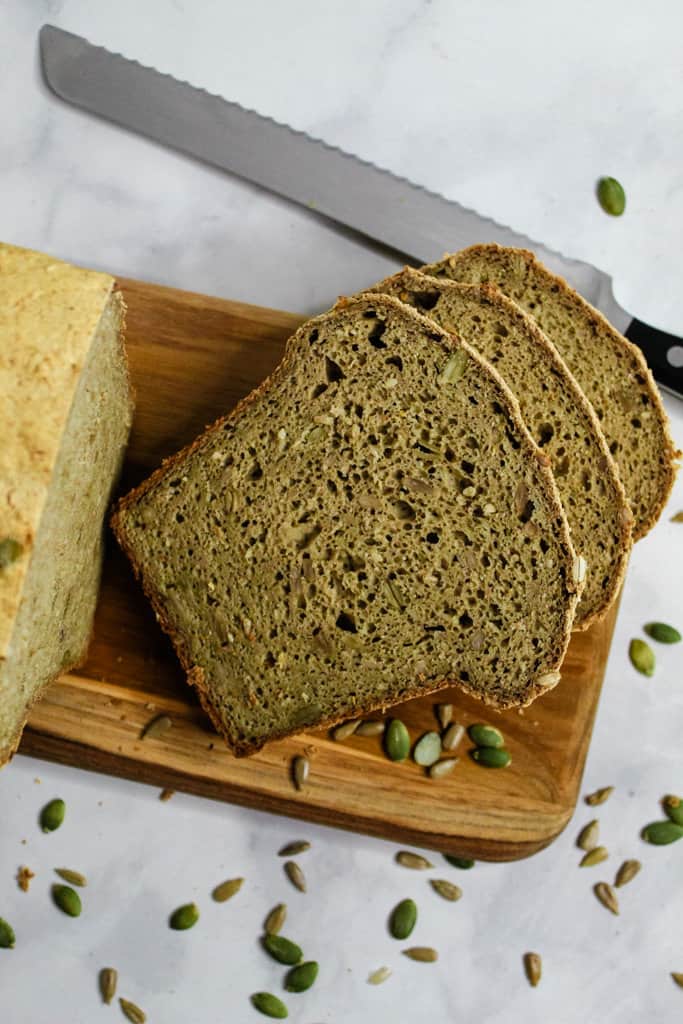 Note on baking time
I've found a few extra minutes of baking time is good for gluten free yeast breads. Also important is letting the bread cool completely before slicing into it.
How to prevent gluten free bread from collapsing
Here are 5 things you can do the next time you bake gluten free bread that will help prevent it from falling:
1. Don't overproof the dough
Overproofing the dough is one of the most common gluten free bread errors. But it can easily be corrected next time. Follow the amount of proofing time the recipe calls for, and don't let it go any longer. It's okay if the dough doesn't look like it has risen enough, because it will rise while it's in the oven.
2. Use the right pan
It may not seem like your pan could have that much of an impact on your bread, but it really can! If a recipe specifically calls for a certain type or size of pan, definitely follow that. If not, try to use something with tall enough sides so that when the dough rises, it can be pushed up and supported by the sides of the pan. It will be more likely to keep its shape this way. For gluten free yeast breads, look for pans with ridges on the sides like this one. This allows the batter to 'climb' up the sides easier.
3. Use the right type and amount of yeast
If you follow the amount of yeast the recipe calls for, you should be good. The detail to really pay attention to is the type of yeast. Active dry yeast and instant yeast work differently, and shouldn't be substituted for each other. Bread typically uses active dry yeast, but pay close attention to what each specific recipe uses.
4. Measure ingredients by weight
I know I've already said it, but weight is the best way to measure ingredients. Use a digital scale to ensure the flour mix and other ingredients are the exact amount.
5. Modify the baking temperature and time
If your bread is still collapsing, even after following the recipe exactly and not overproofing, it's time to test your oven temperature. Get an oven thermometer to ensure the temperature you select is actually what the oven is. If it is indeed off - modify the oven temperature to fit what the recipe calls for. And use an instant read thermometer to test doneness. It should register between 205-210F for yeast breads.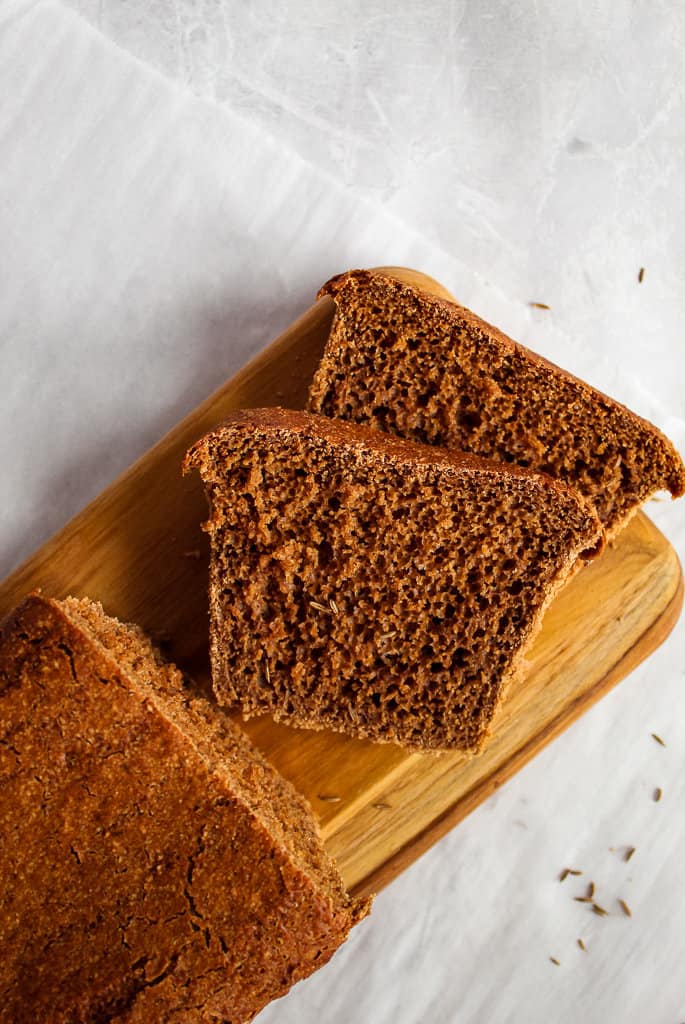 FAQs
Why does my gluten free bread collapse after baking?
There are several factors that can cause gluten free bread to collapse. A few things to check and modify are the proofing time, oven temperature, baking time, amount of yeast, amount of moisture, and size of pan. Make sure you closely follow the recipe you use.
How can I keep gluten free bread from falling?
The main things you can do to prevent your bread from falling are: not overproofing the dough, using the right type and size of pan, use the right kind of yeast, and following the recipe exactly. You may also need to lower the oven temperature and bake for longer if nothing else is helping.
Which flour is best for gluten free bread?
There isn't one right answer to this because there are so many great gluten free flour options! But an excellent ingredient to have on hand is this gluten free flour mix. It really comes in handy!