With the number of gluten free flours and starches on the market today, it can be hard to determine which ones to use and when. Two gluten free ingredients that often cause some confusion are cassava flour and tapioca flour. Although they have a number of similarities, they perform quite differently in baking. To make things simple, here's everything you need to know about cassava flour and tapioca starch.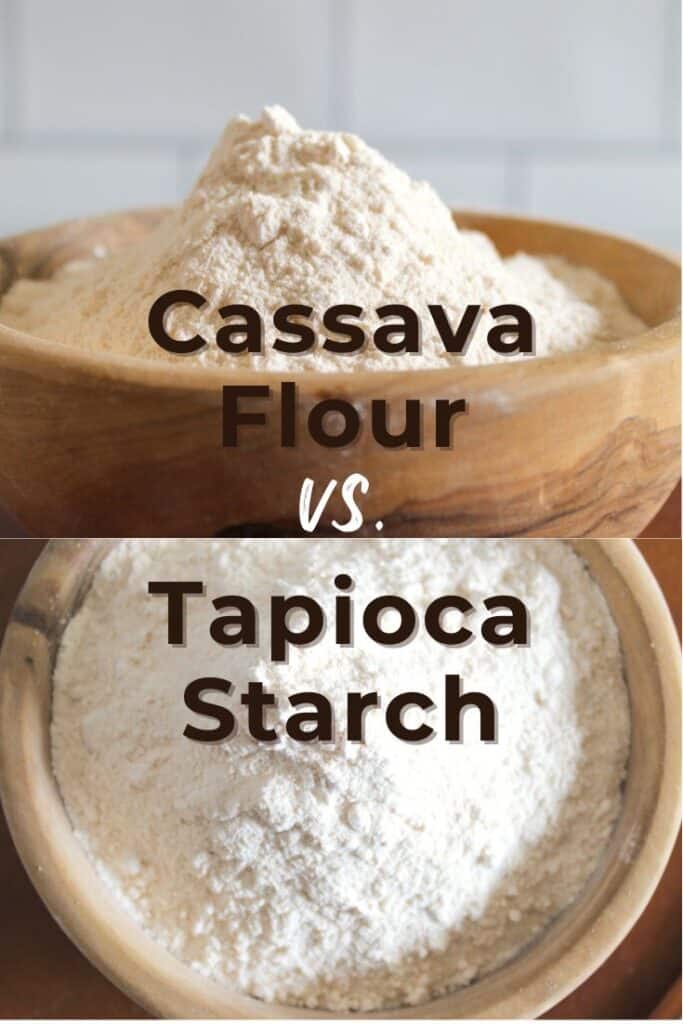 Looking for more help on substitutes? Check out these xanthan gum alternatives, this teff flour substitute post and this article on arrowroot flour substitutes.
Also check out this comprehensive Guide to Using Substitutes in Gluten Free Baking. This guide covers substitutes for eggs, flours, starches, gums and dairy.
Jump to:
Similarities & differences
Since they both come from the cassava plant (or yuca plant), tapioca starch and cassava flour are frequently associated with one another. Both are rich in carbohydrates, iron, and calcium in addition to being naturally gluten free. That being said, their functions in gluten free baking differ significantly.

The primary purpose of flour in baked goods is to provide structure. Starches, on the other hand, mimic the role of gluten. They create elasticity and act as a binder that holds all of the ingredients together. Additionally, starches absorb liquids and cause them to thicken. Generally, you should use starches in much lower quantities than flour in baked goods. While too much starch in a recipe can result in a gummy texture, excess flour can cause a dry and crumbly consistency. Consequently, you cannot use tapioca starch and cassava flour interchangeably in baking.
What is cassava flour?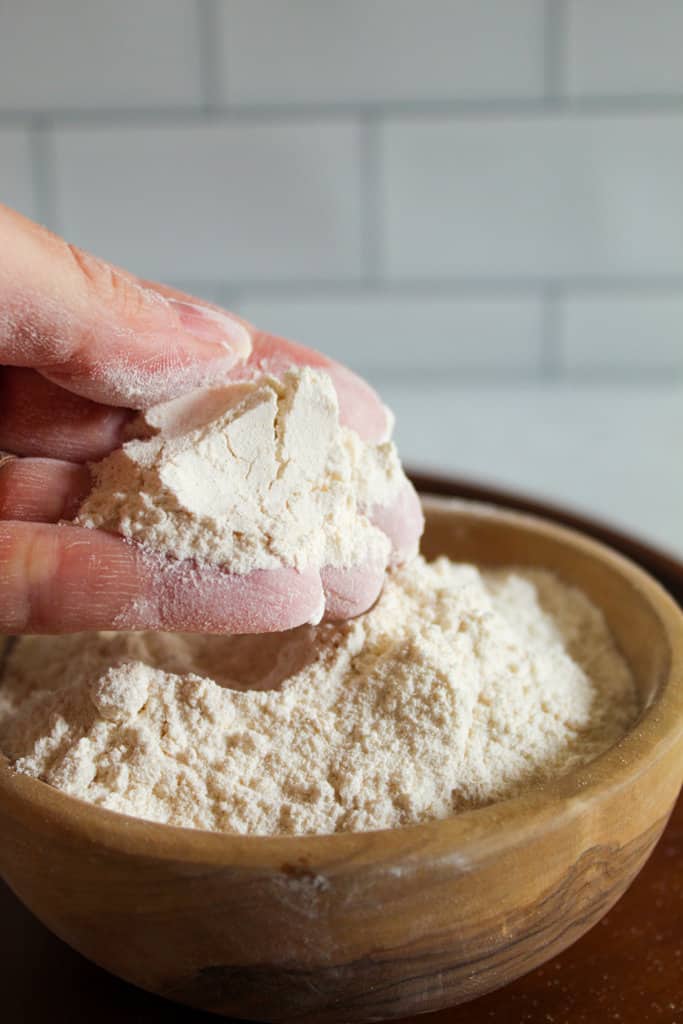 Also known as yuca flour, cassava flour comes from the root of the tropical cassava plant. It is made when the plant's whole root is peeled, dried, and milled into a fine powder.
Uses
The mild, neutral flavor and fine texture make cassava flour ideal for both sweet and savory baked goods. It can be used on its own or as part of a gluten free flour blend. Cassava flour is commonly used in desserts such as cakes, muffins, waffles, and brownies. You may also find it in gluten free breads and tortillas. The light, powdery consistency contributes a soft and delicate texture to baked goods. Additionally, cassava flour is often used as a thickener in sauces, soups, and fillings. Furthermore, it can replace breadcrumbs as a binder in foods such as burgers or meatballs.
Cassava is often used as a gluten free alternative to wheat flour. Because it's lighter and more absorbent, you can't use it as a direct replacement for wheat flour in baking. For the best results, substitute ¾ cup of cassava flour for 1 cup of wheat flour.
Nutrition
Since cassava flour derives from a tuber, it is a low-allergen flour that is naturally gluten, grain, and nut free. It's considerably rich in nutrients compared to other gluten free flours and is lower in fat, calories, and sodium. Cassava flour is also a healthy source of fiber and carbohydrates. Because it's high in resistant starch and antioxidants, cassava flour promotes healthy digestion and can reduce inflammation. It also contains a significant amount of vitamins and minerals including potassium, iron, calcium, and folate.
Best for baking
When it comes to flours, not all gluten free flours are created equal (which you'll hear me explain in my baking masterclass). This is the brand that has the best consistency and produces the most reliable results in gluten free baking.
What is tapioca flour?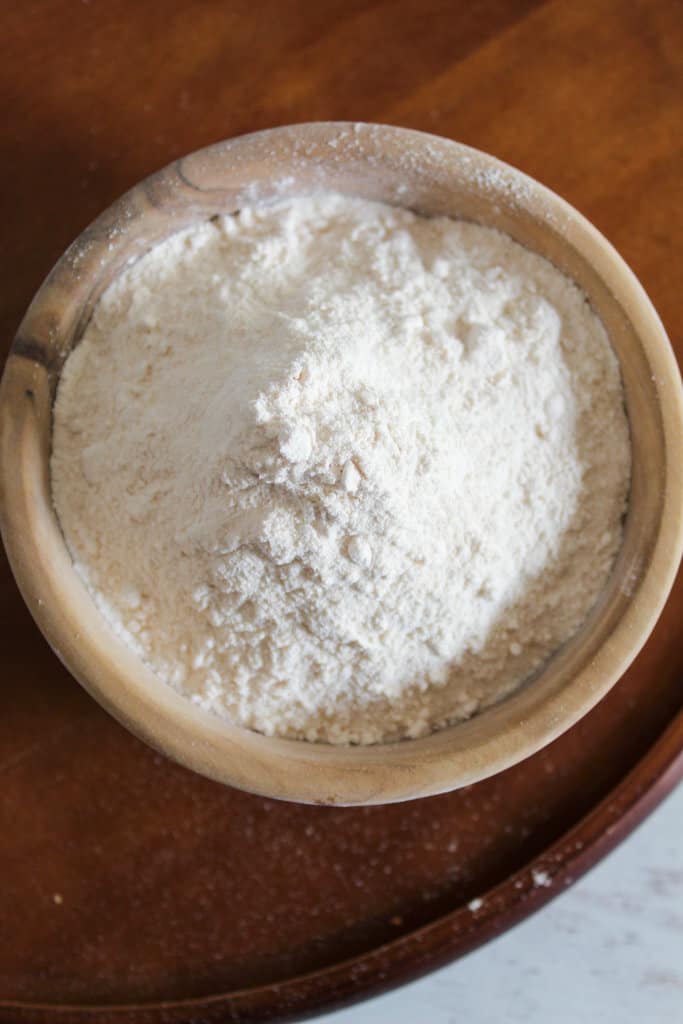 Like cassava flour, tapioca starch also originates from the cassava plant's roots. However, tapioca starch is produced from only the starchy portion of the root, rather than the whole root. Tapioca starch (also known as tapioca flour) is made when the cassava tubers are peeled, washed, chopped, and finely grated into a pulp. The pulp is combined with water and spun to extract the starch and separate the fibrous pulp. What's left is a starch liquid that is then dried to create tapioca starch.
Uses
With its neutral flavor and odor, tapioca starch is used in a variety of gluten free baked goods. Its main purpose is to imitate the tenderness and elasticity of gluten-containing foods. It is also used as a thickener in sauces, jams, and pie fillings. Its binding abilities produce baked goods that have a light, fluffy, and spongy texture. Tapioca starch can be used in a number of recipes such as cookies, brownies, bread, and pie crusts. It should be used in combination with other gluten free flours for the best results.
Tapioca starch makes an excellent low-allergen substitute for cornstarch as a binder and a thickener. You can use the two interchangeably, making it a quick and easy swap! While cornstarch contributes a matte finish to sauces and fillings, tapioca starch yields a glossy finish. Additionally, tapioca starch works particularly well in dairy-based recipes, unlike some other thickeners.
Nutrition
The nutritional content of tapioca starch has some similarities to that of cassava flour. It is a good source of carbohydrates, calcium, and iron. Additionally, it's easy to digest and is also gluten, grain, and nut free. Because neither contains any saturated fat, they are good for those who may be concerned about heart health. On the other hand, tapioca flour is lower in nutrients than cassava flour but slightly higher in calories.
Best for baking
Tapioca starch may be one of the easiest starches to find commercially. But just because it's readily available doesn't mean all brands perform equally well. This is the brand I use and recommend for baking.
Cassava flour vs tapioca flour FAQs