Gluten free Cranberry Orange scones have a bright and fresh sweet-tart flavor combination and are so light and tender. Serve warm for breakfast or add to a brunch platter this holiday season.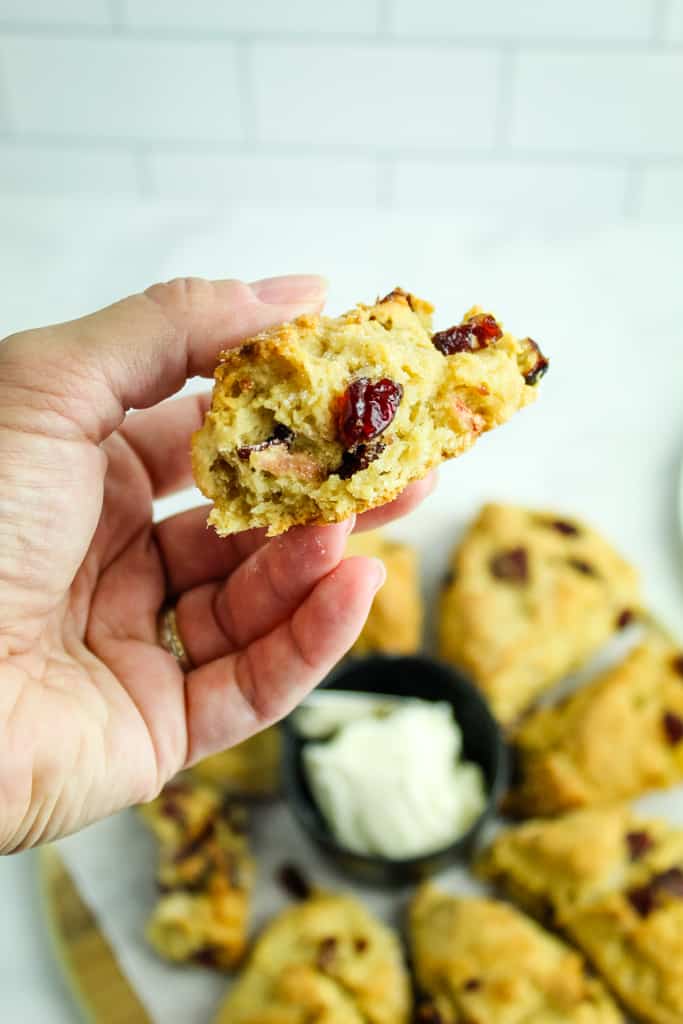 If you're looking for the best gluten free scone recipe dotted with cranberries in every bite, well you've found it here. The tartness of the cranberries and orange juice complement the sweet biscuit for a perfect scone.
Once you learn how to make scones you'll find that they aren't as scary as some make them out to be. The ingredients are simple, the process is easy, and you can really get creative to make them your own.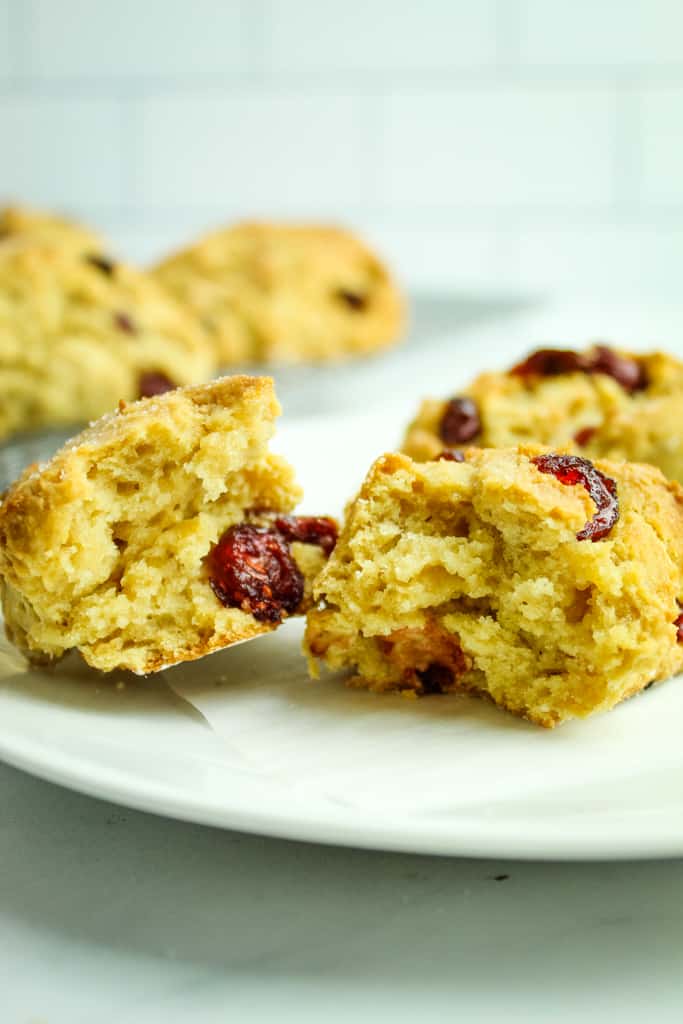 This is probably one of the most looked for scones recipe and it's easy to see why. The combination of flavors is superb and for a baked good, is very bright.
Plus, the texture is what it's all about! No crumbly scones here! It's tender, light, and as an added benefit it is also gluten free and dairy free.
PRO TIP: Want to kick up the citrus flavor in your scones? Add a tablespoon of fresh orange zest to the mix!
The oils released from the orange will give you quite a flavor boost.
What ingredients are in these scones?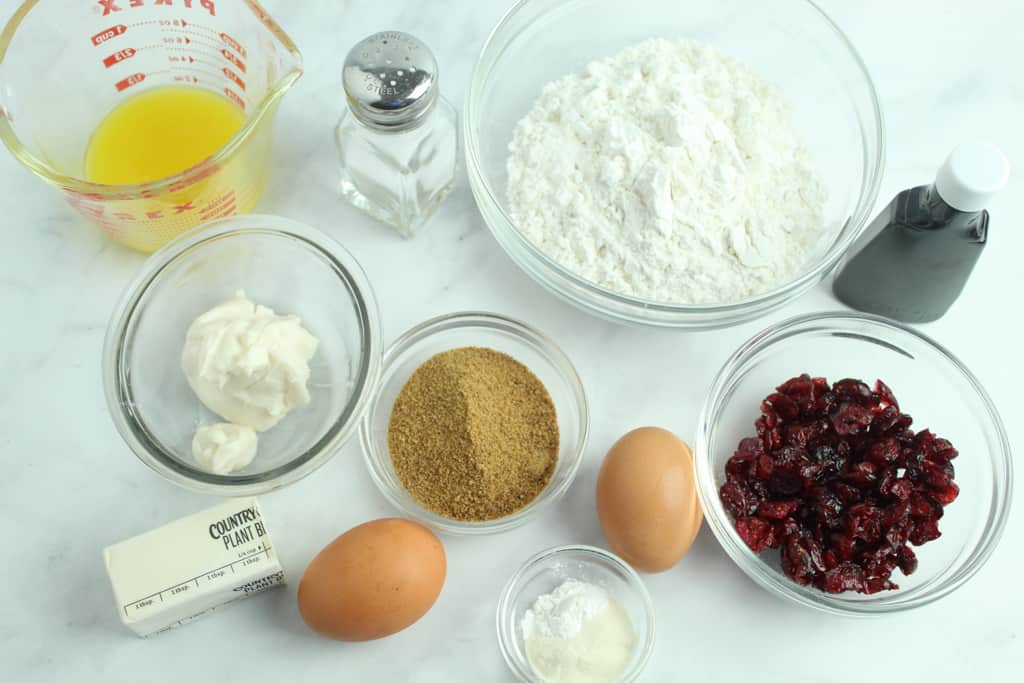 Have this gluten and dairy free scones recipe ready in no time with ingredients you're likely to have right in your pantry and fridge.
Pantry ingredients: gluten free flour mix, dried cranberries, coconut sugar, baking powder, xanthan gum, salt, and vanilla
Refrigerated ingredients: vegan butter, sour cream, orange juice, and eggs
PRO TIP: Bring your ingredients (except butter) to room temperature!
Most scone recipes call for cold ingredients, but I found that this gluten free cranberry orange scone recipe bakes up perfectly with room temperature eggs and orange juice.
Substitutions for orange cranberry scones
Dairy products can easily replace the non-dairy ingredients in this gluten-free scones recipe. Use regular sour cream or yogurt and unsalted butter.
This recipe was made with the gluten free flour blend I mix myself. It is super simple and great to have available, especially if you're a gluten free dieter. With that being said, I have not tried this gluten free dairy free scones recipe with any other flour blend.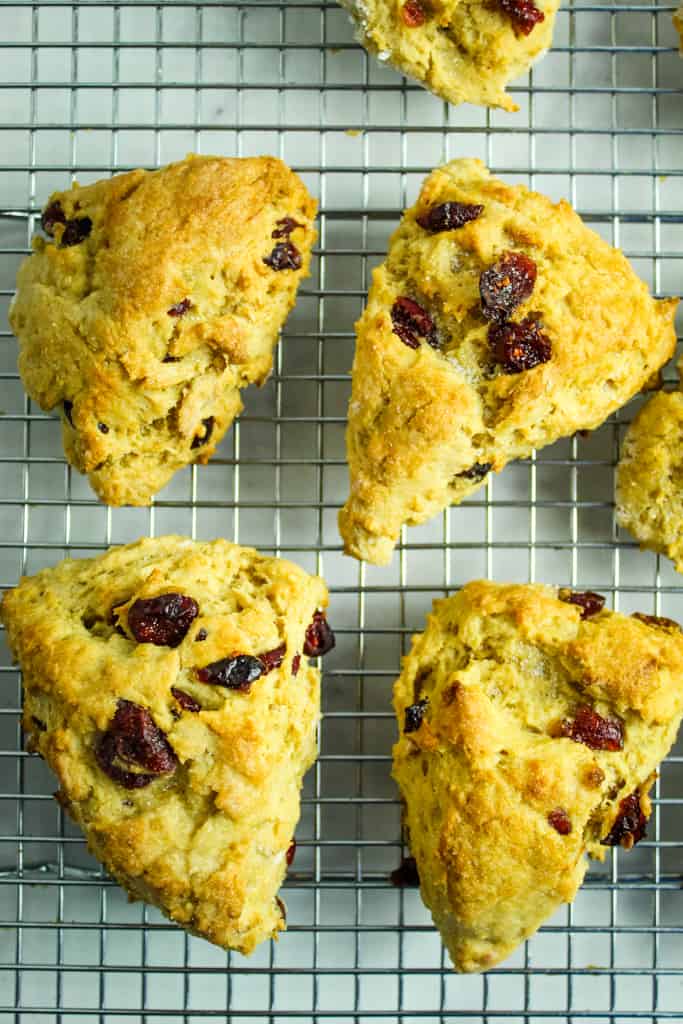 Can I use fresh cranberries instead of dried cranberries in these scones?
Because cranberries are usually more available during the Thanksgiving and Christmas holiday season, you can absolutely use them instead of dried, though they will be a bit more tart. Dried cranberries are sweeter, so you will be able to taste the difference, but either would be delicious.
Tools I use
We all love an easy recipe, but what's better than that? A recipe that doesn't keep you at the kitchen sink washing dishes!
For this recipe, you'll only need one large bowl, a pastry blender, a wooden spoon, a rubber spatula, and a knife to get these perfect cranberry orange scones ready for the oven. We're also using wax paper and parchment paper for even easier cleanup.
How to make cranberry orange scones?
Start with room temperature ingredients. In a large bowl, combine gluten free flour mix, coconut sugar, baking powder, xanthan gum, and salt.
PRO TIP: Weigh the flour and check your baking powder!
If you're wondering how to make scones soft and tender, start with measuring your flour! Adding too much flour will cause your scone to be dry and crumbly. Also, make sure your baking powder is still fresh otherwise it will not rise to the right height and can also cause the scone to be dense.
Use a pastry cutter to chop in the cold cubed butter to the dry mix until small pea-sized balls begin to form. Then, stir in the sour cream until crumbly.
In a measuring cup, mix the eggs, orange juice, and vanilla. Then with a sturdy wooden spoon, stir the egg mixture into the flour. Once a batter has formed, gently stir in the cranberries.
Rolling it out
Place a piece of wax paper on the counter with a sprinkle of flour. Use a rubber spatula to scrape the dough out of the bowl onto the wax paper in a mound. This scone batter will be sticky!
Allow the scone batter to rest for about 5 minutes. Meanwhile, preheat the oven to 400 F and line a baking pan with parchment paper.
Once the dough has rested, sprinkle more flour over the dough and roll the batter into a 1-1.5 inch thick disk.
PRO TIP: If you're having issues with the batter sticking to the rolling pin then add another piece of wax paper on top of the dough and roll out.
Cut the scone dough disc into 8 equal sections and with a floured metal spatula, place each scone onto the baking sheet and bake for 17 minutes.
Your scones will be a beautiful golden brown with lightly crisped edges. Serve these sweet-tart cranberry orange scones with a slather of butter or make a quick icing glaze to drizzle on top.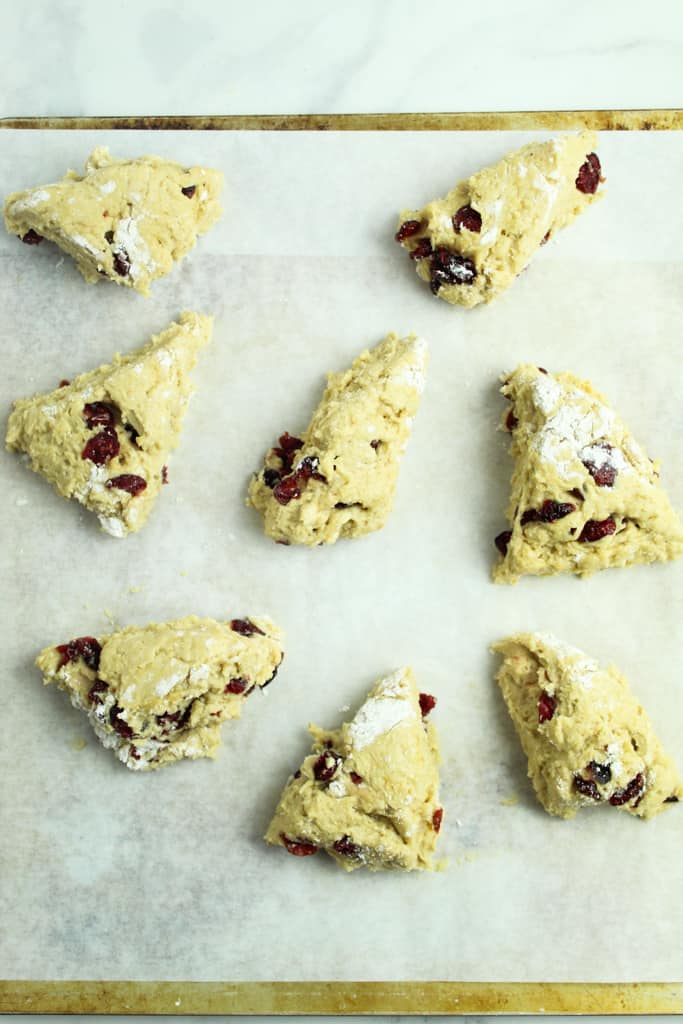 Check out more scone recipes
If you love scones as much as I do, you'll be happy to see a few more Gluten Free Scone Recipes here! These GF Lemon-Blueberry Scones are another bright, citrus and berry scone, and a classic Blueberry Scone Recipe that is also anti-oxidant rich. And if you're feeling festive this Fall season, you can't miss out on The Best GF Pumpkin Scones!
Storage
These cranberry orange scones are best freshly out of the oven and served warm. To store after baking, place in an air-tight container or plastic bag to freeze for later.
You can also freeze the unbaked scone dough. After cutting the raw scone dough disc, place on a wax paper-lined baking sheet and flash freeze for 30 minutes. Then, place in a freezer-safe bag and store up to 1 month.
When ready to bake, simply place the scone portion on a parchment paper-lined baking sheet and bake in a preheated 400 F oven for 17-20 minutes.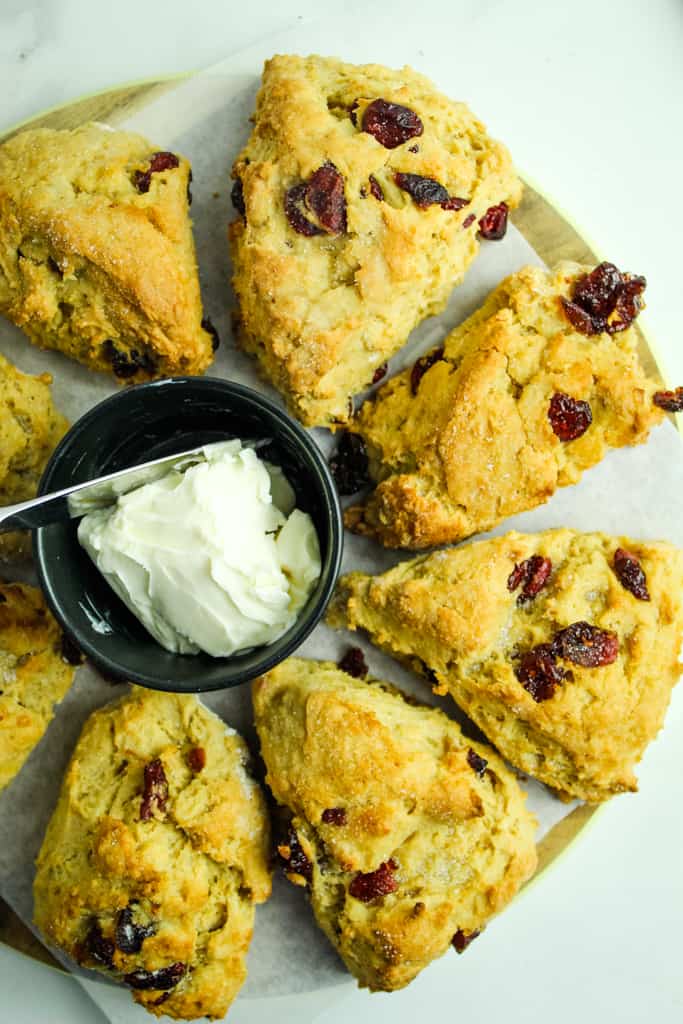 For the love of all things baked, these Gluten free Cranberry Orange Scones are going to be your new go-to scone recipe! I'd love to hear how this scone recipe worked out for you in the comments!
Recipe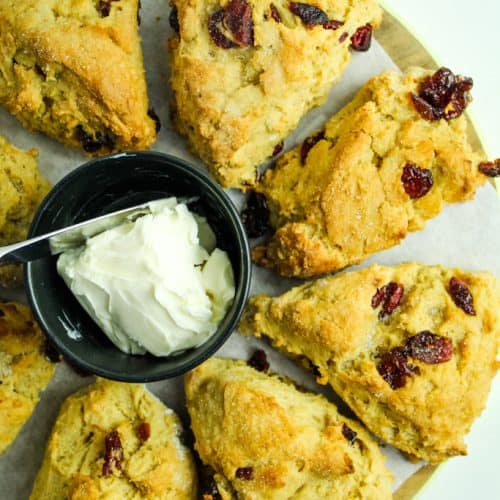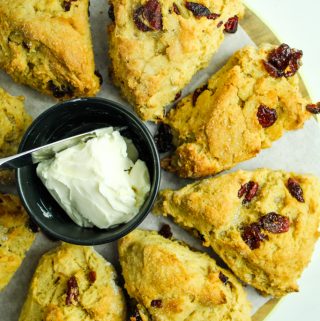 Gluten Free Cranberry Orange Scones
Light as a feather, these gluten free cranberry orange scones look amazing on a breakfast or brunch platter and have that sweet-tart flavor combination that no one can resist!
Print
Pin
Rate
Ingredients
230

grams

gluten free flour mix

¼

cup

coconut sugar

2

teaspoons

baking powder

1

teaspoon

xanthan gum

½

teaspoon

salt

4

Tablespoons

non dairy butter

cubed

¼

cup

vegan sour cream

2

large

eggs

¼

cup

orange juice

1

teaspoon

pure vanilla extract

½

cup

dried cranberries
Instructions
In a large bowl, combine gluten free flour mix, coconut sugar, baking powder, xanthan gum and salt.

Add cubed butter to bowl and cut in with a pastry blender until no large chunks of butter are visible.

Stir in the sour cream. Mixture will be crumbly.

In a measuring cup or small bowl, mix together the eggs, orange juice and vanilla extract.

Add egg mixture to the flour mixture.

Using a sturdy spoon, stir until a batter forms

Add cranberries to the batter and gently stir to mix.

Place a piece of wax paper on the counter and sprinkle it with flour.

Place the scone batter on the wax paper and let it rest for 5 minutes. Meanwhile preheat the oven to 400 F and place a piece of parchment paper on a baking pan.

Sprinkle the batter with flour.

Roll the batter into a 1 - 1.5 inch thick disk.

Using a sharp knife, cut the disk into 8 sections.

Using a floured, metal spatula, place each scone onto the baking sheet.

Bake the scones at 400 F for 17 minutes. Cool the scones on a wire rack.

Serve warm or at room temperature.
Notes
Make sure ingredients are at room temperature. Except butter - butter should be cold!
Scone batter will be sticky!
Allow the dough to rest for 5 minutes before rolling out.
Use a metal spatula dipped in flour for moving the scones onto the baking sheet.
Scones are best served the same day but can be sealed in a plastic bag to be frozen for later. 
Nutrition
Calories:
219
kcal
|
Carbohydrates:
33
g
|
Protein:
4
g
|
Fat:
9
g
|
Saturated Fat:
2
g
|
Cholesterol:
47
mg
|
Sodium:
266
mg
|
Potassium:
134
mg
|
Fiber:
3
g
|
Sugar:
10
g
|
Vitamin A:
83
IU
|
Vitamin C:
4
mg
|
Calcium:
67
mg
|
Iron:
1
mg
Find out more gluten free baking tips here:
Tips for the Best Gluten-Free/Xanthan Gum-Free Dinner Rolls
10 Gluten-Free Thickening Agents Perfect for Baking, Soups and Sauces
Coconut Flour: Tips, Uses and A Muffin Recipe
And check out these delicious gluten free recipes:
Buttery Gluten Free Biscuits Recipe
Gluten Free Cookies and Cream Cake