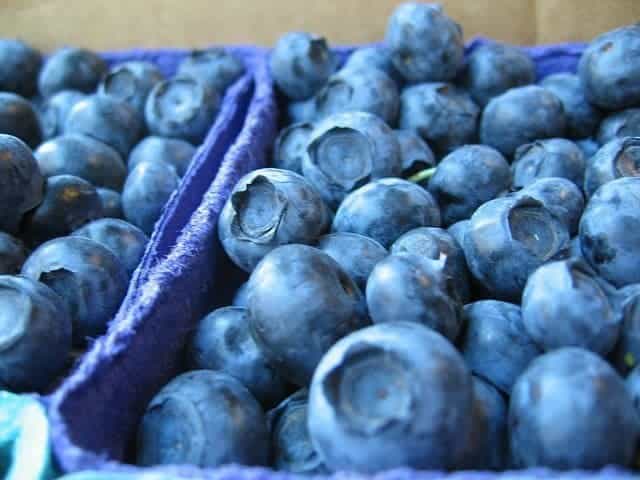 Blueberries have been in the spotlight recently with a multitude of studies highlighting their wonderful health benefits, not to mention their versatility and taste. Currently, blueberries are in season and they are a great addition to your diet. Containing powerful antioxidants which have been shown to help actively reduce the risk of getting cancer and a low glycemic load, blueberries are a reasonably cheap and highly nutritious super-food.
Blueberries contain anthocyanins which are powerful anti-oxidants which have become the focus of many scientific studies in recent years. Anthocyanins are responsible for the bluish hue that earns the berries their name. Aside from helping reduce the risk of cancer, anthocyanins ease inflammation, protect the nervous system from oxidative damage and reduce bad cholesterol. They have even been shown to improve eyesight and to increase mucus production in the stomach – protecting the stomach from injury and ulcers. Convinced? So are we!
It seems that the culinary masters have known this ever since, with an abundance of recipes for desserts, baked goods and snacks out there to try. Today we'd like to share a recipe for blueberry scones which is gluten free of course. These should make a tasty accompaniment for your breakfast or evening tea/coffee. They'll work equally as well as part of a dessert – the choice is yours!
Gluten Free Blueberry Scones
Before we begin, pre-heat your oven to 425 degrees F.
Ingredients
200g (8oz) gluten free self-rising flour
1 teaspoon baking powder (gluten free)
Butter 25g
(1oz) caster sugar
75g (3oz) blueberries
1 medium free range egg, beaten with enough milk to make 125ml (¼ pt) of liquid - divided
Directions
1. In a large bowl, place the gluten free flour and baking powder. Add butter and knead with your fingers until mixture forms small granules/crumbs.
2. Reserve 1 Tbls. of the egg mixture. Add the remaining egg and milk mixture to the dough and knead until you form a nice, sticky dough.
3. Add the blueberries and also the caster sugar to the mixture in the bowl.
4. Sprinkle/Dust some gluten free flour on a wooden board/clean flat surface and flatten the dough with a rolling pin until it forms a layer approximately 1 inch thick.
5. Using a scone cutter, cut out 6-8 scones by pushing down into the dough and lifting out. Knead any remaining bits of dough and flatten once more to cut out more scones.
6. Place scones on baking tray and brush some of the reserved egg mixture onto the top layer of the scones.
7. Place the scones in pre-heated oven and bake for approximately 15 minutes or until they become golden brown.
8. Allow scones to cool and serve.
We hope you get to try out this easy to prepare and great tasting gluten free scone recipe. In some parts of the world, blueberries are not in season but can fortunately be found frozen. These work just fine in the recipe too, however, fresh blueberries are ideal. Also, organic blueberries are better and can have a more intense flavor even though they are more expensive and smaller overall. Still, it's not necessary to sweat the small stuff. Just grab whatever you can find and get baking. You'll be glad you did once you taste them.