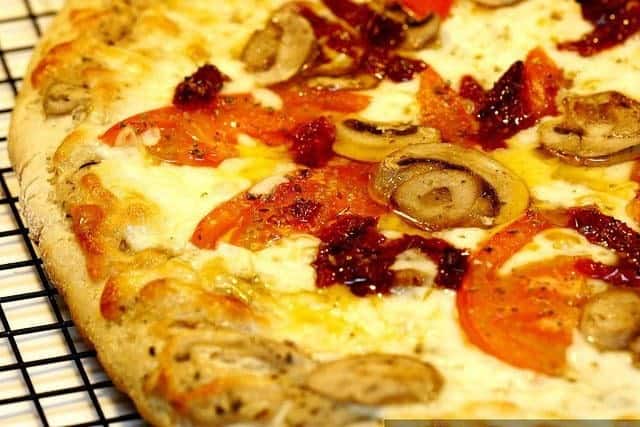 If you are on a gluten-free diet, you probably just assume that you will never get to indulge in the delicious taste of pizza ever again. Not to worry! You are not alone in your gluten-free diet, and you are not alone in your love of pizza.
At the end of this article is a recipe for pizza crust using coconut flour, so that you can enjoy pizza once again. But before that, here are some interesting facts about this delectable food item—a staple at parties, Friday nights at home in front of the TV, and staff lunches?
Pizza scholars have traced the term "pizza" all the way back to 997 AD, where the word was found in a Latin text in Southern Italy. In this text, it is said that the bishop is owed 12 pizzas on Christmas Day, and another 12 on Easter Sunday.
By the late 18th century, pizza came to look and taste much like it does today. The poor areas of Naples became known for great pizza, and soon that's where everyone headed when they wanted to give pizza a try.
Luckily for Americans, when Italians immigrated in the late 19th century, they brought pizza with them. Pizza was mostly popular with Italian-Americans, who bought pizza from street vendors. Soon, restaurants selling pizza started opening.
Although there were places to get pizza in the United States, it didn't really become popular with Americans until they got a taste of the pie during World War II. Soldiers in Italy bought pizza, found out how delicious it was, and couldn't wait to tell the folks back home.
Today, the pizza business is booming. Americans eat 350 slices of pizza per second, which is easy to do as there are so many places to buy it. You don't even have to leave your house, because nowadays the pizza will come to you.
Whatever topping you can think of, it has probably been on a pizza. Pepperoni is the most frequently asked for topping in America, but other countries have their own favorites, such as paneer cheese, minced mutton, and pickled ginger (India); mayonnaise, potato, bacon, eel, and squid (Japan); and red herring (Russia).
Now that your appetite is whetted for pizza (although probably not for pizza with eel on it), let's talk about gluten-free pizza crust made with coconut flour. At first glance, the idea of making pizza crust with coconut flour may seem strange.
But why should it?
Coconut flour may have a naturally sweet taste, but it has many health benefits. It has a lot of fiber, protein, and iron, and it is good for your immune and nervous systems, your thyroid, your bones, and even your skin.
Another reason to give coconut flour pizza crust a try: some people can't have pizza at all if the crust is made with a flour that contains gluten. (Who wants to live a life without pizza?)
Besides, if you make it with the right ingredients, you won't even notice the sweet taste of the coconut flour.
Here's a simple recipe for coconut flour pizza crust (it also makes a great sandwich bread):
You'll need…
3 eggs
1 cup coconut milk
½ cup coconut flour
2 tsp. onion powder
½ tsp. baking soda
1 tsp. oregano (optional)
1 clove minced garlic
Your choice of toppings
Directions: 
Preheat your oven to 375 degrees. Line a pizza pan with parchment paper, then grease with olive oil.
In a medium bowl, beat the eggs. Add in the milk and mix well.
Add in the remaining ingredients and mix all the ingredients together, then spread the dough onto the pan.
The crust will be very thin in consistency - not to the point of pancake batter, but still thin. It will be spreadable, but not runny.
Bake for 15 - 20 minutes, or until brown. Remove it from the oven and immediately 'flip' it over. (If you have a large baking rack, like this one, this step will be easy.)
Let it cool for a few minutes.
Add toppings and pop it bake into the oven and continue to bake until the cheese bubbles.
Pizza has come a long way—from Italy it traveled around the world, where through the years pizza lovers everywhere got the chance to make it their own. Now you can make it your own, too—even if you are on a gluten-free diet.