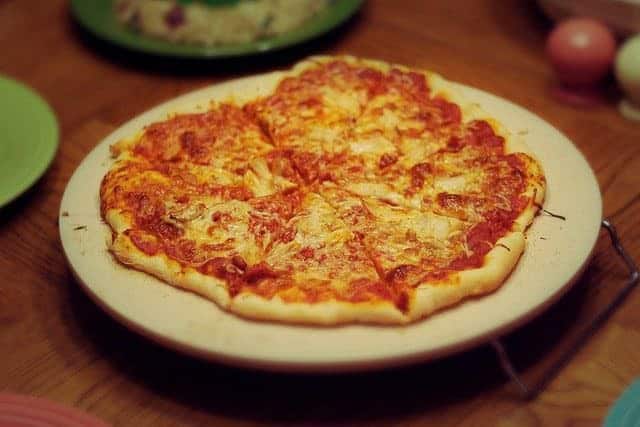 Pizza aficionados know the best way to cook their pizza is with a pizza stone, a flat stone made out of ceramic that you can use in your oven. These stones are porous, which means moisture is absorbed, which means your pizza has a crispy and delicious crust. Pizza stones are also relatively cheap, meaning making your pizza at home can be a much better proposition than ordering take out.
Here are some tips on using your pizza stone:
Never put your cold stone in a hot oven or it may crack. You should put it in a cold oven. Turn the oven on to the desired pizza-cooking temperature, and let the stone heat for 45 minutes.
Another reason to preheat your stone is that this will help prevent your pizza from sticking to it. However, if you are worried about your pizza sticking, you can also sprinkle some cornmeal or breadcrumbs on the stone before you put your pizza on it.
To cook pizza, the center of the top rack is the best place to put your stone.
The pizza stone isn't just for pizza, though—you can use it for all kinds of foods. To bake cookies with it, the stone should be placed on the top rack in the center. For other items such as biscuits and bread, the stone should be placed in the middle rack in the center. You can also bake fish sticks and French fries on it (you don't even have to turn them while cooking), and you can even roast veggies—just put them directly on the hot stone.
If you just want a stone for pizza, a round one will probably do the trick. If you want to experiment with other foods, a square one might be better.
When deciding on a stone to buy, make sure it isn't too heavy for you to lift.
You can even use a pizza stone to make pizza on an outdoor grill! Just make sure you preheat the stone on the grill for about an hour. Also, make sure that any raw meat you use is precooked before you put it on the dough.
Your pizza stone should be left to cool down completely inside the oven—a quick temperature shift could break your stone. Some people store their pizza stone in the oven permanently, and put casserole dishes or pans right on the stone. The stone will help your oven retain heat and spread it more evenly.
Move your pizza to another surface before cutting. For one thing, this means you can leave your stone in the oven to safely cool. For another, you may damage your knife (or your stone) if you try to cut your pizza while it is still on the stone.
There is some debate out there as to how good frozen pizza comes out when you use a pizza stone. If you want to try it, just preheat your pizza stone as you usually would.
To clean your stone, get off any remaining pizza with a dry brush or metal spatula, then use plain water (never use dish soap). Don't worry about any oil stains on the stone, as this actually helps to "season" the stone. Don't soak your stone in water.
A pizza stone is a cheap and easy way to make delicious gluten free pizza. Most pizza chefs who have used a pizza stone can't imagine cooking their pizza any other way. If you love perfecting your pizza (and lots of new toys for the kitchen!) try out a pizza stone.