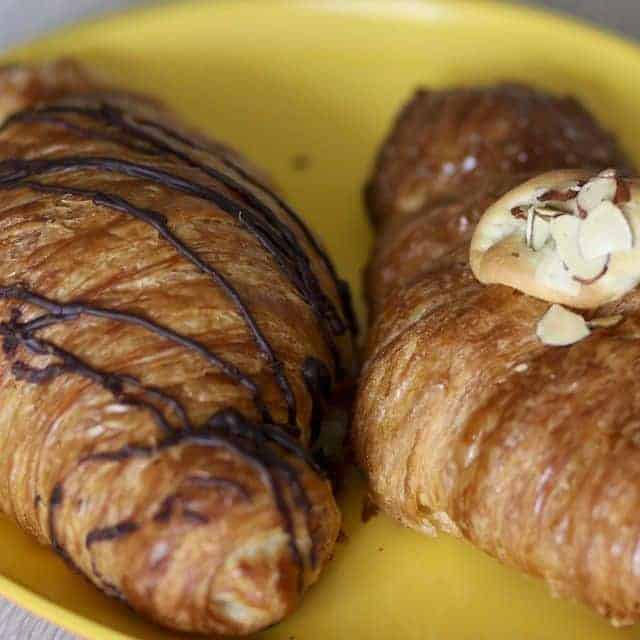 Except for the beret and the Louvre (or wearing a beret at the Louvre), perhaps nothing says "France" as much as the croissant does. However, although croissants seem so-very French, history says that they did not originate there. There are different stories that place the beginnings of the croissant in Vienna, and even Budapest, before the pastry found its way to France.
Wherever the croissant got its start, its very French-sounding name has bonded it forever to that country.
But the real question is: if you are living gluten free, is there a croissant recipe for you to make and enjoy? Mais oui, but of course….and not only that, but this gluten-free croissant recipe even includes chocolate.
You'll need…
⅓ cup and 1 Tbsp. gluten-free cottage cheese
⅓ cup and 1 Tbsp. gluten-free cream cheese
8 Tbsp. butter, softened
8 Tbsp. butter, frozen
1 or 2 eggs
1 cup gluten-free flour mix
2 Tbsp. sweet rice flour (plus more for rolling, about 1 cup)
1 ½ Tbsp. sugar
¾ tsp. baking soda
1 ½ tsp. xanthan gum
½ tsp. salt
¾ tsp. cream of tartar
High quality chocolate chips, or a candy bar cut up into small pieces (reserve some extra for melting)
Directions:
In a large bowl, place cottage cheese, cream cheese, and softened butter. Cream for about 3-4 minutes, until it is creamy and whipped together.
In the same bowl, add sugar, baking soda, cream of tartar, salt, xanthan gum, gluten-free flour mix, and 2 Tbsp. sweet rice flour. Mix together for 3-4 minutes.
Shape the dough into a thick disk, and refrigerate for at least two hours.
When you are almost ready to work the dough, grate the frozen butter. Place the butter and a generous amount of sweet rice flour on parchment paper (you'll need a large surface to work on).
Divide your dough into fourths. You'll only need ¼ at this point—put the rest of the dough back into the refrigerator. Quickly shape this ¼ piece of dough into a disk—you'll want to handle the dough as little as possible so it stays cold. Put the dough on the parchment paper, and cover with some sweet rice flour. Cover the floured dough with another piece of parchment paper, and begin rolling. Roll the dough until it is about ⅛ of an inch thick, or as thin as possible (it should be so thin that you can see through it!).
Put some of the grated and frozen butter in the middle of the dough. Fold half of the dough over the butter; put more butter on top of this, and then fold over the rest of the dough.
Dust the top, sides, and bottom of the dough generously with sweet rice flour, then repeat the rolling process (including adding in frozen butter) two more times.
After the final rolling, make sure the dough is as thin as possible. Divide the dough in half—a pizza cutter works well for this. Then, again using the pizza cutter, divide each half of the dough into four large triangles.
Now is the time to add in your chocolate! Place it on the wide end of the triangle—this is where you will start rolling your croissants. Shape your croissants into the usual crescent shape. Brush beaten egg over croissant—this will keep them closed and also give them a nice golden brown color.
Repeat the process with the rest of the dough. Keep croissants in the refrigerator until you are ready to bake.
Bake croissants at 375 degrees for 18-22 minutes, or until they are a golden brown color.
Remove from the oven and cool on a wire rack.
Melt chocolate in the microwave according to package directions.
Using a plastic sandwich bag, fill the bag with the chocolate. Cut a small slit in the corner of the bag and use that to 'pipe' a chocolate design on the tops of your croissants.
Alternatively, use almonds and powdered sugar with meringue baked in the oven for a few minutes. (Chocolate topping was our favorite, however).
Makes 14 small croissants.
Of course, if you aren't a chocolate lover, these croissants will go well with a variety of fillings. Que c'est délicieux!