Christmas is a special time for loved ones and giving and traditional indulging. It just wouldn't be the same without some delicious treats to share with everyone around you. In light of this sharing and enjoying of sweets, we've rounded up some of our favorite gluten free candy recipes.
Saltine Toffee Bark
Swapping out Gluten Free saltines is as easy as this delightful favorite of gluten-free-bread.org. The saltiness and rich combination of crackers and toffee is irresistible. Even though this makes a big 2 pound batch, consider doubling it because guests or family members are sure to gobble each piece up!
You'll need:
20 GF Saltines
1/2 cup butter, cubed
1/3 cup sugar
8 oz. chocolate chips
6 oz. milk chocolate English toffee bits
8X11 inch baking pan
Large sauce pan
Foil (heavy duty is best)
Directions:
1. Preheat oven to 350 degrees.
2. Line baking pan with foil and place the saltines in a single layer in it; set this aside.
3. Melt the butter in the sauce pan on medium heat.
4. Stir sugar into butter and bring to a boil.
5. Stir as it cooks 1-2 minutes or until sugar is fully dissolved and pour over the crackers.
6. Bake in the oven for about 10 minutes until sugar is bubbly.
7. Removed from the oven and quickly sprinkle chocolate chips over the sugar butter mixture so they can melt slightly. Then spread them all over the firming sugar butter mixture.
8. Sprinkle with toffee bits and cool for at least 15 minutes.
9. Place in the refrigerator for about an hour and break into pieces.
10. Eat immediately or store in air tight container at room temperature.
Cranberry Granola White Chocolate Bunches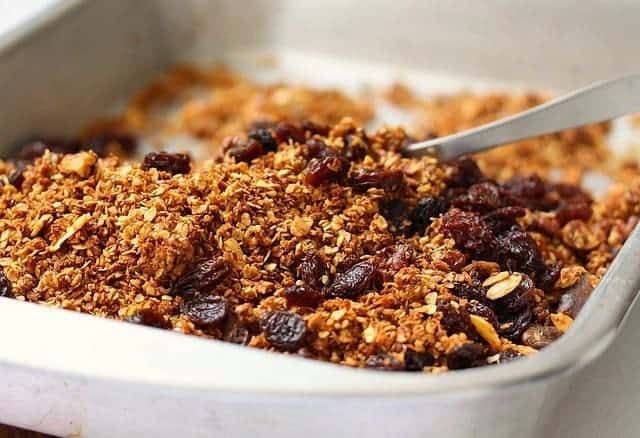 This one's another of our favorites. I love the crunchy and tart combination here. I made a batch of this for a gluten sensitive friend to munch as she and her family moved several states away. About half way to their new home, I got a text message: "Kiss a** job on the white chocolate noms. Delicious!" I'm pretty sure none remained unenjoyed when they reached Alabama.
You'll need:
12 oz. white chocolate chips
1 1/4 cup of your favorite chunky granola, divided (I used honey and almond.)
1/4 cup dried cranberries
Water
Parchment paper
Cookie sheet with edges
Glass bowl
Sauce pan that glass bowl
Spatula or large spoon
Directions:
1. Place water in the pan and bring to a boil.
2. Line cookie sheet with parchment paper.
3. Place chocolate chips in bowl and place bowl over boiling water.
4. Use spatula to stir continually as chocolate melts, about 10 minutes.
5. When chocolate is completely melted smooth, removed bowl from water and immediately stir 1 cup of granola and all the craisins into chocolate until they are well coated.
6. Pour and spread mixture onto the parchment. You can spread it out into one big piece or separate chunks, whichever you prefer. (I did chunky pieces so it would be easier for my friend to grab them out of a Ziploc as she drove.)
7. Sprinkle with reserved 1/4 cup of granola and place cookie sheet in the fridge for at least an hour before serving.
Coconut Cubes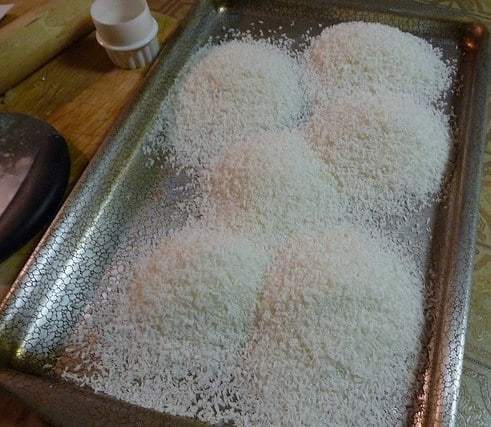 These little beauties are as pleasing to eat as they are fun to look at! They would be great for winter festivals or holiday parties. Or a friend's daughter's Frozen birthday parties. You know there's been a ton of those this year, and will be more in 2015. You can also change the color of the cubes depending on your theme, making them a versatile option.
You'll need:
3 cups white sugar
1 cup water
2 cups flaked coconut
1 1/2 vanilla extract
3 drops blue GF food coloring
Medium sauce pan
9×13 inch baking dish
Parchment paper or wax paper
Spatula
Sharp knife
Directions:
1. Line baking dish with parchment paper and set aside.
2. Melt sugar and water in medium saucepan until sugar is fully dissolved, about 7 minutes.
3. Bring sugar water to a boil until it thickens slightly to about the consistency of syrup.
4. Immediately remove from heat and stir in vanilla and coconut. Keep stirring 5-10 minutes to further thicken the mixture.
5. Pour half the coconut mixture into the lined dish and spread flat with spatula.
6. Tint the rest of the batter with the 3 drops of food coloring and mix well to even color throughout it.
7. Pour the colored mixture over the white layer and spread it even with the spatula.
8. Use the spatula to press both layers firmly into the pan.
9. Allow the treat to cool and harden. Then flip candy out of pan, remove parchment paper, and cut into cubes with a knife.
10. Enjoy before the kiddos find them, or hide them from your sight until you're ready to share to avoid overindulgence.
Wine Delight Truffles
All the wine lovers please raise your hands with me. Cabernets or merlots pair wonderfully with the chocolate in these decadent bites. You can change the topping to your own tastes: powdered sugar, cocoa powder, festive GF sprinkles, finely shredded coconut, or the GF graham cracker crumbs I use in the recipe below. Have fun with it!
You'll need:
3/4 cup heavy cream
6 oz. dark chocolate chips
4 oz. milk chocolate chips
3 tbsp. your favorite merlot or cabernet sauvignon
GF Graham Cracker Crumbs for topping
Medium sauce pan
Whisk
Plastic wrap
Spatula
Wax paper
Spoon
Medium Bowl
Directions:
1. In the medium saucepan, heat heavy cream on medium.
2. Place chocolate in the bowl.
3. Just as cream starts to boil, pour over chocolate.
4. Add wine to chocolate cream mixture and allow to sit 3-5 minutes.
5. Whisk wine and chocolate until smooth.
6. Place a piece of plastic wrap over bowl and press down into the mixture.
7. Refrigerate overnight or at least 2 hours.
8. Use a spoon to scoop up chocolate wine mixture, shape into balls, and place on wax paper until all the batter is used.
9. Roll the balls in graham cracker crumbs and refrigerate 30 minutes before enjoying.
Peppermint Coconut Chocolate Bars
Does anything say Christmas like peppermint? I think it ranks right up there with cinnamon and evergreen. In case you didn't see much of a pattern, we're thinking chocolate is the ultimate companion for the holidays! So a peppermint chocolate treat needs to be included in this candy post! This chocolate bar is also vegan, nut free, and dairy free, perfect for everyone's diet at your holiday get-together. These would also be really cute decorated and placed in stockings or goodie gift baskets.
You'll need:
1 1/3 cup coconut oil, melted
1/2 cup raw honey
6 drops peppermint essential oil
1 cup organic cocoa powder
2 tsp. vanilla extract
1/2 tsp. fine ground pink Himalayan salt
High power blender
Knife
Baking dish
Directions:
1. Place all the food ingredients in blender and run on high 1-2 minutes until all are combined well.
2. Pour into baking dish and even top with spatula.
3. Place dish in freezer 5 minutes.
4. Removed from freezer and use knife to score into desired size bars.
5. Return to freezer for additional 15 minutes.
6. Removed from freezer, cut or break into pieces.
7. Wrap and decorate or place on platter for guests.